If you fancy yourself as a soon to be vlogging super-star, then looking for the best vlogging camera should rank high in your priority list.
Well, as evidenced by the growth of YouTube, videos have taken the world by storm. So, there might never be a better time to start telling your story.
This article is aimed at shedding a light on what vlogging is, what you need to start off and what to look out for when selecting the best camera for vlogging. Also, you will need to know if and how you can monetize your vlog.
Best Vlogging Camera 2023 – Comparison Chart
Before we delve into all matters vlogging, here is a preview of our picks for the top 10 Best Vlogging Cameras:
Best Vlogging Cameras 2022
Price Range
1. Canon EOS 80D
(Editor's Choice)
Over $1000
2. Sony a6300
Under $1000
3. Canon EOS 70D
Under $1000
4. Sony RX100 Mk IV
Under $1000
5. Canon PowerShot G7 X Mark II
Under $700
6. Sony Alpha a6000
Under $600
7. Sony Alpha a5100
Under $500
8. Sony RX100
Under $500
9. Panasonic Lumix DC-ZS70K
Under $400
10. GoPro HERO5
Under $300
Reviews of the Best Vlogging Cameras in 2023
Picking the best camera for your vlog is not an easy task. And since it is a considerable investment moneywise, you need to pick carefully. Fortunately, we have done the hard work for you. We have scraped through tons of cameras and selected the top 10. So, whichever you pick among these, rest assured that you won't go wrong.
1. Canon EOS 80D – best vlogging camera 2023

Despite furious competition from some super-fast, mirrorless, interchangeable-lens cameras, the EOS80D is one of the DSLR (digital single-lens reflex) camera that has continued to tightly hold onto its position as a premier video blogging camera.
We think Canon did a very good job on the EOS 80D. It is a direct upgrade of its predecessor, the Canon EOS 70D.
It comes with the Canon's pride-of-the-park dual pixel (APS-C) CMOS sensor, a much improved on-sensor AF (autofocus) system, and a wide-scope intelligent viewfinder.
Some other notable features of the EOS80D include an upgraded Live View shooting and a built-in wireless connectivity.
Moreover, its vari-angle touchscreen LCD monitor is enough for capturing cinematic videos at any angle, considering that it can be tilted up to 270° vertically and up to 175° horizontally.
Well, it's very clear that Canon really wanted a quality DSLR – one that tracks subjects in motion. We can say they have fully succeeded.
In fact, any enthusiast looking at a classic DSLR will be enthused by what they see from this distinguished video camera for vlogging.
Key features
45-point AF system1
Full HD 1080/60p
Intelligent Viewfinder ( 100% coverage)
2 Megapixel CMOS sensor
0 fps continuous shooting speed (maximum)
Dual Pixel CMOS AF
Built-in Wi-Fi2
Vari-angle Touchscreen LCD
Built-in NFC3 Connectivity
Pros
Cons

Super-fast autofocus
Friendly controls
An incredible viewfinder
Very pleasing videos
Compact

Automatic white balance isn't that impressive
Lacks 4k
Click
here
to see its latest price.
Bottom line
The Canon EOS80D is an extremely quick-reacting DSLR vlogging camera with a reputation for producing awesome videos.
Featuring an impressive 45-point AF system1 known for producing excellent AF in any light and a smart viewfinder to ensure you don't record blanks, this is no less than what the best deserve.
The powerful 24.2MP CMOS sensor and live view shooting complete the picture of a vlogging camera which is full of promise.
In short, with its little improvements over the EOS70D, the EOS80D remains firm in the driving seat despite tough competition!
2. Sony a6300

This mirrorless interchangeable-lens camera targets enthusiasts gunning for a versatile vlogging camera.
And it delivers mind-boggling quality, episode after episode.
Starting with speed, its soaring autofocus system seems to be a strong believer in high-speed recording. Indeed, it's rated as one of the World's fastest autofocus systems!
Following closely is its excellent 4K video which seems to have undergone a major beefing up. And with the inclusion of more 4K support features, you can be sure you will soon be celebrating watching the end product.
Moving on, a few people have complained that Sony's A6000 series of cameras haven't been up to it when we come to quality of video in low light.
Well, I am happy to report that there is a remarkable improvement in the visual shot in low-light with the A6300.
These, coupled with the usual greatness of interchangeable-lens cameras such as a smaller body and impeccable lenses, streamlined video shooting and better previews end up making the Sony A6300 a top, top YouTubing camera.
Key features
Very fast Autofocus speed (0.05 sec.)
2MP CMOS sensor
AF/AE tracking
Ergonomically design
Wi-Fi/NFC/QR code
Phase-detection AF
Slow motion recording
4K movie recording5
XGA OLED viewfinder (electronic)
Weather-protected Magnesium Alloy Body
Pros
Cons

Compact sized
Very versatile
Nice textured finishing
Well-constructed Wi-Fi
A wonderful tilting LCD
Fast and very responsive
Exceptional live view and LCD for your videos

Low battery life
Lacks image stabilization
Click
here
to see its latest price.
Bottom line
Sony has prioritized getting it right in terms of video quality, rendering of detail, tonal range and inspiring you to be more creative when shooting.
And they have managed to exceed their own expectations.
With one of the best autofocus systems, excellent 4K video support and more, the Sony A6300 delivers the desired world-class video quality, great performance, and a superb shooting action.
It is a respectable mirrorless interchangeable-camera and comes primed to be your "jack of all trades" camera.
3. Canon EOS 70D

This camera has received hearty accolades from all corners, and there are two compelling reasons for this:
Its sensor is a class act, while the camera is lightning fast.
As a replacement for the old war dog – the EOS 60D, this Digital SLR camera has a slicker design and has the features to stand tall in the best vlogging camera podium.
With the respectable Canon's EF-S 18-55mm Zoom Lens at the helm, and featuring the reliable APS-C CMOS sensor plus the DIGIC 5+ imaging processor, you are 100% assured of quality. You get high-resolution movies, clear imagery, imaginative color rendition and cream of the crop low-light sensitivity.
The processor has deservedly received acres of "airtime" due to its notable speed, not forgetting its ability to record a majestic 7 fps (maximum) in full-resolution. It also comes with a full high definition 1080p video recording. * fps is "frames per second"
Its 3.0" Clear View touch LCD monitor facilitates highly efficient recording and viewing from any angle.
The quick AF plus image stabilization ensure you can shoot in any situation without hassling.
In practice, your system delivers great results in live view and you will have a pretty seamless operation.
Well, all in all, this is a marvel of a camera and will certainly help you to reclaim your artistic prowess in videography.
Key features
2 MP APS-C CMOS sensor
GPS compatible (not included in the package)
Full manual mode (video)
DIGIC 5+ imaging processor
3-inch articulating touch LCD
Built-in flash
19pts cross-type AF System
Built-in Wi-Fi & EOS Remote app
Built-in stereo/ external microphone port
ISO 100-12800 ( can be expanded to 25600)
Live view
Intelligent viewfinder
Records 1080p video
SD/SDHC/SDXC memory card
Pros
Cons

Outstanding footage
Shoots 24p comfortably
Electric Sound
Lovable articulating touchscreen
Great Facial autofocus
Very lightweight
Easy to control and navigate
Click
here
for the latest information on price.
Bottom line
A genius of a camera, the Canon EOS 70D has extra performance ratings for being super-fast and its excellent Live View.
Without a second thought, this is an amazing vlogging camera unless you want 4k in which case I would recommend the Sony RX100 Mk IV or its close competitor, the GoPro HERO5.
Otherwise, if you are just after shooting lots of quality materials and want to publish everything fast, this could be your camera.
It will be definitely more than your money's worth!
4. Sony RX100 Mk IV

The Sony RX100 Mk IV is one of the sleekest video blogging cameras because of its nimble size, amazing resolution, high frame rate videos, excellent quality images and of course, 4K video ability.
This is a camera that is appealing to enthusiasts as well as budding YouTubers and makes it very possible to revolutionize the quality of your videos to the gold medal position.
The RX100 Mk IV also stands out as an icon of high-end video production with the world's first 1" stacked illuminated CMOS (Exmor RS) sensor which has remarkably advanced shooting ability.
When you combine this with a super-high-speed anti-distortion shutter, pop-up electronic viewfinder, and its nice design, you soon understand why this is well ahead of the chasing pack in the advanced vlogging cameras space.
Its all-round user-friendliness, practicality, and appeal go to further reinforce its already bulging reputation as the go-to solution for those seeking class and a trail-blazing performance.
To cut the long story short, this is simply one of the hot favorites for the best camera for YouTube vlogging place this year.
Key features
4K video
Bounce-able flash
Tilting LCD
World's first 20.1 MP 1″ back-illuminated CMOS Exmor RS sensor
Super slow-motion movie3 HFR (high frame rate) up to 960 fps (40x)
High-speed Anti-Distortion Shutter
Bright F1.8- F2.8 T* lens
Fast Intelligent AF
Retractable XGA OLED viewfinder
Sharp 3-inch multi-angle LCD
Wi-Fi and NFC connectivity
NTSC switchable
Pros
Cons

Top 4k video quality
Small size
Perfect viewfinder
Very easy to use
Beautiful design
Quality articulating screen
Very fast image processing

Limited length of 4K video
Click
here
for the latest information on price.
Bottom line
Packing the world's first 1" stacked back-illuminated Exmor CMOS sensor, 4K capabilities, pop-up electronic viewfinder and super-high-speed imagine, the compact RX100 IV is one of the most popular advanced video recording cameras.
It also has a cool design and enables you to fully exploit your creativity to extraordinary levels.
It's a very nice choice when you're looking for a super-advanced compact camera with professional-leaning video capabilities.
5. Canon PowerShot G7 X Mark II

A few things stand out here. The video output quality is definitely high and more smoothed out.
Then, while recording, it gains speed progressively and you will in no time be capturing your best moments in life at an exhilarating speed.
More importantly, the performance you get with its DIGIC-7 Image Processor over a wider range of recording environments is top class.
This, plus the lionhearted 1-inch 20.1MP CMOS sensor helps you capture phenomenal 1080p Full-HD videos in MP4 format and with stereo sound.
And the bright f/1.8–2.8 lens remains on standby to help you capture super impressive visuals whenever your creativity flares up, even in very poor light conditions.
In a nutshell, with its smart, compact design, this is another very strong and convincing show from Canon, and this slightly edges out other options when looking for a complete DSLR replacement.
Key features
1-inch, 20.1MP CMOS sensor
DIGIC 7 Images Processor
Bright f/1.8 (W) – f/2.8 (T) 4 IS-equipped lens.
Multi-angle capacitive 3.0-inch touch panel LCD
Stereo sound
1080p Full HD MP4 format video
Pros
Cons

Better autofocus performance
Improved ergonomic controls
Excellent video quality
Compact and lightweight
Nice image stabilization
Wi-Fi and the mobile app also work well
Very responsive touch screen

No 4K
The battery is a bit underwhelming
Click
here
to find out the latest price.
Bottom line
If you have been on the prowl for a complete DSLR replacement, then The Canon PowerShot G7 X II noticeably has an edge over other similar models.
Its exhilarating speed and top performance in a smart, compact design undoubtedly impress. Also, the improved autofocus tracking and clarity even with a higher ISO are admirable.
It is also equipped with a well-rounded HD capability, NFC4, built-in Wi-Fi3 and a Multi-angle capacitive 3.0″ LCD (touch).
And that's why we feel that the Canon PowerShot G7 X II grade is an excellent camera for vlogging.
6. Sony Alpha a6000

Having been there for ages, you can tell Sony knows a thing or two about creating expert-level vlogging cameras.
And after looking at its competitors, we are happy to pick the Alpha a6000 mirrorless interchangeable-lens camera as one of the stars to watch in the best burst shooting vlogging cameras arena.
Its ability to shoot furiously at 11fps while sustaining autoexposure and autofocus is not something you commonly find with other cameras in this price range.
Now, capturing each and every body movement is important in vlogging and the Alpha 6000 seems to understand this. Its phase-detection sensors cover 100% of the total image area, so it's hard to miss that cheeky gesture.
Then, even if you are just an ambitious first-timer, you will find its image quality outstanding for your vlogging channel.
Thanks to Sony's unique Bionz X imaging processor, the 24MP APS-C CMOS sensor delivers amazing image clarity, coloring, and tone – even at low ISO sensitivity.
Evidently, the video quality is up there with the very best, with awesome control over artifacts. Moreover, the Alpha a6000 comes with an integrated stereo mic which sounds surprisingly warm and very clear.
Key features
24 MP APS-C CMOS sensor
Focus Sensitivity: Range from EV 0 – EV 20
ISO 100-25600 (Maximum 51200)
Hybrid AF (179-points focal plane phase detection)
11fps continuous shooting
3-inch tilting LCD
OLED electronic viewfinder(100% coverage)
Pros
Cons

More accurate colors
Excellent built-in stereo microphone
The lock-on autofocus works so well
Impressive burst rate
Compact design
Excellent image quality

Movie record button is a bit awkward
Writing to the card drags a little
Click
here
to find out the latest price.
Bottom line
The Sony Alpha a6000 has a much better image quality, autofocus system, superb design, and delivers a stunning burst rate for its price.
Coupled with its compact – vis-à-vis a DSLR – design plus excellent feature set, this is one of the best mirrorless interchangeable-lens vlogging cameras.
Overall, for a professional who's looking at outshining the competition, Sony Alpha a6000 delivers more hits than misses.
7. Sony Alpha a5100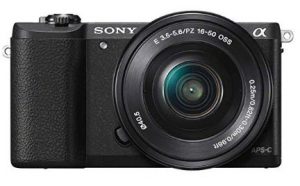 While the A6000 is dark, petite, and quite sophisticated, the A5100 comes to quench the thirst of beginners who seek to enjoy the speed and the precision of a DSLR but still in a miniature design.
Sony's video cameras have stood the test of time, largely to the company's knack for mind-blowing tech inventions.
And the A5000 retains most of the awesomeness we've come to associate with Sony, like a large sensor, superfast phase-detection AF technology, and the mighty Bionz X image processor.
This lightweight camera doesn't cut corners in low light and will obediently deliver 24.3MP of detail. You can then happily share vlogs with your subscribers through the YouTube app on your smartphone, thanks to the built-in Wi-Fi.
Amazingly, it beats the A6000 in a number of areas.
For instance, its high bitrate XAVCS codec which will give you better full HD video than what we have in its 'senior'.
In addition, its flip-up LCD touchscreen plus interface customizations topple those we find in the A6000 and makes it stand out for closed zone recording.
Key features
Ultra-fast autofocus (179AF points and 6fps)
24MP APS-C sensor
Wi-Fi® and NFC1
Tiltable LCD screen
Pop-up flash
Power zoom lever
Pros
Cons

Super compact.
Fast action recording
Budget pricing
Provides helpful tips
Stunning details in low light
More versatile

Lacks a viewfinder
May Overheat with lengthy shooting
To find out its latest price, click
here
.
Bottom line
With an imposing 50 Mbps movie recording mode and an uncompressed 8-bit full frame 4:2:2 HDMI output, this interchangeable-lens camera offers upcoming movie recorders a superb experience.
Don't forget that it has descriptions explaining each shooting mode so that you can keep up with what you are about to do.
Overall, this budget camera's performance exceeds its money worth.
8. Sony RX100

Veterans fondly call this the little miracle. And with good reason.
The Combo of a large 1″ sensor and the brighter, high-performance F1.8 Carl Zeiss T lens is a game-changer for vloggers tired of dull images and blurred backgrounds. The RX100 delivers razor-sharp videos and elite-level defocused backgrounds.
It also features a handy control ring that provides easier access to the aperture settings, leaving you free to exercise your creativity as you aim for the best shot.
Also, its auto-focus is amazingly fast and highly accurate.
Saying that the movies from this amazing little giant are clear is an understatement. You see, since it captures at a high of 60 fps in Full HD 1080/60p, your videos come out extra smooth and extremely sharp.
If you have ever tried to shoot in low light, you know there's always a lingering fear that you could end up with a pretty hopeless image.
But with this camera, you will get incredible detail even in lowly lit areas. And just in case you might need an extra burst of light, the RX100 comes with a bright pop-up flash.
We also love its face detection feature; principally because you can set it to the ALL light metering & focus mode, which is much better than the matrix metering and multi-focus modes available in older models.
Key features
2MP, 1-inch Sensor
3-Inch LCD screen
Steady-Shot image stabilizer
Rear control dial
Customizable front dial
Burst Mode (shots)-Approx.10 fps,
Sleek aluminum body
8 Carl Zeiss T lens (3.6x zoom)
Pros
Cons

Quality full-HD 1080/60p video
More customization options
The 10fps shutter stream has a live view
Ultra-slim
Super-effective Video active stabilization
Top quality autofocus

Lens zooming speed is not that fast
Lacks an external battery charger (for a spare battery)
To find out its latest price, click
here
.
Bottom line
Packing enough features to deliver A-grade video shots, the Sony RX100 delivers even in low light.
The large 1-Inch sensor and the ultra-bright F1.8 Carl Zeiss T lens combine intelligently to push the quality of your videos to the pro-level.
Also, you get more creative with your shot using the central control wheel to play with the available background defocus, picture effect, brightness, vividness, and color options.
Despite being a diminutive vlogging camera, you will never miss a moment with the Sony RX100.
9. Panasonic Lumix DC-ZS70K

Panasonic seems to be giving their wide range of cameras a new lease of life.
Having a resolution of 20.3 megapixels and a higher pixel size, this camera lays a strong case to be considered in the best video camera for vlogging list. In addition, it comes with a 24-720mm 30x Leica DC VARIO-ELMAR Lens as well as a 5-axis Hybrid Optical Image Stabilizer (OIS).
It has acquitted itself quite favorably since its release. So far, it has developed into one of the most sought-after vlogging cameras by perfection-seeking pros as well as ambitious entry-level YouTubers.
Also, you are guaranteed the highest quality videos and photos regardless of the shooting conditions. Amazingly, it has 4K QFHD video recording (3840×2160) as well as the exclusive LUMIX 4K PHOTO. 4K Post Focus with internal Focus Stacking will ensure that you stand out from the pack.
Even in Sunny conditions, you can still capture the best moments for you vlog with its 0.2-Inch 1, 166k-dot electronic viewfinder which comes with an eye-sensor.
Other formidable features include raw capture plus a neat Control Ring integrated with the lens system.
Key features
Hybrid O.I.S.
Time-Lapse Recording
Lens-mounted Control Ring
30fps
30x zoom
Leica 24-720mm DC Vario-Elmar lens
Pros
Cons

Watch crystal-clear videos in slow motion
Captures most intricate details
Viewfinder travels easily
Better hold and grip
The steady shot works smoothly
More exposure and focusing methods
180 degree front flip-up touch screen

The sensor isn't that big
Click
here
to see the latest price.
Bottom line
The Lumix DC-ZS70K is a full HD, high-speed vlogging camera which ably records fast-moving action and always gives world-class video regardless of the shooting conditions.
If you are looking to upgrade from your hobby video recorder to something much higher, then this camera could be your perfect mate.
The viewfinder, optical image stabilization (OIS), and the top-level Leica 24-720mm lens are just some of the features that give it the oomph to outlast its rivals.
In all honesty, the Lumix DC-ZS70K did more than enough to extract a 5-star rating from my editor.
10. GoPro HERO5

One camera might outshine its peers in several crucial ways, but to be the ultimate winner, it all boils down to its net value per dollar spent, or to go a little technical, the "ROI" (Return on Investment).
The HERO5 Black is an epitome of what a good vlogging camera should be like. This is a true benchmark and to be blunt, we believe that the rest of the cameras have a lot to learn from this magical video camera.
A lot has been said about 4K and balance when you come to capturing those crucial moments that you may want to use as the punch line in your latest episode.
Well, this HERO5 is heroic if you were to focus on how it balances performance, power, and convenience.
And it's easy to see why even the most pessimistic pros are head over heels in love with this one.
Its gold-standard 4K video feature, practical voice control, highly convenient touch display and tough waterproof design are pure hallmarks of a legendary camera.
Actually, even without adding the benefits of its other little bonuses such as its ability to automatically send your recording to your phone – where it's immediately transformed into a great edited video – you will simply find this irresistible.
Its other winning points come from its perfectly stabilized video, pro-quality photography and online auto-upload with its subscription-based GoPro Plus service.
Key features
4K30 Video (or 2.7K60/1080p120/1440p80/720p240/960p120)
Waterproof to 10m
Voice control
Video stabilization.
Built-in Wi-Fi & Bluetooth
3 microphones.
GPS & data overlay
New QuikStories enabled.
Linear Fields of View (FOV)
Pros
Cons

Stunning 4K video
Very Durable and waterproof
Handy Battery
Highly portable
Android compatible
Excellent stabilization
Awesome audio

In low light, the video quality kind of drops
Click
here
to check out the latest price.
Bottom line
The GoPro HERO5 Black is a brilliant vlogging camera.
It gives you an enterprising mix of fantastic features such as a linear FOV (field of view) video, an excellent touchscreen, a tough waterproof body, GPS, superior electronic image stabilization, nice stereo audio, fine voice control, automatic cloud uploads (optional), and the best 4K video quality.
As my editor says, if you want to be the next YouTube hero, the legendary HERO5 gives you the X-factor.
What is vlogging?
A vlog is basically a blog that has video content. It may also be called a vodcast. Vlogging is pretty similar to an ordinary blog in that you discuss what interests you, what's on your mind, or anything personal. The distinction from the regular blogs is that you tell your story using videos.
Despite vlogs being about creating and uploading videos in your area of interest, the main aim of vlogging is to make money online. Unsurprisingly, therefore, YouTube is the World's most popular vlogging platform.
YouTube is quite popular with vloggers because it is one of the best platforms for getting paid when viewers watch ads. So, if you are a beginner, now you know where to create your vlog.
A word of caution though! Do not start vlogging for the money. You may be greatly disappointed, especially if your investment does not yield fruit as quickly as desired. You should aim at creating quality, attractive content that will ensure you gain a growing following online. That way, you will automatically generate money as a result of persistence and hard work.
If you strategize otherwise, you may quit early and give up on a vlog that would have become a phenomenon, given some time to grow.
What you need to start off
First of all, you will need a camera with the power and performance to be picked among the best cameras for vlogging. Of course, what you pick must also fit your style and budget.
Also, you need a decent microphone.
Now, after receiving countless queries about the best vlogging camera by readers starting their own channels, or those seeking to improve on what they already have, we decided to do a write up on vlogging cameras.
So, in this post, we will be introducing you some of the best cameras in the trade. We will also show you how to select a vlogging camera that will suit your aspirations.
We will also educate you on the hallmarks of a great vlog.
To start with, we will look at how to start vlog before moving to the review of some of the most popular YouTubing cameras.
How to Start a Standout Vlog
So, if you are just getting into vlogging, where should you start? Here is where.
Step 1: Get a Great Vlogging Camera
While you can start with a simple device like your smartphone, tablet or even the webcam, starting with an excellent camera tells potential subscribers that you are serious about quality. Astrophotography cameras can also be used for vlogging.
Step 2: Create a YouTube Channel
Where will you be publishing your videos? YouTube is the number 1 website for vloggers at this moment. You, therefore, need to register a YouTube channel. This great guide will help you set up.
Step 3: Film a Vlog
Once you have the camera and a YouTube channel, start vlogging – recording and uploading videos
Tips to help you record your first vlog:
Relax – Don't over plan. Just start recording and be spontaneous. The rest will follow.
Check lighting and Audio – If you have the right camera, these should never be an issue. Remember to speak clearly and without long pauses.
Connect with your audience – Engage with your audience, ask their opinion plus always respond to viewers comments on your vlog.
Sign it off with a personal phrase – To personalize your videos, get a unique phrase that will make your viewers identify your channel.
Step 4: Edit Your Vlog
To give your vlog a professional touch, edit your videos and cut out anything unwanted. You may use online software or any other desktop/laptop video editing app. If need be, and if you can afford it, you can engage a professional editor.
Step 5: Upload it to YouTube
As soon as you are done with editing, upload it to your channel. Don't forget to give it a good title. Remember that a great title is what will make a viewer not click on the 'back' button.
Step 6: Promote Your Videos
Share your vlog on various social media platforms and also contact any other persons that may be interested in your vlog. You can do email outreach.
Step 7: Add more vlogs
Set and follow a schedule of how often will you be uploading new vlogs. The only way to get money from your channel is by piling up the views – and this needs quality content.
Step 8: Monetize
As your subscriber numbers shoot up, and you are attracting more and more views, you can consider monetizing it using AdSense, or joining any other paying program you prefer.
Factors to Look Out For When Buying a Vlogging Camera
So, what is the difference between a good camera and a truly great vlogging camera?
Settling for your best vlogging camera isn't a walk in the park, unless you are a true camera enthusiast. Well, there a couple of items that you should look out for if you are to land on the best. These include:
​Does it have an Optical Image Stabilization(OIS)?
Optical image stabilization is an absolute necessity for vlogging. Otherwise, if you try recording while moving, you get a shaky image.
And don't be fooled by such marketing terms as 'digital' image stabilization. What you need is optical image stabilization (or at least 5-axis image stabilization).
Now, you shouldn't be scared that DSLRs and mirrorless vlogging cameras don't come with image stabilization. This is because you can always attach to any lens with OIS to them.
It's also noteworthy that most kit lenses feature stabilization.
How does it perform in low-light conditions?
Since you can't control lighting yet you want your camera to produce the best possible quality, you will need it to perform at the highest level in dismal lighting.
That's the only way to ensure quality when recording indoors, at night and even during foggy days. Otherwise, you get reduced frames per second and experience image noise.
Now we will look at the features that make the camera's output better in low lighting.
1) The size of the lens aperture
A lens with a wider aperture will certainly capture more light. Such lenses also deliver an awesome blurred background effect.
Anything from f/1.8 is considered wide enough. Note that the higher the aperture size number, the narrower it is.
2) Amount of noise showing at a higher ISO
Just to mention, ISO is a camera's sensor sensitivity to light. Now, your camera will up its ISO value until the image becomes clear. This implies that in lower light, the ISO is pretty high.
The only problem is that as the ISO number rise, your camera will start showing noise. Therefore, find out how much noise will your images show when your camera's ISO gets higher.
Unfortunately, this is something you can only tell by testing your target camera at a high ISO. Therefore, test and find out the extent to which quality decreases as ISO moves up.
3) The size of the Sensor
The bigger your sensor size, the more the amount of light captured by your camera
Mic input
A mic input is very handy for a vlogging camera. Unfortunately, most compact cameras lack this feature. The good news is that you can get excellent audio with a USB microphone or an external recorder.
Front-facing camera microphone
With a front-facing camera mic, you can catch your voice perfectly when you turn to record yourself. In any case, side microphones make it a bit hard to properly hold on your camera as you have to avoid covering the mic.
So, how can you tell if your camera has microphones on the front? Just look out for one or two tiny holes on the surface.
Wi-Fi
With Wi-Fi, you can connect your camera to a smartphone and upload videos to your YouTube channel without requiring cables
​Flip screen
​Since vlogging involves a lot of self-recording, a vlogging camera with a flip screen is always a major plus.
Best Vlogging Camera – FAQs
Here now are a few of the questions our readers have been asking.
Q: Does the content matter?
A: You have to know the kind of content you usually create before picking the right vlogging camera.
If you are into action videos, perhaps you need a camera like the GoPro HERO5.
What about simple tutorials? A DSLR would do.
Q: Are there any other accessories needed?
A: Well, a complete professional vlogging kit will need a microphone, extra batteries, a tripod, and some lighting. Of course, you must be prepared to pay more. Below is an example of a great tripod you can buy for your vlogging camera.
But if you are just starting, you want to first learn the ropes so it would be unwise to spend a lot on your first camera and accessories.
Q: Do sharpness and colors affect the quality of my vlog?
A: Yes, in some fields such as beauty.
Where color and clarity matter, a top class DSLR is needed, especially if you record indoors.
But, if you record outdoors, pick a point and shoot or a mirrorless camera.
Q: Do I need a background in videography to be a vlogger?
A: No. Not necessarily. In any case, most vloggers are just average users and that's why they prefer compact (point and shoot) cameras.
Professionals will, of course, have a distinct advantage but it's never a requirement. On the contrary, what really matters is passion. 
Q: Which is the best location to record my videos?
A. You can record practically anywhere. And there are cameras for each location. For example, compact cameras are highly portable and the best if you usually record in the parks or during trips. However, they don't give you the same quality as the DSLR.
But DSLRs are heavy and bulky and shine indoors. So, if you have to record outside, aim for a mirrorless camera as it gives the best of both worlds.
Q: Is my smartphone good for vlogging?
Yes and no. You can use it for learning, but since the quality will not be the best, you may eventually need a camera.
Conclusion
We have learned that before going all out for the best vlogging camera, you need to know what matters and what doesn't. Among the aspects that matter includes knowing the kind of content that you are aiming for as different cameras are suited for different content.
Moreover, the ability to record in dismal lighting is crucial especially if you like experimenting when shooting. Last but not least, choose a camera with optical image stabilization (OIS) as you will need to record while moving.
We also handpicked the trending top 10 best vlogging cameras. Provided you know what you need, you should come out with something worth your buck. Just to reiterate, you will not regret picking any of our top 10 picks. Any of them will do, so long as you have the patience to start off and build up your vlog step by step.
Overall, with the right vlogging camera, your vlogging career is set for takeoff. Never give up. Work hard until you become as famous as the top vloggers. If PewDiePie gave up early, he wouldn't be among the most famous people on the planet.
That's all for now. Don't forget to share with us about your experiences with any of the aforementioned cameras in the comments section. We will be happy to hear your feedback and engage more on various issues regarding vlogging.
As a recap, these are the best vlogging cameras in 2023:
Canon EOS 80D
Sony a6300
Canon EOS 70D
Sony RX100 Mk IV
Canon PowerShot G7 X Mark II
Sony Alpha a6000
The Sony Alpha a5100
Sony RX100
Panasonic Lumix DC-ZS70K
GoPro HERO5
You can watch a video by CaseyNeistat on how to vlog here: