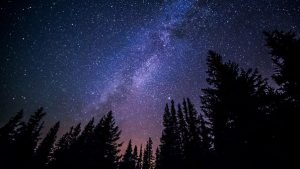 Have you been out at night and thought of taking some photographs of the sky? Or have you ever wondered which camera you can use to capture the best photographs of the sky? Also, have you ever asked yourself which is the best camera for astrophotography? Well, don't go anywhere because this article is for you.
Shooting the night sky not only produces amazing images of the stars, but it can also be challenging if you are not used to working under low light. For this reason, this article will point out the key elements to consider when buying a camera for astrophotography and also review the best cameras in the market.
If you are a beginner, you can check out this article for more information on astrophotography.
Choosing the best camera for astrophotography will enhance your astronomical viewing sessions and help you get better views of the night sky. Whether you're buying a camera for vlogging, astrophotography or just for random photos, you must knwo exactly what to check.
How to Choose the Best Camera for Astrophotography
There are key elements that you must consider when choosing a camera for astrophotography. The first one is exposure. You can think of exposure as the amount of time you allow photons to impact your camera's sensor.
The longer you expose your camera's sensors, the brighter the image will appear. Consequently, prolonged exposure will allow you to pick up very fine details in a low-light environment.
The second element to consider is ISO (International Standards Organization). ISO is basically the measurement of a camera's sensitivity to light. Lower ISO means less light sensitivity and vice versa. Luckily, this setting can be adjusted in any good digital camera. Superior quality astrophotography images are captured on higher ISO.
Another important element to consider is the ability to interchange lenses. DSLR cameras will give you the option of using different lenses depending on what you want to shoot. Your requirement will dictate whether you will shoot with a wide angle lens or not. A DSLR camera or an interchangeable lens camera allows you to use different lenses.
Although using a telescope creates a natural advantage over regular photography, good astrophotography images can be captured with a camera that has the above specifications.
Reviews of the Best Cameras for Astrophotography in 2023
The following cameras have been handpicked as the 6 best cameras for astrophotography in 2023. (Scroll sideways to see all cameras)
| | Nikon D810 | Nikon D750 | Canon EOS 6D | Canon EOS Rebel T6i | Sony Alpha a7II | Pentax K-3II |
| --- | --- | --- | --- | --- | --- | --- |
| | | | | | | |
| Screen size | 3.2 inches | 3.2 inches | 3 inches | 3 inches | 3 inches | 3.2 inches |
| Focus type | Includes Manual Focus | Includes Manual Focus | Includes Manual Focus | Includes Manual Focus | Includes Manual Focus | Includes Manual Focus |
| ISO range | Auto, 64-12800 | Auto, 100-12800, expandable to 50-51200 | Auto, 100 - 25600 in 1/3 stops, plus 50, 51200, 102400 as option | Auto, 100-12800 (expandable to 25600) | Auto, 100-51,200 | Auto, 100 - 51200 |
| Megapixels | 36.3MP | 24.3MP | 20.2MP | 24.2MP | 24.3MP | 24.4MP |
| Photo Sensor Size | aps-c | CMOS (35.9 x 24mm) | Full frame (36 x 24mm) | APS-C (22.3 x 14.9mm) | Full frame (35.8 x 23.9 mm) | APS-C (23.5 x 15.6 mm) |
| Ability to Interchange lens | | | | | | |
| | | | | | | |
1. Nikon D810 FX-format Digital SLR Camera – best Nikon camera for astrophotography

The Nikon D810 is the best designed for astrophotography. It offers a bright live view screen to aid in focusing and framing dim objects. The camera hits almost all the right specifications and is arguably the best DSLR camera for astrophotography. With 36.3 megapixels, it is capable of capturing the best images of the night sky.
Nikon D810 Main Features and Specifications
Sensor: A 36.3 megapixel full-frame, 4.8µ pixel size high-speed CMOS sensor means it performs well for shooting the night skies.
ISO: It has a Native ISO Sensitivity of 64-12,800
Sensor Size: 35.9 x 24mm
Resolution: 7360 x 4912
Autofocus System: Advanced Multi-CAM 3500FX
sRAW File Support: 12-bit uncompressed
AF Detection: Up to f/8 with 9 focus points
Battery Life: 1200 shots
Battery Type: EN-EL15
Body Build: Full Magnesium Alloy
Built-in Flash: Yes, with Commander Mode
Dimensions: 5.75 x 4.84 x 3.23″
Exposure Meter: 91,000 pixel
LCD Screen: 3.2 inches
Shutter: Up to 1/8000 and 30 sec exposure
USB Standard: 3.0
Weight: 880g
Storage: one CF slot and one SD slot
White Balance: New White Balance System
The Nikon D810 detailed review
The Nikon D810 camera has an auto focus sensor that offers 51 AF points with 15 cross-type sensors and Group Area AF. This enables the five AF sensors to be used as one group. This feature is useful when shooting the night sky because of the low light conditions.
Also, the camera has an automatic ISO adjustment in manual mode which enables smooth exposure transitions. The 3.2 inches LCD enables playback viewing as well as live view. On the other hand, the improved coatings on the optical viewfinder components provide brighter images and more accurate colors. In addition, the Live View function includes split screen display zoom for stills.
Moreover, the camera's Improved Picture Control settings enable maximum dynamic range and color adjustments while editing the images.
The D810 also utilizes dual media slots for both SD cards and Compact Flash for adequate storage. It also provides a built-in flash as well as a larger grip for comfortable control. This is perfect for extended shooting that is necessary for astrophotography. Also, the secondary "i" button on the back panel allows for faster access to important settings.
The camera's advanced auto focus sensor enables precise and fast auto focus control. The AF sensitivity down to -2EV makes it effective in low light imaging. More features to the AF include an upgraded "lock on" and an expansion to the "store by orientation".
Without a doubt, the camera's 36.3Megapixels allows for excellent quality capture. Also, the high-resolution sensor in the D810 provides superior sharpness and detail by omitting the Optical Low Pass Filter. The sensor also has a wide dynamic range, rich tones, and fast- channel readout allowing for improved imaging at high sensitivities.
Other amazing features of the D810
The D810's Expeed 4 Image Processor allows for faster and improved low-noise imaging throughout the ISO range. The camera also supports 1080p video capture at 60 fps while the camera's increased efficiency enables up to 1200 still shots per charge.
Also, the camera's ISO range of 64 to 12,800 enables more effective low light imaging and the ISO can be expanded from 32 to 51,200. The camera's amazing group area AF enhances tracking and subject tracking in low light conditions and when capturing small objects against a high contrast background.
Another important feature in the Nikon D810 is the Raw Size S file format which enables faster image transfer making it easier to edit the images. Also, the Continuous Shooting feature allows for shooting up to 7 fps in DX mode and 5 fps in FX mode while utilizing the high-quality AA batteries.
The camera's Reduced Vibration allows for sharper imaging. The innovative mirror box architecture and front curtain feature improves the image's clarity and reduces image shake. To reduce the risk of blurring when taking images minimizing vibrations, its front curtain feature comes into play.
The camera is Wi-Fi enabled with Optional Transmitter offering wireless connectivity for image transfer to a computer or FTP server. Wi-Fi also allows remote camera control using Nikon's Camera Control Pro 2 software.
The improved coating on the optical components allow you to render brighter and more accurate color. This makes it easier to make adjustments under bright or dim conditions.
Finally, the built-in flash offers commander mode for wireless control of up to two groups of off-camera flash units.
Click here to see its current price.
2. Nikon D750 FX-format Digital SLR Camera

The Nikon D750 FX is another superb camera for nightscape shooting.
Nikon D750 Main Features and Specifications
6 Megapixels FX-Format CMOS Sensor
2 inches Tilting LCD Monitor
91k-Pixel RGB Sensor
Group Area AFt
Built-in Wi-Fi Connectivity
Continuous Shooting up to 6.5 fps
EXPEED 4 Image Processor
Full HD 1080p Video Recording at 60 fps
Multi-CAM 3500FX II 51-Point AF Sensor
ISO range of 100-12800, expandable to 50-51200
Time Lapse Shooting & Exposure Smoothing
The Nikon D750 detailed review
The camera's design makes it another excellent choice when shooting the night sky. First, it has a 3.2-inch monitor with a tilting design, making it easy to work from low and high angles. The built-in popup flash adds illumination to scenes and can be used as a flash commander.
Secondly, the dual SD card slots extend the camera's file-saving capabilities. Again, the camera has a unique body design that reduces its weight and size, making it more comfortable to use when capturing a scene for long.
The back and front covers of the camera are made using carbon fiber thermoplastics while the top and bottom covers are made from magnesium to contribute to its sleekness and durability. Also, the rechargeable lithium ion battery has a long life allowing the camera to be used for a while before recharging. The camera's MC-DC2 port allows you to connect optional accessories, such as the remote shutter releases.
Also, the Nikon D750's 24.3MP FX-Format CMOS Sensor and EXPEED 4 Image Processor enable the camera to produce rich image quality emphasized by low noise and sensitivity to a native ISO 12800, which is expandable to ISO 51200. The combination of the sensor and the processor works together increasing the speed in the camera's system. The camera has a full-resolution continuous shooting rate of 6.5 fps. Also, the EXPEED 4 processing power enables still imaging performance.
In addition, the Advanced Multi-CAM 3500 FX II AF Sensor Supports exceptional imaging capabilities.
The D750 has AF detection sensitivity down to -3 EV to provide even greater accuracy to centrally-located subjects. The group area AF setting allows for faster initial focusing and object recognition. Also, the scene recognition system and exposure metering setting enable quick determination of an accurate white balance and exposure, rendering the best scene.
And there's more…
The camera has a high light metering system to allow light production when working under low light.
Further, built-in Wi-Fi connectivity allows sharing and transfer of images. You can install the Nikon Wireless Mobile Utility app on an iOS or Android device and be able to browse the images of the memory card using the device. Then, you can select the images and transfer files between several devices. Also, one can work from a distance because the device can trigger the shutter and display a live image from the camera.
The D750 has an Auto ISO sensitivity control that allows you to select a shutter speed at which the camera shake can be controlled. It also set an ISO value that will capture the best scene. Also, you can set a maximum sensitivity level to maintain the noise levels.
The camera also has language support. It supports English, Vietnamese, Chinese, Portuguese, Dutch, Danish, Czech, Bulgarian, Brazilian, Bengali, Arabic, Finnish, Telugu, Polish, Tamil, Swedish and Korean. Other supported languages are Japanese, Italian, Indonesian, Hungarian, Greek, Hindi, German, French, Marathi, Serbian, Russian, Spanish, Thai, Romanian, Turkish, Ukrainian, Norwegian, and also Persian.
Finally, the Nikon D750 has picture control modes that allow you to set predefined looks in the camera. Also, it has the in-camera image editing option which makes life a lot easier.
Click here to see its current price.
3. Canon EOS 6D 20.2 MP CMOS Digital SLR Camera – best Canon camera for astrophotography

The Canon EOS 6D camera remains Canon's best camera for all forms of astrophotography because of its low noise. The camera offers 20.2 megapixels, which is good for astrophotography as it allows the camera to provide lower noise as individual pixels remain large.
Canon EOS 6D Main Features and Specifications
1040k dot 3:2 3-inch Clear View LCD
11 point AF system, center point cross-type and sensitive to -3 EV
20.2MP full frame CMOS sensor
4.5 fps continuous shooting
63 zone iFCL metering system
97% viewfinder coverage
Interchangeable screens (including Eg-S fine-focus and Eg-D grid)
Built-in Wi-Fi and GPS
DIGIC 5+ image processor
ISO 100-25600 standard, 50-102800 expanded
'Silent' shutter mode
Single SD Card slot
Single-axis electronic level
1080p30 video recording
Canon EOS 6D Detailed Review
The Canon EOS 6D camera has 20.2 Megapixel Full-Frame CMOS Sensor which offers a high level of image quality. The sensor captures details, sharpness, colors, and tones within the scene. Also, the DIGIC contributes to low light sensitivity.
Also, the camera's 3-inch LCD monitor allows clear playback and review of the images captured. For durability, the body of the camera is made of a mixture of an aluminum alloy and magnesium. Further, the 6D has an integrated cleaning system that allows internal dust removal.
The 6D's 11 point autofocus system provides even coverage across the entire frame allowing for fast and precise focusing regardless of the working condition. With a more refined cross-type point with EV -3 sensitivity, accurate and efficient focusing under low light is guaranteed. Also, the lens data can be customized within the camera to enable greater focus when working with wider angles like in astrophotography. The camera incorporates a viewfinder with 97% frame coverage for clear viewing, especially during low light shooting.
In addition, the 6D has built-in GPS and Wi-Fi technologies to allow connectivity. You can install the Canon EOS Remote app on an iOS or Android device and be able to share images from the camera to your phone and other devices. The GPS technology in the camera enables you to geotag your images and map where each of your wonderful images was captured. This is enabled by recording the locational data such as altitude, latitude, longitude and universal coordinated time.
Amazingly, exposure settings can be controlled from another device using the Canon EOS Remote app. This allows you to modify settings in the camera as well as exposure from a distance. The images can also be accessed from the smartphone and transferred wirelessly.
What's more?
The EOS 6D is compatible with the Digital Living Network Alliance (DNLA) enabling you to share your images from the camera with other household devices such as tablets and televisions. Also, you can upload images to the CANON iMAGE GATEWAY. You can then share the images to social networking sites directly. The camera's intelligent metering system allows for the most precise exposure by analyzing the focus, luminance, and color within the scene.
Another awesome feature is the built-in High Dynamic Range (HDR) that allows for the creation of HDR images. This reduces the time needed to overlay images when editing.
Again, the EOS 6D has a scene intelligent auto mode for refined exposure. It incorporates automatic lighting, autofocus, automatic white balance and automatic exposure to analyze the scene and produce the best exposure settings. Moreover, the camera's special scene mode helps make corrections in low light situations. Also, the night scene captures four consecutive exposures allowing you to capture images effectively in difficult lighting situations without using a tripod or a stabilizing device.
Lastly, other important features include compatibility with SDXC and SD memory cards, in-camera JPEG resizing and RAW processing and silent shooting.
Click here to see its current price.
4. Canon EOS Rebel T6i Digital SLR – best budget camera for astrophotography

If your budget is lower, you can consider the Canon EOS Rebel T6i. The camera will still capture quality images considering it has 24.2 megapixels
Canon EOS Rebel T6i Main Features and Specifications
19-Pt. Cross-Type AF, Hybrid CMOS AF III
2MP APS-C CMOS Sensor
0inch 1.04m-dot Vari-Angle Touchscreen
7560-Pixel RGB+IR Metering Sensor
Built-In Wi-Fi Connectivity with NFC
DIGIC 6 Image Processor
EF-S 18-55mm f/3.5-5.6 IS STM Lens
Full HD 1080p Video Recording at 30 fps
EOS Scene Analysis
Expanded ISO 25600, 5 fps Shooting
Canon EOS Rebel T6i detailed review
The camera has a 24.2-megapixel APS-C CMOS sensor and the DIGIC 6 Image Processor which work in tandem to produce the best images in various shooting conditions. Its ISO 100-12800 which can be expanded up to 25600 makes it ideal for night shooting.
Also, the camera has a manual focus option which allows for sharp imaging. In addition, the camera has 19-Point all Cross-Type AF System for fast and accurate focusing in low light conditions.
Further, the EOS Rebel T6i has built-in Wi-Fi which allows wireless transfer of images and videos. If you install the camera connect mobile app, you will be able to quickly and effectively upload files to your desired social media sites. Moreover, the camera can be paired with other compatible devices quickly using NFC.
Other important features include a microphone jack for audio recording, continuous shooting rate of up to 5fps and creative filters when capturing.
Click here to see its current price.
5. Sony Alpha a7II – best mirrorless camera for astrophotography

The Sony Alpha a7II is designed to provide low noise even at high ISO speeds, which is useful in low light situations. The camera has interchangeable lenses which allow you to use a different lens depending on your requirement. In addition, the mirrorless camera means that the camera body is thinner, lighter and smaller.
Sony Alpha a7II Main Features and Specifications
2.36M dot OLED viewfinder
24.3MP Full Frame CMOS sensor
3-inch tilting LCD with 1.23 million dots
5-axis sensor-based image stabilization
Bionz X image processor
E-mount with support for E, FE, as well as A-mount lenses (plus adapter)
Wi-Fi with NFC capability and downloadable apps
Improved hybrid AF system with 25 contrast-detect and 117 phase-detect points
Sony Alpha a7II detailed review
The camera's 24.3 megapixel sensor allows for high resolution and effectiveness under low light thanks to the a7II's standard ISO sensitivity range of 100-25600. The image processor offers fast operating speed and large-scale integration, allowing for a more natural tone. In addition, the camera has a 14-bit RAW output and a 16-bit image processing.
Also, the camera has compatibility options for a microphone, flash, and other accessories. The 3.0 inch 1,228.8k-dot tilting LCD monitor and 2.36 million-dot OLED electronic viewfinder allow you to monitor and review your images. Further, the camera has built-in Wi-Fi connectivity for instant sharing of images as well as NFC support for remote camera control.
High image quality is assured by using the enabled diffraction reproduction technology that minimizes the effects of diffraction to produce finer images. Further, the improved metering performance at -1 EV helps you to capture better images. Also, the a7II has a 5-axis steady shot image stabilization system.
Other important features include:
Enhanced fast hybrid AF
Time code and User Bit settings
Customizable color profiles
30 inch 1,228.8k-Dot Tilting LCD Monitor
5″ 2.36M-Dot XGA OLED Tru-Finder Electronic Viewfinder
Redesigned Grip, Shutter Release Button, and Controls for a more secure grip
Audio input and headphone jack to allow for connectivity
Magnesium Alloy Construction and Robust Lens Mount
Scene Selection modes: Night Portrait, Sunset, Night Scene and Hand-held Twilight
Picture Effect modes including Retro Photo, posterization (Color, B&W), Partial Color (R/G/B/Y), Pop Color, Toy Camera, High Contrast Monochrome, Soft High-Key, Soft Focus, Watercolor, Miniature, Rich-Tone Monochrome, and Illustration.
Unique color space
Creative Style settings including Sunset, Night Scene, deep, Standard, clear, Sepia, Vivid, Neutral, Light, Portrait and Black & White.
Pre-flash TTL control
Two times clear image zoom
Click here to see its current price.
6. Pentax K-3II Pentax DSLR

The Pentax K-3II DSLR is a good astrophotography camera at a nice price. The camera has 24.4 megapixels allowing it to compete with other more expensive cameras. For about 800 dollars, you can pick up a great all-around DSLR that will also let you take awesome photos of the night sky. The camera also has unique features including the Astrotracer, which utilizes the built-in GPS to sync the sensor to the movement of celestial bodies.
The sensor without an anti-aliasing filter makes it a good choice because the anti-aliasing filter is usually troublesome for astrophotographers. With no anti-aliasing filter, Astrotracer, and at its low price, the K-3 II is still an amazing option for an intermediate photographer interested in taking great shots and taking the plunge into astrophotography.
Pentax K-3II Pentax DSLR main specifications and features
35 MP APS-C CMOS Sensor
2 inch 1.03m-Dot LCD Monitor
86k-Pixel RGB Exposure Metering
Anti-Aliasing Filter Simulator
Built-In compass, GPS, and AstroTracer
Full HD 1080p Video Recording at 30 fps
ISO 100-51200, 8.3 fps Shooting
PRIME III Image Processor
SAFOX11 27-Point AF, 25 Cross Sensors
Shake Reduction & Pixel Shift Resolution
Pentax K-3II Pentax DSLR detailed review
Also on our best camera for astrophotography podium is the Pentax K-3II. The camera has a 24.35 Megapixels APS-C CMOS sensor that enables high-resolution imaging. The K-3II has notable low light sensitivity from ISO 100-51200.
In addition, the camera has a unique anti-aliasing filter that allows you to toggle an anti-aliasing filter effect. When the filter is off, the camera acquires maximum resolution and sharpness capturing an image of the highest attainable quality.
Furthermore, the camera's pixel shift resolution and diffraction correction allow you to achieve a more refined color palette, reduce noise and increase the resolving power. The function also helps to increase sharpness by offering an effective improvement to the effects of diffraction.
Also, the SAFOX11 autofocus system allows to quickly and accurately acquire focus on a subject in a low lighting condition. It uses 27 specific phase-detection points. The light source sensor also benefits the autofocus function, helping to refine the focusing accuracy despite the challenging lighting conditions.
Accurate and consistent exposure is also enhanced by the 86k-Pixel RGB Sensor Exposure Metering. Moreover, the in-camera sensor shift type shake reduction minimizes the appearance of camera shake when using a mounted lens. The image stabilization is located within the camera body past the legacy lenses and the Pentax lenses making it ideal for working in low light conditions or when using longer lenses.
Additionally, the camera is enabled with GPS, astrotracer and an electronic compass that allows geotagging during shooting.  The astrotracer function helps in making long exposures of the night sky.
The GPS, on the other hand, helps in coordination. The camera's orientation allows the image sensor to shift during exposure hence compensating for the earth's rotation. Therefore, star trails will not appear in the captured images. This results in clearer and sharper imagery.
Camera body of the K-3II
The Pentax K-3II's camera body is well designed to serve the purpose. It comprises of the following:
Magnesium alloy over the stainless steel hence making the camera weather resistant, coldfrproof and free from dust and moisture.
Optical viewfinder which allows full frame coverage.
Interchangeable,a optional focusing screen that allows different viewing and focusing.
A large 3.2 inch 1.03m-dot LCD monitor which enable clear image playback and menu navigation. Also, the screen has adjustable contrast, brightness and color settings.
Dust removal function that helps you to maintain a dust, particle-free surface.
A dual SD memory card slot for greater storage capacity.
A USB 3.0 interface that allows you to transfer your files fast to a computer and other devices.
It also has a durable shutter mechanism.
Other important features of the camera include:
A multi-pattern white balance which analyzes different lighting sources.
In-camera HDR shooting function that helps attain greater highlight and shadow.
Language support. The camera supports the following languages. Czech, English, Portuguese, German, French, Finnish, Danish, Spanish, Dutch, Swedish, Polish, Hungarian, Turkish, Greek, and Italian, Russian.
Compatibility with the optional FluCard memory card for Pentax to allow the camera to connect to other devices over Wi-Fi for wireless image transfer.
Compatibility with Optional Eye-Fi memory cards.
Multiple exposures shooting support.
Native support for both Pentax PEF and Adobe DNG 14-bit RAW file types. You will also be able to retrieve RAW data from JPEG files if the images are still present in the camera's buffer memory.
Various digital filters are available during capture. These include High Contrast, Toy Camera, Invert Color, Extract Color, Shading, Unicolor Bold, Bold Monochrome and Retro.
Different digital filters are available during playback. These include: Base Parameter Adj, Extract Color, Fish-eye, High Contrast, Miniature, Posterization, Shading, slim, Invert, Color, Soft, Starburst, Tone Expansion, Sketch, Toy Camera, Retro, Unicolor Bold, Bold, Monochrome, Water Color and Pastel.
Unique custom image modes. These include: Bleach Bypass, Bright, and Cross Processing. Landscape, Monochrome, Muted, Natural, Portrait, Radiant, Reversal Film, and Vibrant.
A distinct hyper operation system that allows efficient control over both aperture priority and shutter shooting when working under a certain program. Also, you can utilize shutter speed priority after turning the front e dial while still maintaining the right exposure settings. The camera also has a green button that allows you to return to the original program setting.
Click here to see its current price.
Conclusion
Ultimately, the camera you will pick for your astrophotography adventure will depend on many things. Key among them is the features it has in its arsenal. Another thing you need to take care of is your budget. In as much you want to capture the best images, always spend within your means.
Luckily, we have reviewed a range of cameras to narrow down the list for you. Our top Pick is the Nikon D810 FX-format Digital SLR Camera, but it may be a bit expensive for most people.
Therefore, we have had to include a budget astrophotography camera that should give you amazing quality for its price. That is the Canon EOS Rebel T6i.
These are the best astrophotography cameras in 2023:
Nikon D810 FX-format Digital SLR Camera
Nikon D750 FX-format Digital SLR Camera
Canon EOS 6D 20.2 MP CMOS Digital SLR Camera
Canon EOS Rebel T6i Digital SLR
Sony Alpha a7II
Pentax K-3II Pentax DSLR
In case you have any kind of feedback for us, kindly post it in the comment section below and we shall be glad to respond to you.
In the meantime, you can watch this amazing YouTube video of How to take great Astrophotography and night sky by Canon Australia: