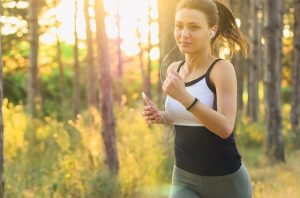 There are three types of headphones; In-ear headphones, On-ear headphones and Over the ear headphones. Today, we take a look at the Top 5 Best Earbuds under 50 Dollars in 2023.
In this review, we focus our attention on In-ear headphones normally abbreviated as IEM which stands for In Ear Monitor. IEMs are mostly preferred for their portability; unlike their peers, they are small-sized and lightweight. Earbuds are also relatively affordable as compared to over the ear and on-ear headphones.
Best Earbuds under 50 Dollars – Overview
Before we dig deeper, here is a quick overview:
Best Earbuds under 50
Image
Our Rating
Price
Anker Soundcore Spirit X Sports Earphones
(Our top pick)
Symphonized NRG 3.0 Earbuds
TaoTronics TT BHO7 Wireless 4.2 Magnetic Earbuds
Senso ActivBuds S255 Wireless Earbuds
(Best Budget Earbuds for Sports)
Anker Soundbuds Curve Wireless Headphones
Why are earbuds becoming overly popular day by day?
Today's life is full of noise and distractions. You can hardly enjoy a walk down the street or a quiet cup of coffee. Solitude, quietness, and peace have become extremely rare. This makes having high-quality earbuds more than a luxury; they are a must have – a necessity.
What makes these top earbuds under $50 standout? What really matters when you are choosing the best earbuds for your lifestyle?
Factors to consider before buying earbuds
Your Budget
Sure, we are reviewing the best earbuds under $50. However, you may be on a tight budget. The good thing is that their prices range widely. There are some cost under $10, while others are beyond the 50 dollar mark. How much do you want to spend? With a little patience and guidance, you will always get a good fit for your price.
Your lifestyle and music taste
Are you a casual music fan? Do you listen to blues, jazz, soft rock, classical and slow jams? You need audiophile earbuds. They work best for you because their strength lies majorly on quality output. Audiophile earbuds have a slight bass and neutral response. Most of them have no in-line remote.
As for the sporty, active people and hard music fans, their best earbud choice must have heavy bass output. Other qualities are like shock, sweat and water resistance. Also, connectivity to Bluetooth and ear hooks is a major plus. The bass in these tiny gadgets works best for hip-hop and techno music lovers. They are also terrific at canceling noise. This makes them a great work-out partner whether in the gym or outdoors.
The size and type of ear tips
Most brands include assorted sizes of the ear tips in the set. You will need to try them out and get your best fit for each ear. The best ear tip size will give you the smallest amount of exterior clatter.
Note: The ear tips are normally labeled 'R' or 'L' to help you match them to the right ear (no pun intended). It's possible for different ears to use different ear tip sizes.
Additionally, Comply foam tips enlarge while worn and cover the ear canal perfectly blocking exterior noises. This isolation makes the sound output clear and maintains the original feel.
Fitting and comfort
It doesn't matter how lovely the earbuds look or how expensive they are, if they keep falling off your ears, you will definitely be irritated. This is the reason why most manufacturers have embraced ear hooks and ear wings. The best earbuds should not hurt, they should feel comfortable to use over a long period.
Earbud case and tray
For safety and durability purposes, you need to keep that earbud case and use it to store your earbuds while not in use. When you store them casually, mixed with other items, you risk excessive exposure. This may cause strain, therefore shortening their lifespan.
This goes for the earbud tray as well. Most people never bother about them, only to later find the earbuds tangled and not working. Don't be quick to blame the brand or the seller, just wrap the earbuds safely while not in use and you will enjoy using them for a long time.
Two tips for maintaining your earbuds
Equalized high-quality music
The most common format for downloads is MP3. That's understandable because it consumes less storage space. However, there is a disadvantage. While sparing space by compressing the files, the quality of your output is somewhat compromised.
You may be having the best earbuds, but as long as the quality is poor, you will still not get the desired output. You can test this by downloading a higher quality file, for example, WMA and compare. Therefore, you may have to compromise quantity over quality.
Here's another trick that will help you get the best output quality. On your device, use the equalizer to balance the output. Most likely, your gadget has the options under the volume button. If not, access the equalizer from the audio software. This should edify the output, giving you an amazingly balanced sound.
Cleaning
Every once in a while, pull the ear tips off and wipe the earbuds with wet cotton wool, remove any wax that could be clogging the driver's front. This helps to deter clogging and maintain clarity.
Best Earbuds under 50 Dollars – Top 5 Product Review
There is a general assumption that tech devices must be expensive. People tend to make their choice using brand names and high price ranges. The truth is, it's possible to get outstanding performance on low priced earbuds. These are our top 5 picks of the current best earbuds under 50:
1. Anker SoundCore Spirit X – best sports headphones under $50 with IPX7 sweat guard technology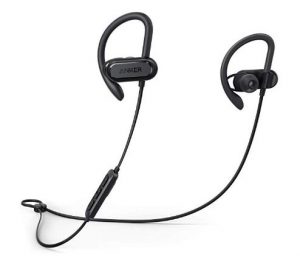 This set is an incredible choice for people who have an active lifestyle. Its structure is sub-marine inspired and uses advanced IPX7 sweat and waterproof technology. This wireless device uses 5.0 Bluetooth technologies. Also, the sound output has a deep but balanced bass with an awesome tremble. So, this is a perfect choice for gym use, running, cycling, submarine activities and dance training.
Anker SoundCore Spirit X Wireless Earbuds are easily adjustable. Their firm-holding ear hooks make them suitable for extreme activities. They're made to allow you to tailor-make them to your size thus enabling them to fit comfortably in any ear size or shape.
In addition, the best quality of these earbuds is their battery. Every 5 minutes of charge equates to an hour of continuous use. On a full charge, they can give you 12 straight hours on continuous play. They also have a fairly short charging period of one hour and a half to a maximum of two hours.
This device can connect seamlessly with other Bluetooth devices within a radius of 33 feet. With its 3-button in-line remote, it allows you to enjoy extreme clarity while making calls hands free, skipping tracks, pausing and playing, and adjusting volume.
Other accessories that come with the set are 6 ear tips (XS, S, X, M, L, X), 3 ear wings (S, M & L), a micro-USB cable, 2 cable clips and a shirt clip alongside its pouch. Its 10mm vibrant drivers give an extremely high energy output.
SoundCore Spirit X earbuds are classy and definitely made to last long. The set has guaranteed value for its price, plus eighteen months warranty in case of any shortcomings.
These are the features that make Spirit X the best earbuds under 50 for sportsmen
Bluetooth technology
Weighs 1.44 oz with a shipping weight of 5.6 oz
33 feet radius for Bluetooth transmission
Takes an average of 1½ to 2 hours to charge
1 lithium battery
Long playtime of up to 12 hours when fully charged
Water and sweat proof rate – IPX7
Pros
Fair price
Long battery life
High water-proof rating
Seamless 33 feet radius connection with Bluetooth devices
Firm and comfortable fitting for extreme activity
High-level noise suppression
18 months warranty
Excellent sound output – amazing deep bass
Cons
The bass may sound un-comfortable on high volume
Click here to see the current price.
2. Symphonized NRG 3.0 Earbuds – best quality earbuds under $50

Surprisingly, this device is made with real wood. Real wood is known to bring out pure and natural acoustic sound. These earbuds are hand-crafted to have a natural and elegant look. The chrome rings on the wood also compliment the design making it classy.
Their sound output is un-compromised by their fair price. You will enjoy a balanced, rich and warm sound with fairly deep bass and acoustic sensation.
Symphonized NRG 3.0 earbuds come with small, medium and large silicone customized ear tips all packed in the set. Your perfect fit should manage to deter any external noise. These earbuds are awesomely comfortable for extended use though they may not be comfortable to use in a sleeping position.
They also have an in-line microphone to help you adjust the volume with ease. The same is also used for the play/pause functions. To make things even better, the earbuds come with firm and tangle-free TPE cable that is 48 inches long. It's a firm and tangle-free TPE cable. Also, you will have many colors to choose from and an eco-friendly complimenting carrying case.
This piece is also compatible with the most types of Android gadgets ranging from smartphones to MP3 players, tablets, and laptops, iPods, iPads, and iPhones. Lastly, the 3.5mm jack made of gold plate provides a strong sound connection.
Symphonized NRG 3.0 earbuds main features include:
Frequency response range 18Hz- 22kHz
5MW power rating
16 Ohms Impedance
5mm standard jack
48-inch TPE cable
3db total harmonic distortion
8mm dynamic driver unit
Pros
Great noise canceling ability
The handcrafted wood gives them a naturally beautiful look
They are easy to use – you can adjust volume, select tracks or answer calls with the control button and microphone.
Use of the standard 3.5mm jack makes them easily compatible with most gadgets.
Cons
They may not be comfortable to sleep in.
Click here to see the current price.
3. TaoTronics 4.2 TT BHO7 – best magnetic earbuds under $50

Third on our list is the TaoTronics 4.2 TT BHO7. This awesome set comes with a set of three easy to fit and detach hooks to fasten the grip. This makes them a perfect choice for people who love the gym, cycling and running. They're perfectly fit an active or sporty lifestyle.
These earbuds have an inbuilt magnet that allows you to hook the ends together and wear them like a necklace while not using them (perfect idea for safe-keeping). They use IPX6 sweat and waterproof technology.
TaoTronics 4.2 Magnetic earbuds are compatible with Android, Mac and Windows devices. They also have a Bluetooth connection range of up to 10 meters.
Apt X codec enables these earbuds to have a high-quality sound output (CD-like) for compatible devices. Also, their 6.0 CVC noise reduction technology makes them perfect for making calls and external work-outs.
The battery uses a micro USB 5V charger. It lasts 6 hours on continuous play and 175 hours while on standby. It takes two hours to charge fully.
Here are the main features of TaoTronics 4.2 earbuds.
2 Bluetooth Technology
6 working hours
Charging time of 2 Hours
5mm jack
CVC 6.0 Noise cancellation
Lightweight – 0.53 oz; 4 oz shipping weight
5V Micro-USB charging system.
Pros
A comfortable light weight of 0.53 oz
Good noise cancellation ability
6 hours of battery life with only two hours of charging
Great ear hooks that make working fun and easy
Cons
Click here to see the current price.
4. Senso ActivBuds S255 Wireless Earbuds – best bluetooth headphones under $50

This set is comprised of ergonomically designed high-definition earbuds that are an incredible choice for sports lovers. These earbuds are sweat and waterproof with an IPX7 rating. They also use 4.1 CSR Bluetooth technology to deliver un-interrupted quality audio output.
The sound output has a profound balanced bass with a terrific tremble. It's a perfect choice for gym use, running, cycling and taking walks. It's cordless and has ability to connect compatible devices within a 30 feet radius.
These Senso Wireless Earbuds have comfortable, user-friendly and easily adjustable ear hooks suitable for high energy activities. They're made with gel flex silicone thus enabling them to fit comfortably in any ear size or shape.
With these earbuds, you can enjoy making calls hands free, skipping tracks, pausing and playing, adjusting volume with ease. They are also enabled with CVC 6.0 noise suppression technology so that you can get the most out of your audio.
Senso wireless has a micro-USB charging port. It also comes with a dual-port car charger and a charging cable. While fully charged, it lasts 240 hours on standby and 8 straight hours on continuous play. It takes about 1 to 2 hours to charge fully.
Other accessories that come with the set are three ear tips (large, medium and small), a clip for the cable and a pouch.
Lastly, Senso Wireless Earbuds are classy and definitely made to last long. The set has guaranteed value for its price and a one year warranty in case of any shortcomings.
Below are the features that make Senso Activbuds S-255 stand out
4.1 Bluetooth technology
6.0 CVC Noise reduction
Weighs 0.16 oz and has a shipping weight of 7.2 oz
30 feet radius for Bluetooth transmission
Takes an average of 1 to 2 hours to charge
85mAh lithium-ion polymer battery
Long playtime of up to 8 hours
240 hours standby time
Water and sweat proof rate – IPX7
Car mount holder for cellphone – air vent magnetic
A bonus cardholder plus phone wallet
Simple but stylish (all black with Senso red logo)
Pros
Long battery life
Quality output at a fair price
High water-proof rating
Seamless connection with Bluetooth devices
Safe and comfortable fitting
High-level noise suppression
One year warranty
Cons
Click here to see the current price.
5. Anker Soundbuds Curve Wireless Headphones – best earbuds under $50 for long playtime

The Anker Soundbuds Curve is your best travel partner. It uses two lithium batteries to offer 12 ½ non-stop playtime. Amazingly, 10 minutes of charging can keep you going for an hour.
Just like most current Anker devices, this set has a submarine structure. The structure has a Nano internal coating and a water-resistant shell that protects your gadget from sweat and water. They make a great sporting partner as they are lightweight (2.08 ounces).
The eartips hold firm even during extreme activity. They come in multiple sizes to ensure that you get your perfect fit. The silicone made earwings also enable you to exercise or work comfortably for long hours without experiencing fatigue.
They work with CVC technology for noise cancellation. Therefore, you get to make un-interrupted calls with clarity. In addition, they have memory foam tips to help you isolate yourself completely from external noises.
Anker Soundbuds Curve is an easy to use and user-friendly device. With its 3-button remote control, you are able to play, pause and forward tracks. The built-in microphone enhances call clarity to a decent level. By using Bluetooth 4.1 technology, they connect with compatible devices within a 33ft radius.
Here are the features that make Anker Soundbuds stand-out
Long battery life – 12.5 hours music play (14 hours talk time)
Compatible with other devices within 33ft range
16 ohms impedance
Average charging time of 1.5 hours
8 oz in weight
20Hz – 20 kHz frequency response
5V charging system
1 Bluetooth technology
Pros
Long play-time of up to 12.5 hours depending on the audio content and volume
Lightweight at 0.8 oz
Multiple eartips that allow Snug fit
High water and sweat resistance
Cons
The ear hooks are not detachable
Click here to see the current price.
What main features should you consider before your final decision?
The tech market can sometimes be a puzzle especially for people who are not tech savvy. There are so many options for sale and they all have competing specifications. There are a few pointers though that can lead you to make a perfect choice. Let's look at two of the most important ones.
Noise-canceling or general isolation
While most earbuds generally block out exterior noise, noise canceling earbuds system enables them to hinder and bounce back any exterior sound such that you only hear what you are listening to. They are very popular with air travelers as they do not allow the engine noise into your ears.
Some users do not prefer them though, they want to be aware of the surrounding and so they would rather have the common noise isolating earbuds. For instance, a mother who wants to enjoy a movie while monitoring her children may not appreciate total noise cancellation.
Wireless versus wired IEMS
In regards to durability, wired earbuds last longer. The fact that wireless sets have detachable parts, the battery, for example, their life is shortened. Sound is inarguably clearer and of better quality in wired devices. Reason being, there is no compression of files during transmission. Wired earbuds are basically 'plug and play' and so a file is played with its original quality. However, with today's technology advancements, this fact is slowly becoming a myth.
Bluetooth versions are quickly taking over the market. Quality can no longer be determined by whether the earbuds have a cord or not. Today's wireless earbuds have caught up with most wired devices.
In consideration of the freedom, wireless earbuds win but it's now a matter of personal preference. In my view, your lifestyle should be the determinant.
Consider this, do you want to have earbuds that work day by day through the years without needing to charge but have a cable? Or, would you rather enjoy the freedom and Bluetooth compatibility with a chargeable device?
IPX Rating
There's a huge difference between a device that is water resistant and a device that is water proof. Most folks assume the rating on their gadgets only to regret while it's too late.
IPX is the rating used to define a device's ability to withstand water and dust interference. An IPX rating of zero means the gadget has no resistance whatsoever (for example a paper). IPX 1 means the gadget can withstand a few drops.
The rating grows to IPX2, 3, 4, 5, 6, 7 and 8. Each level has a little more resistance than the previous. The rating for most of the featured devices is IPX7. This means the devices can withstand being submerged in water for short instances, for example, being rained on or water sports that do not require long periods of submerging.
IPX8 is the highest rating currently. IPX8 rated gadgets can be used for swimming or in a bath tab without experiencing any fault.
Conclusion
Finally, technology is advancing fast and devices are daily evolving, there will always be a better version of today's best.
As mentioned earlier, you can always get a set within your budget. There's no one choice that works for all of us. Everybody has their taste. Once you get the basic understanding of how they function, you will get your perfect fit.
A great soundbar can do the trick if say you are exercising at home or just listening to music.
Here is a summary of the best earbuds under $50 in 2023:
Anker Soundcore Spirit X Sports Earphones
Symphonized NRG 3.0 Earbuds
TaoTronics TT BHO7 Wireless 4.2 Magnetic Earbuds
Senso ActivBuds S255 Wireless Earbuds
Anker Soundbuds Curve Wireless Headphones
Meanwhile, you can watch this YouTube video on How To Run With Headphones by Vegan BroScience: