What's the best Olympic weight bench on the market? Well, the best Olympic bench must be are stable and sturdy. It must also duly support weight lifting routines.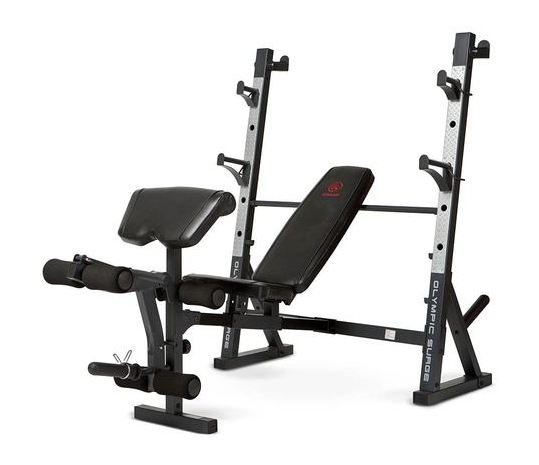 Different Olympic weight benches support different weights – light, medium and heavy. A good bench will hardly tip over regardless of the weights being used, so long as they're within the recommended limits.
Standard benches are good but they cannot compare with Olympic benches. We have carefully selected the best options to save you some precious time. Their design allows for a wide range of workouts ranging from shoulder presses, squats, bench presses, and dumbbells.
Best Olympic Weight Bench – Comparison Table
In this review, we explore some of the best Olympic benches for home gyms. We also highlight their main features, pros & cons, and also share a buyer's guide on how to choose the best Olympic bench. Let's have a look at our top pick benches first in the below table.
Take note of the maximum weight each one can hold (and that includes the user's weight).
Reviews of the Best Olympic Weight Benches 2023
There are many options to pick from. However, finding the best Olympic weight bench for your gym can be a nightmare. Thankfully, we have taken it upon us to do the dirty work for you. Out of our top 10 picks, we're sure you are gonna find what suits you.
These are the best Olympic weight benches in 2023:
1. Marcy Adjustable Olympic Weight Bench MD-879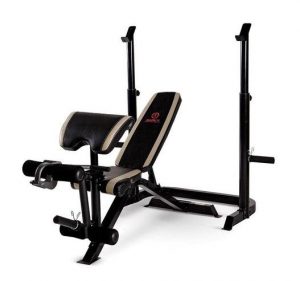 Apart from its high-level comfort, Marcy MD-879 Olympic Weight Bench also offers versatility and stability. This is because it is one of the few two-piece Olympic benches that can be used as a utility bench and for barbell crutches (independently).
We ranked it among the best Olympic weight benches specifically for its versatility mostly provided by the squat rack. It allows you to comfortably carry out lunge exercises as well as walk-in squats. This, plus it can be used separately boosts the bench's versatility.
Also, the curl pad can be easily adjusted so that you can get comfortable as you exercise.
The Marcy MD-879 is a powerful and stable construction made of 14-gauge tubular steel. It offers extra control at the heat of exercise owing to the arm's rubber grips. It also easily inclines, declines, and accommodates chest routines.
Lastly, the barbell crutches' height can also be adjusted for easier workouts.
Features
Max weight capacity: 600 pounds
Maximum weight on crutches: 300 pounds
Max user weight: 300 pounds
Dimensions: 65.75L x 65.5W x 64.5H (inches)
Two-piece Olympic bench
Utility bench and barbell crutches can be used independently
5-position utility bench
Contoured foam roller pads
Preacher curl bicep pad that has a removable bicep curl bar
Pros
Fairly priced for its quality
Has superb padding
Additional control offered by the arm's rubber grips
Versatile – suitable for multiple routine full-body workouts
The squat rack can be separated for walk-in squats
Safety locks boost its stability
It comes with two Olympic pegs for weight storage
Cons
Assembly can be a pain
There are no safety spotters
Click here to see its current price.
2. Marcy Olympic Weight Bench for Full-Body Workout MD-857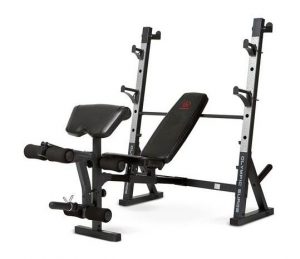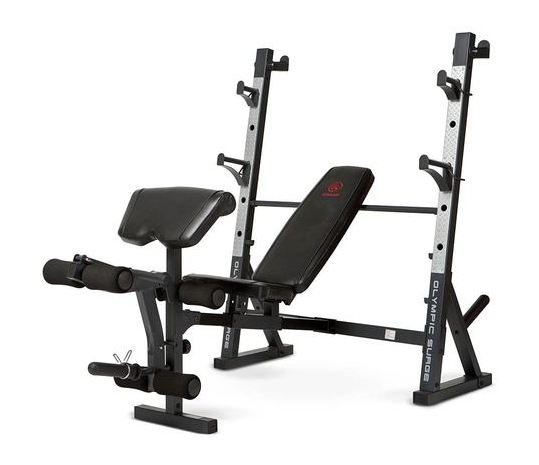 Marcy is renowned for its expertise in gym equipment, especially for home gyms. And it's no surprise that quite a few Marcy products feature in this post. There are two appealing aspects of our second pick – the Marcy Olympic MD-857.
First, there is the seat sliding track. If you want to achieve great lifting positions; this is the perfect feature for that. Secondly, you have weight plate storage posts. This combines the Olympic sleeves and storage posts. Apart from easy storage, these features allow you to maximize routines and enjoy multi-functional training.
Marcy Olympic MD-857 is one of the best Olympic weight benches for home gyms in terms of versatility and optimal support. Its dual features comprise of a pivot point that aligns the knees with a locking system for optimal abdominal workouts.
You also enjoy minimized fatigue as a result of appropriate body posture.
Features
Max weight capacity: 600 pounds
Maximum weight on Bar Catch: 300 pounds
Maximum user weight: 300 pounds
Max weight on Leg Developer: 100 pounds
Dimensions: 80L x 47.5W x 60H (inches)
Premium steel construction
Has a seat sliding track
Dual function leg developer
Has a weight storage post
Pros
You enjoy maximum muscle work-outs
Easy to move even on carpets
Sturdy and comfortable – constructed with vinyl and rugged foam
The locking system plus the pivot point support proper posture
Additional control offered by the arm's rubber grips
Versatile – has a seat sliding track and adjustable back and seat
Offers full body workout
Cons
Needs a relatively large space
The seat can be wobbly, but you get used to it
Click here to see its current price.
3. Body Champ Olympic Weight Bench BCB5860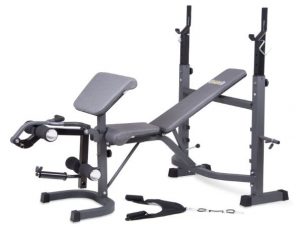 The best Olympic weight benches for home gyms have one common feature; they are compatible with most weight bars. And the Body Champ BCB5860 is no exception. It is compatible with 7 and 6-inch weight set bars.
This Body Champ weight bench also has an adjustable backrest. While most weight benches offer four to five rest positions, the Body Champ BCB5860 provides a 7-position modifiable adjustable. It also has enhanced safety design with in-built hooks.
Some of its main accessories include an arm curl bar, a preacher curl pad, an Olympic plate adapter, and a leg developer spring clip, and ab crunch that has a foam grip handle.
Features
Max user weight: 300 pounds
Maximum weight set: 300 pounds
Dimensions: 76W x 56H x 55D
7 backrest positions
Adjustable dual-action leg developer
Olympic adaptor – enables you to choose between Olympic and standard plates
Pros
Multiple backrest positions
It's sturdy and comfortable
Improved accessories enhance the workout sessions
Perfect for full-body workouts
Easy to transform depending on the workout you want
Cons
It takes long to assemble the unit
Not suitable for very tall people (6 ft. and above)
Click here to see its current price.
4. Valor Fitness BF-48 Olympic Weight Bench Press Station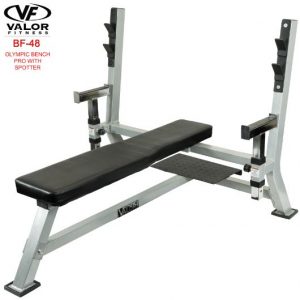 Valor Fitness BF-48 represents comfort and safety. Built with a dual-layered vinyl bench pad and a sturdy tripod base, it offers added stability, especially during weight lifting. Its steel tubes are fitted with rubber caps at the base to minimize movement as well as protect the floor.
The bench's tapered design on the back pad allows the shoulders and arms a great motion range while carrying out bench presses. Valor Fitness BF-48 also offers the versatility you need for casual stretches, intense training, and rehabilitation.
Features
Max weight capacity: 500 pounds (including the user)
Dimensions: 60L x 56W x 28H (inches)
Layered pad dimensions: 47 x 11 x 2.5 (inches)
11-gauge steel construction (high-stress points)
12-gauge steel lower frame
Rubber base caps – minimize movement and add stability
Suitable for light commercial use
7 position safety catch
Tapered back design
Steel-made sturdy tripod base
Pros
Suitable for home use and light commercial use
It's durable
Reasonably priced
It has 8 Olympic storage pegs
The build and structure offers stability and safety
Safe – has adjustable safety catches and heavy-duty inbuilt spotter stand
Warranty: 3 years for the frame, 2 years for the bench pad, 1 year for the popper pin
Cons
The assembly process can be tedious
Click here to see its current price.
5. Marcy Competitor Adjustable Olympic Weight Bench CB729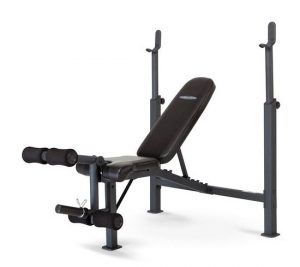 If you are looking for an all-rounded, resilient Olympic weight bench that can handle a variety of home routines, I can vouch for this as the best Olympic weight bench.
Shouldering up to 600 pounds, Marcy competitor CB729 is equipped to handle strength work-out routines, flat-leg curls, chest work-outs, and lower abdomen work-outs. This makes it one of the best Olympic weight benches for home gyms.
This weight bench offers you easily adjustable back pad positions, modifiable height crutches, dual-action leg developer, and padded foam rollers.
Also, you get to build every part of your body and experience optimal comfort at the same time. The only thing you need to watch-out is the connection between the bench and the incline positions, those plastic caps need a bit of tightening to avoid coming off.
Features
Max weight capacity: 600 pounds
Maximum weight on Crutch: 300 pounds
Max user weight: 300 pounds
Maximum weight on Leg Developer: 100 pounds
Assembled Dimensions: 67L x 45W x 50H (inches)
Dimensions: 45W X 50H X 67D Inches
5 adjustable seat positions
Heavy-duty steel frame
Has dual-action leg developer
Independent height crutches
Pros
Well-priced
Easy to put together
Easy-to-release knobs allow quick height adjustments
Has 5 adjustable back pad positions help you to maximize on your routines
The back pad easily inclines, declines, and also allows military and chest presses
Highly durable
Comfortable – stable and well-padded thus reducing muscle fatigue
Great resistance
Suitable for whole-body exercise
Economical on space
Cons
Wobbly seat especially when benching lots of weight
There are a few concerns about the plastic caps being flimsy and loose
Click here to see its current price.
6. Phoenix 99226 Power Pro Olympic Bench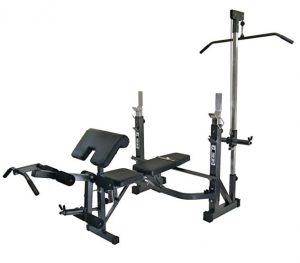 For over 2 decades, Phoenix has been offering health and fitness apparatus. The Phoenix 99226 is a full-size Olympic bench that allows flat bench position, inclines, and declines. It is also built with a heavy-duty 3-inch steel frame that makes it sturdy.
Besides, it comes with an inbuilt squat rack, deluxe lat tower, leg lift, and preacher curl attachments.
Phoenix 99226 may not be ideal for heavy weight lifters but it is a great tool for toning muscles and routine training. Some of the exercises you can carry out include squats and curl sets.
Features
Maximum user weight: 300 pounds
Weight limits – bench: 300 pounds, uprights: 400 pounds, leg lift and lat tower: 150 pounds
Inbuilt Rear Squat rack
Dimensions: 88L x 60W x 83H (inches)
Made of heavy-duty steel
Equipped with leg developer, lat tower, and arm curl
Comes with spring clips and Olympic weight plate adapters
Pros
Well-padded – minimizes fatigue
Fairly priced
It's not too big
Sturdy – made with heavy-duty steel
1-year frame warranty
Cons
The tools provided are a bit flimsy
Not ideal for heavy weight lifters
Click here to see its current price.
7. Body-Solid Adjustable Olympic Folding Weight Bench (BFOB10)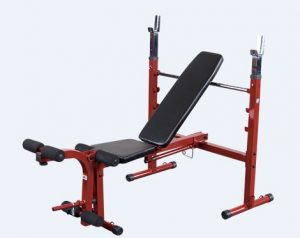 If you have limited space, you may want to consider this bench. The Body-Solid BFOB10 is considered by many the best Olympic weight bench for home gyms owing to its compact storage option and versatility. It's a safe multi-purpose bench with a safety pull-pin to help with back pad adjustments.
Body-Solid BFOB10 also accommodates low and middle weight lifters up to 300 pounds. It's fitted with a leg developer and leg curl. The folding bench also allows for dumbbell and barbell exercises making this bench ideal for complete training.
Features
Maximum weight capacity: 300 pounds
Assembled dimensions: 68L x 42W x 57H (inches)
Folded dimensions: 30L x 72W x 40H(inches)
Pull-pin for safety
Has leg developer and leg curl
Comes with spring clips and Olympic weight plate adapters
Pros
Quite affordable
High quality and sturdy bench
Accommodates full-body exercises
Adjustable uprights
Can accommodate most 6-foot and 7-foot bars
Fold-up storage design offers convenience
Safety pull pins are quick and easy to change
3-year frame warranty, 1 year on parts
Cons
Not ideal for heavy weight lifters
Click here to see its current price.
8. Body Champ Olympic Weight Bench BCB3780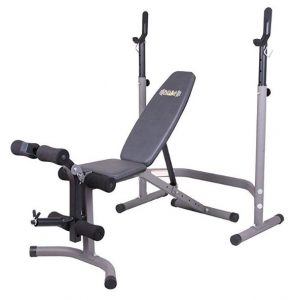 Armed with a heavy-duty mainframe, a wholly adjustable backrest, and freestanding uprights, the Body Champ BCB3780 offers stability, versatility, and durability. It also allows for leg lifts, military, and chest presses alongside other bench workouts.
The Body Champ BCB3780 also comes with a dual-action leg developer to boost leg exercises. Besides, it has a non-pinch grip and locking safety hook for maximum safety during your routines. This is an ideal option for home gyms as well as light commercial use.
Features
Maximum weight capacity: 600 pounds
Max Olympic weight set: 300 pounds
Maximum body weight: 300 pounds
Maximum weight on leg extension: 150 lbs
Dimensions: 78L x 44.1W x 69H (inches)
Solid steel construction
Locking safety hook
Non-pinch grip
Pros
Versatile
Fairly priced
Great for full-body workouts
Freestanding uprights support walk-in squats
Made with a robust mainframe
The backrest is fully adjustable: it inclines, declines, and lies flat
Cons
The rack is a bit unstable
Click here to see its current price.
9. Valor Fitness BF-7 Olympic Bench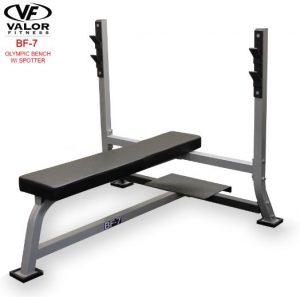 Valor Fitness BF-7 Olympic bench ranks among the best Olympic weight benches for working out with a partner.
Considering it has a tripod stand and heavy-duty construction, we can vouch for its durability. Its structure is also made to firmly hold spotter weight. Also, the diamond plate design enhances its grip. To protect the floor, rubber base caps are part and parcel of the setup.
If you plan to lift heavy weights, this is a good option handling up to 550 pounds. There are 9.5 to 11-inch contours on the back pad that support comfortable bench presses. Just like other Valor fitness equipment, the bench pad is top-notch featuring dual-layer vinyl.
Features
Maximum weight capacity: 550 pounds
Dimensions: 58L X 50.5W X 50H (inches)
12-gauge solid steel construction
Dual-layer vinyl padding
Tripod stand
Rubber base caps
Added grip using diamond plate design
Bar support using striker plate
Pros
Highly durable
Fairly priced
Superb padding with great back support
Suitable for intensive workout and weight lifting
Great for partner workouts
Supports both home and light commercial use
Powder-coated to minimize scratches
Friendly warranty: 3 years frame, 2 years pad
Cons
The vinyl padding is quite firm – some users may dislike that
Click here to see its current price.
10. Marcy Olympic Mid-Size Workout Weight Bench MD-867W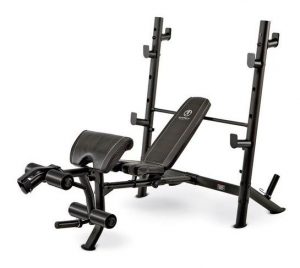 This bench is flexible and serves both the novice and the experts. It sturdy and allows you to test your limits with strength training, cardio workouts, weights, and bodybuilding. It allows for extreme abs exercises, leg exercises, and chest training. It's also a great bench for weight lifting,
Marcy Olympic has a maximum weight holding of 600 pounds. It's made with a heavy-duty frame to support heavy weight lifting. The padding is also accommodating so you can work out longer without suffering fatigue. This is the best Olympic bench for training and bodybuilding.
Features
Maximum weight capacity: 600 pounds
Maximum weight on Bar Catch: 300 pounds
Max weight on Leg Developer: 100 pounds
Max user weight: 300 pounds
Dimensions: 82L x 43W x 60.5H (inches)
Heavy-duty 14-gauge steel frame
High-density foam padding
All-in-one training kit including rear walk-in squat
Sliding seat track supports incline, decline and flat positions
Compatible with 6 ft. and 7 ft. barbells
Olympic weight storage posts
Contoured foam roller pads
Large safety bar catches
Pros
Accommodates light, medium, and heavyweight training
Powder-coated polish to minimize scratches
Works with 6ft and 7ft barbells
Enables all- muscle work-out
The high-density foam prevents fatigue
Modifiable preacher curl pad and bicep bar
2-year warranty
Cons
Click here to see its current price.
Features to look out for when choosing the Best Olympic Weight Bench
A weight bench is a huge investment so you want to ensure you get one with that is fully equipped for your desired workouts. Here are the main features to look out for:
Safety
We believe safety should be at the top of your list. You don't want to invest in a bench that puts you in danger. Check out for locking safety hooks, non-pinch grips, and comfortable padding. A firm grip will protect you from getting strangled by the weight bar.
Durability
Thankfully, most Olympic benches are made with heavy-duty steel. You can check out the connections especially for the detachable ones. Ensure they are not flimsy, tighten the knobs, and test its stability once in a while.
Comfort
Good padding is essential while working out. It ensures you don't hurt your back, especially when lifting heavy weights. Comfortable padding also reduces fatigue thus encouraging you to continue with your routine. Good padding should be at least 2 inches.
Attachments
Additional accessories boost your workouts. They help you exercise different body parts and concentrate on a certain body part if need be. Attachments also help you to explore positions and routines making your workouts more fun. Take for instance a squat rack, it adds to the number of exercises you can do.
Versatility
A bench should incline and decline at the minimum. Check out if it can lie flat or be set to a military position. This mostly helps for chest workouts.
Affordability
The market today has uncountable bench types and brands. The best way to ensure you get a good deal is to choose a bench based on features and not the brand. You may buy from a less popular brand and still get a high-quality bench yet at an affordable price.
Save some money for that 100 Dollar smartwatch!
Conclusion
During our search for the best Olympic weight benches for home gyms, we have encountered many benches. However, only a few can beat the robustness, stability, and great design of Marcy Olympic Weight Benches. They are also easy to adjust and use.
With a maximum weight holding capacity of 600 pounds, we consider Marcy MD-879 a multi-function weight bench. It's equipped with a total leg developer, a separable bicep curl bar and a preacher curl pad. Also, it is a perfect tool for abdominal and bicep exercises. The bench is conveniently designed to hold your weight plates close enough to access.
Featuring durable heavy-duty steel and powder coated vanish, the bench offers many years of service. The Marcy MD-879 can also serve as a light commercial bench.
In summary, these are the best Olympic weight benches in 2023:
Marcy Adjustable Olympic Weight Bench MD-879
Marcy Olympic Weight Bench for Full-Body Workout MD-857
Body Champ Olympic Weight Bench BCB5860
Valor Fitness BF-48 Olympic Weight Bench Press Station
Marcy Competitor Adjustable Olympic Weight Bench CB729
Phoenix 99226 Power Pro Olympic Bench
Body-Solid Adjustable Olympic Folding Weight Bench (BFOB10)
Body Champ Olympic Weight Bench BCB3780
Valor Fitness BF-7 Olympic Bench
Marcy Olympic Mid-Size Workout Weight Bench MD-867W