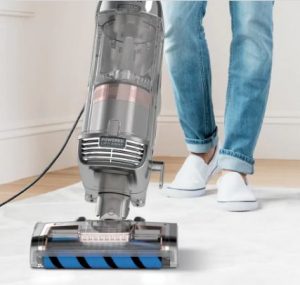 Shark is among the most popular and reliable vacuum cleaner brands on the market. If you research online about vacuum cleaners, you must come across Shark vacuum cleaners on many occasions.
So, for this brand to stand out and continue receiving positive reviews from customers there should be something different about it.
In this article, we are going to look at the reasons that make Shark vacuum cleaners remain at the top. If you have been looking for a vacuum brand to settle for, you might have an answer by the end of this article.
**See the latest Shark vacuums here**
What Sets Shark Vacuum Apart?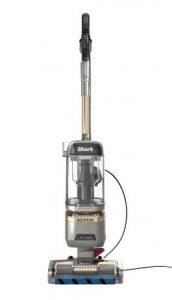 Even when compared to other big brands like Dyson, Miele, Samsung, among others, the following features make Shark vacuums special:
Multi-surface cleaning
Shark vacuum cleaners are multifunctional in that, the same device can be used to clean carpets, bare floors, upholstery, and above-floor surfaces effectively.
The latest brands of Shark vacuum cleaners have DuoClean technology that features a hard bristled brush for carpets and a soft brushroll for hard floors. This technology ensures that you can use the same vacuum to clean different floors without causing damage.
Besides, this feature makes Shark vacuums stand out and more popular because most people like mixed floors. So, more often than not, you will find both bare floors and carpets, and getting a vacuum cleaner that takes care of both is a win.
Also, area rugs are common and Shark vacuums take care of them too.
Strong suction power
Vacuums' main task is to pick up dust, pet hair, dirt, and debris from floors and other surfaces. Therefore, for them to function as expected they should have powerful suction.
Other vacuum brands also have models with impressive suction power but Sharks have always been ranked among the best in suction tests. With their vacuums, you can be assured that all the dust, debris, dirt, as well as pet and human hair, will be effectively dealt with.
Easy to use
First, Shark vacuums are very easy to assemble. Then, once everything is in place, vacuuming is a breeze. Most Shark vacuums have a swivel or advanced swivel steering technology that makes it easy to get around obstacles such as tables and seats as you clean.
Excellent filtration
Contaminated indoor air can cause unimaginable problems to people living with allergies or asthma. When vacuuming, this can become worse because pollen, dust, and other allergens can be blown back into the air.
However, this is not an issue when you have a Shark vacuum. Shark vacuums have one of the best filtration systems comprising Anti-Allergen Complete Seal Technology and HEPA filters. This ensures that up to 99.97 percent of allergens are trapped inside the dirt canister.
Lift-away mode
Vacuuming does not only happen on the floors. If it is time for general cleaning, the ceiling, stairs, curtains, upholstery, and under furniture should be cleaned as well. To reach some of these above the floor places, you need long hoses.
Shark vacuum cleaners incorporate the lift-away technology on their vacuums, a technology that allows you to remove the detachable canister from the vacuum head making it easy to reach above the floor spaces.
Besides, some Shark vacuums have powered lift-away technology, whereby even after detaching the pod, power is still sent to the floor nozzle. So, you can still reach and pull out deeply embedded dirt from carpets.
Zero-M technology
If you are a pet parent, you understand that the struggles of getting rid of pet hair. Vacuum manufacturers will say that their devices are suitable for pet hair collection, but they will not tell that the hair can get tangled up on the brush.
Human hair can be a pain too.
Zero M technology is an anti-hair wrap. It features a comb that pulls out hair from the brush as you clean. This way there will be no hair wraps and you do not have to clean your brush roll manually. This feature makes Shark vacuums suitable for homes with pets.
This is a common feature in the best Shark vacuums for pet hair. Also, newer models have PowerFins brushroll that eliminate hair wrap. Instead of using bristle, the main brushroll has fins meaning that hair tangles will be a thing of the past.
Attachments
For you to ensure that all surfaces are clean, you need more than the floor nozzle. And that's where vacuum cleaner attachments come in. Most Shark vacuums come with a crevice tool, an upholstery tool, a dusting brush, and a special pet tool.
Therefore, as you take care of the floor, stairs, furniture, upholstery, drapes, walls, ceilings, fans, and windows will also get some love.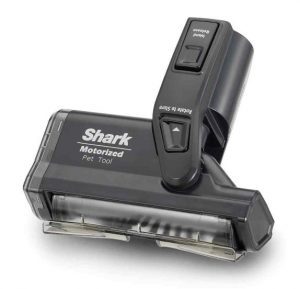 LED headlights
You might assume that all vacuum cleaners have headlights but not all brands have a headlight on their vacuums. It might seem like a simple feature but having lights on the floorhead is a big plus for Sharks.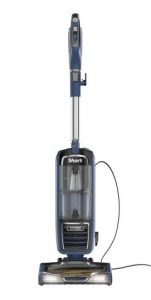 Headlights help illuminate dark spots during cleaning so that you do not miss a spot. A lot of dirt can be hiding in those dark corners or under the furniture that you cannot see without illumination.
Durable and reliable
Durability is an attractive feature in the purchase of appliances. Shark vacuum cleaners are known to last up to seven years and offering you the same service as when it was new.
However, for a Shark vacuum cleaner to serve you for long, you must take good care and follow the manufacturer's maintenance guidelines.
For example, replace or wash the filters as instructed. If you leave your filters clogged, they will reduce the suction power and affect the functionality of the machine. You should also monitor the motor which is the heart of the vacuum.
Shark has maintained their reputation and they are available all over the world, hence you get the advantage of getting genuine replacement parts and repair services. Also, SharkNinja has excellent customer service in case you need any assistance.
Affordability
Shark vacuum cleaners are reasonably priced compared to other brands. While there are many factors to consider when buying a vacuum cleaner, we cannot ignore the cost. A customer will ditch one brand for the other because of the price difference.
Shark has the benefit of attracting customers on a budget and offering them quality.
Also, Shark offers their vacuums on sale from time to time. If you are looking for a good offer, shop around for Shark dealers with sales. During this period you can get even the most expensive Shark model at an incredible price.
Warranty
The warranty accorded an appliance says a lot about the brand. While other vacuum manufacturers offer one or two years limited warranty, Shark gives their customers 5-year warranties.
This tells you one thing – they trust their product and they are willing to repair or replace it if it malfunctions within the warranty period.
One thing about warranties is that they operate under terms and conditions. So, you will only get a repair or replacement if the vacuum malfunctions within the warranty terms. Make sure to read and understand the terms and take care and use the vacuum as per the manual.
If they require you to replace the filters after 6 months, abide by that because if anything happens to the vacuum as a result of old filters, the warranty will be void.
Conclusion
When it comes to competitive markets like the vacuum cleaner market, vacuum cleaner makers should go the extra mile to stand out. Shark has continued to shine because they keep on employing innovative technologies like DuoClean and Zero-M technology that make their products more effective and easy to use.
If you read into the history of Shark vacuums, the entrepreneurs wanted to manufacture high-performance and durable vacuums. And from what customers say about the brand, they have kept their promise. Therefore, you can rely on them for excellent cleaning and long service.
Also, the pricing is competitive and affordable. Besides that, Shark vacuums are available in different types including upright, stick, handheld, and robot vacuums. From the four, you can be assured that you will get a model that works best for you.