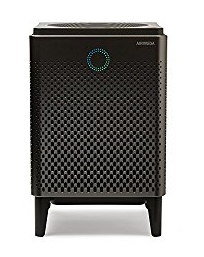 If you are looking for the best air purifier to help you get rid of dust, smoke, mold, pet hair and any other airborne allergen, look no further. In this article, we have handpicked and reviewed the Top 10 Best Air Purifiers overall, as well as the Top 5 Best Budget Air Purifiers in the market this year.
Best Air Purifier 2023 – Comparison Charts
Before we get into the details, here is a quick overview of our top 10 best air purifier contenders:
Top 10 Best Air Purifiers 2022
Max Coverage
1. Coway Airmega 400S
(Editor's Choice)
1,560 sq. ft.
2. The IQAir HealthPro Plus
900 sq. ft.
3. Coway Airmega 300S
1,560 sq. ft.
4. Alen BreatheSmart Classic Customizable Air Purifier
1,100 sq. ft.
5. Rabbit Air MinusA2
700 sq. ft.
6. Blueair Classic 405 Air Purifier
434 sq. ft.
7. Alen FIT50 Customizable Air Purifier
900 sq. ft.
8. Oransi Max HEPA Large Room Air Purifier
600 sq. ft.
9. GermGuardian AC9200WCA
378 sq. ft.
10. Airfree Onix 3000
650 sq. ft.
These are the 5 best budget air purifiers for 2023:
Best Budget Air Purifiers
Max Coverage
1. Honeywell HPA300
(Editor's Choice)
465 sq. ft.
2. Winix WAC9500
283 sq. ft.
3. Coway AP-1512HH
361 sq. ft.
4. Levoit LV-PUR131 Air Purifier
322 sq. ft.
5. Honeywell 50250-S Round Air Purifier
390 sq. ft.
Reviews of the Best Air Purifiers 2023
Away from the misconceptions, there are a number of air cleaners that we have shortlisted based on how well they work. We are convinced that they will help you cut to the chase when you start comparing the top air purifiers.
1. Coway Airmega 400S – best air purifier 2023

One of the outstanding features of this air purifier is the smart mode. It connects the purifier to its accompanying Airmega mobile app to enable you to monitor the quality of air in your house. By knowing the status of your filters, you can adjust important controls such as the filtration speed to ensure it sustains the circulation of clean air in your living space.
And do you know that it automatically senses when it's dark and shifts to a silent gear to allow you to sleep?
Also, it will save your bucks by automatically shutting down if it notes that the air quality has remained good for at least 10 minutes. Moreover, if at some point the sensor detects increased air pollution, the fan immediately swings into action to halt the deterioration.
Then, in case you don't want to download yet another app, you can still decide to control it from your Amazon Alexa…it works as well as the app. So, it almost runs your house in auto pilot mode. Yours is just to relax and enjoy a fresh breeze.
Key features
Smart Mode
Coverage: 1560 sq. ft.
iOS, Android compatible app
Real-time air quality monitor
Filter lifetime monitor
Pros
Cons

Looks excellent
Fits well almost everywhere
Very attractive
Better results than its peers
Smart sensor works nicely
It's super quiet

Chime sound when changing modes may be a bother
Click
here
to find out its latest price.
Bottom line
Built to capture allergens and harmful airborne particles, the Coway Airmega 400S cleans the air in large spaces expertly. It's HEPA-rated and with a brilliant smart mode. So, its control and performance are up there with the best. No wonder, it's highly recommended as one of the best air purifiers.
2. The IQAir HealthPro Plus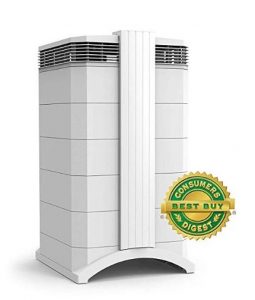 This name is quite popular among asthmatic and allergic individuals and it's definitely because it has lots of powerful features. The cream of the crop is the hugely impressive HyperHEPA® filtration process which is much more powerful than standard HEPA purification process.
Now, a contaminant must be a genius to sneak through the 4 stages of the hyperHEPA purification undetected. So, you are almost 100% assured of fresh air. The other reason that makes the IQAir HealthPro Plus wonderful is that it has a lengthy filter life. That, plus the fact that its energy star rated means it's not expensive to run.
Then, there's something we realized when we were studying some of the top air purifier systems. A significant number are very loud, especially at high speed. Not the IQAir HealthPro Plus. It's so silent you barely remember its existence.
Key features
4 purification and deodorization stages
Customized filter option
Coverage: up to 900 sq. ft.
Filters: Pre-filter, Medium Filter, BioGS HEPA Filter and Carbon Filter
Ion Generator
Pros
Cons

It's virtually silent
Inexpensive to run
Very easy to install
Very attractive
It works superbly
Click
here
to find out its latest price.
Bottom line
Given its collection of features and its efficiency, this is one of the most contemporary air filtration systems. From its innovative 4-stage purification, an attractive design and ease of use, all the way to its wide coverage, this is one of the best modern-day purifiers. Well, there isn't much else you can ask for.
3. Coway Airmega 300S

A sibling of the previously mentioned Airmega 400S, the Airmega 300S is another HEPA air purifier worth your consideration. It would fit the bill when you are looking for an air cleaner that comes with some more features, a sleek design, and a reasonable coverage.
Let's start with reach. Although beaten by its sister the Airmega 400S (approximately 1500 square feet), its average coverage area of 1,200 square feet is still higher than a number of its competitors. It cleans the whole area well at 2 air changes per hour. Moreover, its real-time monitor changes color to warn of any deterioration in air quality.
It's still app-enabled, so you will still be able to control everything from your iOS or Android phone. The app performs just as well as in the 400S.
Moving on, it has 4 fan speeds, a smart timer, and 3 run modes (Eco, Auto, and Sleep). The Auto mode automatically switches the purifier's speed depending on existing air quality. The Eco mode shuts the fan if the air quality is clean but it restarts when needed. Lastly, the Sleep mode automatically senses darkness and slows it down to reduce noise.
In summary, it's an effective and an intelligent air purifier.
Key features
Smart Mode (Eco, Auto, and Sleep)
Enabled (iOS & Android)
Dual-filtration system
Real-time air quality monitor
Filter life indicator
Filters: washable pre-filter, activated carbon, and Green True HEPA
Coverage: up to 1,560 sq. ft.
Pros
Cons

Great wireless connectivity
Has a switch to turn off the light at night
Handy automatic air quality
Very beautiful
It is ultra-quiet

The app can be improved especially in terms of interaction
Click
here
to find out its latest price.
Bottom line
The Airmega 400S has more features and a sleek design. It will look right at home and is one of the most tech-savvy air cleaners. By using a dual-filtration system involving a HEPA filter plus the carbon filter, it effectively fights all pollutants and allergens. It's without a doubt one of the most advanced and one of the best in the entire market.
4. Alen BreatheSmart Classic Customizable Air Purifier

Sometimes, it's good to be in full control of your room. So that you can choose and run what you feel is good for your soul. The Alen BreatheSmart Classic is one of the few fully customizable purifiers on our list. And it handles a very big space.
Apart from completely adjustable controls, it still comes with some interesting options. For instance, it has 4 different HEPA filter types to help you meet your varying air quality needs. You have Pure (for allergies), Silver (for asthma), FreshPlus (for smoke and chemicals) plus OdorCell (for pet & baby odors).
Also, there are 15 different colors and designs on the front panel. So, it's impossible to miss a pattern that matches your personal style or to go with your home décor. The smart sensor (with its colored light indicator) is yet another tool for convenience. Recall that it automatically adjusts speeds to save on electricity and also to extend the life of your filters.
Key features
HEPA-Pure filter
Fully customizable
15 designer & color panel options
Soothing pink noise
Smartsensor technology
Energy Star Certified
Ionizer
Fully customizable
Coverage: 1,100sq. ft.
Pros
Cons

Pleasant soothing pink noise
Cleans very well
Very attractive
Easy setup
Has more smart modes
Filters last longer
Fully customizable

Hard to camouflage because of its colors
Click
here
to find out its latest price.
Bottom line
This is one of the most talked about air purifiers thanks to its fully customizable features. It's perfect for cleaning large spaces (averagely 1,100sq. ft.). It is, therefore, a great choice for large rooms, offices or basements. It could be a fantastic investment if you are looking for a truly tailor-made air purifying device.
5. Rabbit Air MinusA2

The Rabbit Air MinusA2 has an unmatched 6-stage filtration process. It thus creates the freshest air possible. The Pre-filter will capture the irritating, largest particles. The Medium filter will be working hard to ensnare large allergens and ugly dust particles. Also, alongside these 2, the BioGS HEPA Filter will be busy capturing the tiniest of all pollutants.
The odors and all chemical vapors will also have nowhere to hide, with the carbon filter carefully extinguishing them. And in case there is an ambush by an unexpected irritant, the customizable filter will be waiting. You just set it to the combat mode.
Also, you can set it to enhanced germ defense, pet allergies, odor elimination or toxin absorption and have your surprise pollutant seized. Finally, the Ion Generator neutralizes any remaining airborne contaminants safely. To cut the long story short, very few can stand to this.
Key features
BLDC Motor (five different speeds)
Energy star certified
Coverage: 700 sq. ft.
Stand-alone or wall-mounted
LED mood light (on its front panel)
Light sensor
Childproof feature
Six filters
Pros
Cons

Ultra-quiet
Saves your energy bill
Does a thorough job
Easy to install
wall mounting option
Soothing rainbow of colors
Child protection feature
Click
here
to find out its latest price.
Bottom line
With an unmatched 6-stage filtration process, the MinusA2 delivers the coolest and freshest air possible. Looking at its other features such as the customizable panel, 5 speeds, smart light sensors, and a child-proof feature to mention but a few, we believe this is one of the very best HEPA air purifiers in the business.
6. Blueair Classic 405 Air Purifier with HEPASilent Filtration

In case you are hunting for a medium range air purifier capable of capturing at least 99.97% of all airborne pollutants including allergens, dust, pet dander, pollen and smoke particles, then the Blueair Classic 405 air purifier has the talent to serve.
It delivers a true HEPA performance, capturing almost 100% of all your enemies while continuing to stand guard against new attacks. It is also a tech-savvy domestic appliance with a Wi-Fi connection and compatibility with its Blue air Friend smart app. You can also link it up with your Alexa or Echo Dot for easier control.
Its 3 fan speeds are optimized to run at a bare whisper. So, you can even use it in your living room, office, and the kitchen without raising eyebrows.
To ensure it doesn't leave any stone unturned, it comes with a smoke stop filter which uses activated carbon to remove odors and fumes from your space. Even without going deeper, you can tell that this is a perfect fit for mid-sized rooms.
Key features
HEPA particle filtration system(99.97% capture success rate)
Wi-Fi enabled
Blue air Friend app
Alexa/Echo compatibility
3 fan speeds
Activated carbon Smoke Stop filter
Energy Star rated
Coverage: up to 434 sq. ft.
Pros
Cons

It's super sleek
This works well
It's super quiet
controls are hidden from your baby /pet
Feels sturdy
Useful Wi-Fi connection

The app isn't very interactive
Its filters are a bit costly
Click
here
to find out its latest price.
Bottom line
This air purifier is equipped with an impressive HEPA particle filtration system (with a 99.97% capture success rate) and an equally robust activated carbon smoke stop filter. These provide a performance that you can always count on. Unsurprisingly, it's a market leading air purifier for medium spaces.
7. Alen FIT50 Customizable Air Purifier with HEPA Filter

The one feature that has made the Alen air purifiers increasingly popular is their full customization. And the Alen FIT50 is no different. It is completely adjustable and aims at purifying the air in open rooms not exceeding 900 square feet.
To ensure full decontamination, it relies on the HEPA-Pure Filter technology which is known to exterminate allergens that cause asthma and various allergies. It also goes one step further to make sure you are completely protected by repeating the cleansing process two times every hour.
And by the way, you are free to set it to run the way you feel suits your air quality needs. But how? Well, it offers a total of four different types of filters, each aimed at a unique air purification need. So, you will switch to what you feel is effective based on the prevailing air quality.
Then, you also have 14 different panel color options so you are sure to camouflage it against your current home décor.
Key features
14 panel colors
SmartSensor feature
WhisperMax technology
Coverage: 900 square feet
4 HEPA technology filters
Energy Star Certified
Ionizer
Child-guard
Pros
Cons

Easy to control
Less noisy
Compact sized
Convenient timer
Child-guard
You can switch off auto mode

The cool lights & buttons are a tad too bright
Click
here
to find out its latest price.
Bottom line
Specially made for rooms not exceeding 900 square feet, this relies on the reputable HEPA-Pure Filter technology to annihilate allergens that usually cause asthma and allergies. It achieves tremendous success by cleansing two times every hour. This fantastic air purifier is fully customizable and has the style plus the substance to match the best in the industry.
8. Oransi Max HEPA Large Room Air Purifier

The Oransi Max delivers a high-end performance and at a very practical price. It is one of the few top air purifiers which are generally cheap to maintain. With 3 stages of filtration – the pre-filter, a v-HEPA filter and an activated carbon filter, it is ideal for capturing allergens and fighting light household odors. It also features an ozone-safe ionizer.
Actually, when you need to replace the filters, you will find them not only readily available but also very easy to change.
We this Oransi unit's easy to use electronic controls, a smart air quality monitor, and an LED display. Also impressive is its quiet operation and a larger coverage area. Lastly, its auto mode controls the fan speed to run at the most suitable speed depending on the quality of the air in your room.
Key features
Coverage: up to 600 sq. ft.
Filters: pre-filter, v-HEPA filter (HEPA-type), activated carbon filter
Anion negative ionizer
V-lock
4 fan speeds
Led display
Auto mode
1-12 hour timer
Check filter indicator
Air quality sensor
Energy star rated
Pros
Cons

Doesn't mess with your sleep
Built for long-term
Very versatile
Highly portable
Changing its filter is easy
Enhanced convenience features
Can be wall mounted
Block air leakage

Only removes light odors
Not possible to switch off the indicator light
Click
here
to find out its latest price.
Bottom line
This purifier would be ideal if you are hunting for a cleaner that is easy to use and ideal for medium to large bedrooms/living areas. If you don't like complicated and expensive air cleaners, this could be your solution.
9. GermGuardian AC9200WCA

If you are struggling with asthma or allergies, the GermGuardian AC9200WCA is ideal for you. It packs a lot of features and also performs very well.
First, the included activated carbon filter will reduce odors coming from pets, chemicals, and smoking. Secondly, it uses an advanced three-stage filtration process that is specifically targeted at reducing allergens inside your home.
Furthermore, by using UV-C light treatment, it succeeds in decomposing any remaining harmful molecules just before it releases purified air. This feature isn't that common at this price range, so this cleaner earns some bonus points just on this fact alone.
It is also highly-regarded for its high efficiency in removing viruses that are the causes of most diseases such as bronchitis, pneumonia, and meningitis. It's also armed with a True-HEPA filter and a strong ionizer and works best for rooms up to 378 sq. ft.
Key features
Filters: Pre-filter, True HEPA, Carbon, True HEPA Filter
Activated granular carbon filter
UV-C on/off switch
3 different fan speeds
UV-C light technology
Coverage: 378 square feet
Ionizer
Pros
Cons

Reasonably priced
Very compact
You can switch off the UV-C light
Full adjustable settings
Well-constructed
Soothing white noise
Click
here
to find out its latest price.
Bottom line
The GermGuardian AC9200WCA air purifier captures at least 99.97% of all dust and allergens. It also uses the advanced UV-C light technology to decompose stubborn molecules. Looking at it in 3 dimensions, we are certain that this could be another top performing air purifier from GermGuardian.
10. Airfree Onix 3000

One of the main maintenance costs in top air purifiers is that of filter replacements. And this is what the Airfree Onix 3000 seeks to eliminate. So, rather than use a filter, it uses the unique thermodynamic TSS technology to kills germs. This concept uses heat to kill micro-organisms with almost 100% efficiency and has several advantages.
First, you are saved from costly filter replacement. Then, the whole process is virtually silent so you don't have to worry about fan noise anymore. The other beauty of the Onix 3000 lies in its simplicity. It, therefore, easily integrates with your indoor decor. So, here you will seldom need any kind of maintenance.
Key features
Coverage: 650 sq. ft.
Thermodynamic TSS™ Technology
Filterless (No ozone, No ions, No UV light)
Adjusting blue night light
Pros
Cons

Completely silent
No maintenance
Perfectly matches your décor
Lovely looks
Betters air quality
No installation needed
Saves energy bills

It's a bit warm during the summer
Click
here
to find out its latest price.
Bottom line
The Airfree Onix 3000 utilizes heat to eliminate 99.99% of airborne contaminants. It's totally-silent, free of ozone and very affordable to maintain. From our review, this is truly a potential award winner.
Best Budget Air Purifiers 2023 – Reviews
Among the factors you need to consider before buying an air purifier is cost. You always have to ensure that you remain within your budget at all times. That is why, as part of this comprehensive best air purifier review, we decided to add this section – the best budget air purifiers.
All these cost less than 400 US Dollars and should get you a lot of bang for your buck.
1. Honeywell HPA300 True HEPA Allergen Remover – best budget air purifier

Specifically built for larger spaces, the Honeywell HPA300 also gets top ratings from our editors. It cleans your large room completely – five times in 1 hour so that you can breathe deeper. Also, you don't have to worry about a surge in power costs – the HPA300 is an Energy Star-rated device.
Still, on its positives, it is very easy to use apart from being fairly quiet. When it comes to performance, it has four speeds starting from low all the way to "turbo". Moreover, it comes with a handy timer. It uses a single odor-reducing carbon filter combined with three HEPA filters to clean the air. An indicator will remind you whenever any of these filters is due for a change.
You can also dim its lights from the control panel, meaning you can comfortably install it in your bedroom. Amazingly, you can always easily shift it to your next room using the built-in handles. It is also one of the best air purifiers for baby rooms that you can buy.
Key features
4 air filtration levels: General Clean, Turbo, Allergen, and Germ
Automatic shut-off (2, 4, or 8 hours)
Circulates room air 5 times per hour
Control panel light dimming feature
Coverage: 465 sq. ft.
Pros
Cons

Very unique color/design
Built-in carry handles
Convenient LED light dimmer
Circulates air impressively
Super powerful

Some maintenance required
A bit bulky
Click
here
to find out its latest price.
Bottom line
This unit relies on one carbon filter plus three HEPA filters. It has more convenience features like a timer, a light indicator, easy grip handles and even a light dimming feature. It's also a hot favorite among many users.
2. Winix WAC9500 Ultimate Pet True HEPA Air Cleaner

The competition in the home appliances category is sometimes cut-throat. So, manufacturers keep on upgrading their products as they try to get means and ways of running away with the market. This is what results in advanced yet affordable devices like this Winix WAC9500 unit.
Now, this runs a five step filtration process including the True-HEPA Filtration, CleanCel Anti-Bacterial Treatment, pre-filter, Advanced Odor-reducing Carbon Filtration, and PlasmaWave technology. The Washable pre-filter will prolong the life of your filters and also enhance the productivity of the whole air cleaner.
Then, you can operate it using a remote control so you can position it anywhere. What's more, its automated filter replacement alerts will let you know when to dispose of your sieves. Also, the Smart Sensors combine with the auto-mode to align your air cleaner for maximum output.
Key features
5 stage Filtration: True HEPA, Washable Pre-Filter, CleanCel Anti-Bacterial Treatment, PlasmaWave Technology granular, and carbon filter
Smart Dust/Light Sensors
Auto-Mode
Remote control
Coverage: 283 square feet
LED alerts
Bright LED light (dimmable)
Pros
Cons

Easy to install
Looks gorgeous
Works hard to reduce pollution
Quiet
Lots of options
Easy to clean

Filters will need replacement
Click
here
to find out its latest price.
Bottom line
The Winix WAC9500 delivers superior air filtration and first-class odor control, making it one of the all-time favorites for families or anybody who reacts to allergies or chemicals. It is programmed in such a way that it ensures you always get the air quality to remain in top health regardless of the day or the hour.
3. Coway AP-1512HH Mighty

Buying a powerful air purifier is great. But if you will not be utilizing all its features, then you don't get value for money. For example, if your living room is small, you will save yourself a lot of stress and money associated with trying to force a giant air purifier in a small space.
One of my best compact cleaners is the Coway AP-1512HH air purifier. It comes optimized to serve in small spaces (up to 361 sq. ft.). I also love the fact that it comes with a True HEPA filter and an energy saving Eco mode.
And it has everything else; from being Energy Star-rated air to having a timer, 3 speeds, auto-mode, an air quality indicator light, an ionizer (can be put off), as well as quality finishing.
Key features
4 stage filtration: pre-filter, carbon (odor) filter, true-HEPA filter, ionizer
Air quality indicator
Auto mode
Eco mode
Coverage: 361 sq. ft.
Shiny black finish
Energy Star rated
Three speeds
Pros
Cons

Compact in size
Unique design
Very energy efficient
Cleans the air impressively
Very light
To change the filters is super easy
Friendly controls

Lacks an on/off switch for the light
Click
here
to find out its latest price.
Bottom line
Nimble but mighty, the Coway AP-1512HH air purifier is one of the best purifiers for small spaces. It comes equipped with multiple cutting-edge features such as a timer, 3 speeds, auto-mode, air quality indicator light, an ionizer (can be put off), and quality finishing.
4. Levoit LV-PUR131 Air Purifier

The Levoit LV-PUR131 Air Purifier is designed to remove microscopic airborne allergens, chemicals, and odors from regular rooms with the main filter being the true HEPA element.
It has a simple touch controller which is used to quickly adjust everything, including fan speeds. You can enable an automatic setting to let the integrated air-quality meter regulate fan speeds to match prevailing air condition.
If you want to crank up its speed, use the sleep mode setting. Further, you can use the auto-off timers to schedule it to run at your own convenience. Again, with its well-designed housing plus noise-dampening vents, it remains one of the quietest purifiers out there. Trust me…even at the highest speed, you can hardly notice the low-pitched hum.
Key features
3 Stage Filtration: Pre-filter, Activated Carbon Filter & TRUE HEPA Filter
100% Ozone free
Smart auto mode
Sleep mode
Smart timer
Coverage: 322 sq. ft.
Pros
Cons

Easy to setup
Looks great
The indicator light works so well
The timer functions smoothly
Auto mode is flawless
Nice night mode
Click
here
to find out its latest price.
Bottom line
With a three-stage filtration system, this air purifier also performs respectably in putting off the impurities. It also comes with an intuitive touch control making it easy to configure and use. Overall, it could be a great alternative for those with seasonal allergies or when you want to upgrade the general quality of air in your household.
5. Honeywell 50250-S Round Air Purifier

Expected to cover 390 square feet, the Honeywell 50250-S is specially built to fight irritants in large open surfaces. Obviously, it also works handsomely in smaller areas. So, if you have a very big room and you have been wondering how to keep it fresh, then your powerful solution could be finally here.
How does it work?
The Honeywell 50250-S goes through two filtering stages in cleaning and purifying the air in your room. In stage 1, the Carbon activated Pre-filter will capture all larger particles such as dust, fur, and lint in addition to reducing odors. In the second stage, the true-HEPA filter removes all the lingering contaminants like allergens. And because of this, it is very effective where there's a lot of pollen, dust, and odors.
Key features
360-degree air intake
Coverage: 390 square feet
Filters: true-HEPA air purifier & carbon activated pre-filter
Electronic filter indicator
Surroundseal technology
Pros
Cons

Generates lots of fresh air
Easy to control
Good price
Permanent HEPA filter
Cheaper pre-Filters

May seem large
A little noisy
Click
here
to find out its latest price.
Bottom line
This round unit is custom-built for large spaces. It relies on a 2-stage filtration process to effectively combat particles (True-HEPA air purifier) and odor (Carbon activated Pre-filter). It then provides a plethora of handy features among them an electronic filter indicator to ensure it works in all environments.
What is an air purifier?
An air purifier (or air cleaner) is a device whose purpose is to remove pollutants from the air circulating in a room. A quality air purifier filters out tiny particles of smoke alongside harmful air-borne chemicals and microbes.
Health experts have also been recommending these machines for people with lung conditions such as asthma or even COPD (chronic obstructive pulmonary disease).
We live in an age where the level of pollution has reached alarming levels. According to the EPA, around 78 (seventy-eight) million tons of diversified pollution were released into the air in the US alone, last year. These pollutants are detrimental to our health and the entire planet is at risk.
For a long time, people have viewed air pollution as a mere annoyance rather than a life-threatening menace. Nothing could be further from the truth. For example, the shocking 1952 Great Smog (City of London) caused 4,000 premature deaths.
Experts now believe that most of our metropolitan cities could be headed in the same direction. That is if nothing is done.
The good news is that you can do something. In fact, you can do a lot. Apart from just reviewing the best air purifiers, we have decided to delve deep into air purification. We explain what air purifiers are, how they work, and much much more.
Who are air purifiers for and what are the benefits?
Here now are several surprising uses and benefits of an air purifier.
Allergy sufferers
We love our Pets and that's why we share our homes with them. However, pets can worsen your allergy. This is how:
Your cat can leave a skin dander in your bed's linen or the lounge fabric.
Dogs may bring into your house foul odors and germs from their outdoors trips.
Pets leave urine stains wherever they go.
Now, if any of our family members has an allergy, then all these can be very upsetting and could cause further respiratory distress. Thankfully, a decent air cleaner will eliminate all these allergens.
The asthmatic
Have you ever been forced to abandon a party or even your dinner guests because of a sustained asthma attack? Or a severe allergic reaction to airborne allergens? It is outright embarrassing and stressful. Now, here are the sources of your troubles:
Hay fever is caused by pollen particles hanging in the atmosphere in spring. These irritate your eyes and can lead to a serious asthma attack.
Mold spores usually thrive in humid and damp areas, such as bathrooms. Once inhaled, they can cause a bad lung infection and breathing problems.
Dust in your house is a perfect haven for one of the major causes of skin allergies – dust termites.
Again, some air cleaners expertly eliminate dust particles and airborne pollen.
Those living in small spaces
If you are a fan of living in small spaces, then you have to contend with cooking odors from your house and the neighborhood. And you know how stubborn and hard to remove these can be. By installing an air purifier, you will banish cooking odors and make your home fresh and sweet smelling.
Those living with or near smokers
Passive cigarette smoke may cause lung cancer even if you are a non-smoker. For smokers, stale cigarette smoke throughout your home may bring untold suffering to the non-smokers in your family. By installing an adequate air purifying system, you will eliminate lingering smoke and make everyone safe.
Healthy living enthusiasts
Dangerous bacteria and other illness-causing germs usually attach themselves to various surfaces in your house. Since you keep coming into contact with these surfaces, you are always at risk. Some of the deadliest viruses are also spread through the air. Enter air purifiers. If you get a good one, your family's exposure to these germs and associated illnesses is drastically reduced.
How do air purifiers work?
So far, there are only 2 types of air cleaning technologies: active and passive. Let's briefly look at each.
Active air purification technology
Active air purifiers use ionization to clean the air. In this technique, a device called an ionizer releases both negative and positive ions into the air to disinfect and diminish bad smells. It also gathers house dust, pollen plus allergens.
Passive air purification technology
Passive air purification involves the use of air filters to eliminate pollutants. Some of the purifiers using this technology actually combine several different filters to ensure they effectively combat contamination. Removed impurities and dust gather in the filters.
Best Air Purifier: Common Myths
My sole aim today is to offer the best advice and put you in a position to make an informed decision. Now, let's be honest. Air purifiers are some of the most misunderstood home appliances. There are those who believe they are a magic bullet and solve all air pollution problems.
Another group seems very uncertain of what they can or cannot do. So, what can your purifier do or not do?
Here are your answers:
Myth 1: If you are allergic, air purifiers are all you need!
Allow me to say this: marketers can sometimes be misleading. According to expert opinion, your air purifier is just one part of allergy control. This is because some allergens for example pollen are so heavy, and fall before purifiers catch them.
So, you can buy a purifier, but also remember to clean up your home. Also, consider rearranging your home surrounding to make it more allergy-friendly. Lastly, please don't do away with any of your allergy relief products.
A portable air conditioner can also aid in fighting unwanted allergens.
Myth 2: With air purifiers, you will never have to dust again!
There is this misconception that an air purifier lifts dust off the surface of your furniture and so you will never need to dust again. Well, if that was the case, the fan in your air purifier would need to be very, very strong (and noisy!). When working, it would end up creating a dust storm right in your house. And dust storms cause a lot of problems for allergy sufferers.
So, you have to dust your furniture and floors whether you have an air purifier or not!
Myth 3: Provided an air purifier comes with a HEPA filter, you are assured of performance
Unfortunately, even if your purifier comes with a HEPA filter, the filters aren't the same. They differ in construction and size. Moreover, there are other factors that matter if it's going to be truly effective (more on this later). So, you need to focus beyond a HEPA filter.
Myth 4: If you suffer from allergies, avoid opening your windows
Not true. Homes need a certain volume of fresh air circulating every day. And an air exchanger helps in this. However, if you lack an automatic air exchanger, you have to open the windows at least for one hour daily. Your air purifier can then do the rest.
Myth 5: Air purifiers remove viruses and germs
In some advertisements, manufacturers tout the presence of ultraviolet as being enough to kill all viruses. This is clearly misleading and that's why some have drawn the ire of the EPA. The reason being that the time allergens spend in front of the much-praised ultraviolet lights is too little to kill them. In fact, only very few air purifiers kill pathogens – the ones with enhanced HEPA filters or sterilizers.
Myth 6: Air purifiers eliminate and/or reduce all odors
There is another lot that thinks an air purifier gives them carte blanche to never empty litter, or discard rotting food. They believe a purifier is an almighty odor buster.
Now, if you belong to that group, I have some bad news. Only air purifiers with high-grade carbon fight odors effectively. So, good hygiene is still part of the job description.
Myth 7: In case of dust mite allergies, prioritize an air purifier
This isn't true! Rather, you should add dust mite covers to your bed first. This is because dust mites always congregate in warm and moist environments. An air purifier, however, only helps seize airborne dust mite fragments.
Myth 8: The speed of your air purifier doesn't matter — it'll do its job
There goes another major misconception. You see, consumers are fond of running air purifiers at low speeds so as to avoid the fan noise. What you don't realize is that this reduces the area your purifier will cover.
So, here's the deal:
You either select an air cleaner that can run at high-speed (but with little noise) or you will always have to set your purifier to run at high-speed a few hours before you sleep. That way, you can turn it down low for the remainder of the night.
Myth 9: All air purifiers eliminate tobacco smoke
Now, what air purifiers remove are the particles left floating around when people smoke. And only those specially designed to remove odors or toxic gases related to smoke can do this.
Myth 10: Provided it has a HEPA filter, your purifier will remove odors
This is another No! HEPA filters do not actually remove odors. As we saw earlier on, only air purifiers with a separate carbon filter can do this.
Terms and definitions
Allow me to introduce you to some of the terminology and definitions you will meet as you read along.
True HEPA Filter –This is the best standard for filters used in air purifiers. It's certified by the DOE (United States Department of Energy) and captures a minimum of 99.97% of all particles (even the smallest).
Pre-filter – This is a critical feature of air purifiers using HEPA style filters. It captures large particles before they reach and damage the main filter, thus prolonging its life. Most pre-filters are washable and reusable.
HEPA-type Filter: This is a poorer version of the premium True HEPA filter since it has failed most of the U.S. DOE tests.
Carbon Filter: This is a very porous filter. It also has a big surface area. It's specially built to absorb smelly particles and gases.
UV-C Light: The UV means "Ultra Violet" – a form of light generated from electromagnetic radiation. On the other hand, UV-C is a sub-band of Ultra Violet light and kills microorganisms. And it's harmless to man.
BioGS HEPA Filter: This is an advanced version of the True HEPA filter. It ensures that degradable particles don't build-up on the filter. Also, it may capture particles sized from 1, 2, and 5 microns or even larger.
Ion Generator (Ionizer): This is a device that emits negative ions to clean the air. Instead of filters, they use washable and reusable electrostatic plates.
Clean-Cel Anti-Bacterial Treatment: This is a type of treatment that blocks the growth of harmful bacteria, fungi, and mold on air filters. It helps your air filter work for more days and also fights odors.
PlasmaWave Technology: This is a technology that safely destroys airborne contaminants like bacteria, viruses, germs, and chemical gases.
Smart Enabled Features: These allow you to control your air purifier by using an Android or iOS app. Cool, yea?
Ozone: Ozone is a reactive molecule that powerfully kills bacteria, viruses in addition to removing odors. However, it can harm human health.
Factors to consider when selecting the best air purifier
When choosing the best air purifier for your home, concentrate on the following factors:
Cleanliness
Even the best air purifier won't help if its filter is clogged/dusty. Also, don't expect great results if the filter is full-some. It may actually stop working entirely. So, pick one whose filter you can easily clean.
Running costs
It will cost you an arm and a leg to keep some of the portable models running. Imagine spending $150 to $200 in just electricity and filter replacement? You see, filter prices may range anywhere from around $10 with some going into hundreds of dollars.
Therefore, only those that are Energy Star qualified as they are more energy-efficient. Then, if possible, pick models with reusable (and washable) filters.
Silence matters
If you will be running it in sensitive rooms such bedrooms or where you work, you cannot stand the noise made by some. This is our recommendation: pick a larger unit since it's efficient even at low speeds, rather than a small blaring one.
Other features to consider
If you are satisfied with the basics, you can now go deeper and check out other quality features. These are:
Number of speeds
A unit with more speeds is better. It should also allow you to adjust to your fresh air needs. That is, you should be able to slow it down when you are working or sleeping, and crank it up when it's peak pollen time.
Ionizer
Ionizers attract particles via effects like static electricity. Also, they do not emit ozone. This is important as Ozone is known to be a potential lung irritant.
Dirt sensor
Some room purifiers automatically adjust fan speed depending on the level of dirt and dust in your room. This enhances their effectiveness.
Programmable timer
This lets you set your purifier to run for a couple of hours ahead of you using a room. You can also set it to switch off automatically after some time.
Remote control
If you want to easily change its settings from anywhere across the room, then a remote could be handy.
Fan
Most indoor air cleaners will have a fan that sucks in the air for filtration. However, you may also meet a few 'fanless' purifiers. These run more quietly and are more suited to rooms with excellent natural air circulation. But, they don't work that well in stuffy areas.
Servicing indicator
Since a clogged air purifier works inefficiently, a service indicator could help. It alerts you when your cleaner is due for cleaning or servicing.
Carrying handle
This will make it easier to move your unit from one room to the next.
Air Purifier Maintenance Guidelines
To realize a full return on your investment, always maintain your air cleaner in the best possible condition. Different units have different maintenance needs so read your maintenance manual first. Also, please mark the important maintenance dates on your calendar to avoid skipping them.
Here are a few guidelines to start you off:
Clean the washable pre-filters frequently
This will prolong the life of your inner filters and thus save you money. Wait for Your filter to dry completely before installing it back. 
Maintain cleanliness in the area around your air purifier
Don't let dirt to accumulate near where it's installed. You will just be giving you purifier more unnecessary work. So, handle the dust bunnies and leave it to deal with the more serious and unseen allergens.
Ensure your air purifier is "breathing"
To function properly, ensure that your air cleaner has enough room all around it to allow fresh air intake.
Inspect exterior grills plus the panels for dust
Occasionally unplug your cleaner and vacuum these areas. Otherwise, any dust buildup here will just add to pollution and contribute to contamination and potential diseases.
Monitor your filters
Keep an eye on your filter so that when the time for cleaning and replacement comes, you do that without delays. In any case, clogged filters shorten an air cleaner's lifespan. Indicator lights can help you know when it's time to change filters.
Tips on how to reduce indoor air irritants
Here are some simple steps that can help you reduce the level of air contamination in your rooms:
Ban smoking indoors.
Minimize the use of wood fires and candles.
If you don't like opening your windows because of pollen or allergies, be sure to run a forced-air cooling system such as an air conditioner with a clean filter.
Regularly service your cooling and heating equipment to ensure they remain in perfect condition – as they contribute to internal air pollution.
Vacuum frequently and thoroughly. Use a vacuum which has a HEPA filtration for the best results.
Install exhaust fans in your kitchen, bathroom, and laundry areas.
Never store chemicals, pesticides, glues, or solvents near your living rooms.
Conclusion
That's all for now about the air purifier purifiers and all you need to know to take your comfort to the next level. Don't let price get in your way. If you are okay with any budget, then we recommend the IQAir HealthPro Plus.
However, if you are on a budget, we have shortlisted the top 5 best budget air purifiers that will still give you value for money, the top pick being the Honeywell HPA300.
I am pretty confident that you now know what to look for in an air cleaner, the dos and don'ts, plus what else you can do to reduce irritants in your house. We have also given you a guideline on how to maintain your air purifier.
So, which is your favorite air cleaner and why? Please let us know of your experiences from the comments section, and we'll be glad to interact.
Here is a summary of the top 10 best air purifiers 2023:
The IQAir HealthPro Plus
Coway Airmega 400S
Coway Airmega 300S
Alen BreatheSmart Classic Customizable Air Purifier
Rabbit Air MinusA2
Blueair Classic 405 Air Purifier
Alen FIT50 Customizable Air Purifier
Oransi Max HEPA Large Room Air Purifier
GermGuardian AC9200WCA
Airfree Onix 3000
Below is a summary of the top 5 best budget air purifiers 2023:
Honeywell HPA300
Winix WAC9500
Coway AP-1512HH
Levoit LV-PUR131 Air Purifier
Honeywell 50250-S Round Air Purifier
You can watch this video on How Negative Ion Air Purifier Works by Ionkini Technology to learn more: