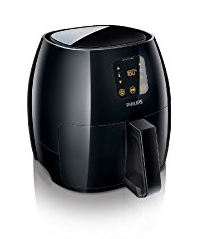 Let me tell you my little nice 'secret'. I love French fries! (Who doesn't?) But I really don't like the messy fat and the highly risky cholesterol that comes with them. And that's what inspired my quest for the best air fryer!
Allow me to explain:
Air fryers cook various types of food using convection rather than the traditional deep frying method. Air moves heat uniformly inside your cooker resulting in a low-fat, crispy, and healthier meal. Today, we explore all things air fryers. End to end, including the top 10 best air fryers in 2023.
Best Air Fryer 2023 – Comparison Chart
Before we get into more details, here is a sneak peek at our top picks:
Best Air Fryers
Capacity
1. Philips XL Airfryer, HD9240/94
(Editor's Choice)
3.2 Qt
2. DeLonghi FH1363 MultiFry Extra
3.3 Qt
3. T-fal FZ7002 ActiFry
1 Qt
4. Power Air Fryer XL Deluxe
3.4 Qt
5. GoWISE USA 5.8-Quarts 8-in-1 Electric Air Fryer XL
5.8 Qt
6. SimpleTaste 1400W Multi-function Electric Air Fryer
3.2 Qt
7. NutriChef Electric Hot Air Fryer Oven With Digital Display
3.4 Qt
8. Farberware HF-919B
3.2 Qt
9. Avalon Bay Air Fryer 100B
3.7 Qt
10. FrenchMay Air Fryer
3.7 Qt
For my favorite French fries, I only need to apply a light layer of cooking oil before throwing them into the deep end.
And, even if you may doubt at first, I assure you that the meals come out juicy, brown, and sweet looking.
I have to admit that I am one happy soul since discovered this magical kitchenware. I can indulge as much as I want, whenever I want without feeling an iota of guilt!
So, can we discuss this amazing kitchen appliance?
How air fryers work
Well, it turns out air fryers are closer to convection ovens than they are to the conventional deep fryers. To clear the air, let's have a look at how they exactly work:
I already mentioned that they cook by circulating heated air around the cooking food. The installed fan will cycle hot air at high speed, ensuring everything cooks evenly, and comes out with a crispy layer.
Unlike traditional deep frying methods which completely submerge foods in hot oil, your air fryer needs the minimum oil coating on your meals to commence cooking.
Then, it can heat the air up to 200 °C in order to confer the requisite energy which induces the chemical reaction – technically known as the Maillard reaction- which gives dishes a distinctive flavor.
Other features of an air fryer
Adjustable temperature – this allows you to set the precise temperature for precise cooking
Timer knob – permits you to set the optimal cooking duration
Cooking basket/pan – food normally cooks in a non-stick basket or an internal pan
Drip tray – the basket sits on top of a drip tray whose role is to collect residual fat
To guarantee even oil coverage, you will need to periodically shake the contents of the basket. However, some models incorporate a food agitator which continuously churns out the food instead of you having to do it manually.
What Can You Cook in an Air Fryer?
Of course, the very best air fryers are not limited but are superb for a variety of cooking. And so, when the craving comes, you can call upon your fryer to prepare the following meals:
Potato chips
Chicken
Fish
Steak
French fries
Pastries
and so much more
In reality, with most air fryers coming pre-programmed you can't really rule out anything. And the best bit? It will use around 70% – 80% less oil!
Deep Fryer vs Air Fryer
At first glance, air and deep fryers look quite similar. And they both deliver delicious meals and the same crunchy exterior.
But they obviously cook differently. And there are other differences. Let's have a look:
Features
Generally speaking, both share a number of features. These include adjustable temperatures, digital screens, and user-friendly controls. However, pricier air fryers are likely to have more features.
Size/cooking capacity
Most air fryers will be significantly smaller compared to deep fryers. Majority fit comfortably on your counter. However, their tiny size should not fool you – some have the capacity to cook for your whole family.
Safety
Go through our air fryer reviews and you will discover that most air fryers have a covering lid, so it's rare that you will be scalded by the steaming oil.
Also, like it is sometimes the case with the conventional deep fryers, it's rare for a fire to emanate from the burning cooking oil when using an air fryer.
Health
Let's face it….deep fryers will never be the best as far as healthy cooking is concerned. However, when using air fryers, you don't have to dunk food into huge vats of oil to cook. Minimal coating does the trick.
And so, they are comparatively safer for your overall well-being. Indeed, one study revealed that delicacies from air fryers have 80% less fat compared with deep-fried food.
Cleaning
An air fryer will only leave a little mess to be cleaned up. The mostly non-stick cooking basket/pan and the drip are all not only dishwasher safe, but also very easy to clean – even by hand.
On the other hand, deep fryers are hard to open and tougher to clean. Plus, they add you more cleaning tasks by spluttering your cooktops and even walls with ugly residual.
Pricing
Because of the technology used, you will generally pay more for air fryers. Suffice it to say that compared with the service you get from them, they could be worth every penny!
Is it multi-functional?
As I narrated earlier, the air fryer is a kitchen master – it has the capacity to cook a variety of yummy meals. That's because it can be set to bake, roast, fry, and even grill. What of the alternative? Deep fryers are good at frying…nothing else.
Cooking time
Deep fryers beat air fryers hands down when it comes to the duration it takes to cook. This can be explained by the fact that heat transfer in traditional cookers is much faster compared with these modern-day gems.
What of the taste?
Another point where air fryers lose out to deep fryers is taste. Since you can soak your food in batter prior to deep frying, deep-fried bites are a bit yummier.
But, at least you can get a crispier taste from your air fried pastries by sprinkling some oil on your food.
However, don't get me wrong. The taste of dishes from air fryers is okay – at least as far as I know. It's only that the deep fryers exceed this a little bit.
An Air Fryer is For You if:
You are going low on fats
So, are you still in love with delicious fries but you want to evade the risks associated with high levels of cholesterol? Pick an air fryer – it always delivers healthier diets.
You are in college or an elder
As a senior or student, you most likely do your own cooking so you need an appliance that's convenient. The friendly button controls in most air fryer models make your work very easy
You are a busy guy
If your schedule is always tight, day in, day out, you will appreciate rapid cooking. An air fryer cooking is fast and hassle-free, not to mention the fact that it cleans quickly. So, in the end, it saves your precious time.
You live in a small space
If space is at a premium in your residence, your kitchen is most like very squeezed. Air fryers are usually designed with space economies in mind and could, therefore, be perfect for you.
Reviews of the Best Air Fryers in 2023
These are the best air fryers you can buy in 2023:
1. Philips XL Airfryer HD9240/94 – best air fryer

This has one of the fastest cooking times. While I was aware that its rapid air technology circulates hot air so quickly, I didn't expect it to be this fast. And precise!
There is also the smart preset button…
Now, for a number of its competitors, you have to keep setting cooking time and temperatures every time you load a new recipe. Quite cumbersome if you ask me.
But here, the reset button memorizes the settings for each of your favorite food. This means that you just load dishes and voila! It gets to work …no monotonous settings.
The other key concern for many air fryers buyers is capacity. Well, this Philips XL Airfryer will cook and feed at least 4 adults comfortably.
Moving on, if you have used any of the modern-day cooking appliances, you know how important comfortable controls are in delivering the kind of meals that leave your guests asking for more.
Now, this fryer comes with a big digital touchscreen interface that lets you easily customize all the cooking setting so that you can fry exactly the way you want.
Lastly, all its components are dishwasher safe.
Key features
Rapid air technology
Smart preset button
Large 2.65 lbs capacity
Digital touchscreen interface
Removable nonstick drawer and food basket
60-minute timer
Free app (with over 150 recipes)
Pros
Cons

Easy to clean
Less cooking time
You can safely remove the cooking basket while it's still on
Cooks evenly
Super lightweight
Non-stick coating on the basket and pan

For a bigger family, you have to cook in shifts
Click here to find out its current price.
Bottom line
Absolutely one of the very best air fryers, this Philips digital air fryer has all the essential features that lead to great meals.
Starting with its fast-cooking rapid air technology, its respectable capacity, dishwasher safe parts and amazing digital controls, you will cook quickly while producing delightful bites.
2. DeLonghi FH1363 MultiFry Extra

The DeLonghi FH1363 MultiFry is rated as one of the most innovative cooking appliances in many air fryer reviews.
Built to be both a super fryer and a multicooker, there are 2 particularly compelling features in this air fryer. The first is a rare invention – the incredible surround cooking system.
You see, there are those among us who like spicing up matters in the kitchen. Every day trying a new recipe, a new flavor, a new way of roasting… You know, every moment spent in the kitchen is an adventure.
Now, this surround cooking (with 2 heating elements) is just perfect for you. It accepts almost every recipe under the sun: sauces, crispy French fries, steaks, salmon…name them. It will even bake succulent pizzas, pies, and cakes
The other delightful feature is the automatic mixing paddle. It's so convenient… You will sauté, fry, and even roast your dream dishes without stirring. The end result is very well cooked juicy, and irresistible dishes.
Key features
Removable, automatic mixing paddle
Non-stick ceramic coating (on the bowl)
Transparent lid
Removable timer
Power level dial
Surround cooking system
Pros
Cons

Easy to clean
Pretty large cooking capacity
Doesn't scratch
Can cook a wide variety of recipes
Easy to set up and use
Produces evenly cooked dishes
2 heating elements (lower and upper)

The fan may be a bit loud
The plastic lid becomes really hot at times
Click here to find out its latest price.
Bottom line
Fitted with a creative surround cooking system plus an automatic mixing paddle, this air fryer cum multicooker lets you experiment with hundreds of recipes from the comfort of your countertop.
Indeed, it's one of the most innovative air fryers and fully deserves your attention as you continue seeking out the best air fryer.
3. T-fal FZ7002 ActiFry

With the Actifry, Tefal seems to be taking the war to the doorstep of the Philips XL Airfryer.
Paced by a pulsing action, T-fal ActiFry's hot air circulation setup cooks your food more evenly and efficiently than many of its peers. And since it has an automatic stirring paddle, it doesn't require any manual intervention.
Also, it's super-fast with its unique actifry® technology running at unbelievable speeds of up to 10mps (meters per second)! This means that your meals are done in no time…no wonder some users have labeled it a kitchen rocket!
What about the delicacies?
I have to admit that the quality of the food is a league or two above what you get from most air-fryers at this price range. Your meals are crispy, golden on the outside, and deliciously tender inside!
Amazingly, the manufacturer claims that your final meal will have just 3% of fat!
What's more? The T-fal ActiFry has a fairly big window on the top of the lid. So, you will be able to check your food without opening the lid – quite handy for monitoring your meals!
Key features
Simple on/off switch
Digital countdown timer (with buzzer)
Removable ceramic-coated non-stick pan
Secure lid (with viewing window)
Automatic stirring paddle
Odor filter
Pulse heat system
Recipe book
MyActifry mobile app
Pros
Cons

Easy to clean
No cooking odors
Prevents splatter from messing you up
It's very safe (PTFE/PFOA free)
The outside remains cool when cooking
Balanced cooking
Easy to use
Click here to find out its latest price.
Bottom line
The T-fal Actifry® delivers crispy, healthy cooking in no time. This is made possible by its pulsing hot air circulation setup action and an automatic stirring paddle. It's super fast, very efficient, and a convenient kitchen appliance. Definitely a contender for the best air fryer podium.
4. Power Air Fryer XL Deluxe

The Philips XL Airfryer isn't the only one to use the famous rapid air technology. This premium air fryer uses the same technology to superheat air before moving it in cycles to effectively surround frying foods.
Your meals, therefore, cook with very little oil – from chicken tenders, fried chicken, fish sticks, French fries, or even desserts. It makes your cooking almost oil-less.
Moreover, you'll enjoy the same fantastic taste, but with the added advantage of having fewer calories to burn (by up to 80%). In addition, the cyclonic technology enables this air fryer to function as a very versatile cooking appliance.
As a matter of fact, it possesses 6 different cooking roles including air frying, roasting, steaming, baking, grilling, and sautéing! In short, you have a grill, a toaster oven, a stovetop, an oven, and superb steamer – all in one!
And ooh, there are adjustable dividers which come in very handy when you want to cook 2 different foods simultaneously.
Key features
Built-in timer
Automatic shutoff
Rapid air technology
Non-stick copper basket
7 preset programs
Digital touchscreen
Pros
Cons

Heats up very quickly
Easy to use
Cleanup is a breeze
Produces uniformly cooked meals
Lightweight
Multipurpose cooker

Cooking capacity not that big
Click here to find out its latest price.
Bottom line
The Power Airfryer XL Deluxe is generally quite an impressive cooker. The rapid air technology, the state-of-the-art touch screen, the dividers, and even the 7 easy pre-sets all combine to deliver sweet healthy meals at your convenience.
And it's so versatile!
5. GoWISE USA 5.8-Quarts 8-in-1 Electric Air Fryer XL

The GoWise Electric Air Fryer XL is yet another air fryer to come with endless possibilities.
It actually goes a step further than the previously reviewed Power Airfryer XL Deluxe, seeing that it comes with a total of eight presets (remember its rival has 7 programs). Even baking a cake with this air fryer is very easy.
The big news here is the modified basket…
The manufacturer has now added a light cool touch handle plus a safety button. The safety button's role is to ensure that the basket doesn't accidentally slide from its position. Needless to say, if it were to slide, you'd end up badly injured.
In hindsight, one can see the motivation behind all these changes – which by the way includes the incorporation of a neat start/stop button for resetting cooking time and temperatures in the middle of a cooking cycle.
It is to ensure that your time in the kitchen remains pleasurable through and through.
Let me also point out that this air fryer is one of the easiest to clean in our entire shortlist. You simply need a non-abrasive sponge and some warm water…then wipe it softly and voila! Your fryer goes back to its sparkling best.
Key features
8 cooking presets
Sleek, modern design
Cool to touch handle and housing
Start/Stop button
Alarm function
Cooking timer
50-recipe booklet
Touchscreen controls
Pros
Cons

Doesn't burn your hands as you cook
Reset cooking settings in the midst of a cook cycle
One of the easiest to clean
Easy setup and use
Multifunctional: bake, fry, sauté etc
Very handsome
Durable product

It doesn't heat that fast
To see its current price, click here.
Bottom line
After undergoing a major renovation, the GoWise Electric Air Fryer XL has taken the market by storm.
Everything included is simply a joy – starting from the overhauled cooking basket, the drawer, the smart touchscreen controls, all the way to the convenient Start/Stop button.
Well, this is among the most powerful kitchen invention in the air fryer department.
6. SimpleTaste 1400W Multi-function Electric Air Fryer

This basks in the limelight due to its ability to sustain top, top taste for all your meals. Of course, taste is really a major factor for some of us. Not only do I like enjoying healthy meals, but I also expect my fryer to produce the tastiest foods.
" There is no sincerer love than the love of food," George Bernard Shaw once said. I couldn't agree more.
So, I'm always happy to meet a cooking appliance which actually 'gets' the meaning of delicious meals; such as this air fryer, whose dishes come out with an unmistakable flavor.
Still, the appliance is conceived with a number of environmental-friendly features. For example, power consumption is an issue with most traditional fryers. This SimpleTaste Multi-Functional Air Fryer is good at saving power, thanks to the friendlier controls and general power-saver orientation.
Something else: it's smokeless. So, you breathe fresh air as you wait to enjoy your next crispy meal.
Key features
Multi-functional: 8 preset programs
Automatic switch-off
Easy-to-read LED screen
Rapid air circulation technology
Automatic & manually adjustable timer
Smokeless
Simple press controls
High capacity basket
Pros
Cons

Large variety of meals
Less cooking time
Environmental friendly
Easy to operate & clean
Descent capacity
Top food quality
Very well built

May take more time to prepare some foods
Click here to see its latest price.
Bottom line
The SimpleTaste Multi-Functional Air Fryer could be an exceedingly practical cookware to have in your kitchen. It has a knack for sustaining delicious cooking, whatever your meal. Also, it is highly environment-friendly.
I won't bet against it surpassing your expectations!
7. NutriChef Electric Hot Air Fryer Oven With Digital Display

NutriChef is one of the most famous brands in kitchenware.
After cultivating a reputation for making some of the best-rated utensils and kitchen accessories, they have made a bold step at winning over the health-conscious market with this electric air fryer with digital display.
Have they succeeded? Let's see how this pans out.
First, I consider it one of the most portable. Its size and weight mean you can place it in just about any countertop and get down to business. Besides, it's very user-friendly – the controls are straightforward, while you can read the digital display clearly even from a distance.
In terms of cooking, it employs the now well-known convection style infrared air circulation. It has also already been verified in a laboratory as capable of frying tasty, healthier dishes.
Don't forget that the cooking pan and the basket are coated with Teflon. Your foods will therefore not stick around, meaning that cleaning will be as easy as you can imagine.
To add to the above, the unit will beep to alert you when it's done. So, hardly will you overcook or half-cook your foods.
Key features
LCD digital display
Touch button controls
30 minutes timer
Power on/cancel button
Turbo hot air circulation
Laboratory tested
Teflon cooking pan and basket
Pros
Cons

Easy to remove pan and basket for cleaning
Very user-friendly controls
Compact
Highly efficient
Long lasting
Set up is super quick

Manual is a bit complicated
Cooking basket not that big
Click here to check out its latest price.
Bottom line
This is a light, functional, and a highly portable cooking device. It's created to serve small families with healthier, sweet food quickly and conveniently. With its ability to expertly prepare a variety of foods, this could be your best kitchen companion going forward.
8. Farberware HF-919B

When it came out a while back, this Farberware air fryer trended for several days. And it's majorly because of its simplicity.
Personally, I believe preparing meals should be a straightforward and pleasurable; devoid of some complex tricks and procedures some manuals advise you to try, purportedly to guarantee top quality foods.
This one is a no-frills fryer, yet full of interesting options.
The basket is capable of holding approximately 2 lbs of food. Also, as you would expect at this level, it is also non-stick coated plus quite easy to insert and remove from the machine.
For this reason, we can say the Farberware HF-919B is a 'medium sized' frying machine and could, therefore, be perfect for a couple or a smaller family.
It also has a remarkably low price. So, even if you are on a budget, you can still demonstrate your kitchen prowess to your guests.
Key features
30-minute timer
Auto shut-off feature
Non-slip feet
Food basket has a non-stick coating
BPA free
Cool touch housing
Manual controls
Pros
Cons

Very affordable
Simplest control panel
No nasty cooking smells
Easy to use
Cooks fairly fast
Highly portable

Manual device
Lacks dividers
To find out its latest price, click here.
Bottom line
Simple but interesting – is how I can summarize the Farberware. If you are on a budget but in need of a complex cooking appliance, then this may be your savior.
And yes, it still cooks very juicy meals!
9. Avalon Bay Air Fryer 100B

The Avalon Bay AB-Airfryer100B is one of the best in Avalon Bay's long line of powerful air fryers. It does everything its peers do, but also comes with some additional features.
As with the majority of its competitors and siblings, this air fryer can fry, grill, bake, and even roast with incredible ease.
It has extra features, which include a more powerful heating element as well as a dynamic fan. These team up to generate and circulate the hot air that is essential for cooking without the messy oils.
The next lovely feature is the futuristic LED display that comes equipped with excellent digital touchscreen controllers – an adjustable 30-minute timer and a similarly flexible digital temperature control center.
The base also features non-slip feet, meaning that your air fryer will neither slide around your countertop nor fall off.
Other bonus features include an accessible multi-use layering rack, plus a 52-page cookbook with step-by-step instructions to help you prepare all your favorite meals.
Key features
7 Quart capacity
Non-slip feet
30-minute timer
Non-BPA plastic
Detachable non-stick baking basket
Multi-use rack
52-page Avalon Bay cookbook
Pros
Cons

Reasonable cooking capacity
Easy to transport
Easy clean-up
Cooks very well
Non-stick coating
Easy controls
Safe to use

The handle may be uncomfortable
Click here to find out its latest price.
Bottom line
This is another meticulously designed air fryer. It has been improved to cater for the requirements of the modern-day kitchen, with a more powerful heating element, a multi-use rack, and a futuristic LED display.
If you are looking for a modern air fryer that will serve you for years, this deserves the Avalon Bay Air Fryer deserves an audience.
10. FrenchMay Air Fryer

The FrenchMay Air Fryer is a healthy combination of affordability and functionality. It has almost everything you'd ever need for versatile cooking.
If you are a pro, you can easily set the heat and time needed to bring out the best in your frying skills. On the other hand, if you are a newbie, the 7 preset programs can help cook like a master… from meat, fries/chips, cake, shrimp, steak, chicken, and fish. You'll be able to prepare and serve all your favorites with confidence.
Its light-up touchscreen construction is more intuitive compared with what you get on rival fryers and makes cooking time fun.
This amazing fryer is small and will take up minimal counter space. Hence, it is superb for frequent travel and apartment living. More importantly, it's easy to use, easier to clean, and definitely look as sleek as the most of the top air fryers.
Lastly, I can't finish without adding that it cooks consistently, quickly, and evenly, giving everything the crispy outside and the juicy inside that we all love.
Key features
60-minutes timer
Digital touchscreen control – LED display
Cool-touch housing & handle
BPA free & FDA approved
Adjustable Thermostat (180-400°F)
Auto shutoff
Nonslip base
Non-stick interior
On indicator light
Pros
Cons

Cooking capacity big enough
Mess-free cooking
Quick clean up
Safe meals (BPA free and FDA approved)
Sleek looks
Add ingredients in the midst of cooking
Doesn't need preheating
Easy control
Click here for the latest information on its price.
Bottom line
This is a competitive, well-designed, and super versatile machine loved by novices and veterans in equal measure. From its convection unit to its safety features like auto shut-off, you will certainly fall in love with what you are getting.
As a high flying air fryer, it has all the must-haves in air fryers plus many useful extras.
What to watch out for when buying an air fryer
Most air fryers work almost the same way. As expected, all manufacturers will claim to have the best air fryer. But what sets the best air fryer apart from the rest? These are the factors to consider when buying an air fryer:
Dishwasher-safe parts
You will need to clean your air fryer after every use. So, if the various parts can be safely worked on by the dishwasher, you will find the going very smooth.
As a minimum, the basket/bowl, its lid plus the stirring paddle are all expected to be dishwasher safe.
Extra cooking rack
You may have noted that some models in our air fryer reviews have a spare compartment allowing you to cook 2 different meals simultaneously. A perfect example is the Power Air Fryer XL Deluxe.
For example, you can make steak and chips at the same time without mixing them together. Personally, I find this very convenient.
Timer
All air fryers come with timers that let you set the duration you want your dishes to cook for, in addition to indicating the remaining cooking time.
Some have manual timers, but most are equipped with digital timers – considered much easier to use.
Grill mode
Some models give you an option to grill your food rather than air frying it. Such an option comes in very handy in cooking either meat or fish, and should automatically add the concerned air fryer bonus points.
Wattage
To work their cooking magic, air fryers usually need between 800 to 2,100 watts. It's therefore advisable to check that your kitchen can support this type of wattage.
User controls
We now have 'smart' air fryers which you can manage from your smartphone or tablet. These are very easy to control. You simply select your preferred recipe from the accompanying app, after which it sends the necessary instructions (cooking time and temperature) to your air fryer.
You then relax and wait to enjoy a mouthwatering meal. On top of this, you can set it to alert you once it's through with cooking. As a rule of the thumb, all controls should be fully adjustable.
Stirring paddle
A stirring paddle automatically moves your food around during its preparation. This saves you from continuous stirring and turning, apart from ensuring that your food bakes evenly.
Capacity
If you have a big family, then you will need an air fryer with the capacity to cook for the whole family. Most air fryers range between 1.5-2.5 pounds in food capacity.
How to get the best from your air fryer
Shake it
When cooking veggies, fries, chicken nuggets, tater tots, and such foods, don't forget to shake your basket well as cooking progresses – at least once. This moves everything around and helps achieve uniform "frying."
Many recipes recommend shaking at the halfway point. However, for more sumptuous meals, you should do it more often (every 4-6 minutes).
Install it in the right place
It is important to ensure that your air fryer is on a flat, heat-resistant countertop, with at least 5 inches of free space behind it. This is where the exhaust opening is located.
Don't overload it
Don't force your air fryer to bite more than it can chew. Remember, it's just like a little oven. You obviously won't stack chicken breasts over each other in your regular oven, would you?
It's supposed to be the same here – spread your fries as best as you can, but avoid overloading.
Adapt oven recipes
You shouldn't sacrifice your ambition for cooking an old favorite. With a bit of creativity, you can successfully adapt your air fryer to any recipe.
Simply play around with the temperature settings to see the optimum heating level. Typically, you should lower the cooking temperature by around 25 degrees Fahrenheit for a start.
Also, set about 20% less cooking time then see how it goes. Air fried french fries should go well meat prepared using a gas grill or any other type of grill.
Take advantage of its versatility
There'll be a time when your air fryer is free. It can cook lots of other food. So, go back to your favorite recipes and get experimenting. You will be surprised at how well it roasts.
Get the right accessories
Invest in the right accessories if you want to milk all the juice from your new favorite appliance. Consider adding baking dishes or even cake pans, provided they are air fryer-safe and can also fit inside your air fryer basket.
Basic troubleshooting for air fryers
Like any other device, your air fryer may malfunction at some point. Let's look at its basic troubleshooting.
The food isn't getting crispy enough
Ensure you are not over-loading the basket. Also, make sure you're not over-applying oil.
If you notice that there's some white smoke coming from your air fryer, add water (not a lot) to the drawer found underneath the basket. The white smoke is a sign of burning in the drawer as a result of grease draining into the aforementioned drawer.
There issue of black smoke
Try to turn off your machine and check if some food has blown up and is attached to the heating element. Clean this residual – it's what causes the burning and the eventual black smoke.
The air fryer can't turn off
Most air fryers usually delay their shutting down. So, when you press power off button, its fan will still continue blowing hot air for around 20 seconds.
Avoid pressing the power off button again as you'll end turning your machine back on. Just wait for a short while and it will eventually go off.
FAQs
Below are some of the most frequently asked questions regarding the best air fryers:
Q: How much food can be cooked at once in an air fryer?
A: Air fryers have varying capacities – marked from 1QT all the way to 6QT. You should see the "maximum" mark on its basket, which means that you can fill the air fryer up to this mark. But as a general rule, never fill your fryer beyond the 2/3 full point.
Q: Can I remove its cooking basket?
A: Sometimes you may want to add some seasoning or other ingredients to your dish. This will demand that your basket be detachable. Many air fryers will let you pull it out in the midst of cooking. However, check your device manual to be certain.
Q: Will I need special oil for my air fryer
A: No, cooking with these types of fryers do not require any unique oil. You can work with olive oil, nut oil, coconut oil, and even canola oil.
Q: Can I cook several food items simultaneously?
A: Many of the models have dividers which separate food items when cooking. So, yes you can; unless yours is an older fryer. However, it's best to combine foods with the same prep times and/or temperatures to ensure you don't overcook or under cook any of your dishes.
Q: Must I preheat my air fryer?
A: Nope. There's no compelling reason why you should preheat an air fryer. However, pre-heating it for approximately 4 minutes may help in reducing the usual cooking time.
Q: Can I cook veggies and frozen meats in my air fryer?
A: Sure, you can prepare vegetables and meats, even if frozen, in an air fryer. The convection action and the super-heated air combine to draw excess moisture to your fryer's exhaust port ensuring that frozen foods don't become mushy as a result of unwanted steaming. It may, however, take significantly longer to cook foods which were previously frozen.
Q: Is there a way of making the food more fresh and delicious?
A: Well, the food coming from an air fryer will be as delicious and as fresh as the meal you get from conventional deep fryers. You can, however, add a tablespoon of any oil – it makes your food more sumptuous.
Q: Can I use an aluminum foil in my air fryer?
A: Air fryers don't use microwave technology and so you can safely use a baking paper or an aluminum foil. However, you should never cover your basket fully with such material as your food must receive proper airflow to cook well.
Conclusion
Your air fryer must have the potential to take your cooking game to the next level. Even though the meals are not as tasty as with conventional deep fryers, they are low in fat hence healthier.
Moreover, air fryers are easier to clean. When buying, remember to check features such as a stirring paddle, user controls, wattage, capacity, and the rest.
So, what's your favorite air fryer? Feel free to discuss with us in the comments section. Personally, I would recommend the Power Air Fryer XL Deluxe as the best air fryer overall, majorly because of its amazing features, ease of use as well as the awesome food it produces.
These are the 10 best air fryers in 2023:
Philips XL Airfryer HD9240/94
DeLonghi FH1363 MultiFry Extra
T-fal FZ7002 ActiFry
Power Air Fryer XL Deluxe
GoWISE USA 5.8-Quarts 8-in-1 Electric Air Fryer XL
SimpleTaste 1400W Multi-function Electric Air Fryer
NutriChef Electric Hot Air Fryer Oven With Digital Display
Farberware HF-919B
Avalon Bay Air Fryer 100B
FrenchMay Air Fryer
You can watch this video by Power AirFryer, on Getting Started with the AirFryer XL: