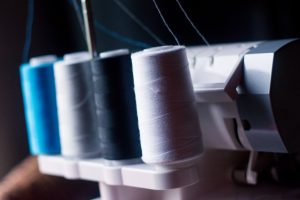 If you want to create unique patterns; stitch them like a pro, and produce award-winning designs, you need to have the best embroidery machine by your side to boost your passion and talent.
It may be true that you ooze creativity and overflowing ideas…but the only way to bring your best ideas to life is by having an embroidery machine that is flexible enough to accommodate your design wizardry.
Whether you're just a hobbyist or a pro, the only way to maximize your talent is to have a feature-packed embroidery machine.
Now, I have been studying the best embroidery machines for the last few weeks, and I can tell you this for a fact: modern embroidery machines are miles and miles ahead of what Isaac SINGER invented in 1846.
Well, this article is not only about SINGER's invention, but about all you need to know about the best embroidery machines.
Best Embroidery Machine 2021

– Overview
Before we dig into a detailed review of everything to do with these machines, here is a sneak peek at our top picks:
Name
Picture
Built-in stitches
1. SINGER 9960
(Editor's Choice)
600
2. SINGER 9960
100
3. Brother Designio DZ820E
136 designs
4. Brother SE600
103
5. Bernina Bernette Chicago 7
200
6. Singer XL 580
215
7. Singer SE300
250
Whether you're just starting out or want to take your design skills to the next level, we've done the dirty work, and finally found the embroidery machines to match your ambitions.
And I am fully convinced that this guide will help you land your long sought embroidery tool. But first, let's look at the essentials.
What is an embroidery machine?
For beginners, it's simply a machine that does embroidery. Do you remember the beautiful stitched portraits your grandmother used to hang on her wall? Or perhaps you have a quilt with some breathtaking images all over?
Okay. That's what the embroidery machines do. Of course, embroidery machines are more sophisticated than ordinary sewing machines.
Buying the best embroidery machine – what to look out for
There are tons upon tons of embroidery machines out there and choosing one can be hectic. However, if you know the features that make one stand out from the crowd, you'll be good to go.
Here are the key considerations:
Auto Pilot Ability
Autopilot functions such as automatic thread tension make your tasks faster and more accurate.
Top loading bobbin
You need a simple-to-use embroidery machine. Those that have a functional top loading bobbin and are color-coded are friendlier.
Digital Display Size
A big digital display screen will allow you to scroll through, pick, and customize your designs (though not all will allow editing). Just like the best sewing machines, top-of-the-chain embroidery machines should have larger displays.
Embroidery Area
Go through any embroidery machine reviews and you realize this is a hugely important factor. Mostly, the larger your embroidery frame is, the better your final product.
The smallest machine offers 4×4 inches squares with some machines enabling you to connect your squares after embroidering them.
Hoop Sizes
A hoop holds your material taut so that the embroidery can turn out even. Hoops vary in sizes – 4" x 4", 6" x 10", 5" x 7", and 8" x 12". Pick what can hold your preferred sizes.
How Big is the Throat Width?
Throat width refers to the size of space in between the needle and the body of your machine. The bigger its throat width, the higher the probability that it will have a larger embroidery area.
Pricing
If pricing was the single most important factor, then machines with built-in patterns remain the best deal – costing 30% less (on average) as compared with other embroidery machines.
Commercial grade machines are also available, although some can set you back a cool $3000!
Built-in Patterns & Fonts
More built-in patterns translate into more decorations and a professional output. It's even better if your embroidery machine has enough memory, because you can download the latest patterns from the manufacturer's database.
How many Stitches Per Minute?
The stitches it can do per minute determines the speed — the more stitches, the less time it will take to complete a design. A speed of 650 stitches per minute and upwards is considered okay.
Accessories
Sometimes you may need to add certain attachments to your machine to achieve the needed effect. These may include a presser foot, a quilting table and such. So, can your preferred model accommodate your required accessories?
Common Types of Embroidery Machines
Embroidery machines differ in construction, patterns, and features.
And just like everything else in this age, embroidery is slowly gravitating towards computerized sewing – of course, because automated embroidery machines make your work easier and you're able to sew in less time.
Let's skim through the 2 types currently dominating the market.
a) Single-Needle Embroidery Machines
These are very basic and have just 1 needle. They resemble traditional machines and have a flat-bed. They also have a detachable embroidery unit.
Pros
They are easier to use and will create intricate stitches; they can even produce awesome computerized embroidery designs.
Cons
They're slower as threads have to be manually changed. They are also not as versatile as their multi-needle counterparts.
b) Multi-Needle Machines
This is automatically a step up from the simplistic single needle sewing machines. Multi-needle machines come with about 4-10 needles, with each needle able to hold its own thread color.
Pros
They are faster, seeing that switching color threads is automated. Also, they are more precise, and of course more accurate.
Their hoops can even have 2 attachment points, thus offering you a more versatile range of selection when embroidering hoops onto your costumes.
Cons
There is a scarcity of good multi-needle models so you have less choice and you definitely have to work harder to get a good machine.
Forms of Machine Embroidery
Embroidery machines differ in terms of how they produce the intended patterns. Some run on 'free motion' while others are fully computerized.
Free-Motion Machine Embroidery
Here, the user controls everything – needle size, machine's direction as well as stitching. This means that if you have a free-motion machine, you (and not the machine) have the powers to decide where and how the needle stitches.
Based on the older zigzag sewing technique, free-motion embroidering is a bit tough for a start as it first teaches you some other crucial techniques including thread painting and quilting.
Despite this, they're the best training machines – as you play with the settings, you become more adept at sewing complex designs.
Computerized Machine Embroidery
If you are after modern embroidery, go for computer sewing machines. The machine's onboard computer comes loaded with a big collection of creative patterns and fonts.
Then, if you want more designs, most models permit you to download using your personal computer, Wi-Fi, or via a USB stick. These machines embroider into fabric almost on auto-pilot.
Use computerized embroidery machines to optimize your fashion projects.
Getting the best out of your Embroidery Machine: Expert Tips
Here is some expert advice on how to simplify the buying process and to maximize on your brand new embroidery machine:
Avoid buying unnecessary accessories. A machine/hoop, stabilizer, fabric, thread, scissors and a design should be enough to start you off. Otherwise, do some stitching and see how it pans out. Afterward, decide if you really need the extras.
You can put a curve or an arch in the fonts installed in some embroidery machines. Such machines give you more room to stretch your creativity and may help you produce award-winning designs.
If you're a starter, pick an embroidery machine built for beginners. Starting small will save you time and stress that comes with complex commercial machines.
Dull/weak needles may extensively damage your machine and/or fabric. So, change your needles regularly (ideally after every 16 hours of usage).
If you haven't perfected the art of hooping your fabric correctly, it will be impossible to produce the right designs…learn how to hoop before anything else.
If your chosen machine has variable speed controls, start slowly then gradually speed up. This gives you an opportunity to learn your machine before taking on intricate patterns.
If you want your hands to be free when sewing, invest in a knee lifter – it enables you to use your knee to elevate the presser foot.
If you bought a stabilizer on a roll, flatten it out ahead of use. You can iron it or press it using a heavy book (insert it in between pages) for at least 24 hours.
Reviews of the Best Embroidery Machines 2021
After a thorough analysis, 7 embroidery machines met our minimum expected performance standards. These are the best embroidery machines in 2021:

This machine is so good; I lack superlatives to describe it.
So, let's talk about what matters most – the quality of its stitching. It stitches so beautifully you may think it's one of those premium machines that cost thousands of dollars.
Its catalog of decorative stitches and functionality is as close to perfection as they come. I mean, how many machines offer 600 built-in stitches?!
In truth (also looking at its price), the most amazing bit is the degree of precision it brings to your decorative stitches. The accuracy is mind-boggling!
And I can't forget to add that selecting and editing the decorative stitches is super simple and intuitive, so long as you can use a computer comfortably.
Then, it also offers hand quilting-look stitch and a fabulous walking foot – two features you would only expect in high-end machines.
Remember to follow its easy manual 100% if you want to produce a perfect quilting stitch. Also, adjust the tension appropriately for an amazing result.
Next, let's look at its presentation:
The SINGER 9960 is simply gorgeous. True to its form, it has those rare luxurious looks. On the same note, I like its touchscreen. It is far much superior, clearer and crisp.
Overall, I believe it beats its competition hands down
Key features
Automatic needle threader
600 built-in stitches
5 alphanumeric fonts
13 built-in 1-step buttonholes
Exclusive buttonhole underplate
850 stitches-per-minute
Electronic auto pilot
Pros
Cons

Very easy to operate
Comes with more accessories
Has mirror imaging ability
More creative possibilities
Very fast
Highly customizable
Click
here
to find out its current price.
Bottom line
The options that this embroidery machine offers mixed with its wonderful threads will certainly bring floods of excitement into your fashion sewing. Its outstanding features, the simplicity of use as well as pro output has certainly warranted that it takes the number 1 slot in our best embroidery machine shortlist.

This amazing machine has tons of amazing features.
But perhaps cream of the crop for me was the presser feet. It includes all the presser feet that will make you feel like a one-stop design shop. I can barely think of any type of fabric that you can't decorate with the SINGER 7258!
What actually captured my imagination was that the other embroidery machines offering this awesome collection of embroidery feet cost a lot more.
Equally impressive are the stitches – they are just 100, but they all come out very pretty … I guess you will soon be tempted to embellish some of your items with its charming choices.
Also, it sews so smoothly and quietly, whether you're into quilting, fashion sewing, crafts, heirloom, home, or decorative sewing.
And by the way, it has a slider to help you control its sewing speed – meaning you can run it even without the foot pedal. Definitely, this is a nice convenience especially when you are intending to string together long strips of fabric.
Being unable to stop an embroidery machine in between a run can be a bit scary, but that's not the case here. Its start/stop button is installed in an accessible location so you can stop it almost instantly.
On its operations, the accompanying instruction manual is so detailed – almost like a complete embroidery training course printed on a paper. In short, you can do any design and leave people's mouths wide open with this extraordinary machine.
Key features
100 built-in stitches
Automatic needle threader
750 stitches-per-minute
13 needle positions
Center zigzag taper
Storage compartment!
Twin needle capability
Automated bobbin winding clutch
Snap-on presser feet
Pros
Cons

Easy to use and thread
Very portable
Super quiet
Comes with lots of extra feet
Fully programmable stitches
Stitches evenly
Pedal-less sewing

May struggle a bit with heavy fabric
To see its latest price, click
here
.
Bottom line
Another clear favorite, the SINGER 7258 impresses with its amazing collection of presser feet and incredible stitches. If you're after an inexpensive gem, this could be your best bet!

Brother brands have steadily built a reputation for reliability and their ability to produce embroidery machines to fit specific market segments over the years.
Let's talk about this embroidery only machine – the Designio Series DZ820E – one of their more popular models. Looking at it the first time, you can tell it was made mainly for home embroidery…all its features point to this.
Its reputable features include some 2 bonus embroidery hoops (4×4" and 2.5×1"), which means it gives you a bit of variety in selection.
More variety comes from the built-in136 embroidery styles and the 200 bonus designs that come with an accompanying CD. Remember, all are fully customizable.
What's more, I haven't mentioned the massive 5,000 unique designs downloadable from iBroidery.com, meaning yet more options for you.
I say this machine is very user-friendly because even the manual itself covers everything, and in extended detail. Always refer to it when setting it up or when you want to download illustrations via the USB.
Extras include a collection of 6 differently colored 40 wt. polyester thread, bobbin thread (one spool), 10 pre-wound bobbins (reusable), 10 SA156 Brother bobbins (empty), curved-blade thread snips, tear-away stabilizer (12 sheets), and a complete starter kit.
Simply, it comes ready for use right out of the box!
Key features
2 spare embroidery hoops (4×4 inch & 2.5×1 inch)
Complete starter kit
136 built-in embroidery designs
Built-in tutorials
LCD touchscreen
Automatic thread trimming
Drop-in top bobbin
Built-in memory
USB port
Pros
Cons

Large embroidery area (5×7)
Easy to use
Over 5,000 downloadable designs
Super lightweight
Very solid
Great designs

A bit hard to adjust
The screen could be better
Click
here
to see its latest price.
Bottom line
This is an amazing home embroidery only mid-level machine with more value than most. This is thanks to its bonus features including a larger 5″ x 7″ embroidery area.
Since it comes ready for use out of the box, it is definitely a terrific option when you're searching for the best embroidery machine.

The SE600 is the latest innovation from the wide range of the tech-savvy embroidery machines from Brother.
The biggest news here is the larger 3.2″ color smart LED screen, which makes on-screen editing as simple as it can ever be. It also has a built-in USB port – which has been missing from some older models. These upgrades make it a better overall machine.
It is now very easy to include extra designs, thanks to the USB port. For long, this ability was only available from select high-end Brother models. Needless to say, no designer is 100% satisfied with the pre-programmed designs. So, the bigger screen makes editing easier, meaning that you can finally unleash your creative talents.
A few other interesting updates include the increase in the number of built-in stitches to 103 from the previous 67. Its general construction has also been stabilized making it more solid and stable.
Interestingly, all the features acclaimed by designers who have used the older models have all been retained. These include 10 buttonhole styles, 7 feed dogs, automatic needle threading/cutting and the 710 stitches/minute speed.
Key features
2-inch smart color LCD display
4 x 4" embroidery hoop
Automatic needle threader
6 lettering fonts
Drop-in bobbin
80 built-in designs
103 built-in stitches
4" w x 4.1" h needle-to-arm workspace
7 sewing feet
Pros
Cons

Quiet operation
Comparatively cheaper
Great stitch quality
Thread cutter works excellently
Easily cuts through layers of heavy fabric

Horizontal threading not very easy
Embroidery area is just a 4"x4"
Click
here
to find out its current price.
Bottom line
With its updated technological advancements, this is a very able embroidery machine to have for ambitious users. It has the power to push your craft to a whole new level.
Sometimes you have to scratch the surface to unearth best – and that's what we did with this Bernina Bernette machine. Our goal was to find the best embroidery machine, and the Chicago 7 is indeed up there with the very best.
Let me sample some of its striking features…
For a start, this is first and foremost a computerized sewing machine fitted with a sensational embroidery module. The embroidery unit features a total of 100 beautiful built-in, ready-to-use embroidery designs plus one alphabet.
More to this, you can always load your favorite illustrations via its USB port. Then, crucially, its embroidery area is bigger than what you get from a majority of machines in this range – 4.3″ x 6.7″.
And can you guess how many snap-on presser feet it has? 9! Very rare indeed!
Well, I can go on and on. But the fact of the matter is, this BERNINA embroidery machine will certainly make you proud of your work – whether you are a novice or an embroidery veteran!
Key features
LCD display
Drop-in bobbin
153 decorative stitches
LED light
Automatic bobbin winder
80 stitches/minute
Manually adjustable upper-thread tension
Pushbutton thread cutter
Start/stop button
Needle stop up/down
6 needle positions
Twin-needle capability
2-step presser feet
Slide speed control
100 embroidery designs
One monogramming alphabet
Pros
Cons

Convenient start/stop button
So light
Embroidery cum sewing machine
Great stitches
Easy to learn

Its tension can sometimes be troublesome
For more information on its price, click
here
.
Bottom line
This is an outstanding sewing cum embroidery machine. If you are looking out for something to sew efficiently while producing dazzling decorations, this machine will make you very happy!

The SINGER Futura XL-580 is built for creative gurus. Again, just like the previously reviewed Bernette Chicago 7 machine, this is an embroidery cum sewing machine
The difference is in its innovative features – if you want to challenge your imagination, here is a machine that offers a perfect playground.
Consider this:
It comes with an endless hoop, a knee lifter, an extra-large quilting space and 250 built-in embroidery designs (50 of them endless designs). Moreover, it has the all-powerful AutoPunch software that converts your images to embroidery.
Can you see why I'm saying that this can make your creativity infinite?
Add the HyperFont (converts True Type fonts from your PC into embroidery) and the advanced designs editing feature and you realize that it's something special!
The Futura XL-580 allows you to embroider large format projects – tablecloths, dresses, bedspreads, etc with ease. At the same time, it produces the same quality you normally get from gold-standard embroidery machines.
In summary, pick this if you want to take your creativity to the next level.
Key features
215 built-in sewing stitches
2 automatic one-step buttonholes
250 built-in designs
LED lighting
Automatic needle threader
HyperFont
AutoPunch software for image conversion
Pros
Cons

Embroiders larger areas
Compatible with your PC
Embroidery cum sewing machine
Easy controls
Easy to thread
Quite durable
Irresistible designs

Doesn't come with a dust cover
A bit of a learning curve
Click
here
to find out its latest price.
Bottom line
The SINGER Futura is a creative genius and is perfect when you feel it's time to do more and go further. Buying this could be your light bulb moment in your embroidery journey!

Ushering you into a new era of stylish stitching is the SINGER Legacy SE300 sewing/embroidery combo machine.
Closely comparing with the previously reviewed SINGER Futura XL-580, this is a super sleek machine designed to quench the thirst of those who have been longing for one machine that can excel in both embroidery and ordinary sewing chores.
And it does so magnificently, seeing that it's packed with quality features; earning raving reviews for its exceptional stitch.
In regard to sewing stitches, the SE300 comes with about 250 built-in sewing stitches. These include 14 fully-automatic buttonholes, 10 one-touch basic stitches, 22 quilting stitches, 7 stretch stitches, 8 basic stitches, 118 decorative stitches, 18 satin stitches, 23 elongation stitches as well as 30 heirloom stitches.
Apart from its stitches, the other major advantage is the larger embroidery area. You will easily accommodate extended projects thanks to generous 10.25″ x 6″ working area.
Besides, the machine also arrives with the smaller 4″ x 4″ hoop just to ensure that all your needs are fully catered for. What's more, the working area is well lit by three LED bulbs.
The other great thing about this embroidery machine is the software collection. You can access live software updates, advanced software like HyperFont, AutoPunch, and more editing modules.
It also comes with ten snap-on presser feet.
Key features
250 built-in stitches
Extra-large embroidery area
Snap-on embroidery hoops
USB
Upper thread sensor
Ten Snap-On presser feet
200 embroidery designs
6 alphabet options
Pros
Cons

Quality stitches
Quiet operation
Variety of features
Large embroidery area
Advanced editing options
Click
here
to see its latest price.
Bottom line
SINGER SE300 is another superb option for those after high-quality embroidery and sewing combo machine. You will especially love its stitch quality, apart from the numerous amazing features.
Basic Maintenance for Embroidery Machines
Knowing how to operate your newly acquired machine is your very first maintenance step. You also need to keep the following in mind:
Oil the machine: It's a machine..right? Even the best of the best embroidery machines will fail if you don't oil it regularly.
Unplug the machine after use: Unplug your machine to avoid potential electrical damage – a power surge can especially be harmful. This also saves energy.
Select the correct bobbin: Fundamentally, select the correct bobbin. The right type of bobbin ensures smooth sailing stitching and a fantastic final product.
Use common colors: Common colors are better in thread arrangement. You rarely have to change them, meaning that your machine won't need frequent re-threading.
Keep it covered: Just like in any other machine, an embroidery machine and its parts can be damaged by dust. Always keep your machine covered if not in use.
Replace your needles regularly: I have already mentioned this. Always check the condition of your needles regularly and change them. This way, you avoid poor stitching and a possible breakdown.
Use quality thread: If you think that you'll be saving some money by buying low-quality thread, you're in for a rude shock. Low-quality thread easily damages even the best bobbin case. Not only that: poor quality thread negates every other maintenance effort.
"Listen" to your machine: Try to understand what your machine "says". Know it's every sound, motion, and behavior. Noticing a slight change in any of these will help you act on time to prevent further damage.
Use the correct needles: Using the correct needle base is very essential. You will not only get top quality stitching but also escape from long-term damage. The needle should suit the fabric you are embroidering. For example, sharp needles are the best for woven fabrics.
Best Embroidery Machine – FAQs
There are several questions that may be bothering you as you hunt for the best embroidery machine. I hope they will help you make a wise decision:
Q: Can I use my sewing machine in embroidery?
A: Yes, you can! But you can only afford the free motion embroidery method. Still, some Embroidery machines come with detachable embroidery attachments, so you can undertake standard sewing when necessary.
 Q: Can I sew with my embroidery machine?
A: Sure. But only if you have the type that also doubles up as a sewing machine. A few machines such as the SINGER Futura XL-580 can be used for both sewing and embroidery.
The only problem with these types of embroidery machinery is that they may end up delivering very poor stitches if not used properly.
Q: Must I have a computer to work with an embroidery machine?
A: Well, a computer isn't a must, but it can give you extra design options. For example, a PC will allow you to download fancy designs online.
Q: What special skills do I need to operate an embroidery machine?
A: None. Most models are very simple and straightforward. In fact, some have pre-programmed training lessons. However, gaining some experience will help you become better with time!
Best Embroidery Machine 2021 – Final Thoughts
Whether it's for home or professional use, you may need to look for the best embroidery machine to attain some level of success in your craft.
And since you want a return on your investment, perform your due diligence, considering that the best embroidery machines do not come that cheap.
Our embroidery machine reviews have some exciting machines and should give you an idea of what to expect. Also, remember to observe the best maintenance practices to avoid later disappointments.
Just to recap, here are the best embroidery machines for 2021:
SINGER 9960 Quantum Stylist Computerized Portable Sewing Machine
SINGER 7258 100-Stitch Computerized Sewing Machine
Brother Designio Series DZ820E Embroidery Machine
Brother SE600 Combination Computerized Sewing and 4×4 Embroidery Machine
Bernina Bernette Chicago 7 Computerized Sewing & Embroidery Machine
Singer Futura XL-580 Embroidery and Sewing Machine
Singer Legacy SE300 Portable Sewing and Embroidery Machine
Feel free to engage us with questions, clarifications and any other views in the comments section below.
Check out this video of the Brother Designio™ Series DZ820E Embroidery Machine Overview, by Brother: