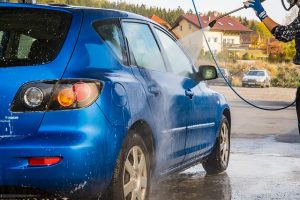 When it comes to removing dirt, grime, and stubborn stains from the deck, driveway, car or the garage floor, it is paramount that you have the best pressure washer on your side.
First, because it's fun to use and then due to the speed at which it produces results. I don't whether it's only me but I have noted that the tougher a cleaning job is, the more the pleasure it seems to derive…funny. Huh?
Anyway, let's get serious with this cleaning business and specifically, I want to discuss the best pressure washers extensively.
My idea is to share what I have learned after using a variety of the best pressure washers over the years.
Best Pressure Washer 2021 – Overview
Before we delve into all things pressure washers, here is a preview of the top 5 gas pressure washers and electric pressure washers respectively:
These are the top 5 best gas pressure washers:
Name
Pressure
(PSI)
Flow rate
(GPM)
1. Generac SpeedWash 7122 Gas Powered Pressure Washer
(Editor's Choice)
3,200
2.7
2. Ryobi Honda Power Control Gas Pressure Washer
2,800
2.3
3. Briggs & Stratton 20655 Gas Pressure Washer
3,200
2.7
4. Generac 7019 OneWashGas Powered Pressure Washer
3,100
2.4
5. Generac 6922 Gas Powered Pressure Washer
2,800
2.4
These are the top 5 best electric pressure washers:
Name
Pressure
(PSI)
Flow rate
(GPM)
1. Annovi Reverberi AR Blue Clean AR390SS Electric Pressure Washer
(Editor's Choice)
2,000
1.4
2. Powerhouse International - The Force 2000 Electric Pressure Washer
2,000
1.6
3. Sun Joe SPX4000 Electric Pressure Washer
2,030
1.76
4. Greenworks GPW1702 Pressure Washer with Hose Reel
1,700
1.2
5. Briggs & Stratton 20667 Electric Pressure Washer
2,000
3.5
Well, I should be thanking my editor for allowing me to postpone another blog post he had assigned me, just to share with you on one of my pet subjects – best pressure washers.
How pressure washers work
Regardless of what powers it, a pressure washer runs a pump that then applies pressure to the water flowing from the garden hose. This forces the water to find an escape route, which comes in the form of the spray wand.
The higher the applied pressure (measured in PSI – pounds per square inch), the tougher the machine and the more the likelihood it will succeed in tackling difficult jobs.
To work well, pressure washers need a continuous supply of water (measured in GPM – gallons per minute). For clarity, GPM is a measure of the water flow rate.
As a general rule, the higher the PSI and GPM measurements, the quicker the pressure washer will be.
Types of contemporary pressure washers
Pressure washers are mainly categorized based on what drives them: we have electric pressure washers and gas pressure washers.
1. Electric pressure washers
Electric pressure washers are powered by electric motors. They are the better option for light-duty cleaning. For example, they are great at washing cars, garage floors, and outdoor grills. Most have integrated tanks in case you need to use a detergent (optional).

Pros
Cons

They cost less on average
Are quieter
They're also lighter, and compact hence more portable
Use minimal water
They don't need gasoline or oil

Struggle with heavy cleaning tasks
2. Gas Pressure Washers
Gas-powered pressure washers run on gas engines. They usually deliver higher water pressure levels than their electrical cousins. On the other hand, they use more water.
These types are the real deal for bigger jobs such as cleaning siding, removing resilient stains from wooden decks and thoroughly cleaning concrete surfaces.

Pros
Cons

Very tough on tough stains
Maintain very high-pressure levels
They are faster
They are more durable
Gas vs electric pressure washers – the decision
So, which of the two is the best? Well, the answer lies in comparing their uses. As already mentioned above:
Electric Pressure Washers are the kings of small-time, home cleaning projects. So, if you are looking for a tool to spruce up your patio or wash your exterior entrance, then go electric!
On the other hand…
Gas Pressure Washers pack the extra stamina needed for intimidating tasks. So, if you are searching for the equipment to clean hard-to-reach exteriors or driveway grime, you should lean on gas.
Gas vs Electric Pressure Washers – Comparison Table
| | | |
| --- | --- | --- |
| | Gas pressure washers | Electric pressure washers |
| Power | Are more powerful (higher PSI) | Not as powerful (lower PSI) |
| Speed | Take less time to clean | Take significantly longer |
| Best for | Heavy duty and tough cleaning jobs | Light and medium duty cleaning tasks |
| Size | Slightly bigger | Compact |
| Price | Cost more | Are cheaper |
| Powered by | Gas engines | Electric motors |
| Water economy | Use more water (higher GPM) | Save on water (reduced GPM) |
A brief description of some technical terms
Now, since I don't want to lose you along the way, can I take you through some of the terms I will frequently use throughout this article?
Here we go:
Interchangeable nozzle tips: These are the accessories to ensure you achieve an accurate pressure and the flow needed for each job.
Adjustable wands: These are the accessories to use whenever you want to change the pressure and spray pattern without swapping the nozzle tip.
Interchangeable wands: These are the accessories to use whenever you want to change the flow and water pressure by installing a new wand instead of replacing the nozzle.
Chemical (or detergent) injection: This means pressure washers which use cleaners and other cleaning chemicals from the onboard tank or from elsewhere.
Onboard detergent tanks: These make using the said chemicals even more convenient.
Rotating nozzles: These accessories spray more powerfully – in a circular motion.
Axial cam pump: Common in home pressure washers, it's a pump designed to ensure a simple, maintenance-free cleaning operation.
Triplex pump: this is the dominant pump in commercial and industrial pressure washers. It prolongs the life of your machine and also improves efficiency.
Thermal relief and unloaders: This feature helps minimize heat buildup and pressure that could be destructive to your pressure washer.
Amps (A): Represents the power output in electric pressure washers.
Cubic centimeters (cc): Represents the power output in gas pressure washers.
Tools & accessories associated with pressure washers
We also have some additional attachments designed to help make your work easier, especially when cleaning particular surfaces. Here is a highlight:
Surface Cleaners: With spinning jets, these enable you to apply more scrubbing power to a bigger area. When cleaning larger areas, they help clean much faster and more consistently.
Brushes: Close to surface cleaners, these also help clean quickly by brushing away dirt and grime. Most brushes rotate, pushing away dirt and grime without your input.
Brooms: These are like a combination of a rotating scrub brush and a surface cleaner. They're connected to pressure washer lances so as to blast clean a larger area within less time.
Lances: These help you reach your 2nd-story or the gutters without using ladders.
Water filters: These keep contaminants away from your pump. They're very useful when using water from dams or wells.
Extension wands &turbo tips: These also help reach second-story homes plus all other hard-to-reach areas.
Foamer: This attaches to your wand or a spray gun in order to spray soapy foam onto the surface. Therefore, your washer will have an easier time removing dirt.
Pressure washer chemicals: These simplify cleaning tasks. Some manufacturers recommend the use of approved chemicals for a better performance.
With the basics done, I will now take you through some of the best pressure washers. We have carefully selected the best 5 gas and electric pressure washers. Let's start with gas powered pressure washers.
Reviews of the Best Gas Pressure Washers 2021
These are the best gas pressure washers to buy in 2021:

Generac SpeedWash 7122 gas-powered pressure washer presents a strong case to be considered one of the best gas pressure washers, if not the best. Packing the very best components Generac has to offer, it handsomely delivers on what it promises to do – cleaning thoroughly, and 50% faster!
It is powered by one of the premium pressure washer engines from Generac – the 196cc Generac OHV engine. If you haven't used it before, this gas-powered engine is favored by many because it comes with a manual choke/primer.
On top of that, its pull start and proprietary horizontal shaft design have repeatedly proven top class when we come to optimizing pressure washing.
Obviously, the engine alone cannot deliver such performances. The pump design plus all the usual cleaning attachments also deliver first class service when called to duty.
In total, the Generac SpeedWash 7122 gas pressure washer water pressure hits an amazing 3200 PSI while water flows at 2.7 GPM – enough power to sweep all kinds of dirt aside.
Also, it has more goodies:
Just to select a few, there's a magnificent Soap Blaster (sprays detergent 3x farther), a turbo-charged nozzle (eliminates dirt and all grime 30% faster), and a Power Broom (cleans 4X faster).
Key features
Clean smarter. Clean up to 50% faster
Power Dial ergonomic spraying gun
Adjustable pressure
3200 PSI, 2.7 GPM
Turbo nozzle
Soap blaster
Power broom
Generac OHV engine(196cc)
30 ft. high pressure hose (flex)
4 quick-change nozzle tips – 0°, 25°, 40° & soap
Pros
Cons

Very powerful
Easily accessible controls eg. oil drain plug
Sizeable fuel tank
Great3-yr warranty
Excellent customer support
Cleans very fast
Very well-constructed

Sometimes vibrates enough to move on its own
Click
here
to see its latest price.
Bottom line
The Generac SpeedWash 7122 shines bright and is among the very best gas pressure washers. It has amazing PSI, GPM, efficiency, durability, and a lengthy warranty. We highly recommend it based on its features, performance, and durability. It's clear to see why it's our top pick as the best pressure washer.

The RYOBI 2800-PSI Gas Pressure Washer is another fantastic pressure washer. Powered by a powerful Honda GCV160 engine, it can reach up to 2800 PSI. This is enough pressure to clean up most driveways, windows, decks, and all other house surroundings.
Its vertical shaft motor together with the pump allows you to move its upright frame around without bending over.
Built into the wand, its power control gauge usually rotates to enable the operator to quickly adjust the water pressure at the tip of the wand.
Then, just like other gas pressure washers with fast-change nozzles, this model has a convenient onboard storage. So, you won't hustle with your accessories.
All in all, this pressure washer with a vertical shaft pump does the job without being over-complicated and could be fantastic for homeowners who are looking for a functional and an inexpensive option.
Key features
2800-PSI, 2.3-GPM
Honda GCV160 engine
Rotating power control gauge
Adjustable pressure
On-board detergent tank
Integrated accessory storage
Pros
Cons

Needs very little maintenance
Engine starts easily and runs well
Convenient onboard storage unit
Simple manual
Durable

Pressure hose is a bit stiff thus a bit hard to direct
Click
here
to check the latest price.
Bottom line
This gas pressure washer has the capacity, accessories, and the energy you need for your daily cleaning needs. This RYOBI pressure washer should be more than enough for all homeowners needs.

This machine is invented by experts for the expert cleaners. Or even for commercial grade users who want a little bit more from a pressure washer.
Because of its mighty Briggs & Stratton 208cc OHV engine, it is, without a doubt, one of the most aggressive cleaning machines I've encountered in my long history with pressure washers.
In fact, on the very first encounter, you can tell that this will automatically yield professional-grade power…and of course, a performance worthy of any serious contender for the pressure washer of the year title.
Also, I love the fact that it is built in a way that it withstands the hustle and bustle of cleaning tough surfaces. This means that it needs no maintenance unless something out of the ordinary happens. In addition, it is very easy to start the washer, thanks to its use of the easy start technology.
Overall, the pump is customized for a high-level performance, extremely high pressure output as well as easy, low-effort starting. Surprisingly, this pressure washer is so easy-to-use. It is surely just the way homeowners like it: quiet, strong, and ultimately durable.
Even without talking about the other features (and they're significant including the exceptional detergent injection system and easy maneuver 10-inch wheels), I would say this machine comes very close to perfection.
Key features
Briggs & Stratton 208cc OHV engine
Axial cam pump (heavy-duty & using easy start technology, maintenance-free)
4 Quick-Connect spray tips (0°, 25°, 40° & soap)
Detergent injection system
30-foot high-pressure hose
3200 PSI, 2.7 GPM
10-inch never-go-flat wheels
Pros
Cons

Engine starts easily
Less cleaning time
Highest quality standards
Balanced pressure distribution
Fairly quiet
Very Well built
Super easy to operate

On/off switch feels somehow awkward
Click
here
to find out its latest price.
Bottom line
Based on its innovative design and the accompanying features, this is undeniably one of the best I have met. Truth be told, I won't be surprised if it walks away with the crown of the best pressure washer in a poll!

With 4 pressure settings, this is another gem and one of the best gas pressure washers.
Starting at a low of 2,000 all the way to a maximum of 3,100 PSI, it has the range and the power to do a thorough job whether cleaning your car or washing your driveway.
And it does so almost instantly. You even don't need to change its nozzle. Whatever you are cleaning; your driveway, vehicles, gutters, deck, or patio furniture, this gas pressure washer will get the job done, and fast.
Compared with its other models, Generac seems to have designed this model with customer feedback very much in mind.
The upright style means it takes up minimal storage space in your garage while its orange front cover helps dampen the noise coming from its engine. Therefore, you can work even without earplugs.
And I can't forget its engine – it's a Generac OHV engine that runs at 196cc, guaranteeing a peerless cleaning performance.
In short, I feel that Generac has succeeded in assembling a great workhorse with a great engine and a pump you can always rely on. Also, if you love a washer with adjustable pressure like I do, then this should be your choice.
Key features
25-foot high pressure hose
Generac OHV engine (196cc)
2000-3100 PSI
integrated Power Dial
4 quick-change nozzle tips – 0°, 25°, 40° & soap
1/2 gallon detergent tank
Ergonomic spray gun
Pros
Cons

Has adjustable pressure on gun
Excellent nozzle storage
One of the easiest to assemble
Quite powerful
Very easy to start
Runs well when water pressure is low

Suction tube may get in your way while working
Pressure wand extension may unscrew easily
To find out its latest price, click
here
.
Bottom line
Generac 7019 OneWash Gas Pressure Washer is a great value machine and a real workhorse. Its adjustable pressure, engine, and pump make it excellent for heavy-duty homeowners and professionals.

As you may have noted, Generac is a respected name when we come to pressure washers. Therefore, it is no surprise that the company's washers have dominated this top 5 list, and with a good reason.
They have a wide range of machines and seem to cater to the needs of everyone, from starters to industry veterans. For instance, this 6922 model seems tailor-made for those looking for a gas pressure washer that is very easy to use.
Moreover, they have somehow managed to incorporate all the features that make it a great option even for heavy duty users.
Let's start with its OHV 196cc horizontal engine. It comes with a useful manual choke and a powerful starting mechanism. It is by far larger than what the competing models are offering, including a bigger fuel capacity (3.2 qt). And by the way, the package includes your first engine oil.
Moving on to the axial, it can hit very high water pressure levels. This is not surprising, seeing that it has a rating of 2800 PSI and 2.4 GPM.
The pump can give you a good 60-150 hours of continuous cleaning, making it a useful equipment to have around your house or the garden.
Also included in the box are 4 nozzles with a quick-change feature. So, you can rest assured that it will accommodate different cleaning jobs from cleaning your wood fence to washing your vehicles spotlessly clean.
The other notables include the 1/2 gallon detergent holder, a standard 25 ft. long hose, and 10″ easy-drive flat wheels.
Lastly, toting it up/down the stairway is pretty easy, one because it's fairly light (just 57 lbs.) and secondly because its handles are pretty high – something tall people prefer.
Key features
Cushion grip handle
Easy-to-pull spray trigger
Half-inch gallon detergent holder
On-board storage (for cleaning detergents)
Generac OHV horizontal-shaft 196cc engine
10" never-flat wheels
4 quick-change nozzle tips (0°, 25°, 40° & soap)
Pros
Cons

Pretty powerful and effective
Fairly light
Very easy to start
Excellent soap function
Cleans super-fast
Easy to drive on all terrain

The handle may not be tall enough for taller people
Tip holder not very well constructed
Click
here
to find out its latest price.
Bottom line
Generac 6922 model is one of the most well-built gas pressure washers at its price range. It could be a smart investment for homeowners or professionals looking for an effective yet easy-to-use machine.
Reviews of the Best Electric Pressure Washers 2021
These are the best electric pressure washers to buy in 2021:

With a smattering of pleasant features, this is one of the few 5-star rated Electric Pressure Washers.
It derives its cleaning power from the 14-Amp universal motor which teams up handsomely with the tri-axial pressure pump – itself delivering up to 2000 PSI at a 1.4GPM flow rate.
This adjustable cleaning power is enough to quickly blast away lingering dirt, grime, and mold on various surfaces including decks, fences, and siding. Besides, you get 4 replaceable nozzle tips plus a turbo nozzle, each targeting different classes of cleaning jobs.
Moreover, its soap tank is built-in and can hold up to 48 oz of your favorite cleaning-agent. This means that you can work for significantly long without running out of soap. Also, in addition to its impressive design, this AR model runs reasonably quiet – just like most of the electric pressure washers.
Let me add that it has several other distinct advantages:
To mention but a few, moving it is very easy. Of course, that is because it's quite light. Then, it's easy to operate — you simply plug it in and voila! You are ready to go!
You will also be happy with its convenient hose storage and its built-in reel (with just a wand connection). The cord is also very easy to fold and store. The same can be said of the wand – it is very easy to disconnect and use.
In general, it should prove great to use in scrubbing most stone, concrete, and stucco surfaces. The AR 390SS should also comfortably dominate dirt on lawn mowers, garbage cans, outdoor equipment, patio furniture, pet cages, and much more.
Key features
30-foot high pressure hose
35-foot power cord (with auto-reset GFCI module)
48oz built-in detergent tank
4 Quick-Connect (QC) nozzles: green (25 degrees), red(0 degrees), rotary/turbo nozzle, black (low-pressure spray soap)
Pro-style spray gun
Zinc steel lance
Quick-connect garden hose adaptor
Total Stop System (TSS)
Pros
Cons

It automatically switches off when the trigger is idle saving energy and prolonging the life of the pump
Straightforward assembly
It's lighter so easy to move
Spray gun works very well
Quite powerful
Longer hose
Long and convenient power cord
Click
here
to find out its latest price.
Bottom line
Overall, it's tremendous for medium and even heavy-duty residential cleaning tasks. Wherever you deploy it, this pressure washer delivers superior results.

This is a high-powered workhorse and among the front-runners in the race for the best electric pressure washer title.
As an all-in-one cleaning champion, it has the stamina to trample over all tough household dirt and grime thanks to its ability to hit stunning pressure levels, not least a high of 3000 PSI "IPB"( Initial Power Boost).
It also maintains a working pressure of between 1800-2000 PSI /1.6 GPM which is still very impressive for an electric pressure washer. Also noteworthy is its total stop system (T.S.S) trigger gun which comes with a trigger safety switch/key that ensures it will never accidentally come on.
On the same note, its brush motor switches off automatically as soon as you release the trigger. This cool feature extends the life of the motor powering the washer. Also, its hose reel design makes this washer stress-free when using and compact for easier storage.
Other striking features include a special patio cleaner and an adaptable nozzle which shifts the spray from a broad wide fan to a more precise pencil point.
Last but not least, the spinning turbo nozzle does a very good job when removing dirt and debris – and it works on all types of surfaces. Well, it's hard to go wrong with a washer boasting of such amazing features.
Key features
Total stop system (TSS)
Integrated quick-connect hose reel (featuring a foldable hand crank)
13A brush motor (fitted with a thermal sensor)
Organized accessories storage
1800-2000 PSI /1.6 GPM
3000 PSI Initial Power Burst
Pros
Cons

Thermal sensor prevents overheating
It's effective on all surfaces
Has a convenient store for your accessories
Reasonable pricing
The special patio cleaner does an outstanding job
Maintains a consistently high pressure
Fairly lightweight

Its disconnects are proprietary, limiting your choices
Can tip over easily
Click
here
to see the latest price.
Bottom line
The Force 2000 has the oomph to serve you wherever you need it – whether cleaning the garage floor, deck, driveways, or the car. It maintains a very high pressure power while its adjustable nozzle is extraordinary.

Another electric pressure washer to make the grade is the Sun Joe SPX4000 Pressure Washer. And there are several reasons for this.
One, its powerful 14.5-Amp motor generates up to 2030 PSI/1.76 GPM, which is high enough for a majority of the toughest home, auto cleaning, and outdoor projects. As a matter of fact, the 2030 PSI should be able to demolish dirt, gunk, grease, and grime to the very last bit.
Then, its 5 quick-connect tips allow you to quickly shift spraying gears from intense to a gentle spray to match the cleaning task at hand.
Still on optimizing performance, and the integrated 54.1 fl oz detergent gallon lets you dial-in the amount of detergent you feel will be right to blast off dirt and make your cleaning task easy.
Also unique is its pressure select technology which gives users the option of choosing between 2 powerful cleaning options – a low 1450 PSI for your everyday dirt, grease, and grime, and a high 2030 PSI when handling the most stubborn cleaning jobs.
Perhaps as a bonus, it runs on a 'total stop power-saving' mode whose purpose is to save on energy. In this mode, the pump automatically shuts off any time the trigger is idle. This also indirectly contributes to prolonging its pump life.
To summarize, the Sun Joe SPX4000 is a much-loved electrical pressure washer thanks to its pump performance, power-save mode, and its highly rated power output.
Key features
5 Amp motor
2030 PSI/1.76 GPM
Easy-glide wheels
Onboard hose reel
20-ft. high pressure hose
35-inch power cord
Pressure Select Technology
5 Quick-Connect spraying tips (0°/5°/25°/40°/soap)
Extension wand
Garden hose adapter
Needle clean-out tool
Pros
Cons

Saves energy
Lengthy pump life
Easy to set the perfect pressure depending on the task
Very easy to use
Light and compact hence easily portable
Cleans with amazing power and accuracy
The soap dispenser works wonderfully

The motor has a fragile plastic housing
Click
here
to find out its latest price.
Bottom line
Thanks to its powerful pump performance, power-save mode, and its highly rated pressure output, the Sun Joe SPX4000 is a very reliable electrical pressure washer. It's another very solid option for your in-house/outdoor cleaning duties.

Delivering up to 1.2 gallons of water flow every minute, this is another powerful electrical pressure washer. Judging by its features, the GPW1702 easily passes as one of the most versatile pressure washers in our review.
It should easily, therefore, excel in all light and medium range applications such as in washing your windows, decks, cars, and other areas in and around the house.
It's powered by a water-resistant 13-amp universal motor. This not only guarantees you a longer motor life but also assures of a more consistent water power – important when tackling stained surfaces.
Secondly, the package includes all the essential quick-connect nozzles (0 degrees, 25 degrees and 40 degrees). It therefore comfortably accommodates various cleaning angles.
Apart from the nozzles, you will also get a spray gun and useful wand storage as part of the package. Moreover, a 25-feet-high pressure hose (with reel) provides a greater reach in addition to an easy storage.
The way it is modeled, you can use it vertically or horizontally …with both orientations proving stable according to the task. A Soap applicator and the 35-feet power cord (for exterior outlets) also come in handy for most tasks.
Lastly, for its price and the convenience it brings to your routine cleaning duties, this washer could prove priceless.
Key features
13-amp universal motor
1700 PSI /1.2 GPM
0°, 25° & 40° quick-connect nozzle tips
25 feet High-pressure hose (with reel)
Soap applicator
35-feet power cord
Pros
Cons

Cleans all surfaces very well
Inexpensive
35-ft. power cord comes in handy for outdoors
The hose reaches a wider range saving your energy
Fairly quiet
Its soap applicator makes adding soap a breeze
Very lightweight
Nice storage for its hose

Only 3 nozzle settings
Hose lacks automatic retraction
Click
here
to find out its latest price.
Bottom line
This Greenworks tool is a super-versatile electrical pressure washer. If you are looking for the perfect cleaning companion for light and medium range cleaning jobs, this could prove a master.

With its hefty POWERflow+ technology and a 7-in-1 nozzle, the Briggs & Stratton 20667 gives you unlimited cleaning powers.
So, if you have been hunting for a light-duty washer that can reach where the others won't dare or that can clean your home well in a flash, then you won't believe your luck with this compact washer!
Hitting a maximum of 2000 PSI, it finishes the job by using its enhanced quick-rinsing powers to leave everything immaculate!
It runs seamlessly, switching between jobs in a matter of seconds, thus enabling you to do more in no time. Plus, you can work for hours on end without tiring or developing sore hands. Its soft grip gun which is custom-engineered to deliver superior comfort will see to this.
Furthermore, it comes ready for all challenges and terrain. Whatever impact comes its way will meet an unshakeable obstacle in form of its tough-welded steel frame.
Then, when you feel that more detergent is needed, its design allows you to add soap in a matter of seconds to its integrated detergent tank. Moreover, it has a space-saving foldaway design, so you simply tuck it away when done and use your garage space for other pressing tasks.
Key features
2000 max PSI / 1.1 GPM & 3.5 max GPM/80 PSI
Brushless induction motor
Foldaway design
Soft-grip gun
20-feet high-pressure hose
Integrated detergent tank (1/2 gallon)
POWERflow+ technology
Patented pump
7-in-1 nozzle
Pros
Cons

Requires little storage space
Quieter induction motor
Automatically stops when not spraying
Provides for a quick nozzle change
It runs smoothly all through
The unit is built to last
Very easy to set up

May struggle with heavy jobs
Click
here
to find out its latest price.
Bottom line
Engineered to always deliver and to reach higher, this Briggs & Stratton pressure washer gives you unlimited cleaning potential. It's the perfect mix of extreme pressure and a powerful flow.
What to consider before buying a pressure washer
Surely, a pressure washer comes second to none in terms of results. But how do you choose which one to buy? Here are a few factors to consider before settling on a particular brand/model:
Water Pressure
Water pressure (measured in PSI) ranges from around 1,000-4,000 PSI and sometimes higher for commercial washers. And it matters a lot. Someone looking at primarily cleaning his/her car will do with a machine with lower pressure (say 1,000-1,300 PSI).
On the other hand, if you want to pressure-wash strip paint, siding, or to clean a patio or a sidewalk, you need more — 2,400 PSI and upwards.
Gallons per minute (GPM)
As mentioned earlier, GPM measures the flow of water through a machine at a specific pressure. For household pressure washers, GPM should be in the ranges of 1-4.
Pricing
As for price, it's pretty much a classic case of getting what you pay for. Washers with higher PSI and GPM ratings will definitely cost more. And we previously saw that gas-powered pressure washers are usually pricey than electric ones, but offer a lot more.
Warranty
Most pressure washers come with warranties. As they say, the devil is in the detail, so I would advise you to go through the fine print and see what the warranty covers. You need to be sure that it's covering at least the engine and its pump.
Portability
Portability is crucial. Can you wheel it around? Can you store it easily? Look for a pressure washer that you can move around easily. It's even better if it provides for an easier storage.
Compatibility with various accessories
At some point, you may want to upgrade. You, therefore, require that your washer of choice is universal and can work with all the essential accessories such as surface cleaners and lances.
Safety Tips
Used carelessly, these machines can cause injury. Here are some guidelines to help you remain safe:
Always connect your electric washer to a power outlet that's protected by a GFCI (ground-fault-circuit-interrupter).
With electric pressure washers, use extension cords with a sufficient gauge to protect your machine against electrical mishaps.
Wear protective boots or any other leather footwear to protect your feet when running pressure washers.
Avoid spraying near power lines or electrical wires to avoid electrical shock.
Always wear goggles – your eyes need protection.
Never use pressure washers near pets or small children – you may scare or harm them.
Always wear gloves to protect your hands.
You should never play with the nozzles when it's running. The high pressure may damage your skin.
Maintenance Tips for Pressure Washers
There are a few things you are expected to do to ensure that your pressure washer remains in optimum condition and ready for the next run:
After each use, ensure you clean all debris from the unit – this safeguards it against possible build-up and corrosion.
Perform scheduled maintenance as specified in your owner's manual.
If possible, store your machine indoors in a safe and dry location and before this, drain the oil and also use anti-freeze (if you're storing it for the winter).
Clean the pump again before tucking it away. Leaving it with water will ruin this important component.
Use only the cleaning fluids purposed for pressure washers. Anything else will eventually damage the pump.
Always empty and clean the soap dispenser before you store the machine, because soap leftovers may form crystals and damage your pump.
Ensure that you run the engine with freshly treated gas – treat your gas first with a fresh fuel stabilizer.
Always allow your pressure washer to cool off before storing. You never know what may come into contact with it and the resultant damage.
How to get the best out of your pressure washer
At the start, brush off all debris from the surface you want to clean. Then you can wet the surfaces mildly by just spraying water for several minutes. Finally, start your washer – it will clean quickly and thoroughly.
When cleaning hardy stains and grease, use high-pressure spray. Add soap and detergents as may be necessary. This will enable it to wash away all the debris within a few minutes.
Use the correct pressure washer nozzle as per the job. This delivers optimum pressure and rapid cleaning.
Best pressure washer – FAQs
Q: How does one connect the hose?
A: You should use the connectors. They make it easier as they're purposed for exactly that.
Q: Which type of oil is best for pressure washers?
A: Check from the user manual. Each model has a recommended type and should be indicated in the accompanying user guide.
Q: For which jobs should I use the different tips?
A: Use the 0-degrees tip for hard/tough dirt; the 15-degrees for painting/removing grease; the 25-degrees for clearing dirt from your rooftops/ leaves and the 40-degrees to clean motor vehicles.
Q: Should I drain fuel if I'm not using my pressure washer?
A: If you're not planning to use your pressure washer for an extended duration, drain the oil and clean the tank.
Best Pressure Washer 2021 – Final Thoughts
As we conclude, I hope you have gathered enough to help you settle on a great pressure washer. I also hope that my tips will help get the best of your investment.
Whatever your choice from either the best electric pressure washers or from the best gas pressure washers, you can rest assured that you've gotten the tool to combat annoying dirt once and for all.
Just like you would take care of your washing machine, ensure that proper maintenance is done on the pressure washers. This will guarantee a long life span.
As a recap, these are the top 10 best pressure washer contenders (both gas and electric):
Generac SpeedWash 7122 3200 PSI 2.7 GPM 196cc Gas Powered Pressure Washer
Ryobi 2800-PSI 2.3-GPM Honda Power Control Gas Pressure Washer
Briggs & Stratton 20655 Gas Pressure Washer
Generac 7019 OneWash 3,100 PSI, 2.4 GPM, Gas Powered Pressure Washer
Generac 6922 2,800 PSI, 2.4 GPM, Gas Powered Pressure Washer
Annovi Reverberi AR Blue Clean AR390SS 2000 psi Electric Pressure Washer
Powerhouse International – The Force 2000 – 1.6 GPM 2000 PSI Electric Pressure Washer
Sun Joe SPX4000 2030 PSI 1.76 GPM 14.5-Amp Electric Pressure Washer
Greenworks 1700 PSI 13 Amp 1.2 GPM Pressure Washer with Hose Reel GPW1702
Briggs & Stratton 20667 Electric Pressure Washer
Finally, if you feel I have overlooked your favorite pressure washer or you have any reaction, just drop us a comment below. I will be happy to look at it.
You can watch this video of How Pressure Washers Work by INSIDER: