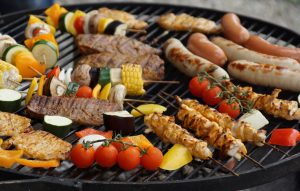 Looking for the best portable gas grill? Every once in a while, we all need to enjoy that delicious barbecue meal. When travelling, camping, tailgating, during picnics or parties, or even grilling in your own backyard, you need a small, portable yet effective grill. That is why we have gone through numerous grills and compiled a list of Top 10 Best Portable Small Gas Grills.
For anyone who appreciates the art of great cooking, grills are an essential component when it comes to fleshy meals. It is therefore important to examine this piece of equipment before using it. First and foremost the grill should be sturdy enough to bear weight. Simply check how it is assembled and you will be able to tell how stable it is.
Painted steel carts that are joined using nuts and bolts are not the best. Go for a grill with welded joints plus seamless construction.
If it has wheels at the four corners, then you might as well take the grill home because it is easy to transport.
Best Small Gas Grills 2023 – Comparison Table
Before we delve into what to look out for when buying grills and an in-depth review of the top 10 Best Portable Small Gas Grills, below is the list of the top 10, handpicked by our expert reviewers:
Grill Name
No. of Burners
Size (sq. inches)
Total Heat (BTU)
1. Coleman Road Trip Propane Portable Grill LXE
(Our top pick)
2
285
20,000
2. Cuisinart CGG-180T Petit Gourmet Portable Tabletop Gas Grill
(Our budget pick)
1
145
5,500
3. Char-Broil TRU-Infrared Portable Grill2Go Gas Grill
1
200
9,500
4. Cuisinart CGG-200 All-Foods Tabletop Gas Grill
1
240
12,000
5. Weber 60010001 Genesis II E-210 Liquid Propane Grill
2
380
26,000
6. Broil King Baron 3-Burner 320-S
3
330
30,000
7. Weber 57060001 Q3200 Liquid Propane Grill
2
393
21,700
8. Solaire Anywhere Portable Infrared Propane Gas Grill
1
155
14,000
9. Napoleon TravelQ TQ285 Portable Gas Grill
2
285
12,000
10. Blackstone Portable Table Top Camp Griddle, Gas Grill
(Grill/Griddle combo)
1
260
12,000
What to look out for when buying grills
1. Safety
When you are looking for small sized grills, the first thing to do is to ensure that they are safe to handle. The sturdier it is, the lesser the chances of tipping over. Do not go for grills that have sharp metal corners or edges. You should also check the handle and ensure that your fingers or knuckles are not too close to the lid. The best gas grills must also be safe to use.
2. Food variety
With most grills, the furthest you can go when it comes to food preparation is burgers. A gas grill is versatile, meaning you can cook some steak or even fish. You will definitely have to go for one that allows indirect cooking. Indirect cooking enables proper cooking of large or tough cuts.
3. Check out the size (square inches)
In this case, you are looking for something small, but this does not mean that you should not concentrate on the size of the cooking surface. There are grills whose total cooking area includes the warming rack. You can do your cooking on the warming rack, but unfortunately, it will not cook as well as the food placed on the real cooking surface. Always consider the square inches of the main cooking grate.
4. The price
You should have a budget to work with, but you should also know that the features you get are at times directly proportional to what you can afford to pay. For instance, a larger cooking surface means that you may have to pay more.
5. The head space
Ensure that you will have enough headroom. If there is a warming rack, then it should be removable.
6. Burners
Most gas grills come with aluminum or cast iron burners. It would be better to go for brass or stainless steel burners since cast iron is prone to rust, while aluminum corrodes. You should also ensure that your grill has a heat diffuser so that heat is distributed evenly and there is protection from dripping grease.
7. Igniter
All gas grills need one. If not an ignite, a starter will do. There are electric ones and those that require a battery. There are also those that have a button that when pressed generates a spark. Electric starters are said to be the best, but it is better to ensure that there is a manual ignition hole so that in case your igniter is not working, a match stick will do.
8. Thermometer
Most grills come with thermometers, but it is good to note that these thermometers are not usually accurate. This is because they are just bimetal dials, which means you can end up with food not well cooked. Ensure that your gas grill budget includes a good digital thermometer.
9. Fuel
You can buy a liquid propane (LP) gas grill, but you should first check to see if can also work with natural gas. They usually come with an adaptor kit and if it is not included then ensure that you purchase one. Natural gas is cheaper, but you should take care when installing the pipe.
10. Warranty
Ensure that the gas grill you are purchasing has a good warranty from the manufacturer. This shows that you are assured of good long service.
The benefits of gas grills
 Speedy cooking. Gas grills heat up faster, and they also enable you to cook food properly. Everything cooks evenly and quickly. This is because heat from gas is dispersed evenly on the cooking surface.
Lighting up a gas grill is much easier compared to lighting a charcoal one. You really have to be patient as the charcoal grill heats up.
When using a gas grill, you are in control since all you have to do is turn a dial or a switch. With charcoal grills, there is no certainty as to what might happen next.
Easy cleaning. There are no spent coals to get rid of and no ashes. All you need to do is just wipe the grill surface and you are done.
Now that you know the features and the benefits of gas grills let us take a look at the current best ten portable small gas grills you can buy in 2023.
Reviews of the Best Portable Small Gas Grills in 2023
While there are many options out there, only a handful can meet your expectations. These are the 10 best small gas grills to buy in 2023:
1. Coleman Road Trip Propane Portable Grill LXE – best portable small gas grill 2023
This is a gas grill specifically made for those on the road. It has all the features of a huge beastly grill, but is very light. Setting it up is not easy, though it is not a challenging activity. It takes an average of 20 minutes to set up. When you are finished, you just need to fold it up and roll it to your preferred position.
Support and girdles are sold separately. This grill comes with a push button for easy ignition plus it can also fit in the trunk of most vehicles.
Features
20,000 BTU units of cooking power distributed equally on each burner
285 sq. inches of cooking space
Easy to transport
Excellent pressure control
Can be set up in a matter of seconds
Pros
Cons

Easy to transport
Easy to clean. Has cast iron and porcelain coated surface plus removable grease tray
Sliding side tables for easy storage of ingredients and tools while grilling
Matchless lighting thanks to instant ignition
Variety of cooking options due to interchangeable cooking tops

Burners might not work simultaneously
Click
here
to find out the latest price.
2. Cuisinart CGG-180T Petit Gourmet Portable Tabletop Gas Grill – best budget small gas grill
This is a compact, small gas grill with a well-spread cooking grate. It has great numbers – it can handle 8 burgers or steaks at a go. It is small and sturdy plus it heats up quite quickly. You can take it with you wherever you are going. Folding legs plus a huge enough handle, make it portable. In addition, it has drip resistant tray.
Features
5,500 BTU burner
Portable grill
145 sq. inch of cooking space
Weighs an average of 13 pounds when carried briefcase-style
Pros
Cons

Cooks evenly like a huge grill
Has a 145 sq. grilling area
Can be set up in seconds
Has aluminum legs and stabilized feet
Integrated lid lock for safety

A plastic handle (plastic is not heat friendly)
After setup, you will notice that you have a low cooking surface
There have been instances of the lid popping when being carried
Click
here
to see the latest price.
Check out this YouTube video by Cuisinart on how handy the CGG-180T can be.
3. Char-Broil TRU-Infrared Portable Grill2Go Gas Grill
A small portable grill made whose construction material is mostly cast aluminum. It comes with sturdy handles and legs plus a lid that locks tightly in place. This little grill is even too powerful for its size.
Hence, its performance can be compared to that of larger grills. The cooking space is 200 sq. while the stainless steel tubular burner is 9,500 BTU. The total weight of the Char-Broil TRU-Infrared Portable Grill2Go Gas Grill is 24.6 pounds.
Do not judge this grill with its looks. However, there are some negative aspects. For instance, the cooking performance is not as expected. This is due to the inability to adjust the temperature. It can get extremely hot. There have also been leaking incidence reported by a few users of this gas grill.
The infrared technology might be the trend, but this should not make you blind. You really need to be careful with the grate. You need to clean it frequently so that it does not clog up and in turn block the airflow.
Features
Push button ignition
Weighs 24.6 pounds in total
200 sq. inches of grilling area
Cooking grate made of stainless steel
Lock closed lid
Pros
Cons

Solid construction
Lightweight and portable
High grilling temperatures

Temperatures are difficult to control
Instances of leaking
Click
here
to check out the latest price.
4. Cuisinart CGG-200 All-Foods 12,000-BTU Tabletop Gas Grill
The name Cuisinart is a brand name associated with quality kitchen items. This is certainly the same case when it comes to their outdoor grills. The CGG-200 is a tiny version of the full-size grill. It has a stainless steel tubular burner which provides a good amount of heating. There is also a grill topper/vegetable tray for the purposes of versatility.

This grill produces a moderate amount of heat, making it suitable for slow but thorough cooking. It is also easy to move about and store thanks to its foldable side tables. It has a stainless steel finish, and therefore you have to ensure it is clean for the sake of appearances and durability.
Features
Weighs approx. 35 pounds in total
12,000 BTU output from a single burner
240 sq. inches of cooking area
Foldable side tables, large size
Has 120 sq. inch grill for vegetables and small food portions to be grilled
Has no igniter
Pros
Cons

Proper grease management
Large cooking area for a portable grill
Works like a full sized grill

Thin porcelain as flame tamer
Heavy for a portable grill. It weighs 40 pounds
No igniter
Click
here
to find out the latest price.
5. Weber 60010001 Genesis II E-210 Liquid Propane Grill
The Genesis line is a long one and at the end of it is this 2 burner grill. It has a cooking space measuring 380 square inches, meaning that it can serve an average-size family. For those who want to have their ingredients together while grilling, the side tables, and the hooks should work well. If you have restricted space to do your grilling, then this is the type of grill recommended.

Features
Infinity ignition
Stainless steel side work areas
New grease management system
GS4 grilling system
Porcelain enameled cast iron cooking grates
Up to 26,000 BTUs
Pros
Cons

Two high-performance stainless steel burners
Infinity ignition to ensure that when you turn the knob, the burner starts
Grease management system

Low heat output due to size
For the latest information on its price, click
here
.
6. Broil King Baron 3-Burner 320-S – best small gas grill under $500
The Baron 320-S is just a tiny giant retrieved from the original Broil King line of grills. This is a 3 burner gas grill that fits perfectly in small spaces. The construction is solid plus it has cast iron with porcelain coating for the cooking grates. This is the grill you use when cooking for a few people. The cooking area can accommodate a good number, but do not overdo it.
This small but well-built grill comes with fold-down side tables so that you save on space. Unlike other grills, the Broil King Baron 3 burner has no heating issues. There is no uneven heating too thanks to it having dual tube burners.
Features
330 sq. inches of grilling area
10,000 BTU dual tube stainless steel burners (3 burners)
Fold down side tables
Electric ignition via use of AA batteries
Porcelain coated cast iron cooking grates
Pros
Cons

Heavy porcelain coated iron cast grates
Sturdy construction
Two tube burners

Can only be used for basic purposes
To find out how much it costs currently, click
here
.
7. Weber 57060001 Q3200 Liquid Propane Grill
The Weber Q 3200 came about after the success of the initial Q 320. The Q 3200 is not small, but it is meant for small spaces. It weighs 83.8 pounds, meaning that this is not a grill that you take when going on trips but still you can be assured good old fashioned grilling in the smallest space.
The Weber Q 3200 was introduced after it was discovered that the original Q wasn't being taken out much. The Q 3200 comes with a stand, a hose, and regulator which you can use to hook it up to a 20-pound propane tank. This is a portable grill that you can also use comfortably inside your apartment.  You have 393 sq. inches of cooking area, and you can as well do indirect cooking.
Features
393 sq. inches of primary cooking area
AA battery ignition
Weighs 83.8 pounds in total
Comes with two foldout tables
Temperature gauge attached to hood mount
21,700 BTUs
Two porcelain coated iron cast grates
Pros
Cons

Great for apartment dwellers
Solid construction that makes it sturdy
Is portable and large enough to cook anything

Slightly heavy but portable grill
For the latest information on its price, click
here
.
8. Solaire Anywhere Portable Infrared Propane Gas Grill
This is a 14,000 BTU infrared grill that is not only powerful in terms of heat, but also in terms of construction. It is made up of stainless steel. This infrared powerhouse can be taken anywhere so long as disposable propane bottles are available. Natural gas can also work too.
It should be known that this powerful little giant does not come cheap (see the current price here). The stainless steel version is, of course, more expensive but just note that you will be making a sound investment for your grilling purposes.
This is the kind of grill that can withstand any weather and treatment, since its stainless steel constructed. It's durability is guaranteed. There are several versions of this grill, but only the portable one can work with natural gas. The grilling space may not be adequate but thanks to the infra-red capability, your food will cook within a short period.
Features
155 sq. inches grilling space
14,000 BTU infrared
Can be converted to a natural gas grill
Weighs less than 30 pounds when carried in a bag
Marine mount and full height stand are availed
Pros
Cons

Conversion of natural gas is possible
Has mounting options especially for boat owners
Portable
Infrared grill
Good stainless steel build

A bit costly considering size and space
Only 155 sq. inches of grilling space
Click
here
for the latest information on its price.
9. Napoleon TravelQ TQ285 Portable Gas Grill
The Napoleon TravelQ TQ285 portable gas grill is a solid 20-pound piece of equipment. It is so portable that you can lift it with one hand. This does not affect the grilling space at all. Most tiny grills have a single burner, but that is not the case for this grill as it has two.
One of the things you need to know before buying this grill is that its outside surface gets hot quickly. This is because the grill's body is constructed using stamped steel. This poses the problem of poor heat retention. The knobs and handles are made of plastic, while the body is prone to denting. Moving from place to place is made easier by a folding stand and wheels.
Features
285 sq. inch cooking area
6,000 BTU stainless steel burners
Folding legs
Stamped metal body
Plastic knobs and handles
Pros
Cons

Two burners
Solid design
Lightweight
Porcelain coated cast iron grates

Stamped body steel
Quite pricey as compared to other similar sized grills
Click
here
for the latest information on its price.
10. Blackstone Portable Table Top Camp Griddle, Gas Grill – best portable gas grill/griddle combo
Looking for a griddle/grill combo in small, portable gas grill? Look no further. Blackstone have been quite at the top in terms of innovation. The Blackstone Portable Table Top Camp Griddle, Gas Grill is the answer. You have access to this top-of-the-chain small gas grill that should sort you out when travelling, camping or tailgating.
If you want to have a barbecue in your backyard, then this gas grill is the perfect fit. 260 square inches of space allows you to cook multiple foods conveniently. In terms of cleaning, the stainless steel coating just needs a simple wipe-off. Turning the griddle top downwards helps save space, in case you are grilling in a small area.
Features
Allows grilling and indirect cooking
260 sq. inch cooking surface
Designed for on the go kind of grilling
Up to 12,000 BTU heat output
1 H-shaped burner
High temperature finish to prevent rust
Pros
Cons

Easy to clean
Quality stainless steel construction
Ideal for cooking at low temperatures
1 lb propane bottle for convenience
Easy to use electric ignition

Only uses propane gas, but can be converted to use natural gas.
Click
here
to find out its latest price.
Conclusion
The best gas grill should be safe; it should not overheat, it should have good temperature control and easy to ignite. In addition, it should have a sufficient manufacturer warranty. The final thing is that all these factors rely on your budget. What can you afford? Are you planning to be doing lots of grilling?
Small grills are not just for small spaces; it could just be that you do not want something heavy and bulky. Ask yourself the necessary questions so that you can purchase what you need and it will be a worthy investment. Enjoy your grilling!
Lastly, small gas grills can be a good alternative to outdoor electric grills especially in areas where there are frequent power outages.
Feel free to leave a comment below for further discussion.
In summary, these are the best small gas grills 2023:
Coleman Road Trip Propane Portable Grill LXE
Cuisinart CGG-180T Petit Gourmet Portable Tabletop Gas Grill
Char-Broil TRU-Infrared Portable Grill2Go Gas Grill
Cuisinart CGG-200 All-Foods 12,000-BTU Tabletop Gas Grill
Weber 60010001 Genesis II E-210 Liquid Propane Grill
Broil King Baron 3-Burner 320-S
Weber 57060001 Q3200 Liquid Propane Grill
Solaire Anywhere Portable Infrared Propane Gas Grill
Napoleon TravelQ TQ285 Portable Gas Grill
Blackstone Portable Table Top Camp Griddle, Gas Grill