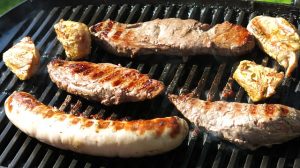 Which is the best outdoor electric grill to buy? The type of grill you finally settle for is always a matter of taste and personal preference. Most people prefer gas grills, but when it comes to confined spaces in modern houses, an electric grill will do better.
It is important to note that the kind of grill and fuel that is used will eventually affect the kind of flavor your food has. We have expertly reviewed numerous grills, and come up with the Top 10 Best Outdoor Electric Grills you can buy in 2023.
In this article, we delve into features of both gas grills and electric grills, how to grill using electric grills as well as the dos and don'ts. We will then get into the details of each specific grill.
Best Outdoor Electric Grills 2023 – Comparison Table
Before we review each product, here is an overview of our top 10 picks:
Top 10 Best Outdoor Electric Grills
Weight
Size (sq. inches)
1. Weber 55020001 Q 2400 Electric Grill
(Our top pick)
42 lbs
280
2. Char-Broil TRU-Infrared Patio Bistro Electric Grill
49 lbs
320
3. George Foreman GRP4800R Multi-Plate Evolve Grill
1 lb
75
4. George Foreman GG50B 15-Serving Indoor/Outdoor Electric Grill
(Our budget pick)
21 lbs
240
5. Easy Street Electric Tabletop Grill
23.4 lbs
200
6. Char-Broil TRU Infrared Electric Patio Bistro 180 Grill
27 lbs
245
7. Johnsonville BTG0498 Sizzling Sausage Grill
8 lbs
5 compartments
8. George Foreman GFO240S Indoor/Outdoor Electric Grill
18.9 lbs
240
9. Livart LV-982 Electric Barbecue Grill
6 lbs
78
10. Cuisinart CEG-980 Outdoor Electric Grill
16 lbs
145
The one thing that all electric grill owners are happy about is that they are not constrained by weather. Whenever they want to do some grilling, they do it without much hassle. All you need to do as a shopper is go through the features of the grill you want to see if the model matches your lifestyle.
Gas and electric grills come in different shapes and sizes. Gas grills normally come with one of two burner elements, rotisserie kits, and side burners. There are also gas grill units that allow indirect cooking. There are those that have a griddle for you to place your food on, protecting it from direct heat.
Electric grills, on the other hand, usually come with a single cooking surface. They are also easier to clean since they come with a drip pan that collects all the grease or juice produced during cooking.
Gas Grills vs Electric Grills
Gas grill features
Uses natural gas or propane and is energy efficient.
Comes in small and commercial sizes. Small gas grills are particularly great for those who are always on the road.
Limited to outdoor use only. They require sufficient ventilation since gas is highly flammable.
Needs a smoker box to enhance barbecue flavor.
Less expensive as compared to electric grills.
Maintains heat at a set temperature.
Removable parts can be washed in hot water. You should also see what the manufacturer proposes in the manual.
Electric grill features
There is no need to worry about running out of gas
You do not need to drag a gas tank any time you want to grill
They come in different sizes. The smallest can serve two people while there are larger versions and patio models which can serve up to 15 people
Do not take up much space
Can be used both indoors and outdoors
Does not give an authentic barbecue flavor as compared to charcoal and gas grills
Have a heating cycle hence food may not be seared well, unless you're dealing with an expensive grill
Electric heating elements must not come in contact with water
How to do the grilling
To be quite frank, it is quite obvious that many people prefer traditional grilling. However, you cannot deny the fact that many people are waking up to the fact that the environment needs preservation. There is also the millennial who does not have time to deal with smoke or lug a gas tank; they simply want to get to grilling. These two aspects have brought forth the switch to electric grills.
One of the things that you should do when using an electric grill is lowering the heat. This is because like all electronic gadgets, the grill starts slow and then gives out a lot of heat. When it comes to heat output, charcoal grills are the best. The electric grill takes some time before it warms up.
Since there is no instant heat, you will need to stay in one place to ensure that when the heat becomes sufficient, you are good to go. It is advised that you preheat for a long time – ensure that it is very hot on the inside before you begin your cooking. This is because electric grills tend to lose heat easily. There is no need to worry though, since this is the only complication that electric grills have.
All you need to do is preheat, then place the food on the tray and let it cook, flip it over, lift and then serve. You should always close the grill, and avoid fiddling with the food. This is in relation to the loss of heat. The more you open the grill, the more heat you lose. You should also not overload the grill. This ensures proper heat circulation and penetration.
Lastly, give the food enough time to cook and conserve the heat so that it is not wasted.
Electric grills pros and cons
Electric grills have been graded as the safest and the easiest type of grills to use and control. It is no wonder that every novice opts for one. Not only are they safe and easy to operate, but they are also affordable and can be used anywhere, any time.
One of the best features of this type of grill is that it does not emit smoke and neither does it emit large amounts of carbon monoxide. This, therefore, makes electric grills suitable for any space whether enclosed or not.
Also, with electric grills, there are no open flames. Therefore, you can lower the chances of accidents like burning from occurring. These grills can be placed almost anywhere unlike their gas and charcoal counterparts. You are in complete control and can use safety features.
Electric grills are convenient and cost-effective. You should monitor how and when you can use it in order to see why it is cost effective. Of course, you do not need to purchase coal or propane. All that you need to do is just plug in. These grills are also easier to clean. You only need a soft wet sponge.
Electric grills also have a downside. Open fires are the epitome of barbecuing. So, as much as it is a safety feature, it is also an element of grilling.  No one wants to be susceptible to electric shock hence the need to get a professional to install your electric grill. This is not the same for other types of grills.
The food will be terrific, but it will not have the woody taste that accompanies charcoal grilled food.
The Dos and Don'ts of Electric Grills
As much as using an electric grill is easy, there is need to comply with certain rules to ensure that your grilling experience is error free. The truth is that an electric grill gets the user excited since it allows them to grill whenever they feel like. A few facts just to ensure that you are not too excited.
According to the National Fire Protection Agency, gas grills can lead to an average of 7200 fires annually. On the other hand, charcoal grills can cause an average of 1400 fires within a similar time frame. Every year there is property damage and loss worth US Dollars 37 million as a result of grill fires. Luckily, electric grills do not have open flames hence this lowers the chances of starting a fire.
First and foremost, you must always add liquid to the drip tray. This is because the drippings could easily heat up and catch fire. Liquid ensures that the tray does not offer a suitable environment for a fire to start. So, you should ensure that the liquid you are adding is not flammable.
One of the things that you should also avoid is the use steel or metal utensils. This is because chipping will take place. Not only will your grate be chipped, but the chippings might find their way into your digestive system. The best utensils to use in this case are those made of nylon or silicone.
Always clean the components of your grill once you have finished using it and it has cooled down. Ensure that you remove the grease and the fat deposits.
Never forget to power off. Unplug the grill from the socket and then let it cool down.
Reviews of the Best Outdoor Electric Grills in 2023
These are the Top 10 Outdoor Electric Grills 2023 as handpicked by our team:
1. Weber 55020001 Q 2400 Electric Grill – best outdoor electric grill
The Weber Q 2400 is a product of restyling. This is so because it was once known as the Q 240. What is the difference? Well, it still has the sleek style and the great performance, and also there are additional aesthetics for the function and fun.
When people talk about electric grills, they are quick to dismiss its lack of tradition when it comes to taste, but with this grill things are different. With the porcelain enameled cast iron grates, you can be assured of well cooked and delicious food.
This Weber grill is definitely worth the top spot in our best outdoor electric grill podium.
Features
Porcelain-enameled cast iron grates
280 square inches of cooking space
1560 watt electric heating element
Fully assembled out of the box
6 foot grounded cord
Pros
Cons

Large grip handles and control knobs
Ergonomic side handles
Sturdy front
Comes fully assembled

Some consider it expensive
Click here to see the latest price.
2. Char-Broil TRU-Infrared Patio Bistro Electric Grill
This is the grill for all those who love entertaining guests on the patio. As much this is an old name in the grilling business, it has been redesigned, and therefore, even its performance has upgraded. This grill is solid and is of compact size, plus it uses infrared technology. You can be assured of enough cooking space, thanks to its spacious cooking surface measuring 320 square inches.
Features
Infrared cooking system
Precision dial that grants you full control over the 1750 watt electric burner.
Can accommodate 8 to 12 burgers
Temperature gauge for temperature monitoring
Pros
Cons

Easy to clean, porcelain coated grill
Can be wheeled to its storage
Uses infrared cooking technology
Can plug into any 120-volt outlet

Not the easiest to assemble.
There is no tool rack
The power cord is quite short
Temperature drops quickly when the grill is opened
Click here to find out the latest price.
3. George Foreman GRP4800R Multi-Plate Evolve Grill
The George Foreman GRP4800R Multi Plate Evolve grill is a unique grill that comes with four capabilities. There is nothing complicated about it. It has simple digital controls that will change your entire grilling experience.
If you would like to go traditional, then you better use its ceramic plates. The digital time setting allows your food to cook well at the specified temperature. You also have a 500-degree searing option to ensure that your juicy flavors do not escape.
Features
Comes in 4 forms of versatility: bake dish, grill, muffin pan and panini press
Adjustable hinge and cooking angle
Up to 5 servings
Digital controls
Cooks fast
Removable plates
Pros
Cons

Removes 42% of fat
Searing option
Digital control panel
Advanced ceramic plates
Adjustable angle

May need replacement after 1 or 2 years
To find out the latest price, click
here
.
4. George Foreman GG50B 15-Serving Indoor/Outdoor Electric Grill – best budget outdoor electric grill
This is the kind of grill that you opt for when you are pretty hungry, and you are not alone. The George Foreman GG50B 15 can serve 15 people at a go. So you can keep the delicious meals coming.
It is an easy to use this grill no matter your location; whether indoors or outdoors. All you need to do is remove the grill stand (it is removable). It is quite sturdy so simply place it on firm ground or on your patio.
You will not spend a lot of time setting it up. Then, the next thing is to plug it in and give it about 10 minutes to heat up while you get your meals ready for cooking. The grill can be placed on some surfaces for instance a table top, or you might as well place it on its pedestal.
The grill top itself is a bit heavy even though the pedestal is sturdy. To be on the safe side, ensure that you are not grilling in a crowded space or where kids play.
Features
240 square inches of cooking surface
Apartment approved
Adjustable temperature control
Removable stand
Tough nonstick coating
Can serve up to 15 at a go
Pros
Cons

Quick Heat
Great design
Easy to clean
Easy to assemble
Does not take up much space

Grease at times does not drip in the pan
Could be a little heavy for some people
Click
here
 for the latest pricing info.
5. Easy Street Electric Tabletop Grill
The Easy Street electric tabletop grill is a portable and energy efficient grill that does even cooking. If you wanted to enjoy some infrared cooking but are limited regarding cash, then this could just be the grill for you. You have 200 square inches of cooking space.
A 1500 watt element that ensures that your food is cooked to perfection. Infrared heat is easy to control, hence there is no burning. The grill also has a variable heat control. Want some traditional tasting barbecue? Well, as the fat drips it is burned away by the infrared, resulting in pure fumes that penetrate your food for some savory taste.
Features
200 square inches of cooking space
Three heating positions
Grease cup
Thermostatic control
Pros
Cons

Infrared cooking technology
Energy efficient
Can be placed on almost any surface
Corrosion resistant
Made of high-quality steel

Enamel can easily peel off
Click here to check out the latest price.
6. Char-Broil TRU Infrared Electric Patio Bistro 180 Grill
If you have limited space, then this could be the grill to go for. It gives you 240 square inches of grilling space which is not so bad. It is not that big, but it still does a fantastic job. The BTU output from it might be low, but this is compensated for by the availability of the infrared technology. You will still need to do some preheating just to get it right.
Features
Wheels for easy moving
240 square inches of cooking space
Onknob ignition
Powder coated steel construction
Lightweight, 54 pounds
Pros
Cons

Small enough to fit in small spaces
Full height
Infrared technology

Long preheating time
Not sturdy enough
7. Johnsonville BTG0498 Sizzling Sausage Grill
This is the grill for all sausage lovers who would want to have their sausage in a healthier and tastier way. Grilling allows you to retain the sweet juices that are contained in sausages. In addition, with this grill comes the browning system which ensures that not only are your sausage the right brown, but they taste right too.
Each sausage has its own compartment so that it can cook well. Furthermore, the grill shuts off when the internal temperature is reached. The nonstick coat also makes cleaning afterward easier. This grill is not only sausage friendly, but it is also portable and can be used anywhere from the outdoors to indoors.
Features
Comes with temperature probe to alert you when sausage is thoroughly cooked
Sausages cook for a short time, 10 to 15 minutes
Removable plates to enhance easy cleaning
Enclosed design to facilitate even cooking and prevent splatter
Cooks 5 sausages at a go
Pros
Cons

Enclosed design
Surround browning system
Temperature alert that ensures perfect sausages
Cooks fast

There are those who complain that it is hard to clean
Click here to find out the latest price.
8. George Foreman GFO240S Indoor/Outdoor Electric Grill
Hunger and a large party of friends is something that the George Foreman Indoor/Outdoor grill can handle quite well. With room enough for over 15 servings, nothing can be more spectacular. So how does it work?
Well, you simply need to determine your grilling location, and you're good to go. The removable grill has been placed there for the same purpose. There is even a patented slope for fat removal. This means you only get to have good food, but also clean up easily afterward.
Features
15+ servings
Adjustable temperature control
Patented fat removal slope
Drip tray
Apartment approved
Easy to clean
Removable stand
Pros
Cons

Nonstick coating that facilitates easy cleaning
Removable stand
Sloped fat removal surface collects all the grease

A few complaints of flimsy grill base
Click here to see the latest price.
9. Livart LV-982 Electric Barbecue Grill
This is a tabletop electric grill for people who are always on the move, and especially if you are a fan of yakitori style. Those who want fresh grilled flavor will also opt for this grill. The grill surface is open and not a clamshell.
This means that you have full access to your food. However, if you love fast cooking grills, then this is not the grill to go for. It is advisable to opt for this if you are only after good tasting food.
Features
Korean barbecue grill
Easy to use
Detachable stainless steel grill
Bottom tray to capture grease
Pros
Cons

Easy to use
Heats up quickly

Food takes long to cook
A bit difficult to clean
To find out the latest price, click here.
10. Cuisinart CEG-980 Outdoor Electric Grill
Cuisinart are one of the leading names when it comes to kitchen equipment. The CEG 980 provides you with a grilling performance like no other. It is quite a good fit for small spaces or where gas and charcoal are not permitted.
The cooking space is large enough to handle eight steaks or burgers plus you do not have to wait long because the grill heats up quickly.
Features
Portable grill
145 square inches of grilling area
Powerful 1,500-watt burner
Can work with a standard electric outlet
Briefcase carrying design
Pros
Cons

No need for assembly
Heats up quickly hence shortening cooking time
Easy to use controls
Powerful grilling performance

Difficult to clean
Complaints of not heating up enough
The lid is a bit flimsy
Small grease cup
Click here to see the latest price.
Conclusion
There is a grill for everyone and every occasion. The weather is not a limitation. Price is not a hindrance. Simply know what you want and choose a grill whose features seem satisfactory to your cooking needs and you will be on the right track.
So, if you have a small space, simply head on to the great outdoors with your grill and have a great time with friends, accompanied by some good food. Remember that you always need to confirm if the electric grill you buy can also be used indoors, since some are exclusively for outdoor use.
In summary, these are the 10 best outdoor electric grills in 2023:
Weber 55020001 Q 2400 Electric Grill
Char-Broil TRU-Infrared Patio Bistro Electric Grill
George Foreman GRP4800R Multi-Plate Evolve Grill
George Foreman GG50B 15-Serving Indoor/Outdoor Electric Grill
Easy Street Electric Tabletop Grill
Char-Broil TRU Infrared Electric Patio Bistro 180 Grill
Johnsonville BTG0498 Sizzling Sausage Grill
George Foreman GFO240S Indoor/Outdoor Electric Grill
Livart LV-982 Electric Barbecue Grill
Cuisinart CEG-980 Outdoor Electric Grill
Check out this YouTube video of the TOP 5 BARBECUE RECIPES by Pitmaster X: