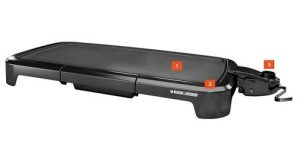 A griddle is simply as a piece of flat metal specially made for cooking. The typical image of a griddle is a flat surface that is heated from below. Some of the common foods you can cook on griddles are pancakes, bacon, eggs and French toast among others. At fast food outlets, they are used to make burgers and sandwiches. Our team of experts has reviewed The Top 10 Best Electric Griddles 2023.
In this article, we delve into the details. You need to know what to look out for when buying an electric griddle, the types, and also The Top 10 Best Electric Griddles in 2023.
Best Electric Griddle 2023 – Comparison Table
Before we go into more details, here is a sneak peek into our top 10 electric griddle picks :
Grill Name
Weight
Cooking surface (inches)
1. Presto 07061 22-inch Electric Griddle
(Best Seller)
6.5 lbs
22 x 11
2. BLACK+DECKER GD2011B Family Sized Electric Griddle
(Best Seller)
5.2 lbs
20 x 11
3. Cuisinart GR-4N 5-in-1 Griddler

8 lbs
13.5 x 11.5
4. Oster CKSTGRFM18W-ECO DuraCeramic Griddle
6.7 lbs
18 x 10
5. Presto 07211 Liddle Griddle
4 lbs
10.5 x 8.5
6. Cuisinart GR-300WS Griddler Elite Grill
16.84 lbs
16.2 x 8.1
7. Secura GR-1503XL 1700W Electric Reversible 2 in 1 Grill Griddle
13.6 lbs
15.5 x 11.5
8. BELLA 2-in-1 Reversible Grill Griddle Combo
10.99 lbs
15.5 x 11.3
9.Hamilton Beach 38546 3-in-1 Grill/Griddle
8 lbs
23 x 12.5
10. Broil King PCG-10 Professional Portable Nonstick Griddle
8.2 lbs
29.5 x 12.5
Buying the Best Electric Griddle
Electric griddles are now becoming part of every household kitchen. It is no longer limited to your local burger joint. You should also know that this kitchen arsenal is not a preserve of those who have loads of cash to spare. Electric griddles are quite affordable.
The aim of this review is to get you informed on what to look for before settling on a particular electric griddle. Also, you will get an in-depth review of each of our Top 10 Best Electric Griddles 2023.
If your griddle is costing you more, chances are that it is a gas griddle, most of which are for use in restaurants. Since you are not a food joint, you are better off with the electric one. Conserving energy is great!
What you should look for in the Best Electric Griddle
i. Material
First things first. What is your griddle made of? Griddles are made from three different materials namely ceramic, cast iron or aluminum. If you want something that heats up and cools down faster, then you should opt for aluminum. However, when it comes to durability, be prepared to buy a new griddle after every two years.
Well, unless you want something that lasts more than that, two years of service aren't that bad. For the best cooking, go for electric griddles made of cast iron. The cooking is slow but fantastic for your steaks and burgers. Ceramic top griddles, on the other hand, are the winners and the best in this category in terms of durability and cooking.
ii. Evenness
A good griddle is one that cooks evenly. Do not dare go for something with hot spots. Also, the cooking surface should heat up at the same rate, and the heat should not be limited to a particular area. To be on the safer side, it is best to conduct a test to ensure that all the four corners cook evenly.
iii. Grease flow and removal
Excess grease can do severe damage to your cooking rituals. This is because its buildup destroys the nonstick coating. Moreover, when it leakage can damage the temperature control panel. This may cause your food to get burnt. Therefore, always ensure that the grease tray is not only large enough but also dishwasher friendly. It should be easy to remove, easy to clean.
iv. Flatness
The grill top of a griddle is supposed to be flat always. However, when dealing with an aluminum model, this might become problematic. Just a slight tilt and you may ruin the griddle. This means that cooking a simple meal like eggs on your griddle will become a nightmare. Some places will be burn while others will be raw and others too greasy.
v. Cleanability
Your electric griddle should be easy to clean so that it can give you longer service. Cleaning is necessary since we have seen that grease buildup is detrimental to the nonstick coating.
vi. Coating
Nonstick coating is a must. If you need to use more than necessary amounts of grease, that griddle is not for you. As for the lifespan of metal griddles, ceramic coating is the best. You should also be wary of chemical coating and ensure that your griddle coating is not done using hazardous chemicals.
vii. Longevity
The longest a griddle should serve you is two years. Unless you are in the food business, this is the optimum time frame. So, does this mean that you are hopeless when it comes to griddles? No. Before buying, read what other buyers as saying about a particular brand. Any statement of peeling or warping is a notification of the brands you should avoid.
viii. Versatility
This is about your living space or the regulations that you are supposed to observe. There are buildings where gas grills are not allowed. This means that the next best option would be an electric one. An electric griddle will work in these circumstances, but you should ensure that it does not produce a lot of smoke when cooking.
ix. Price
We saved the best for last. There are plenty of affordable griddles but do not just buy any griddle, but something of high quality. This does not mean that you should go on a griddle splurge. Practice due diligence because expensive does not always mean good quality.
So, why should you buy an electric griddle?
A large cooking surface: There is no need to worry when you have a growing family or when hosting friends. You have enough space to ensure that you feed them all with some yummy food.
Even cooking: There is equal distribution of heat, hence no half cooking incidents.
Less fat: By using electric griddles, you will be reducing the amount of fat that you consume. This is because of the nonstick coating and also the fact that griddles come with drip trays or grease wells that act as reservoirs for excess oil.
You can use the griddle on your stove and best of all you won't spend a lot of time doing so.
You can warm up whatever needs some quick heat like muffins or buns.
Electric griddles are easy to clean.
Types of Electric Griddles
There are two types of electric griddles; the basic electric griddle and the electric griddle/grill combo.
The basic electric griddle is the one with a flat griddle plate. The heat circulates evenly on the cooking surface. There are basic griddles that come with griddle presses while others don't.
The second type is the electric griddle and electric grill combo. If you love steaks and burgers, then this is the kind of griddle to go for. It mostly comes with plate inserts.
The difference between an electric griddle and an electric skillet
These two kitchen pieces can make your cooking much easier. You avoid the oven and also do not need to use too many utensils. Also, in the process, you avoid making a mess in the whole kitchen. Surprisingly, most people usually confuse the two, but actually, they have some differences.
| | |
| --- | --- |
| Griddle | Skillet |
| | |
First and foremost, it is much easier to turn on an electric griddle. The flat surface assures you of even heat distribution once heated with an electric heating element. The skillet has a flat surface too, but the cooking surface has some walls and a cover. The walls are there to contain the food hence allowing you to stir or mix ingredients.
So, what you cannot cook on a griddle will work perfectly fine on a skillet.
Reviews of the Best Electric Griddles 2023
These are the best electric griddles you can buy in 2023:
1. Presto 07061 22-inch Electric Griddle – best electric griddle 2023
This griddle comes from a long line of quality Presto kitchen products. It is the best for the family, as it can easily fit inside an 18-inch cabinet. Also, it is easy to store because it is not weighty; its shape and compact size allow it. The handles can also be removed and leave it without any hindrance to be slipped inside your cabinet storage.
It is most suitable for those who have an issue when it comes to space. It does not take up your countertop space, so you have enough room to prepare other ingredients. Since the nonstick coating does not allow oil to stick, cleaning is easy. Also, any other unwanted things will be captured by the drip tray. When you finish cooking, simply take the heat control element, dip it in water and it will be clean.
What about the cooking surface?  It is made of cast aluminum but coated with nonstick material. There are tight diamond patterns on it to ensure that food does not stick to the surface while cooking. This, of course, means that some foods will have diamond shapes on them but if you do not love diamonds on your food then avoid this.
The surface is not only good for cooking, but it's easy to clean as well. There is no food stuck at the bottom, so once the griddle is cool, you can clean it immediately. The drip tray goes to the dishwasher, while a sponge and soap should do for the griddle surface.
Pros
Cast iron base
Nonstick coating
Comes with a drip tray
Has digital controls
Can fully be immersed in water with heating control removed
Has a clock
Can easily fit in cabinets
Can be used in limited space
Cons
Knurled surface that may leave marks on your food
To see its latest price, click here.
2. BLACK+DECKER GD2011B Family Sized Electric Griddle
This is a basic griddle which comes with a nonstick coating to facilitate easy and fast cooking. The cooking surface on this griddle is quite spacious. We are talking about 220 square inches. This means that you can comfortably make eight pancakes and some bacon on it.
This electric griddle has an aluminum cooking surface that has a nonstick coating. It gets rid of excess grease via a small hole that in its gutter. It has a thermostat probe that is removable. The thermostat works quite well, with the ability to set temperatures ranging from 150˚F to 400˚F. Moreover, you can lower the temperature to can warm your tray.
As much as manufacturers say that their griddles heat evenly, most reviews do not echo the same sentiments. This is because griddles are heated via a simple hot coil, and only the surface that is in direct contact with the coil gets sufficient heat. This is the same situation with the BLACK+DECKER GD2011B Family Sized Electric Griddle.
To prove the heating argument, simply make use of an infrared thermometer, and you will see for yourself. But surprisingly, this heating issue does not affect your cooking because on testing, pancakes still cooked well and evenly. The griddle heats up quite quickly.
In just three minutes, it will have reached the cooking temperature. According to the manufacturer's website, this griddle is dishwasher friendly. However, according to the manual, you can hand wash in hot, soapy water. This is because the only part of the griddle that is dishwasher safe is the plastic drip tray.
Also, this griddle comes with a very short cord to ensure that the griddle doesn't fall off its surface.
Pros
Nonstick cooking surface
Drip tray
2 year limited warranty
Temperature control from 150˚F to 400˚F
Plastic sides for handling
Nonstick cooking surface
Easy to clean
Great for large family size
Cons
Not entirely dishwasher safe
Can get quite hot and uneven
Click here to see its latest price.
3. Cuisinart GR-4N 5-in-1 Griddler
The Cuisinart countertop Griddler is all you could ever want your dream electric griddle to be. This is because it is a five in one electric griddle. It can function as a contact grill, a full grill, a panini press, full griddle, half grill or half griddle. What else would every kitchen desire?
Its modern, sleek look courtesy of its stainless steel housing does justice to its image. Moreover, it comes with a panini styled handle and a hinged cover that can be adjusted according to the thickness of the food.
It's easy to operate since everything has been made obvious for the user. There are two temperature controls on the base. You will also find a function selector at the same location. When you open the cover, you will see a reversible nonstick grill, griddle plates and of course a drip tray to take care of the excess grease for you.
Ensure that you turn off the selector dial control must before unplugging the power cord from the wall socket. You should then let the griddle cool for thirty minutes before you embark on cleaning it. First of all, scrape off the food particles then you can decide to do a hand wash or simply dip it in the dishwasher. Therefore, you should wash the cooking plates in the dishwasher after ensuring that they have cooled.
What's more?
The full grill helps cook steak, burgers, fish and even vegetables. You can prepare poultry meat as well, but just ensure that it is not bone-in chicken. The full grill state is achieved when it is used as a full griddle, and the cover is lying flat. This ensures that you have something like a double cooking surface.
In this state, you will make use of the plates. The full griddle is good for pancakes, eggs, and other breakfast meals. All you need to do is open the cover and let it lie flat.
Half grill and half griddle is perfect for potatoes, bacon, steak or eggs. Ensure the unit is flat and insert two plates. One should have the grill side upwards and the other with the griddle side facing up too. On the other hand, go for the contact grill when cooking boneless meat.
This feature allows you to prepare something for a short period. The food should be covered evenly till it cooks as desired. The panini press, therefore, should be your favorite sandwich maker. You simply have to press your sandwich in between two griddle or grill plates and warm it up.
Pros
Has 5 functions
Plate release buttons
Hinge release lever
Easy to clean
Drip tray
Nonstick
Low power consumption
Saves space
Cons
No timer
Complaints that it does not work as efficiently as advertised by manufacturer
To find out the latest price, click here.
4. Oster CKSTGRFM18W-ECO DuraCeramic Griddle
This griddle comes with a warming tray to ensure that you do not do double work. The Dura Ceramic nonstick coating is of the highest quality. This means that you will be dealing with something that lasts four times longer than other coatings. You should be sure that this coating is safe – it does not contain PFOA (Perfluorooctanoic Acid) and PTFE (polytetrafluoroethylene).
The Dura Ceramic coating does not only perpetuate durability, but it also enables cooking to be 20% faster so that your meals cook quickly and decently. This means that if you have hungry kids, you can fix them a quick meal in no time. You will be saving both time, energy, and your face!
Pros
Removable temperature control
Scratch resistant
Fast cooking
Durable
Comes with warming tray
Cons
Hard plastic warming drawer
Click here to get the latest pricing information.
5. Presto 07211 Liddle Griddle
It comes with a nonstick cooking surface that is 10.5" by 8.5". This is one of the most sought after Presto griddles, and it is small enough for two people. It is the griddle to opt for when you do not have a large family or need to save all the space that you can.
When it comes to effective cleaning, you will need to remove the heat control element first before submerging the whole thing in warm, soapy water. This is truly dishwasher friendly behavior. Regarding performance, this little fellow does not heat up quickly. However, when it does, you can be sure that it will maintain the heat for longer periods. The heat is distributed evenly over the cooking surface.
Pros
Once heated, it maintains temperature and distributes it evenly
Can be fully submerged in water
Has built in drip channel
Easy to store
Cons
Can get very hot at times
The drip channel is attached to the griddle
Only suitable for small food quantities
Handles get a bit loose after some time
To find out the latest price, click here.
6. Cuisinart GR-300WS Griddler Elite Grill
The Cuisinart GR -300WS Griddler is in a class of its own. Unsurprisingly, it hails from one of the leading names in the kitchen equipment industry. It has diverse functions including a grill. It can serve as an excellent indoor electric grill.
At 16.2 x 8.1, the cooking space is large enough. Your cooking can now be a customized affair thanks to its various features. How is the power? Well, this is an 1800 Watt grill, and the heating element is within the plates. This, therefore, means that you should be careful when cleaning.
Pros
240 square inches of cooking space
Reversible plates
Six presets
Easy to clean
Temperature control
Searing temperatures
Cons
Does not come with waffle plates
Click here to find out the latest price.
7. Secura GR-1503XL 1700W Electric Reversible 2 in 1 Grill Griddle
The Segura GR-1503XL is a 2-in-1 Griddle. This means that it can play two roles comfortably. Its cooking area is not so big but just enough for you to do your cooking. Its plates which are nonstick coated are reversible, meaning that when one side serves as a griddle, the other acts as a grill.
While cooking, you are guaranteed that you will not make much of a mess and that you get protection from splatters of hot oil. This is made possible with the splatter protection and the heat retention that takes place while cooking is underway. Use of the removable glass lid further ensures splatter protection. Therefore, you need to always ensure that you use it to cover your food.
Pros
Grease channels to drain excess oil
Reversible plates
Cool touch handles and housing
Removable glass lid that also acts as splatter protection
 Cons
You may get burnt if you don't remove covers very carefully
Click here to find out the latest price.
8. BELLA 2-in-1 Reversible Grill Griddle Combo
This is another combo unit, and all it takes is a flip of the cooking plate. You only need 1500 Watts of power, and you will be fired up enough to whip up some breakfast. This is because the unit heats up quickly.
Warming up is not an issue since it is done by just turning the knob. No need to worry about the heat getting out of control since the unit has a thermal protection unit. Also, when it comes to cleaning, things are easy, just dip the cooking plate into warm soapy water.
Pros
Dishwasher safe
Heats up quickly
Nonstick coating
Removable heat probe
Cons
Some complaints that it does not heat evenly
Want to find out the latest price? Click here.
9. Hamilton Beach 38546 3-in-1 Grill/Griddle
This 3-in-1 griddle is what to go for when you love cooking but often change your mind the last minute to make a different meal. It has a flat cooking surface that has been divided into two so that there is enough space for the two heating elements.
The cooking surfaces work independently. Therefore, they have their distinct temperatures. However, a little bit of heat from one surface can transfer to the other. At the center, there is a grease trap. This is actually a great position for capturing the excessive fat in your food. The grease tray is easy to clean thanks to the fact that it is dishwasher safe. The features therein only make your cooking versatile.
Pros
3-in-1 functionality
Dishwasher safe
Nonstick covering
Removable and reversible
Temperature controls
Cons
The indicator lights can be confusing
The reversible plates are not nonstick
Grease does not seem to flow to the center but instead goes to the back
Click here for the latest price details.
10. Broil King PCG-10 Professional Portable Nonstick Griddle
The BroilKing professional unit is exactly that. It has a cooking surface that measures 29.5 by 12.5 inches. This is not your typical griddle, therefore it will not fit in your typical space. So, before you purchase one, ensure that you have enough room for it.
With its big size, food splattering is almost a certainty. However, this should not worry you. The unit comes with a splatter guard to protect you while you cook and also to ensure that you do not make a mess of your countertop. Everything about the Broil King PCG-10 unit is amazing. This includes the grease tray that allows you to drain the excess grease, hence reducing the amount consumed.
The rear legs are not just there to offer support and stability, but they help in tilting the cooking surface. Tilting helps to drain the grease even more. If you intend to use this in your diner or restaurant, you can be sure that your customers will be eating healthy meals.
Tilting also lessens your cleaning efforts. As for heat distribution, the build of the unit's body is in such a way that it occurs evenly and there are no fluctuations. However, note that because of its thickness, the unit takes long to heat up.
Pros
Nonstick coating
Comes with removable grease tray
Stainless steel backsplash
Cons
Requires a large space
Takes a bit longer to heat up
For more information on its price, click here.
Conclusion
If you are trying to shift from gas grills, electric griddles should be your go-to gadgets. They not only ensure environmental protection, but are quite easy to manage. Most fit in the smallest of spaces and are quite easy to maintain and clean.
There are a lot of electric griddles in the market in terms of price, size, and functionality. Choose what meets your needs and let it be something that is durable. Consider the features and see what matches your cooking style or what compliments your cooking process. Your taste buds and stomach will thank you later.
Here is a summary of the Top 10 Electric Griddles 2023:
Presto 07061
BLACK+DECKER GD2011B
Cuisinart GR-4N
Oster CKSTGRFM18W-ECO
Presto 07211
Cuisinart GR-300WS
Secura GR-1503XL
BELLA 2-in-1
Hamilton Beach 38546
Broil King PCG-10
You can watch this Cuisinart Griddler GR-4N 5-in-1 Demo Video by Cuisinart: