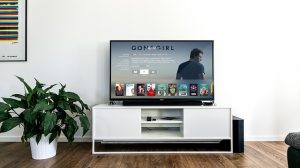 If you have tried other sound bars and ended up deeply frustrated, it could be about time you step up and consider one of our the Best Soundbar under 500 picks.
Well, investing almost $500 can be a bit on the higher side for some people, but today I will give you the lowdown as to why these soundbars will be worth your buck.
Best Soundbars under $500 2023 – Comparison Chart
Before we delve into more details, here is a preview of the top 5 best soundbars under 500 dollars.
Best Soundbars under $500
1. Nakamichi Shockwafe Pro 7.1Ch 400W 45" Sound Bar
(Editor's Choice)
2. ZVOX SoundBase 770 42" Sound Bar
3. Pioneer SP-SB23W Andrew Jones Soundbar System
4. Sony CT800 Powerful sound bar with 4K HDR & Google Home Support
5. ZVOX SB500 Aluminum Sound Bar
Why should you consider these particular soundbars?
Performance
How far can you push the low-end sound bars? Not much. In fact, for many of them, as soon as you crank up the volume, the bass disappears or becomes so distorted. You can barely hear it.
Let's compare this with what you get from some soundbars that cost in the $500 region. I will pick one our favorite models – the Nakamichi Shockwafe Pro.
Not only does it come with a 7.1 channel surround system, you also get 400 watts engrossing sound from the 11 speaker drivers!
And its bass remains superb whatever the volume.
Standalone wireless subwoofers
If you do your research, you will notice that not many low-priced sound bars have stand-alone subs. Actually, only a few come with low power subwoofers that do not really add much to your audio quality.
It is in this price range that separate wireless subwoofers become the vogue and you are assured of top-notch immersive listening.
Overall design
Unlike their cheaper counterparts, these sound bars have a better overall design. The idea is to make their set up easy, and their use even more convenient.
I am talking about the careful positioning of cones, sound ports, and transducers. In the end, you will discover that their set up is a breeze and that they are generally more user-friendly.
Features
The features are their greatest strengths. They are on a completely different level! They surely are better than in most soundbars under $400.
You will find advanced audio controls, complex EQ modes, and unique tone shaping options.
Also, you get the aforementioned wireless subwoofers, complete surround sound systems, programmable remote controls, front panel displays, multiple HDMIs, 4K support, and much more.
Reviews of the Best Soundbars under $500 in 2023
So, hoping you are sold on this, let's look at the top 5 entrants into our Best Soundbar under 500 compilation.
Well, to date, the market is still dominated by the likes of Samsung, Pioneer, and Sony.
But there are a few gems from smaller names such as ZVOX and Nakamichi. We picked the best and will elaborate everything that you should know about their features and capability.
Based on our findings, these are the best soundbars under $500 in 2023:
1. Nakamichi Shockwafe Pro 7.1Ch – best soundbar under $500

If you are good, pretenders to the throne will always fall by the wayside when you make your move.
This is the case with Nakamichi Shockwafe Pro 400W Soundbar. You see, when this sleeping giant roars to life, all the wannabe candidates quickly fold under its Oomph and super-star appeal.
And it's easy to see why. Its DSP EQ modes dovetail with its true-to-life clarity to shake up things and give your entertainment legendary vocals. Rest assured that even the most difficult audiophile will be impressed.
Based on its fabulous features, it immediately became our superstar candidate when we sat down to pick our top 5 Best Soundbar under $500 candidates.
Key features
7.1 Channel surround
Surround Effects Tweeters
5 individual speaker chambers & 5 DSP chipsets
400 Watts of engrossing Sound(104dB)
11 speaker drivers
8″ Wireless Subwoofer (bass at 35Hz)
Expanded 45″ width
Cutting Edge Connectivity: HDMI (4K Pass Thru-INx2), Bluetooth, Analog Audio Input, TV HDMI (ARC), Optical Input, and USB
Dual IR Remote
Center Channel Vocals
Dolby TrueHD & Dolby Digital plus (DD+) Compatibility
Pros
Cons

You can easily customize all your subwoofer, rear, and center volume levels with the friendly backlit LCD remote
Easily connects to your favorite devices via Bluetooth
Impressive bass at 35Hz
Setup is a breeze
Wireless subwoofer so no wiring nightmares
You have all the connectivity options including 4K pass thru
Top of the range 7.1 true surround

The buttons on the remote may feel a bit cheap
Its rear speakers aren't the greatest
Click
here
to see its latest price.
Bottom line
These effective yet stylish speakers ooze class with an absolutely impressive surround width that you rarely find in their peers.
Their high-end connectivity options, Dolby Digital compatibility, immersive rear speakers, earth-shaking sub-woofer, superior DSP EQ modes, and crystal clear surround blows away every other pretender. The outstanding features give them a clear run for gold in the race for the Best Soundbar under $500 in 2023.
2. ZVOX SoundBase 770 42" Sound Bar

If sound bars have a hall of fame, then this must have been inducted long time ago! It sounds much better than most soundbars we have heard. And it's one hell of a beauty queen.
Well, if you live in a compressed space, then you automatically don't have enough room to fit in a sub-woofer. Luckily, this unit has 3 in-built subs in place of the usually bulky subwoofers.
Then, as you would expect with a soundbase, it 'disappears' nicely under your TV.
Forget about what you have heard about separate subwoofers being all the best. This unit produces more than sufficient bass, meaning you can still watch your blockbuster movies at a sound much greater than most of your run-of-the-mill sound bars.
All in all, the ZVOX soundbase 770's strengths by far outweigh the weaknesses and we believe that it's definitely one of the company's best-sounding units.
If you are after a performance-first soundbar that comfortably trounces most of the under-equipped, style-centric competition, then this deserves an audience (pun intended).
Key features
Only 3.5 inches in height
PhaseCue virtual surround
aptX Bluetooth wireless connection
AccuVoice button
Disappearing display (View the current setting easily)
OL (Output Leveling) button
Inbuilt subwoofer (single MDF cabinet)
Left, right & center speakers
Programmable Remote control
Input: Optical & coaxial digital audio plus analog audio inputs
Pros
Cons

Incredible 3D home theater sound
Simple but super-functional
Simplest set-up
Space saving – perfectly goes under your TV
Its AccuVoice feature aids hearing impaired guys
You enjoy improved dialog in shows and movies
You can mute disruptive Ads using the OL button
Click
here
to see its latest price.
Bottom line
The ZVOX SoundBase 770 is a giant killer and a force to reckon within this price range.
The full-range sound is a cut above the rest, and the AccuVoice hearing aid makes it a favorite for guys with hearing difficulties.
It's not short on bass thanks to the in-built subs and amp, as well as a big enclosure. Moreover, the Output Leveling feature means you can finally mute the annoying commercials.
In short, even the competition trembles when it rumbles.
3. Pioneer SP-SB23W Andrew Jones Soundbar System

We have been passionate followers of the Andrew Jones family of soundbars from Pioneer and if there is one thing that makes them stand out, it is their outstanding Sonics.
Unsurprisingly, the SP-SB23W maintains this tradition and comes out the top of the class when paired with similarly priced also-rans.
Suffice to say that this Pioneer gem is the most balanced soundbar in our Best Soundbar under 500 US dollars shortlist.
Unlike most of its peers, it's packed in a wood cabinet rather than plastic. We believe this partially explains the system's excellent sound.
The wireless subwoofer is one of the smallest. Therefore, you can stash it almost anywhere including behind your couch, just in case you want it out of sight.
On connectivity, the built-in Bluetooth enables it to instantly stream audios from virtually every mobile device. Better yet, the SP-SB23W supports the superior aptX codec, which has a higher-quality wireless transmission on supported devices.
Key features
Four 3-inch Surface Mid-Woofers
Two 1-inch Highly Efficient Soft Dome Tweeters
Wireless compact subwoofer
Built-in Bluetooth music streaming
special curved design (no "flexing" )
Remote learning
28 Watts per amplifier
Analog and Optical (cable included) inputs
Pros
Cons

Unobtrusive
Very durable
Conveniently controlled using the programmable remote
Minimal cabling
Easy synchronization

No front-panel display
Lacks an HDMI (ARC capable) port
Click
here
to see its latest price.
Bottom line
SP-SB23W's overall sound quality is what separates it from the pack. As soon as you sync it with the sub, you get a "quick" and very clear sound.
The intelligibility of its dialogue is up there with the best and helps to give it the home theater muscle that enthusiasts crave for.
Further to this, its four 3-inch mid-woofers give it a much powerful mid-range and immersive vocals compared with the two 1-inch Soft Dome Tweeters; delivering a smoother high-frequency reproduction.
In summary, this is a grade-A sound bar.
4. Sony CT800 Powerful sound bar with 4K HDR and Google Home Support

Sony has finally managed to get everything spot on with the CT800. Aesthetics, design, contemporary features and surround sound – you get them all with this amazing music and home theater audio system.
I have to admit that we were sold on this immediately we realized it comes with built-in support for Chromecast Built-In and Spotify Connect.
Amazingly, the 2 work flawlessly even when your TV is off. With plenty of flexibility to boot, your entertainment should never be the same.
As if that was not convincing enough, it comes with 3 HDMI ports each equipped with HDCP 2.2 in addition to HDR support for all your dearest 4K sources. Believe it or not, some of the competitors don't even have one.
So, what did our other tests reveal?
A bevy of formidable features, decent future-proofing, and superb sound quality. Indeed, of all the upmarket sound bars we have looked at, this is easily one of the most impressive.
Key features
Support for wireless rear speakers
3 super tweeters
4K quality (HDCP2.2 & HDR support)
7 mid-range drivers
1 channel Front surround sound
2 up-firing drivers
Wi-Fi & Bluetooth
3 HDMI, digital optical, USB and analog connections
Google Home compatibility (including voice control)
Wireless subwoofer (down-firing & front-firing passive radiator)
Versatile Sound Function
Dolby TrueHD & DTS-HD format support
Pros
Cons

You can easily connect surround sound speakers (wireless)
Supreme wireless multi-room listening
You can easily adjust everything from the remote
Supports all modern inputs/outputs
Ultra-slim and compact
Very chic

Setting up the rear speakers is not easy
To see its latest price, click
here
.
Bottom line
This offers distinctively superior looks and a generous performance and is one of our favorite soundbars under $500.
It works with Google home, has 4K support, Dolby TrueHD, DTS-HD Audio format support and has the ports to support all your equipment.
On the whole, it delivers the goods and is a sure bet if you truly want to experience an out of the world audio treat.
5. ZVOX SB500 Aluminum Sound Bar

Andy, a friend of mine is a stubborn audiophile (hope he won't be reading this) who insists on perfection even in improbable circumstances.
So it came as a surprise when he endorsed the ZVOX SB500 without his usual dilly-dallying. That's when I knew this must be very special! And true to Andy's predictions, this sound bar delivers extraordinary sound quality.
The bass was the most surprising – it is in superb despite the absence of a subwoofer. Décor is crucial and with the chic aluminum styling, this unit seems ready to not only perform but also to upgrade your living space aesthetics.
Then, its processing features include intellivoice which drastically improves the dialog for your hearing-impaired guests. Moreover, the bass-limiting circuit ensures there is no audio distortion even at high volumes.
Still, we needed to see what other muscle it packs. So, we decided to match it with some of the emaciated so-called trendy sound bars.
Yes! It sounded bigger and has clear class. The voices are especially very natural, balanced and articulate.
Key features
3 surround sound processing levels
Room-filling 3D sound
Mega Bass
Packed in one anodized aluminum cabinet
AccuVoice feature
Multi-Zone Wi-Fi Audio
aptX Bluetooth
140W Class D amplifier (digital)
Output Leveling (OL)
Dual built-in subwoofers
Multiple inputs
Pros
Cons

Simple setup process
Compatible with your current remote control
You can connect it to the Chromecast Audio
Has aptX Bluetooth receiver
You can tame commercials

No wireless subwoofer
It's taller so it could block your Television's IR sensor.
To see its latest price, click
here
.
Bottom line
This is simply one of the most beautiful and better-sounding soundbars we came across this year. The Room-filling 3D sound is truly authentic while the AccuVoice feature aids hearing by delivering ultra-clear dialogue.
You will be proud of its reliable Bluetooth, heavy-bass built-in subwoofers, the mighty 140-watt digital amplifier and its versatile inputs.
All in all, it has great sound reproduction, is balanced and very articulate.  It could be the soundbar that finally gives you the value your money deserves.
How we came up with the Best Soundbar under 500 list
We had to be sure that we are dealing with the very best, so we set strict selection criteria. Apart from the performance caps, other key considerations were:
Size
Sound bars come in various sizes. You should pick one that matches your TV. Some suit larger TVs with others fitting smaller and moderate TV sets.
Check the size of TV first. Also, ask yourself whether you have space to place your bar. Note that slimmer sizes affect the quality of the sound.
Input/output connections
You will definitely need a sound bar that can do all you ask. Therefore, input and output ports are crucial. Most of our top picks connect to your TV via the HDMI connections.
But we also picked a few with analog and digital connections – for variety. Still, on connectors, it could be a great boost if you manage to grab one with 4K support.
Bluetooth
Not all sound bars have the Bluetooth connectivity. We were checking to see if at least the available wireless alternatives like the Wi-Fi were sufficient.
Bar for a few cases, we were satisfied by our top picks.
Remote control
Some come with programmable remote controls, while others work comfortably with your TV remote.
We had a mixture of both, though the programmable ones are more convenient due to their ability to learn your most frequently used commands.
Sensor blocking
You should always be careful when placing your sound bar, as some can easily block your TV's remote sensor. We had a few taller bars, but you have the option of wall mounting them. So, don't let this blind you from their awesome features.
Multi-room sound
Multi-room audio experience is great if you would like to listen to your music as you move around your various rooms.
Conclusion
A great Soundbar should give you an out of this world audio experience – provided you don't end up with one of those skinny bars. That is because, at this level, you are playing in the audiophile class sound category.
Well, we leave it to you to take your pick from our top 5 Best Soundbar under 500 USD list, but we have presented you with the outstanding features. However, if you have a low, budget, worry not. There are some low-priced soundbars in the market.
Take your time and go for what makes your heart happy – you fully deserve it at this price range. And please remember to come back with a comment. We will be glad to hear what you think.
These are the 5 best soundbars under $500 in 2023:
Nakamichi Shockwafe Pro
ZVOX SoundBase 770
Pioneer SP-SB23W
Sony CT800
ZVOX SB500
Here is a video on some tips on choosing the right soundbar (by What Hi-Fi?):