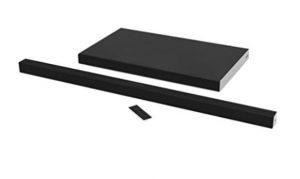 So, how do you upgrade the sound quality of your latest TV? Answer: Grab a soundbar… And there is a sea of them out there. Today, we review 5 soundbars that make it into our best soundbar under 400 list.
Best Soundbars under $400 2023 – Comparison Chart
Before we get into more details, here's a quick overview:
Best Soundbars under $400
1. Samsung HW-M550 3.1 Channel 340 Watt Wireless Audio Soundbar
(Editor's Choice)
2. ZVOX SoundBase 670 36"Sound Bar
3. VIZIO SB4531-D5 Smartcast 45" 3.1 Slim Sound Bar System
4. Samsung Electronics Sound+ Premium Soundbar (HW-MS650/ZA)
5. Yamaha YAS-207BL Sound Bar
What is a soundbar?
Just in case you didn't know, a soundbar is simply an all-in-one sound system that delivers top-notch TV sound without needing additional space, complexities or even the expense associated with a home theater system.
It has a long, slender cabinet containing 2 or more speakers. Soundbars provide either surround or stereo sound. Some have a separate wireless subwoofer that adds deep bass and impact to its vocals.
There are cheap soundbar models but also very expensive ones. A soundbar that costs 500 bucks, for example, may be a it on the higher side for most people.
Why you should consider using sound bars
They are very simple to maintain – anyone can do it.
You get a sound that's far much louder and fuller compared to your TV's speakers
A greater number are compatible with recent TV technologies like HDR and 4K
They don't have those frustrating wires associated with traditional sound systems
They are largely slim and space saving. In fact, some fit below your TV deck
Drawbacks associated with soundbars
Just like everything else, soundbars have a couple of drawbacks. These include:
With music, they don't sound as great as separate speakers but you will love their sound with movies and TV shows
Some are quite fragile and won't survive a fall
As you can see, soundbars offer so much more. Moving on with our recap, lets now look at the various type of soundbars.
The Soundbar vs Soundbase matchup
If you have been following me, you may have noted that I have so far concentrated on the long, thin shape bar type of soundbar – perhaps because it's more common. But there's another type – the  soundbase!
Let's delve deeper…
In the red corner…the Soundbar
We have already seen a lot about the soundbar. In its design, it's literally a bar: a long, thin speaker, often coupled with a bass subwoofer (wireless or otherwise). It can be fixed on a wall or, as is the norm, placed on a stand just in front of your TV. To a large extent, it's a hassle-free design, though some models block your TV's remote eye due to their size.
In the Blue corner…the Soundbase
This is a platform-style sound bar. Some call them pedestal soundbars. Why? It has a wide, low-profile outlook and sits comfortably beneath your TV, hence the use of the name base. Compared with your typical soundbars, Soundbases have reinforced cabinets and are extra-sturdy.
If you're a fan of soundbases, always ensure it can support your TV weight before buying by analyzing its specs. Generally, it's better if it's wider than the base of your TV.
So, when can you opt for the pedestal soundbar? If you don't have much vertical space in between your TV's bottom and the tip of your stand, then it's your best bet. Also, if you want full-range sound and you hate the idea of a separate subwoofer, then the base should be your smarter choice.
Suffice to say that soundbases also produce surprisingly fuller sounds. You know why? They can accommodate bigger speakers, plus their cabinets are larger, hence they have extra "room to breathe" resulting into more bass.
Reviews of the Best Soundbars under $400 in 2023
With so many manufacturers fighting for a spot in your house, we decided to make things easier – as we always do. Here now is a review of the top soundbar models that impressed our team…
1. Samsung HW-M550 3.1 Channel – best soundbar under $400

With a unique central control app and a crystal clear surround sound, the Samsung HW-M550 wireless soundbar takes home entertainment to the next level. It connects wirelessly to all your Bluetooth-compatible devices ensuring you fill the entire room with your favorite music. Moreover, its wireless subwoofer delivers earth shaking bass.
Features
Bluetooth connectivity
The HDMI Connection
Wireless subwoofer
One-touch control app
3.1 Channel surround sound.
Pros
Cons

Convenient Bluetooth connectivity
Warm, crystal clear sound
All of your devices connect almost automatically, thanks to the Samsung Audio Remote App
The app is compatible with both IOS and Android
Very easy to install

At a high setting, the bass becomes weaker
Click here for the latest information on price.
Bottom line
This Soundbar comes with a powerful wireless subwoofer to push your domestic entertainment to the heights you've always dreamed of. The dedicated central control and Bluetooth connectivity offer you added convenience. Of course, this soundbar had to feature in our top 5 best soundbar under 500 category due to its amazing features.
2. ZVOX SoundBase 670
Some of the traditional surround sound systems are shapeless and seem to add clutter to your living room. The ZVOX soundbase 670 is only 3.5 inches tall meaning you can sneak it under your TV to maintain form. And don't underrate it – the surround sound is fabulous, and has super-clear vocals in addition to a deep powerful bass. It is a set of 3 in-built ultra-power subwoofers.
Features
3 speakers
Phasecue virtual surround
One MDF cabinet
Illuminated display
Connect via a single wire
Multiple inputs
true voice & sound balancing
In-built aptx Bluetooth receiver
Enhanced remote control
Pros
Cons

Disappears under your TV handsomely
Theatre like vocals
Powerful bass
Stylish
Has extra features like truevoice plus sound balancing
Connects to your phone/tablet through Bluetooth

The "surround" effect is weaker compared with the rest
Click here to see the latest price.
Bottom line
This compact home theater system is another very interesting option in our Best Soundbar Under 400 dollars compilation. It produces one of the highest quality sounds thanks to its 5 high-performance speakers, 3 inbuilt powerful subwoofers, quality MDF cabinet and a muscular digital amplifier.
3. VIZIO SB4531-D5 Smartcast 45" 3.1 Slim Sound Bar System

The VIZIO SB4531-D5 Smartcast combines high-caliber audio with graceful style. Then, with Google Cast in-built (used in Chromecast), you can cast all your best content from your smartphone to your TV or other Sound Bars.
In addition, this slim soundbar system uses the famous Dolby audio technologies to deliver a robust dynamic sound and make your TV shows, movies and music livelier. Last but not least, it fits conveniently beside or underneath your furniture.
Features
3 channel sound bar
Base on Dolby audio technologies
Included a slender wireless subwoofer
Produces 104 dB of superb sound
Touchscreen remote (once you download the Smart-Cast app2)
Compatible with 100+ audio apps.
Pros
Cons

Minimal harmonic distortion
Deeper bass (up to 30 Hz)
You can control it from your phone
Access to 1000's of songs thanks to the smart cast app.
Its wireless subwoofer is slender hence space economizing
Elegant design

Optimizing the subwoofer takes some learning
To see the latest price, click here.
Bottom line
This compact sound bar delivers immersive surround sound and enables you to cast all your favorite music to every room once you download the Smart Cast app. The used Dolby audio technologies make its sound very dynamic. Also, you can fit the subwoofer under your sofa to save on space.
4. Samsung Electronics Sound+ Premium Soundbar (HW-MS650/ZA)

What about a soundbar that delivers a richer, room-filling cinema-like sound even without adding a subwoofer? This plus its luxurious design, simple mount, precise speaker control, and Bluetooth/Wi-Fi connectivity makes the Samsung Electronic Sound+ Premium soundbar one of the very Best Soundbars under 400 USD.
We also liked the Samsung's Multiroom App which enables you to stream music from your phone/tablet with ease.
Features
Based on Samsung's proprietary technology
Wi-Fi, USB Connectivity, MicroUSB, Bluetooth, HDMI, 5mm input etc.
Samsung's Multiroom App
Quality mounts
Pros
Cons

Comes with quality separate wall-mounting brackets
Automatically syncs to your Comcast remote for convenient
The bass is fantastic
You have the option of microUSB, Wi-Fi, 3.5mm input, Optical, HDMI and Bluetooth connectivity
Simple interface and control

It goes off after 5 minutes idle time, which may be inconvenient
Click here for the latest information on price.
Bottom line
The Samsung Electronic Sound+ Premium soundbar is a beautiful and a very functional soundbar. It uses advanced Samsung audio technologies to deliver a rich cinematic sound even without a subwoofer.
5. Yamaha YAS-207BL Sound Bar with Wireless Subwoofer Bluetooth & DTS Virtual:X

DTS Virtual:X is one of the latest sound innovations from DTS. It creates an immersive 3-dimensional surround sound experience without filling your room with speakers. The Yamaha YAS soundbar is the first soundbar globally with DTS Virtual:X. It virtualizes an enveloping 3D surround sound and simulates sound effects that move around/above the listener working its magic on any audio content
For your movies, games, favorite TV shows and music, it can't get better than this.
Features
DTS Virtual:X enveloping surround
ARC-HDMI output jack
Wireless subwoofer
4K HDR video transmission
Bluetooth 4.1 (class 2)
Yamaha soundbar control app, compatible with iOS and Android.
Bass extension
HDMI, analog, or optical connection
Clear Voice option
Supports PCM, Dolby Digital, DTS Digital Surround audio signals
Pros
Cons

Delivers excellent surround sound
Very slim and beautiful
Supports the most recent 4K technologies – HDMI and HDCP 2.2
The Wireless subwoofer delivers powerful bass
Bluetooth allows wireless music streaming
Very Simple setup

Lacks Wi-Fi connectivity option
Click here to find out the latest information on price.
Bottom line
This is the world's first DTS Virtual:X enabled sound bar and superbly virtualizes surround sound in 3D dimensions without using additional speakers. You can set it in front of your TV or mount it on to the wall. The wireless subwoofer can literally be placed anywhere in the room.
Factors to consider when buying a Soundbar
Now, if you want to know how to buy soundbars like a Pro, you must be familiar with the winning features.
The connectivity options
The inputs on your TV should at least match with your soundbar. Plus, you might have some other gadgets you would wish stream music from.
HDMI is a superb connector and will allow you to connect to your other media and TV. Other popular connectors are the Bluetooth, Wi-Fi and microUSB, especially for app updates. Bluetooth is quite popular, especially in streaming music. Then, if you have a 4K TV, you need to choose a soundbar which can pass HDR and 4K signals.
Size
Soundbars differ in sizes. Typically, you get 12-inches (works well with any TV size), 38-45 inches (for 42-inch to 50-inches TVs), 50-inches (for 55-inch to 60-inches TVs), and 60-inches (best for 70-inch TVs). Larger sound bars pack more drivers so you largely get a bigger sound, though occasionally, a clever vendor will pack nothing but just a longer box!
Remote control
Most of the entrants in our Best Soundbar Under $400 favorites include a remote. Sadly, they're pretty lousy and most manufacturers hope that you will program your sound bar so that it responds to instructions from the TV's remote.
Others come with a requirement that you download an app into your smartphone so that you can command it from your touchscreen. Well, I think you have to consider your personal tastes. But, personally, I prefer both control options just in case one fails.
Front-panel display
For some reason, a number of soundbars lack a real front-panel display, and thus you don't receive any meaningful visual feedback which could help you know a few crucial things, for example, the current volume level or what inputs are active. I believe that a front-panel display would certainly come in handy. I like it more if it's hidden.
Additional features
Some soundbars pack extra audio features up their sleeves. For example, I have come across a couple with unique dialogue enhancement features which make actors voices louder, clearer, still and even more pronounced. Again, if like me you hate intrusive commercials, and somebody offers a way of reducing their volume, then won't you thank your lucky stars for meeting them?
Well, Most of the sound bars we have highlighted include a technology that ensures that Ads aren't louder than your favorite show soundtracks. Also, if possible, pick one with the "late night" mode – it reduces the volume peaks while watching a program. So, you won't disturb anybody sleeping in your vicinity.
Surround sound
If you have used them, you may have noted that two-channel sound bars don't sound very different between surround and stereo modes. Reason? They are unable to create a true surround-sound experience but for a few exceptions.
On the other hand, a richer surround-sound is more satisfying and makes your entertainment more complete. So, we consider only soundbars with either in-built surround sound feature and if not, they should have the ability to incorporate surround speakers. Most use Wi-Fi to link up with the included standalone wireless speakers/subwoofers.
Where will you place it?
Knowing beforehand where you will put your soundbar helps simplify your decision making and narrows down your choices. Usually, there are two options. If your Television is wall mounted, you may as well mount your soundbar beneath it. This creates a nice, neat, and uncluttered look. If this is your chosen route, get a way of hiding the connection cable plus the power cord.
What if you prefer the TV in a cabinet/stand? No problem. Just set your sound bar smartly in front of your TV. But first, measure your TV's base and its stand to ensure the soundbar won't protrude from your stand at all.
And the subwoofer?
If you like one of the soundbars that come with a sub, it might limit your flexibility a bit as far as placement is concerned, but again not that seriously. Remember that nearly all the current subwoofers are wireless so they need not be physically connected to your soundbar via a cable though you still have to plug it into a power outlet.
But the greatest advantage is that since they produce low frequencies – very hard to locate for our plain ears. You can virtually fix it anywhere and have it blend smoothly with the soundbar. Therefore, your sub shouldn't really bother you.
Getting the most out of your soundbar
If you are smart, you can optimize your soundbar's performance. Here are some tips to help you:
Center your Soundbar right under your TV. This ensures a balanced sound since the picture and audios play from exactly the same point.
Place your Soundbar such that the speakers will always be aligned with your ears. This allows you to hear more detail, more so at high frequencies.
Leave at least one meter spacing between your Soundbar and the sidewalls. Your sound will reflect in a more balanced, and symmetrical way.
For maximum surround sound, permit a 3-8 meters gap between your sound setup and your listening area.
Ensure the Soundbar is not blocking the TV screen. You can elevate the TV higher or mount it to the wall.
The subwoofer should be minimum one meter away from your main unit to prevent sound vibrations.
Great sound requires a cool home environment. Curtains and carpet dampen any noise reflections resulting into a more authentic sound.
Then, when in the open, speakers and subwoofers give better sound. So, don't enclose them in a shelf or a cupboard.
Conclusion
That's just about it for now as far as the Best Soundbar under 400 Dollars is concerned. And it's quite clear that soundbars are an excellent option in upping your TV's sound quality. Well, we have seen that you can pick a soundbase (especially if you want something that goes under your TV) or the typical slender soundbar.
Also, factors such as where you want to put it, surround sound, connectors, remote control among others can make or break you when making the decision. You can also find cheaper soundbars in case $400 is too much for you.
Finally, we brought you some of the top models to help you choose and I am sure you will get a lot of bang for your buck with any of these. So, do you have a comment or something to add to our selection? Please let us know via the comments section.
These are the 5 best soundbars under $4oo in 2023:
Samsung HW-M550
ZVOX SoundBase 670
VIZIO SB4531-D5
Samsung HW-MS650/ZA
Yamaha YAS-207BL
Need to hook up your soundbar with an HDMI cable? Watch the YouTube video below by Abt Electronics: