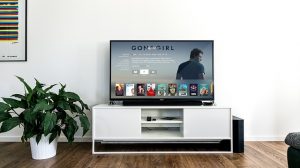 Finding the best soundbar for your TV set is not a walk in the park. There are numerous soundbars to choose from, and you would need days if not hours to find the perfect fit. However, we want to save you the trouble with our Top 10 Best Soundbar 2021 Reviews and Buying Guide.
Best Soundbars 2021 – Overview
Before we delve into the detailed reviews as well as a comprehensive buying guide, here is a quick summary:
Best Soundbars 2021
1. Sonos Playbar TV Soundbar/Wireless Streaming TV and Music Speaker
(Our top pick)
2. Nakamichi Shockwafe Ultra 9.2Ch DTS:X 1000W 45-Inch Sound Bar System
3. Bose SoundTouch 300 Soundbar
4. Yamaha YSP-5600 Music Cast Sound Bar with Dolby Atmos & DTS:X
5. ZVOX SB500 Aluminum Sound Bar with Built-In Subwoofer

(Our budget pick)
6. Definitive Technology W Studio Micro Ultra-Slim 3.1 Wireless Sound Bar
7. Polk Audio MagniFi Mini Home Theater Sound Bar System
(Best Small Soundbar)
8. Sony HT-ST5000 7.1.2ch 800W Dolby Atmos Sound Bar with Wireless Subwoofer
9. Q Acoustics M4 Soundbar with Built-in Subwoofer
10. Yamaha MusicCast YSP-2700 Sound Bar with Wireless Subwoofer
Reviews of the Best Soundbars 2021
Soundbars vary with prices. While some are very expensive, you may land on good quality budget soundbars. These are the 10 best soundbars you can buy in 2021:

Since it first hit the market, this Sonos soundbar has become a darling to thousands of audiophiles world over. With amazing features that have met and surpassed our expectations, it is no surprise that it is our no. 1 pick for the best soundbar 2018.
The sound is amazing. Not only is it loud but it is also clear. It has nine amplified speaker drivers (6 mid-range and 3 tweeters). The speakers are arranged in a way to cover a wider range, so that you get the maximum of the deep bass as well as crystal clear dialog. The Speech Enhancement feature allows you to maintain a consistent dialog level while reducing any sound effects volume that is too loud. So, you will never have a hard time when listening to dialog.
Set is a walk in the park. Once plugged in, you only need to connect to your TV using one optical cable. Actually, you need not be a pro in electronics installation. Thanks to the Sonos app, you can easily get guidance on how to set up everything, including Wi-Fi streaming.
Apart from that, the Sonos app has other amazing capabilities. Not only does it allow you to control the music being played, but also optimizes sound quality using the Trueplay speaker tuning. It does this by measuring your shape, size and room set-up and adjusts the sound accordingly.
In terms of connectivity to other devices, you can rest assured that the Sonos Playbar will work with your cable box, gaming console, Blu-ray player as well as a satellite box, so long as they are connected to the TV.
Features summary:
Powerful amplified speaker drivers
Connects to Amazon Echo or Alexa-enabled device
Pair with 2 Sonos Play: 1s and a subwoofer for a 5.1 surround experience
Easy, two-cord setup
Speech Enhancement for crystal clear dialog
Easily connects to other devices e.g. Blu-ray
Night mode
Bluetooth and Wi-Fi connectivity
More than 30 streaming services e.g. SoundCloud, Spotify etc.
Trueplay speaker tuning
Multi-room music by adding Sonos speakers
Click here to find out the current price of the Sonos Playbar.
Other buying options:
For you to enjoy more from the Sonos Playbar, you can add a subwoofer for earth shaking bass. What's more, you can get a full surround by buying up the 5.1 set. Buying a complete set will definitely save you quite some amount of money.

Click here to see the price of the 3.1 set

Click here to see the price of the 5.1 set.

Since Nakamichi was founded 70 years ago in Tokyo, Japan, the company has excelled in producing top-notch audio systems. With the ambition to bridge the gap between the normal soundbars and full range home theatre systems, Nakamichi has come up with another masterpiece.
In terms of sound, get immersed into 360-degree 3D surround sound at the comfort of your living room. This is enabled by 9.2 channels, 4 two-way surround speakers as well as two 10-inch subwoofers in conjunction with DTS:X technology. What's more, you can select favorable settings depending on your room size. The room size options available are small (200 sq. ft.), medium (350 sq.) and large (500+ sq. ft.).
Apart from the superb sound quality, the Shockwafe Ultra 9.2Ch support high-end video quality. These include 4K Ultra HD as well as HDR. Also, seamless connectivity to up to 6 other devices is enabled by use of 1 coaxial and 1 optical input, 1 HDMI ARC as well as 3 HDMI 2.0 cables.
In case the 9.2 channel is too much for you, there are other buying options to suit your needs, as outlined in the next section.
Features summary
9.2 channels
2 10-inch subwoofers
4 2-way surround speakers
360-degree 3D surround sound
Quad-core surround processor for lifelike clarity
DTS:X
DTS Neural:X
1000 Watts
Sound as loud as 110dB
Supports 4K Ultra HD and HDR
Connects via HDMI ARC
1 optical, 1 coaxial inputs
Bluetooth
Ultra-high resolution
Click here to see the current price of the Shockwafe Ultra 9.2Ch.
Other buying options:
If you feel that the 9.2 channels will be too much for your room size, there other buying options with fewer speakers. These are:

Click here to see the price of the Shockwafe Elite 7.2Ch

Click here to see the price of the Shockwafe Pro 7.1Ch

Click here to see the price of the Shockwafe Plus 5.2Ch.

Before we even talk about the features that put the SoundTouch 300 in the best soundbar list, you'd certainly love to have this beauty in your living room. It is slim, with a glossy finish, thanks to a perforated metal grille and premium glass used to make the cabinet.
In terms of sound quality, be sure to get a much better sound output than that of your TV speakers, with clear audio and surprisingly deep bass. You can, however, get an even better bass and a full surround effect with additional accessories.
First, you can enjoy a full surround sound, thanks to the Virtually Invisible 300 wireless speakers. Also, an optional Acoustimass 300 wireless bass module gives you deep bass so that you can get the most out of your music and movies. These will give you a 5.1 channel experience. Of course, you'll be required to pay a bit more for the extras.
Apart from that, the soundbar uses ADAPTiQ audio room calibration to fine-tune sound according to the size and shape of your room.
If you want to listen to music from other devices like phones, tablets and PCs, you can use Bluetooth which works ever smoothly. Also, streaming music from services such as Spotify and Pandora is a walk in the park because it has built-in Wi-Fi connectivity. Also, the soundbar has NFC technology for quick, easy paring with other devices.
Features summary:
Voice control with any Alexa-enabled device e.g. Amazon Echo Dot
Quiet Port technology to eliminate distortion
ADAPTiQ audio room calibration
SoundTouch app for easy control
HDMI and 4K pass-through
Inbuilt Wi-Fi and Bluetooth technology
The slim soundbar can be placed on a stand in front of the TV or wall-mounted below the TV
Get a full 5.1 channel surround experience with additional speakers
Click here to see the latest price of the Bose SoundTouch 300 Soundbar and any additional accessories you may need.

Yamaha was founded in the year 1887, primarily as a reed organ and piano manufacturer. Since then, the company has grown by leaps and bounds to become a household name in the music industry. From manufacturing musical instruments such as pianos, guitars, violins and the like, the company is now at the forefront of making audio systems.
The company now makes headphones, earphones, speakers, Hi-Fi systems, wireless streaming amplifiers, home theatre systems as well as soundbars. Suffice to say that their soundbars are as outstanding as any other equipment they make.
One of the Yamaha soundbars that caught our attention during our research is the YSP-5600 – majorly due to the amazing sound and features it possesses. With 2 woofers and 44 beam drivers, Digital Sound Projector technology and support for Dolby Atmos and DTS:X, you are guaranteed a full surround sound. If you are going to watch a movie, why not feel like you are in the theatre?
Also, with the MusicCast technology, you can listen to music from every room in your house. MusicCast also allows you to listen to music from your digital library, stream music and even listen to online radio. It also enables access to music from Bluetooth sources and any other device attached to the soundbar, e.g. a Blu-ray player.
Features summary
128 Watts
MusicCast app, Bluetooth, Wi-Fi, Airplay
Input: 4 HDMI, 2 digital optical, 1 digital coaxial, 1 analog
Output: 1 HDMI
1 subwoofer
7.1.2-channel surround
4K Ultra HD support: 60p with HDCP 2.2
Voice control with Alexa-enabled devices
Click here to see the current price of the Yamaha YSP-5600.

ZVOX has been producing some audio gems in the last few years. To be honest, at least one of their products tends to feature in most of our soundbar reviews. And with good reason. The company has dedicated both human and financial resources to innovation and production of audio systems that meet consumer expectations.
Apart from the attractive look of the soundbar's cabinet made of iodized aluminum, the sound, which is the core purpose, is amazing. Despite being just one single bar, you get to experience 3D sound that fills the entire room. It does not have an external subwoofer, but dual inbuilt Mega Bass subwoofers produce deep bass. Also, dialog is crystal clear thanks to the AccuVoice feature with hearing aid technology.
If you hate loud commercials that pop without notice, like most people, this is your go-to soundbar. It has the output leveling (OL) feature that will ensure your entertainment runs smoothly. Loud sounds are automatically made soft, while soft sounds are made louder.
Features summary:
PhaseCue virtual surround system for 3D sound
AccuVoice with hearing aid – crystal clear dialog
Output Leveling (OL)
aptX Bluetooth
Dual built-in subwoofers with Mega Bass
Frequency: 42 Hz to 20 kHz
Connect to Chrome Cast Audio for multi-zone Wi-Fi music streaming
Can use your existing remote control
Click here to see the latest price of the ZVOX SB500.

For close to 3 decades now, Definitive Technology has been producing awesome audio systems that any audiophile would love. Their products range from home theatre systems, soundbars, outdoor speakers and more.
Among their innovative products is the W Studio. The main aim of the Soundbar is to provide a sense of style and convenience, while at the same time producing amazing sound. The ultra-slim, low-profile soundbar is convenient because it saves space, and can be used with virtually any TV set out there.
If you like streaming music from services such as Spotify, Pandora and the like, you can't go wrong with the W Studio. Wi-Fi streaming is seamless and should compensate well for the lack of Bluetooth connectivity.
Features summary:
No Bluetooth
Wi-Fi streaming
3.1 Channel – 7 transducers across 3 dome tweeters, 4 mid-range drivers
Ultra-slim
Remote control available
Definitive Technology utility app for extended functionality
To find out its current price, click here.

For those looking for an alternative to the standard, long soundbars, we have got you covered. The Polk Audio MagniFi Mini Home Theater Sound Bar System is designed for you. Its ultra-compact size will definitely complement your tastes and preferences, or even circumstances if you live in a small apartment.
Coming from among the best audio brands, be sure to get great sound and amazing features that will definitely justify the money spent. Despite being small, this mini soundbar produces excellent deep bass from its wireless subwoofer. Also, you'll be amazed to know that you can get remarkable room-filling surround sound Polk's patented surround technology as well as Dolby Digital 5.1 decoding.
There are optimized music, movie and sports equalizer settings, so that you get the most entertainment depending on what you are watching. You also guaranteed crystal clear dialog. This is all thanks to the innovative Polk Voice Adjust technology.
At night, when you don't want the volume to be too loud, or you don't want to disturb the neighbors, just switch to Night Mode. The mode reduces bass and increases Voice Adjust while maintaining the Master Volume level.
Features summary
Wireless subwoofer
Connectivity: HDMI ARC, digital optical and analog cables
Wi-Fi and Bluetooth for wireless streaming via Google Home
4 mid-range drivers, 2 tweeters
150 Watts
Dolby Digital 2.0 and 5.1
Preset equalizer – music, movie, sports
Crystal clear dialog
Night Mode
Compatible with most TVs
Compatible with other remote controls (no need to have an extra one for the soundbar)
Click here to see how much the Polk MagniFi Mini is going for.

Among the best home electronics manufacturers, Sony could not have missed out on a spot on the Best Soundbar 2018 podium. The company has been on the forefront of the entertainment and communications industry for decades. From mobile phones, TVs, home theatre systems, headphones, soundbars, car speakers, name it. Think about any type of audio equipment, Sony has probably made one.
Among the soundbars made by Sony, the Sony HT-ST5000 clearly stands out. Not only does its stylish design complement the look of other items in the house, but it also produces an amazing sound that any person would love.
Among the few 7.1.2 channel soundbars in the market, you get an immersive sound that make you feel like you are in the movie theatre. Furthermore, it supports Dolby Atmos and DTS:X, guaranteeing a near perfect 360-degree 3D surround sound. This is further enhanced by Digital Signal Processing as well as S-Force PRO Front Surround. Remember, all this is delivered by only one soundbar and one wireless subwoofer.
Also, you get to enjoy seamless music streaming via Bluetooth, thanks to the innovative LDAC audio technology by Sony. Wi-Fi is also available for online music streaming. With Spotify Connect, you can control the music you listen to from your Spotify account, simply by using the Spotify app.
When it comes to quality, assurance is provided by the ST5000's support for 4K HDR plus HDCP 2.2.
Features summary:
7.1.2 channel
800 Watts
3D surround
Supports Dolby Atmos and DTS:X
Quality maintained via 4K HDR support and HDCP 2.2
Hi-Res audio
Compatible with Google Home
Wireless multi-room listening
Bluetooth and Wi-Fi technology
Built-in Chromecast
3 HDMI, optical and analog inputs
1 HDMI ARC output
USB connection
Spotify Connect
Click here to find out the latest price of the Sony HT-ST5000.

Despite being started in 2006, the last decade or so has seen the "new" kid on the block produce among the innovative, quality audio systems that can compete with any of the bigger brands. The founders had the vision to produce superior yet affordable products that would give their customers value for money.
Among their most products is the Q Acoustics M4 Soundbar. Its slim design, as well as the inbuilt subwoofer, ensures that convenience is guaranteed and quality is not compromised. With BMR drivers, the sound produced gives cinema-like experience, regardless of where you're seated in the room.
Connectivity to other devices is a walk in the park, thanks to the digital and analog inputs. Apart from smooth connection to your TV, you can easily connect to other devices such as a Blu-ray player. Also, you can listen to music from your smartphone, tablet or PC thanks to aptX V4.0 Bluetooth technology.
Features summary:
Inbuilt subwoofer
Slim design
aptX V4.0 Bluetooth technology
digital optical and analog inputs
Comes with a remote control but can use other remote controls
Overall, for how much it costs, it is really among the best for value for money. Click here to see the current pricing.

Lastly, we have another Yamaha masterpiece – the YSP-2700. The fact that it's the last one on our review should not imply that it is of lesser quality. As with any other Yamaha product, expect top-of-the-chain design as well as performance.
The sound quality form the soundbar, in conjunction with the wireless subwoofer is remarkable. This makes for 7.1 channel surround system that will make you feel like you are in a cinema when watching that favorite movie.
The YSP-2700 is quite similar to the YSP-5600 in terms of the technology used, but here are the main features.
Features summary:
Voice control with any Alexa-enabled device
Ultra-slim design
Wireless subwoofer
MusicCast wireless multi-room audio
Connectivity options: Bluetooth, Wi-Fi, AirPlay, Spotify Connect
7.1 channel surround (16 speakers, Yamaha's Digital Sound Projector technology)
Supports Dolby TrueHD & DTS-HD Master Audio
3 HDMI inputs support 4K Ultra HD pass-through
Other inputs: 1 digital optical, 1 digital coaxial, 1 analog with dual RCA
107 Watts
Click here to see the latest price of the Yamaha YSP-2700.
Best Soundbar 2021 – Buying Guide
What is a soundbar?
Well, by the time you decide to look for one, you definitely have an idea of what a soundbar is. Simply, a soundbar is an audio system that is bar-shaped. It is a combination of multiple speakers as well as a subwoofer.
While most soundbars come with a separate subwoofer, others have theirs inbuilt. This makes it easy to move them around while consuming minimal space. There other audio systems called soundbases, which are pretty much a different version of soundbars. Let's see what distinguishes the two
Soundbars vs Soundbases
Soundbars are usually in form of bars, as mentioned above. They are narrow, with the length differing depending on the model. Most of them come with separate subwoofers; while others have theirs built in alongside a number of speakers (usually 3 or more). In terms of placement, soundbars are mounted on the wall or placed just in front of the TV set.
On the other hand, soundbases are quite sturdy. They are intended to be used as a pedestal on which you place your TV set. So, you will need to check the soundbase rating in terms of the maximum weight it can support. This will ensure that it doesn't crack due to excess weight. Because they have extra base drivers, soundbases do not usually require separate subwoofers.
While both enhance the sound quality of your TV, you must get exactly what you need. For example, if your TV is mounted on the wall, a soundbar would be ideal since you can mount it just below the TV. If you just want your TV placed on a stand and don't mind it being raised a couple of inches, then go for a soundbase.
Both systems will ensure that you get better sound quality than the TV speakers, which seem to have been neglected over the years. Of course, this is due to the ever-increasing demand for thinner TV sets over the years. The same goes if you don't like to have too many speakers and wires around in the case of home theatres.
What to look out for in a soundbar
Before you decide which baby to take home, there are a few important factors that you need to consider.
Audio output quality
The core reason why you are buying a soundbar is to have better sound when listening to your favorite songs or watching a movie. So, the first thing to consider is sound quality.
First, if you are buying it from a physical store, ask to try out several models so that you can decide which one suits you best. Unfortunately, you may not be able to do this if you are buying from an online shop. The best thing to do in this case is to read unbiased reviews such as this one.
Also, go through honest reviews from customers who have bought the particular model from the online shop and have used them for some time.
Is dialog clear? Of course, a soundbar will be miles ahead of your TV speakers, but you must ensure that the one you intend to buy produces clear dialog. Most soundbars currently in the market have features that enhance dialog, but just double-check to be sure.
Another thing you must check when it comes to sound quality is volume levels. If the volume is erratic, you may have to return the soundbar. For maximum entertainment you need a soundbar that produces even volume. It would be so irritating to have to stay with your remote to reduce and increase the volume as you watch that long-awaited movie or series.
Surround sound
We tend to believe that we can only get surround sound effect when having a multi-speaker home theatre system. False. Even soundbars can give you the same effect. However, you need to check whether the specific soundbar that you have set your eyes on has the feature on offer.
Multi-channel soundbars reflect sound off the walls, producing the perfect surround effect.  For the better output, go for one with 5 or more channels. These create a 3D surround effect perfectly. Actually, some soundbars have an option of customization, so that they match your room size and/or setting.
Dolby Atmos and DTS: X
These are two of the latest surround sound formats. Both try to create 3D sound effects by mapping out objects. Dolby Atmos was first created for use in movie theatres. It enhances surround sound by bouncing sound off the ceiling to where you are. It does this by adding a "height" element to normal surround set up.
On the other hand, DTS: X will not only work with the special "height" speakers, but also re-maps the sound effect according to the number of channels available.
While both will enhance 3D surround sound effect, at the time of writing this guide, Dolby Atmos is available on slightly more content formats. Dolby Atmos is available in some Blu-ray as well as 4K Blu-ray discs. Also, it is available on streaming services like Netflix, Hulu, and Vudu. On the other hand, DTS: X is only available on a few Blu-ray and 4K Blu-ray discs. It also not yet available any streaming services.
Convenience
When I talk about convenience, soundbars are already better than the multi-speaker home theatre systems. Set up is easy given that you only have one soundbar/soundbase to connect to your TV. And at most one subwoofer if it's not inbuilt.
The convenience we need to discuss here is in terms of ease of use. Sometimes, you just want to lie on your couch all day, tucked into your duvet while watching your favorite series. No one wants to walk "all the way" to the soundbar or TV to perform simple functions.
Soundbars come with special features that make your life easy. First, a unit that has inbuilt Bluetooth technology that allows you to stream music from your phone, tablet or PC. Others have Wi-Fi that gives you easy access to streaming services like Netflix as well as your online music library.
Furthermore, you can listen to music stored on a flash drive if you get a soundbar with a USB port. Also, if it supports Dolby Atmos or DTS: X, you can listen to music from your Blu-ray player through the soundbar.
Lastly, while this may seem obvious, always ensure that the soundbar you are buying comes with a remote control for ease of use.
Placement
As earlier mentioned, it is important to consider your preferred location of the soundbar before you actually decide which one to buy. For example, if your TV is mounted, you should not buy a soundbase. Get yourself a soundbar and mount it just below the TV.
On the other hand, if your TV is on a stand and you feel that a soundbase is a bit too much, ensure that the soundbar you buy does not block the TV's remote sensor. It should be narrow enough to be just below the sensor.
Lastly, if your TV is on a stand and you don't mind having it a few inches higher, then you can buy a soundbase and place your TV on it. Be sure to check the maximum weight the soundbase can handle to see if it can hold your TV comfortably.
Connectivity to other devices
You need to ensure that you don't encounter compatibility problems that may force you to return the item for a replacement. That is too much stress that can be avoided. If you have an old-model TV, ensure that the soundbar has an analog audio input. This is however not an issue since most soundbars come with both digital and analog inputs.
Another important thing to check is if the soundbar has HDMI. This will help you to easily connect to the latest equipment such as Blu-ray players. These newer devices send audio signals digitally using HDMI cables.
If you have one of the latest 4K Ultra HD TV models, you also need to ensure that the soundbar or your choice is compatible to 4K videos. This will guarantee that you maximize your entertainment.
Warranty & customer support
Of course, most electronic companies offer a warranty. However, you must countercheck to be sure. The standard warranty period for electronics is usually 12 months. It's even better if the manufacturer offers more.
In terms of customer support, you can try reading reviews of the product from previous buyers who encountered challenges. If they received good service, they may just mention it in passing. However, if they never got support or the support was poor, I guarantee you that they'll be quite vocal about it.
Another thing to check is the manufacturer's website for info on what kind of support is offered. Is it via email, phone call, or FAQs? Is help available 24/7? The last thing you want is a manufacturer who will respond to you after a whole week.
Price
While this may seem like a non-issue, we like to emphasize that one should spend within their means in all our buying guides. What I mean is, if you cannot afford to buy a $1000 soundbar now, why not save up for the next few months and buy it then?
If you truly desire the $1000 soundbar, it's best to wait till you can afford. There is no need of buying a low-quality soundbar which you are going to hate, and then eventually replace it. Also, you don't have to strain yourself too much and buy it at the expense of something more important.
Nonetheless, cheap does not necessarily mean low quality. There are tons of budget soundbars out there with superb quality. We have reviewed some of these amazing soundbars under 500, under 300, and under 200. You can find the links at the tail end of the article.
Best Soundbar 2018: FAQs
Q: Can you use any soundbar on any TV?
A: Yes you can. All soundbars can be used with any TV. The most important thing to check is if the two are compatible. However, it is good to note that most soundbars have both digital and analog inputs, and therefore should be compatible with any TV.
Q: Do I have to use a soundbar on my TV?
A: This is a matter of preference and circumstance. You can use a multi-speaker home theatre or a soundbar, depending on your taste. Soundbars are perfect especially if you just need an upgrade to your TV speakers. Also, if you live in a small apartment, you don't need all the hassle that comes with having many speakers and wires all over.
Q: What do I need to connect the soundbar to my TV?
A: If the soundbar and TV jacks have HDMI ARC (audio return channel), then one HDMI cable should be enough. However, if your TV does not support HDMI ARC, then you need to have both HDMI and Audio cables.
Q: How can you hook up a soundbar to a surround system?
A: You can connect the two using an HDMI cable. Then you can connect to the TV using the HDMI ARC cable.
Q: How do you connect a Blu-ray player to a soundbar?
A: You simply connect the two using an HDMI cable (HMDI out from the player and plug it into one of the soundbar's HDMI inputs). Then, connect the soundbar to the TV using another HDMI cable (HDMI output of the soundbar to the TV's HDMI input).
Best Soundbar 2021: Conclusion
As we get to the end of this review, please remember that the best soundbar does not necessarily have to be the most expensive. While it may be quite tasking to pick one, we have taken it upon ourselves to save you the trouble and narrow down the list for you.
Also, the best soundbar must not necessarily belong to the big, household brand names. Sometimes there are hidden gems out there. Some even made it to our top 10 picks for the best soundbar 2018.
Whichever soundbar you pick among the top 10 that we have listed, I guarantee you that you will not have regrets. However, if you feel that there is a soundbar that should have made the list and it hasn't, just let us know at the comments section below. If you are on a tight budget, you can buy a soundbar for less than $100.
Here is a summary of the best soundbars in 2021:
Sonos Playbar TV Soundbar/Wireless Streaming TV and Music Speaker
Nakamichi Shockwafe Ultra 9.2Ch DTS:X 1000W 45-Inch Sound Bar System
Bose SoundTouch 300 Soundbar
Yamaha YSP-5600 Music Cast Sound Bar with Dolby Atmos & DTS:X
ZVOX SB500 Aluminum Sound Bar with Built-In Subwoofer
Definitive Technology W Studio Micro Ultra-Slim 3.1 Wireless Sound Bar
Polk Audio MagniFi Mini Home Theater Sound Bar System – Best Small Soundbar
Sony HT-ST50007.1.2ch 800W Dolby Atmos Sound Bar with Wireless Subwoofer
Q Acoustics M4 Soundbar with Built-In Subwoofer
Yamaha MusicCast YSP-2700 Sound Bar with Wireless Subwoofer
Please watch this YouTube video of on How to Connect a Soundbar to TV audio by All About Home Electronics.com: