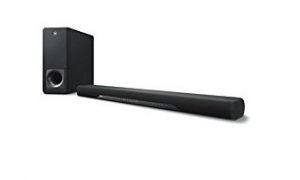 When looking for a soundbar, there may be constraints in terms of pricing. Today, we focus on some pretty decent soundbars that will give you awesome quality at just a fraction of the cost of the high-end models. We have been searching for the best soundbar under 300 dollars and have compiled a list of 5 that will certainly meet and exceed your expectations.
With TVs becoming sleeker, little room is left for speakers. TV speakers can only do so much. Therefore, anyone who wants to maximize their entertainment must look for a simple yet effective upgrade – a soundbar should do the trick.
An overview of the 5 Best Soundbars under $300
Before we get to the review of each of the best soundbar under 300 contestants, here is an overview:
Best Soundbars under $300
Power
Wireless Subwoofer?
1. Yamaha YAS-207BL Sound Bar
(Editor's Choice)
200W
Yes
2. Bose Solo 5 TV Sound System
30W
No
3. Sound Appeal 2.1 Soundbar SA-TH5000
400W
Yes
4. ZVOX SB380 Aluminum Sound Bar
45W
Yes
5. Sony HT-MT300/B Powerful Mini Sound bar
100W
Yes
Reviews of the Best Soundbars under $300 in 2023
These are the top 5 best soundbars under $300 in 2023:
1. Yamaha YAS-207BL Sound Bar – best soundbar under $300

"Together we can create those beautiful moments." A slogan by Yamaha that blends well with the Corporation's vision. And it's true that over decades of delivering high-quality products to millions of customers, they have achieved and continue to achieve that objective. Yamaha is among the world leaders in the entertainment industry and has produced equipment ranging from musical instruments to audio-visual appliances.
Among their many top-notch products in the audio-visual department are soundbars. They have made soundbars that cut across the entire spectrum in terms of the affordability. It's a no-brainer, therefore, that one of their amazing products had to feature in our best soundbar under 300 list – the Yamaha YAS-207BL.
The beautifully designed soundbar is slim and should cause no problems if placed in front of the TV. If you prefer to mount it on the wall, it is still a great option.
The features on offer are irresistible. Firstly, it is the first soundbar in the market to have DTS Virtual:X.  This is a Virtual 3D surround sound that will prove way better than your TV's sound. In addition, it comes with a subwoofer (wireless) that offers powerful bass. Bluetooth connection enables you to stream music easily to the Yamaha YAS-207BL from any of your devices.
Set-up is easy as it automatically detects connection to the TV. Depending on the television you have, you can connect the soundbar using analog, optical (digital) or even HDMI (bought separately). It's very rare to find a soundbar in this category with HDMI, so this is a huge plus.
You can use its remote control to select your preferred settings. However, you need not use it. If you connect it to the TV using HDMI, you can use the TV's remote. Alternatively, you can use your smartphone to control the soundbar. Lastly, once you download the Home Theater Controller app for your iOS or Android device, you can use it to make necessary adjustments.
Features summary
200W (100W soundbar + 100W subwoofer)
Wireless subwoofer
Audio options: HDMI, Optical (digital), analog
Bluetooth
Soundbar 6 lbs., subwoofer 17.4 lbs.
Remote control
Bass
DTS Virtual:X Virtual 3D surround sound
Home Theater Controller app for iOS and Android
Click here to find out its current price.
2. Bose Solo 5 TV Sound System

Bose Corporation is renowned world over for producing some of the best audio equipment. These range from car speakers, home theatre systems, headphones, portable speakers to soundbars. They also produce some of the finest speaker accessories you can think of. So, it is not a surprise that one of their products is among our best soundbar under 300 selection.
The Bose Solo 5 TV Sound System is one of the best soundbars in this category that will definitely give you better sound quality than your TV. It comes as a single bar with awesome features, which you can put on your TV stand just in front of your TV. You can also decide to mount it on the wall, using the optional WB-120 wall mount (bought at an extra cost).
The audio quality is delivered via an optical audio input from the TV. Also, it has a dialogue mode that will make it possible for you to hear every detail in your music, movie or anything else you're watching or streaming. Deeper bass and rich soundtracks also guarantee that you get your money's worth.
In terms of ease of use, set up is a walk in the park.  Once you connect it to the TV using an optical, coaxial or analog input, you are good to go – this depends on what your TV has. Also, the Bose Solo 5 soundbar has a remote control to make your life easier. The remote is a universal one, thus giving you the ability to also control any other video source connected to your TV. For example, you can use it to control a Blu-ray player or a gaming system.
Despite the lack of a USB port, the inbuilt Bluetooth connectivity allows you to stream music from your smartphone, tablet, or laptop that is Bluetooth-enabled. It is certainly among the best affordable soundbars around.
Features summary
Bluetooth
Audio input options: Optical or coaxial (digital); 3.5 mm aux (analog)
Universal remote control
Bass
73 lbs. in weight
30W
No USB
Click here to find out its latest price.
3. Sound Appeal 2.1 Soundbar SA-TH5000

Though not from a household name such as Yamaha, LG or Samsung, the Sound Appeal 2.1 Soundbar has amazing features. Most of the available features can only be found in expensive, high-end models. Firstly, the sound output is of high quality at its modest price. The inbuilt MAXX BASS Chip ensures that you get clear bass even when the volume is at max.
To make the sound even better, the Sound Appeal 2.1 has 6 mid-bass drivers along with two tweeters. This ensures that you get sound quality that is way better than that of your TV, and that can only be matched by the pricier competitors.
If you have your favorite music on your smartphone, tablet or PC, you can just stream it via CSR Bluetooth v4.0 which gives CD quality output. This Bluetooth version ensures that you don't lose quality, up to 50 feet away from the soundbar system. The bar also connects well with the subwoofer to avoid any hiccups.
The soundbar comes with a remote control if you want to relax on the couch as your navigate your preferred settings. Another point to note is that excellent customer service will always be provided in case you need it.
Features summary
400W
Class D amplifier
CSR Bluetooth v4.0
4GHz wireless subwoofer
Remote control
34 lbs. total weight
Click here to see its latest price.
4. ZVOX SB380 Aluminum Sound Bar

ZVOX Audio has released amazing brands over the years, and should dominate the soundbar niche in the coming years. The company is quite innovative and has garnered quite a following. True to the fact that innovation is among the key drivers of ZVOX, they are the inventors of the SoundBase, explained later on in this article. This was back in the year 2008.
The sound quality produced by the SB380 model is among the best in this category. Despite being a slim soundbar without an external subwoofer, you should expect clear 3D sound that will fill the entire room. This is made possible by PhaseCue virtual surround processing. The subwoofer is inbuilt for convenience. Another ZVOX invention, the AccuVoice feature that uses hearing-aid technology, makes dialogue ultra-clear even at low volume levels.
Lack of an external cabinet that is common with external subwoofers does not impede its ability to produce excellent bass. Instead, the ZVOX SB380 uses digital algorithms to meet this objective. So, all these sound features are a guarantee that you are definitely going to get your money's worth with this amazing equipment.
In terms of placement, you have quite the array of options. You can mount it on the wall; place it in front of the TV or even upright on nearby furniture.
Lastly, it has a brilliant Output Leveling (OL) feature that automatically regulates sound. So, the days of being scared every time a new, unexpectedly loud clip plays are long gone.
Features summary
3D sound
Built-in subwoofer
Bass
AccuVoice technology for ultra-clear dialogue
Aluminum soundbar
45W
Remote control
Output Leveling (OL) feature
8 lbs. in weight
To see its latest price, click here.
5. Sony HT-MT300/B Powerful Mini Sound Bar

Sony has been among the leading electronics manufacturers for years on end. Their products range from TVs, home theatre systems, musical instruments, gaming consoles, smartphones and smartwatches to soundbars. So, if you think about any electronic device, they have made it.
Among their numerous products in the audio category is the Sony HT-MT300/B Powerful Mini Sound bar. At this price range, it will certainly meet your expectations, both in terms of design as well as sound quality. The wireless subwoofer combines well with the soundbar to produce an S-Force PRO Front surround sound alongside excellent bass. This should fill up the entire room.
Placement is a walk in the park. While the soundbar cannot be mounted to the wall, it easily sits well in front of the TV. To make things better, the subwoofer is compact enough to be placed upright next to the TV stand or sofa, or even under the sofa. To prevent loss of sound and bass when tucked under the sofa, just turn on its Sofa Mode feature.
Lastly, listening to music is even easier thanks to its Bluetooth and NFC (near field communication) technology. You can stream your favorite music from your portable devices. A USB port also allows you to listen to audio stored in your flash drives. Also, once you download the Sony Music Center app, you can easily change settings or control playback from your phone, at the comfort of your sofa.
Features summary
100W
Slim, wireless subwoofer
Sofa Mode
S-Force PRO Front surround sound
Bass
USB
Bluetooth and NFC
8 lbs. soundbar, 3.1 lbs. subwoofer
Click here to find out its latest price.
Types of soundbars
i) Soundbars
This literally looks like a bar. It usually comes as a long speaker, mostly accompanied by a subwoofer. The subwoofer can be either connected using wires or it can be wireless. In terms of placement, it all depends on your preference.
Some people like to mount soundbars on the wall, close to the TV. Others prefer the easy way of just placing it in front of the TV on the TV stand. However, if your soundbar is too wide, it could block part of the screen or even the remote sensor.
ii) Soundbases
These ones are also known as pedestal soundbars. This is because they are not only soundbars but also a pedestal on which you can place the TV. As a result, the issue of blocking of the remote sensor of your TV or part of the screen is taken care of. It is important to note that the SoundBase is an invention of a company known as ZVOX Audio.
However, it is good to note that manufacturers are moving away from soundbases in order to keep up with new TV designs. As you may have noticed, most TVs nowadays don't have a base but have unique 'feet' that wouldn't quite be compatible with these pedestal soundbars.
Factors to consider when selecting the best soundbar for your home
You do not just want to pick a soundbar for the sake of it. You must know which one will meet your expectations. So, what do you need to check? We have compiled a list of things you need to check or know about a soundbar before making your decision.
i) Size
The first and foremost thing to consider must be the size of the soundbar. Nobody likes buying stuff and then returning them the next day. It's too much of a hassle, though it has to be done if the item doesn't meet your expectations. Soundbars vary in length, and could be as long as 60 inches.
Depending on your taste, you would prefer a soundbar that is shorter than your TV screen, longer or even the same size. My advice would be to estimate using a piece of string or a plank of wood of a similar length to see how the soundbar would look next to your TV. Only buy it if you think you'd like the look of the whole set.
Another thing you need to consider is the width of the soundbar. Ensure that you get a soundbar that will not block your TV's remote sensor or part of the TV screen.
ii) Music streaming
It's always great to have a music system that allows you to wirelessly stream music from your phone, tablet or laptop. Most soundbars will have inbuilt Bluetooth, but always counter-check before you decide which one to buy.
Of course, I love streaming my music to my soundbar especially when I am in relax-mode and don't feel like moving around too much.
iii) How will you connect it to your TV?
The most common way of connecting music systems to TVs is HDTV. Then, to transfer sound to your soundbar, you use an optical cable. That is usually pretty straightforward. However, if you get the more expensive models, you have the HDMI option. This helps you bypass the TV and connect AV components directly to the soundbar.
Unfortunately, most of the soundbars that cost under 300 dollars won't have the HDMI option.
iv) Remote control
Well, this is not a deal breaker, because most soundbars offer remote controls. Needless to say, they are usually low quality. If you really have to get a soundbar with a remote control, just double-check that the model you like actually has one.
Of course, remote controls make our lives easier. However, you will rarely need a remote control once you switch on the soundbar. Also, most soundbars can be programmed to use the TV's remote.  This makes life even better for you, by reducing the number of gadgets you need to keep by your side. Just one remote can give you a headache when it disappears to God-knows-where. Imagine having too many of them!
v) Display
While most soundbars do not have a front-panel display, it would be a great advantage if you preferred option has one. Life would be a bit easier if you could actually see what volume you have set. However, this is not a necessity but just one of those things that can make it easier for you to handle your music system.
vi) Price
Of course, you need to consider how much you have to spend. Always stick to your budget. If you have to buy an expensive model, then it's better to save up till you have enough instead of straining your budget. Luckily, the models reviewed in this particular article are budget soundbars, with amazing quality for the money.
The alternative is to exploit available manufacturer-refurbished high-end models. Those ones will be cheaper while giving you the same amazing quality. Some used products are also as good as new, though that is taking a gamble. I have seen numerous positive reviews of used items though. It all depends on how the previous owner handled it.
Conclusion
In conclusion, what you end up buying should meet your expectations in terms of design and sound quality. However, a key point to note is that your budget must prevail. There is no need of getting an expensive sound system that will hurt your pocket.
Luckily, today's article only has the best budget soundbars and should guide you appropriately (assuming that your budget is just about $300). If you can afford more expensive models, these are the best soundbars under $500.
These are the 5 best soundbars under $300 in 2023:
Yamaha YAS-207BL Sound Bar
Bose Solo 5 TV Sound System
Sound Appeal 2.1 Soundbar SA-TH5000
ZVOX SB380 Aluminum Sound Bar
Sony HT-MT300/B Powerful Mini Sound bar
If you decide to buy any of those, you will have no regrets. Please feel free to leave any question, comment or feedback in the comments section below. Meanwhile, you can watch this YouTube video on how to Teach the AccuVoice TV Speaker To Respond To Your Remote by ZVOX Audio: