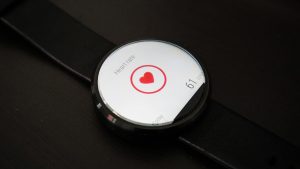 Watches have now evolved. They no longer tell you the time, but they can also notify you of the activities to be done or simply alert you when you receive a text message. A smartwatch is no longer an accessory but a digital companion that keeps you on the right track physically, spiritual and professionally. However, in pursuit of the perfect smartwatch that fits your style, we have expertly hand-picked and reviewed the Top 10 as we rate the Best Smartwatch for Women.
Before I tell you what to look out for before buying any smartwatch, here is a sneak peek in our Top 10 Best Smartwatch for Women list:
Smartwatch Name
Compatible OS
1. Pebble Time Round 20mm Smartwatch
(Editor's Choice)
iOS, Android
2. Fitbit Charge 2
(Editor's Choice)
iOS, Android, Windows
3. Samsung Gear S2
iOS, Android
4. Garmin vívomove Classic
iOS, Android, Windows
5. Fitbit Alta Fitness Tracker
(Editor's Choice)
iOS, Android, Windows
6. ASUS ZenWatch 2
iOS, Android
7. Fossil Q Wander Stainless Steel Touchscreen Smartwatch
iOS, Android
8. Withings Activité Pop
iOS, Android
9. Michael Kors Access Touchscreen Bradshaw Smartwatch
iOS, Android
10. Timex Metropolitan+ Activity Tracker Watch
iOS, Android
A smartwatch should complement your needs. Why are you buying it? If it is for the sake of getting notifications, then you should ensure that the user interface has an excellent display and is user-friendly. For a lady, it has to be stylish. You don't want something bulky, straight out of Star Trek wrapped around your wrist.
One major feature in all smartwatches is the OS. If you want to buy one, then you should know the type of operating system that it uses. This is because an operating system determines the kind of apps that the watch has and the tasks that you can do with it.
Currently, the world is experiencing a revolution in smartwatches. Different companies are innovating and releasing their smartwatch brands into the market, hence the need to know what actually matters. A smart buyer is one who makes a decision after going through relevant information and weighing it against their situation or need.
So, the question is, do you just buy one or do you consider some important factors?
What to Consider When Buying a Smartwatch
Do not go into the market blindly. You need to know exactly what a smartwatch is. A smartwatch is an accessory that supplements the service delivery of your phone. This means that your smartphone needs to be connected to your smartwatch and the two will work in sync. You can also go for smartwatches that work with a SIM card.
i. What is the operating system and apps allowed?
The OS is the engine on which your smartwatch operates. Why is the OS important? An OS is what allows connectivity to your smartphone. An iPhone user cannot go for an Android only smartwatch. However, if you want to go for something that can work with both platforms, then you are welcome to try the Pebble brand, among others.
Types of operating systems
When people talk about smartwatches, they assume that they only have two options, iOS, and Android. However, there is a wide array to choose from. The previous two are just more popular, but they are not the only egg in the basket. There is the Pebble and Tizen OS. The Pebble OS is also known as the Watch OS. Tizen is a product that came as a result of Samsung leaving Android which is a Google platform. The Pebble OS is also an independent operating system, and that is why they have even created exclusive smartwatches for the same. Pebble is the owner of this OS. It uses Kernel, which is an open source. Unfortunately, the Pebble OS developer does not allow other companies to work on this platform.
You should also be aware of the Microsoft smartwatches which use the Windows OS. No need to fret because this OS works well with both Android and iOS. This means that if you need a smartwatch that can work well on any operating system, then a Windows will do well.
Android Wear
The Android OS, as stated previously, is one that was developed by Google and they have allowed other companies to access it. Its appearance and interface are attractive. To date, big names like Motorola, Huawei, and LG are still relying on this operating system. It is important to note that Android Wear only works with the Android 4.3 version and above.
Pebble OS
This is an Apple only OS, meaning that it only works with the iPhone. It is still a new kid on the block, has more than 3500 applications already. The major player in Apple watches is the Siri app which allows you to perform several tasks via speech commands. You are also able to receive and view notifications since you can see widgets on your smartphone.
ii. How is the display?
A few years back, you would look quite weird "talking" to your hand. It was just an imagination that was on display, mostly in spy movies like Bond 007. Nowadays though, with the invention of smartwatches, it has become a bit routine to look at your wrist to check if you have any notifications and so on.
Such a scenario depicts the importance of your smartwatch display. You should be able to read your notifications clearly even when the sun is up. This means that the resolution must be robust enough to withstand the worst weather conditions. That is why you need to know the technology behind the smartphone you want to buy.
Smartwatch Display Technology
The first in line is the OLED technology. This is also known as AMOLED. There is no need for background light here, due to its high contrast. You may at times find it hard to see what's on your screen especially in direct sunlight, but at the end of the day, this is one of the best smartwatch displays. AMOLED displays are full of color, unlike OLED which can have a single, two or full colors.
Secondly, there is what is known as an LCD display. These are available everywhere and are cheaper. However, if you want something better, go for a high-quality LCD smartwatch, and you will be good to go.
Everyone wants to have a smartwatch these days, hence the numerous adverts on e-commerce sites. Some smartwatches have E-paper displays. These are actually the cheapest models. This is because they do not consume a lot of power, but then you need to have enough lighting to be able to read the content displayed on your screen.
The color display, which is very common with Apple watches shows you the content which you need to tap. This, of course, consumes a lot of power, and that is why the screen is not always on.
If you are looking for efficient power consumption, Pebble watches are recommended. These smartwatches have the E-Ink display. You can also have your screen on and view it when you need to.
iii. How good is the design?
Design is one aspect that influences ladies' shopping. The gadget around your wrist is not only an accessory but also a fashion statement. Of course, design is up to an individual's taste. You need to choose what makes you comfortable. Keep in mind that this is something that you will have to wear every day.
Let's admit it; most smartwatches are more masculine than feminine. Well, thanks to this realization we are starting to see a trend changing. Smartwatch manufacturers are now going beyond functionality and playing with different shapes, designs, color, materials, and apps. First, it was all about squares, but now we see circular displays. These smartwatches are gaining popularity with women. That's not to discourage you from the squares and rectangles if that is your taste.
iv. How long is the battery life?
A smartwatch needs to work smart. It should function optimally without draining too much power. As we have seen initially, the E-Ink displays save on power. No wonder they can keep their charge for up to 5 days.
v. What is the price?
The truth of the matter is that old is gold – what was hot (and may be out of reach) last year is affordable this year. The smartwatch features also matter a lot. The better it is, the more you will need to pay.
vi. Is there anything else?
Surely, you have to get your money's worth. The watch should afford you some special features. As a woman, you know how to get more for less. Some of the special features that you can look out for are as follows:
Health monitor – Smartwatches can come with a heart rate sensor, pedometer, and accelerometer. Therefore, you get relevant information regarding your health.
Music – You can store your music and play it without earphones. You can even control music players on your smartphone.
An alarm – All watches have alarms, but the ones on smartwatches go an extra mile. They can remind you when you forget your phone. After all, how will it work without its partner?
Voice command – All you need to do is speak, and a task is as good as done.
GPS – This is ideal for routing and monitoring calories burnt during exercises or any physical activities.
Don't just get a smartwatch just because it is the in thing to have. Ensure that you need it. Ask yourself the following:
Do I like the design?
Can my smartphone perform well with the given OS?
Is it waterproof?
Does it maintain its charge for longer?
What apps does it support?
Does it come with other useful special features?
So, Why Are Women Not Wearing Smartwatches?
According to a consumer report that released in 2015, 71% of smartwatch users were male. This begs the question: Why are women not using these gadgets?
i. Poor design
Granted, there are various designs, but the available options are limited. From the colors to the shapes, most are not petite enough for the soft wrist. In this era of color clashing, women want something that defies the norm. They want brightly colored straps and a display shape that is not so huge.
Is this a hopeless situation? Actually no. Enough noise has been made, and smartwatch manufacturers are starting to change their ways. Huawei, among other tech companies, has introduced a new line of smartwatches for the ladies. We are talking about faux crocodile leather and Swarovski Zirconia crystals.
ii. Unfriendly size
Most women do not like gigantic accessories. Image is everything to a lady, and she doesn't want the attention focusing solely on her arms. A watch should complement her dressing, not overshadow it.
iii. There is stereotyping
Who said that a pink smartwatch was too girly? Clearly, smartwatch manufacturers are not listening to their customers. It is time to mix and match so that everyone gets what they want. Reduce the strap size or even make it thinner and see if women will not wear smartwatches.
iv. Women don't need smartwatches
This is like saying women don't need Wi-Fi. It is insane. Unfortunately, the marketers are failing. They actually need to sell its functions. Most marketers assume that women do not want to buy smartwatches and this leaves them in the dark. People make purchases out of informed choices.
The evident truth is that the smartwatch manufacturers have been making big, bulky watches and being quite oblivious when it comes to who will wear their products.
Why We All Need Smartwatches
There are several benefits of owning a smartwatch. First and foremost, you can just glance at your smartwatch and save yourself some time. This is not a phone to scroll to see a notification or respond. With a glance, you can make a quick decision and continue with your business as usual.
The things you can do with the health information you get are limitless. You will not need to be perturbed by certain health conditions since you are keeping track of your body.
As smartphone screens become larger, they no longer store power for an extended period. It will, therefore, be a relief to know that with a smartwatch, you do not have to use your phone so often and therefore not draining its precious power.
You will be able to handle things discreetly, especially if you are in public or at a formal event. Most people do not know phone etiquette, but with a smartwatch, this should be pretty easy. You can receive messages and respond even in a meeting without leaving the room.
So, now that you know what a smartwatch can do and how essential it is, it's time you knew what is in store for you.
Top 10 Best Smartwatches For Women
This is a Pebble watch that has all things Pebble. In addition to its time-saving features, it is effortless to use. The other added value is that it is now lighter and thinner, with the battery life extended from a few hours to a number of days. It is equipped with an E-Ink display, meaning it can stay on longer since power is used moderately.
You can check your incoming calls and texts on the go. Also, you can keep your health in check using its sleep and healthy activity tracker. It is quite wonderful that we now have a smartwatch that performs well and looks great.
Features/ Pros
Activity and sleep tracking
Timeline update
Light and thin
Splash resistant
Battery charge stays for up to 2 days
Cons
It is not water resistant
Click here to see the latest price.
Time is the essence of living, and to live well, you need to keep track of your steps. This is exactly what you will achieve with the Fitbit Charge 2. It is a smartwatch that defies what the others do. It is easy to use, plus it works across different platforms, phones, and even social media networks. If you want a one in all kind of smartwatch, then you better go for the Fitbit Charge 2.

The Charge 2 is not only limited to a healthy lifestyle but would be the option for all the fitness fanatics. You can monitor your heart rate to avoid overwhelming your body. All the required stats will are available on your screen. This watch has a big enough OLED display which ensures that you can see your calls, texts and any other notification.
Features/pros
Guided breathing sessions
All day activity
Smart track
Long battery life, up to five days
Reminders to move
Cardio fitness level
Call, text and calendar alerts
Multi-sport tracking and GPS
Pure pulse heart rate
Swappable bands
Cons
Not water resistant
Notifications a bit difficult to read
To find out the latest price, click here.
The Samsung Gear S2 is definitely a head turner with its precise curves and elegant finish. It's not only good looking, but it is also user-friendly. The effort you put in is minimal. This is because you can easily access all your notifications and updates. Your health is on a good track thanks to all the health apps it has. For example, you can easily track your steps.
If you stay idle for quite some time, expect some nudging to keep on moving. Forget about losing charge because this smartwatch just got smarter with an in built wireless charging feature. You can also customize this watch so that it matches your taste.
Features/Pros
Compatible with most Android/iOS smartphones
Can connect via Wi-Fi and Bluetooth
Notifications are easy to access
Inbuilt wireless charging and fitness tracking
Comes with faces that can be customized
Cons
Click here to see the latest price.
The Garmin Vívomove Classic is somewhat an upgrade on all traditional watches. If you are the type of lady who loves being classy and trendy at the same time, then this is the smartwatch for you.
A closer look at this watch might mislead you to think that it does not offer much other than a fashion statement. It actually does collect plenty of data, and this information is transferred to your phone.
Thanks to the Garmin Connect community, you won't be alone in this adventure. You can share and plan your daily activities with others all for free. You can even connect to compete or challenge fellow users.
Features /Pros
Easy to use
Has long battery life
Auto sync and step goal
Steps and bar tracking
Can work with both Android and iOS
Cons
Connectivity problems
No vibration
No heart sensor or smartphone alerts
For the latest pricing information, click here.
If you are a minimalist who also loves the latest trends, then the Fitbit Alta Fitness tracker is for you. It does away with the bulky look and feel of the typical smartwatch. You are kept up to date. You will be nudged to move meaning that your fitness goals can be accomplished. There are silent alarms too, so you won't be attracting any unnecessary distraction.
Features /Pros
Sleep tracker to develop healthier and better sleeping patterns
Water resistant
Sync automatically to computers
Cons
Some may find it too slender
Click here to get the latest pricing information.
ASUS as a company has long been known for their computers. Lately, they have ventured into making our watches, not only smart but also gender sensitive. The ASUS Zenwatch 2 is one that oozes femininity from its make and design.
A Corning Gorilla glass protects the screen from scratching that may interfere with the display quality. Ladies, if you were in a hurry and happened to shower without removing the watch, do not fret because its makers have made it water resistant to a certain degree. Amazingly, it is shower safe and swimming safe if you do not exceed a water level of one meter.
It is a known fact that most smartwatches run out of power fast. The ASUS Zenwatch 2 makers had something different in mind. They made their watch charge faster than usual. In just 15 minutes, your watch can go from 0 to 60% of charge. For those who love all things fitness, this watch comes with a pedometer that will complement your fitness efforts.
Features / Pros
Corning gorilla glass to protect the screen from deep scratching
Water resistant. Can be used in the shower and swimming up to a meter deep
Fast charging
Cons
Click here to check out the latest price.
The Fossil Q Wander stainless steel smartwatch is one of the watches that stand as a testament to the changing times in the smartwatch industry. This is an accurate indication that the cries for change by ladies are being heard. This beautiful piece of technology embraces class and functionality.
First and foremost you get to wear your design. You can choose between the Fossil and the Android look.  Adjust the colors according to your mood or what you are wearing. The watch face is not the only thing that can boost your sense of style; you can match the straps as well. As if that is not enough, simply touch the screen get to read your notifications. No battle with buttons, just a simple touch will do.
The watch, however, has been criticized as offering nothing much. Its style is not unique. A 24-hour battery life also does not make it outstanding but do note, this is not a smartwatch for fitness fans, it is a smartwatch for fashion lovers. Whoever said that smartwatches should only be enhanced for fitness purposes?
Features /Pros
Music control
Activity tracking
Dials and features that can be customized
Extra straps
Built in speaker and microphone
Cons
Limited battery life
No custom apps
A bit bulky
Want to see the current price? Click here.
You want to be an every woman, and you will definitely need a smartwatch that can complement your efforts. The Withings Activité Pop is one such gadget. Silicon has never looked this good and felt so comfortable on the hands. First and foremost, no more power hassles. This watch is set to serve you for eight months straight. There is no need for daily charging.
The next best thing on the list is that this watch is water resistant to a very great extent. You see, you can actually swim all you want so long as you don't exceed 50 meters deep. So, whether in the shower or at the pool, your watch is on watch. There is sleep tracking to ensure that you have healthy sleeping habits.
It doesn't matter what kind of OS your smartphone has; Android or Apple, this watch delivers. You will, however, need to do daily syncing to store your data.
Features /Pros
Water resistant
No need for charging, extended life battery lasts up to 8 months
Activity and run tracking
Real-time coaching and sharing
Sleeps automatically
Cons
You have to sync every 2 hrs to ensure data storage
Click here to see the latest price.
This is a smartwatch that is a clear depiction of how style is starting to dominate the smartwatch industry. Firstly, it comes with several faces so that depending on your mood, you can simply shift to the face that you prefer. This, together with extra straps, give you an upper hand when it comes to customization.
The display here is always on, so there are no black screens to keep you away from your notifications and updates. Everything happens in real time, and nothing passes you by. Also, you can check the weather, search the net or simply go through your email alerts.
There is a watch for everyone. If fashion is not your thing but sports is then you will find a version of this watch for the same function.
Features /Pros
Display is always on for 24-hour access
Fashionable
Allows customization with extra straps and watch faces
Cons
To see the latest price, click here.
The Timex motto is: "True Since 1854". This means that they do not break away from tradition. Somehow, they have found a way of embracing smartwatch technology and incorporating it into their brand.
The Timex Metropolitan is best described as a blend between tradition and modernity. This watch tracks your daily activity and connects via Bluetooth to its app on your phone. There is no LCD screen here, but everything is at your disposal. The aim is to track your moves.
For an entire year, there will be no need to plug in your watch. It works round the clock, 365 days a year, charging free. Also, you can take it swimming too but not beyond 50 meters deep.
Features /Pros
Tracks fitness activities
Bluetooth connectivity
Water resistance of up to 50 meters deep
Cons
Limited to tracking
No spontaneous swimming activities allowed for example diving
Click here to check out the latest price.
Conclusion on the best smartwatch for women
There are many smartwatches that women can choose from. It all depends on the primary use and design. Simply go for something that delivers and one that you can also afford without breaking the bank. Technology is changing the face of everything as we know it. Time is not excluded from this list, why stick to telling time when you can go beyond? Everything we do is dictated by the time available. It is not about working hard but working smart. Image is everything, so get a smartwatch that does not only meet your needs but also matches your taste and go ahead and join the smart world movement. Now, it's up to you to select among our best smartwatch for women collection.
You can also check out this video of the top 15 best smartwatches for women by International Fashions.
Related items:
Other items we have reviewed:
Home