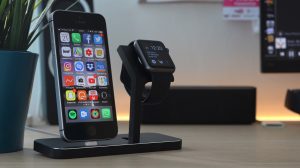 Apple is at it again. The giant is renowned for producing among the best smartphones and smartwatches of our generation. In terms of smartwatches, it is hard to compete with the Apple Watch. And now, they have just released the third generation in the lineage – the Apple Watch Series 3. As we continue to help you choose the best of items by knowing precisely what is on offer, we have taken time to do a comprehensive Apple Watch Series 3 Review.
Apart from pointing out the new impressive features, we are going to do a comparison between the Apple Watch Series 2 and the Apple Watch Series 3. You will find that despite the design is almost the same. However, there is a lot more to enjoy on the 3rd generation. Some pros and cons to keep in mind as you buy one of the best smartwatches will definitely come in handy.
Apple Watch Series 3 Release Date & Launch
This amazing smartwatch was released on September 22, 2017. A perfect date given that it is almost the end of the year. The ideal time to reward yourself for all the hard work and effort you put into achieving your goals this year. Also, it will fit perfectly as a gift for people who are having their weddings, anniversaries, etc. and as we go towards Christmas.

So, What is the Apple Watch Series 3? What's new?
In simple terms, the Apple Watch Series 3 is just the latest model in the line of Apple Watch. However, it is not just a new release. It comes with a myriad of improvements that make it more user-friendly as well as giving you additional features.
The most significant improvement of note is the LTE connectivity option. This will give you the independence you have always longed for. You don't always have to have your iPhone nearby for it to function. You are guaranteed to be always connected whenever you are within network coverage. Moreover, gone are the days when you would need to have different phone numbers for your iPhone and your Apple Watch.
Also, the capability to use the same phone number for both devices is liberating. This feature is accepted and supported by many US-based carriers such as AT&T, though you will have to part with $10 per month for the service. There may also be an activation fee depending on the carrier of your choice. Personally, I think it's worth it, given the freedom it gives you.
The other significant improvement you will get with the Apple Watch Series 3 is on performance. You just don't need a smartwatch, but you need one that performs smoothly and fast. Bluetooth and Wi-Fi have improved considerably, with the inclusion of a W2 wireless chip.
Speed has improved remarkably by a whopping 70% thanks to the use of an S3 dual-core processor. Also, the series 3 has a water resistance capability of up to 50 meters, which is a throwback to the first Apple Watch. Without a shadow of a doubt, the Apple Watch Series 3 is the best smartwatch for iPhone.
The watch comes either as GPS-Only or a GPS + Cellular option. Before we delve more into the design and comfort the Series 3 gives you, check out the various versions below.
Some versions of the Apple Watch Series 3

Click here to check the latest price.

Click here to check the latest price. This color is perfect if you are looking for the best smartwatch for women.
Apple Watch Series 3 Design
You've got to give it up to Apple for creativity. Were you waiting for a different design or an improvement? Yea, me too. Apple never disappoints. The Series 3 looks just like another Apple Watch. Therefore, regarding size, the Apple Watch Series 3 comes in the 38mm and 42mm versions just like its predecessor. This means that if you have bands from the previous generations they are going to fit perfectly. Also, it comes with an inbuilt GPS radio.
In terms of display, there is nothing much to report. The series 3 still uses a 390×312 OLED screen. An Ion-X strengthened glass plate covers the display for extra protection. Be sure to retain the same sleek display even when you bang on any surface when you are taking a swim or just on a routine workout.
The screen is super bright to ensure you don't struggle to read notifications during the day. A brilliant piece of technological advancement sees its screen still act as a wireless antenna.
Comfort
In terms of comfort, there is little that has changed from the Apple Watch Series 2. Thickness of subsequent Apple Watch Series released increases marginally (sometimes only by the thickness of printing paper). Therefore, do not expect any discomfort with the Series 3.
Presence of the LTE antenna would make you think that it's going to be thicker. However, unlike in other LTE enabled smartwatches, it is placed behind the display, thus having no impact on overall thickness. When it comes to straps, Apple has never gone wrong. There is a variety to choose from.
Apart from the one that comes with the smartwatch, we have settled on the below 4 straps that will not disappoint you in case you need a different look and feel. We can guarantee you that they are quite comfortable.
Apple watch series 3 replacement bands

Click here to check the latest price.

Click here to check the latest price.

Click here to check the latest price.
Why buy the Apple Watch Series 3?
Numerous smartwatches have been made in the last few years. They vary depending on cost, design and even functionality. The Samsung Gear S3 is a particularly strong competitor to the Apple Watch 3. However, you need to be very choosy when selecting your preferred gadget.
You just don't buy one for the sake of it. You need to get the most of your smartwatch. The Series 3 can be used as an independent communication device, and most importantly, as a fitness tracker.
i) As a standalone communication device
This revolutionary Apple Watch can be function independently, thanks to the LTE technology employed. You can easily call someone either by punching in their number or by selecting from the contacts list. Needless to say, you may have to speak into the watch.
Of course, this may feel/look awkward. A Bluetooth headset is recommended if you are going to use this gadget for making and receiving phone calls. However, rest assured that the voice quality will usually be great on both ends of the call.
In terms of messaging, you won't go wrong. The Series 3 is well equipped to send and receive SMSes and Email. So, rest assured not to miss any notification even when your phone is away smoothly and conveniently.
However, note that there may be some lag in getting text messages since they have to go through the phone. App notifications from Whatsapp, Twitter, etc. are easy to read from the watch.
Battery life on this smartwatch is terrific. In as much as it has been made to work independently from your iPhone, it is not a total replacement. It is only meant to be complementary, or for use temporarily while you are away from your iPhone. However, you will be amazed to note that it can last almost the entire daytime assuming minimal usage.
ii) As a fitness Tracker
The fitness aspect of any smartwatch is the most important one for most people. Apple has explicitly released this model with an inclination towards fitness more than anything else. It is currently one of the best in the market. Clearly, Apple engineers had your interests at heart when creating this device. They want you to have a better, healthier lifestyle, with the perfect partner.
As you can imagine, the Apple Watch Series 3 comes with a heart rate monitor. But not your ordinary heart rate monitor. Instead of giving you just the heart beats per minute, it goes on to record your pulse when you take a walk, the heart rate when resting, and your range of workouts.
It then shows you whether you are improving or not via a chart on your iPhone. Moreover, with the Watch 3, you can track your heart rate variability.
Most people love to run while listening to their favorite music. It gives you the motivation to push yourself harder, while at the same time tricking you into thinking the exercise is not as strenuous as it actually is. I have some good news for you.
If you subscribe to Apple Music, this watch will naturally sync your favorite tunes your iPhone to help you enjoy your morning run. 8GB for the GPS version and 16GB for the LTE model ensures that you can listen to an unlimited number of tracks.
The new WatchOS 4 comes with daily inspiration to ensure you reach your daily targets. For example, it may suggest that you take an evening walk if you have not met your calories burned target. I could surely use such an exercise partner.
Specific features optimized for specific workouts
If you love swimming, it's time to get this awesome gadget. It is water resistant up to 5ATM. You can efficiently but accurately tell how much distance you have covered. The display is quite clear hence it is easy to read. Moreover, the accelerometer accurately detects when you are actually swimming or when you are taking a break to rest.
When it comes to running, the Apple Watch Series 3 is one of the best in the market. GPS tracking, as well as the Apple Music streaming feature, really stand out. With just a tap, you can get into running mode and accurately track distance and heart rate. Additionally, it is very easy to set the calories burned, distance covered or running duration targets.
For those who love hitting the gym, you have not been left behind. The Apple Watch 3 comes with a new feature called HIIT (high intensity interval training) workouts. It will help you keep track of your progress, but this time it is much more accurate in telling you how much calories you have burned.
Also, the watch can connect compatible gym equipment. This means that you can accurately monitor your heart rate during your rowing or cross-stepping exercises.
Pros and cons of the Apple Watch Series 3
Despite the significant advancement in the Apple Watch series over the years, perfection is certainly not achieved. We have carefully analyzed the new release and noted a few demerits among the many advantages you can enjoy. As expected, it is definitely not among the most affordable smartwatches.

Pros
Cons

Improved battery life
Better performance
Bright, clear display
Better fitness tracking features
Siri works better
Better WatchOS

iPhone must be on to get SMSes
Battery life a bit limited on LTE
Call quality may be poor at times
No roaming on LTE
Apple Watch Series 3 Review – Final Thoughts
As far as smartwatches go, Apple has always been among the crème de la crème. This smartwatch has come at the right time, with major improvements on its predecessors, the Apple Watch and the Apple Watch Series 3. I find attractive, it easy to use, and more so as a companion. Fitness and health tracking will ensure that you live an improved, healthier lifestyle.
As always, ensure that you always remain within your budget before buying it (or any other item for that matter). Take time to go through the review and make sure it is what you want. If you have owned the previous models, then this is a must-have.
Whether you're looking for a ladies' smartwatch or the best smartwatch for men, this is definitely a great option.
You will undoubtedly feel the difference regarding usage and the array of features on offer. If you have any question on our Apple Watch Series 3 review, please feel free to leave your feedback in the comments section.