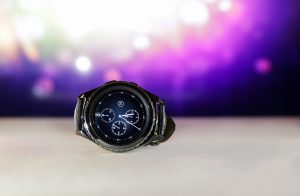 Bigger and bolder, the Samsung Gear S3 is an upgrade on the previous smartwatch iteration from Samsung. It is also a major competitor to the Apple Watch 3 (read our Apple Watch 3 review) on the best overall available smartwatch. Gear S3 packs some high-profile features, including features that made the Gear S2 so appealing. It also comes with more functionalities than you need to take advantage of. Today, we take you through a detailed Samsung Gear S3 Review.
Samsung Gear S3 Review 2023
As the entire Android smartwatch community awaits the unveiling of the Android Wear 2.0, Samsung has added even more appealing features to its ever growing list. To mention just a few, Samsung's Tinzen OS now supports Spotify, a stand-alone cellular LTE, and a versatile payment system to rival Apple Pay. It also packs a bigger battery, GPS, and a barometer.
This does come at a little extra cost (and this is besides its higher price), though. It is bulkier than the Gear S2. On the plus side, it looks much more like your classic analogue timepiece. In addition to its support for Android 4.4 and higher, the Gear S3 is a great smartwatch for iPhone users.
However, this is a timepiece with a strong potential to exceed expectations. This is mainly due to customization ability and the addition of attractive features. So, after being in the market for some time, can we say the Samsung Gear S3 is a smart buy for its cost? What improvements are you to look forward to? And what annoyances do we still find in the third Gear iteration of Samsung smartwatches?
Design
The first thing you will discern about the Samsung Gear S3 is its big, bold design. It comes in two models – the Classic and the Frontier. The Frontier, unlike the Classic, is weather resistant (IP68-rating) and designed more for outdoor use in harsher climes.
Click here to check out the latest price. Based on the design, it is a better smartwatch for ladies than the Frontier version.
Click here to find out the latest price.
The size of the Gear S3 can easily be felt in its weight. Weighing 59 grams (for the classic), it does feel a little heavy on the wrist. The Frontier comes in even heavier at 63g. The case measures 46.1 × 46.1 x 12.9mm, while it sports a standard 22mm watch band. This makes it easily compatible with any wrist size once you get used to the weight. We also see a return of the famous rotating bezel that we saw in the Samsung Gear S2.
| Model | |
| --- | --- |
| Samsung Gear S3 Frontier | |
| Samsung Gear S3 Classic | |
It comes fitted with a 1.3-inch screen and two buttons on the side for Home and Back navigation. Just around the corner, you'll find the microphone. There is also a built-in speaker. Paired together, you can make and receive calls using your smartwatch. The speaker also gives you an opportunity to bypass the use of speakers by playing music directly from your wrist.
The bezel does have a prominent role in your navigation of the Gear S3. Spinning left or right lets you scroll through apps or browse through lists, without blocking your view of the screen. As has come to be normal with recent smartwatches, you have a choice between watch straps. You can change your strap to something that catches your fancy or that meets your needs.
Display
Samsung has carved its name in gold for having one of the best screen displays on the market, and the Gear S3 does not disappoint. The 1.3-inch, 360 x 360, Super AMOLED display is incredibly bright. The heightened color palette of the S3 produces brilliant, exciting display that is both crisp and bright. The Samsung Gear S3 face can be customized to meet your appeal.
Added to this is an 'Always On Display'. This enables you to see the time regardless of the time of day or night. Thankfully, it runs on lower power than the active screen, although it still drains your battery faster than an entirely inactive screen.
The screen's backlight brightens upon entry of any notification. To prevent this, you can easily turn on the 'Do Not Disturb' (DND) mode. Subsequently, the screen wouldn't turn on with every incoming notification. Unfortunately, there is no DND mode or turn off setting for the Always On Display.
Click here to see the latest pricing information.

Features
Processing and Tinzen
Regarding processing power, the Samsung Gear S3 is also an upgrade from its predecessor. It runs the new and improved Tinzen OS 2.3.1, combined with a dual-core 1GHz processor. Its RAM size of 768MB and 4GB internal storage are some of the good upgrades over the S2.
The Gear S3 saw Samsung add an all-new feature to the growing Tinzen support: 4G LTE. Impressively, this feature is optional with the smartwatch you purchase. This means you could buy one with this functionality to enable your smartwatch act as a stand alone phone (at a significantly higher cost). Or you could go without it. The S2 had come with support for 3G and the difference in connection speed is notable.
Connections
Connection-wise, the 4G LTE, might be the headline act but is certainly not the only impressive feature. If you purchase the non-4G LTE enabled piece, you have an option between Wi-Fi and Bluetooth to keep you connected to your phone. This provides you with notifications received on your phone. The Gear S3 is also NFC-enabled for faster connections to smartphones with this feature.
Health and fitness tracking
As a fitness tracker, the Samsung Gear S3 doesn't fare badly either. However, it is just decent with a little noticeable difference from that of the S2. The Samsung S Health app is added to the companion fitness tracker app for Android.
The app is useful for keeping track of your activity stats such as step count and sleep and active time. Included in this package is a GPS tracker to keep track of your runs. An accelerometer keeps track of other exercise-based activities like squats.
As an added fitness guide, you receive regular fitness nudges that tell you what to do to keep from being sedentary. This notification is aided by nice little animations that explain why you should follow them. The app is also useful while performing your routine exercises.
You can use it to count the number of steps, push-ups, and stretches you do, while you can also set a target and receive an alert once you hit the target. The automatic exercise recognition at play here is hard not to notice.
Other excellent fitness inclusions include a heart rate monitor for keeping track of your heart pressure. It also has a barometer, altimeter, and speedometer. Thus, it keeps track of your elevation pressure, burnt calories amidst other nice features. The barometer and altimeter also make it a great tool for hikers and outdoor uses.
Spotify, Samsung Pay, Music Playback and more…
Amongst the top features of Samsung Gear S3 is its Music playback which is seamless. With the 4GB internal storage, you can easily transfer music to your watch and listen through the speakers which are quite loud.
However, Bluetooth streaming offers even more options for your use. You can stream songs directly from your phone with all necessary controls available on the smartwatch. Or you can choose to remotely connect to a Bluetooth speaker and stream directly to the speaker or headphone.
Samsung has finally added Spotify to its ranks, and this is a great addition. In time, the Spotify interface will be improved greatly, though. For now, it can stream over Wi-Fi or LTE but can't download tracks. It also drains the battery quite quickly, although it's hard to determine whether that's down to the app or the LTE connection.
Samsung Pay is one of the greatest additions so far and is much better than the Apple or Android equivalent. Not only is it useful for internet transactions, but it is also great as a virtual credit card. To set it up you'll need to verify bank card, set up a pin number on the watch, and activate Pay. Once it's activated, it becomes a use-on-the-go payment channel.
An impressive feature of the Gear S3 is the Samsung Galaxy App Store. With Apple still hesitant (and largely unexpected) to roll out a cross-platform smartwatch, the Galaxy App does the best job of any so far. Unlike Android Wear, you can access it directly from your iPhone.
This incredibly means you can download apps directly into the watch using your phone or the watch itself regardless of your phone OS. Third party app notifications also come in promptly. In this regard, Samsung leads the pack of cross-platform smartwatches on offer.
Click here to find out the latest price.

Performance
Swiping through the S3, you'll easily notice how swift and responsive the S3 is compared to many smartwatches. In comparison to the Gear S2 though, you'll find a little difference as it was neither laggy, slow, nor unresponsive.
Health & fitness tracking
Fitness tracking has never been a strong forte of Samsung since its foray into the smartwatch industry. This is easily noticed here too. That is not to take credit from Samsung though. The heart rate measure was reasonably accurate, while its automatic tracking feature is quickly responsive.
Location tracking was also quite exact in the location map. It encourages fitness exercises with little reminders. And it does well to set up daily targets for you, giving you fun "prizes" for any milestone you meet or surpass.
To get proper tracking for certain activities, a little exaggeration might be needed to get the noticed by the app. Run-distance accuracy is good enough, but the measure of speed is a little off, increasing and decreasing erratically.
Battery
The Samsung Gear S3 comes with improved battery life against the S2 – 380mAh to the S2's 250mAh. This averages somewhere between two and three days, which is pretty impressive. The charge time to play time ratio is also impressive with a 20-minute charge capable of giving you up to 10 hours play time. Enabling the 4G LTE also reduces your battery life quite quickly.
Impressively, enabling the low power mode reduces the rate of battery consumption on your device. To achieve this, though, it strips you down to limited information in monochrome mode. This is a highly useful option for when you are not much engaged in activities that require constant feedback.
Support
One must admit that Tinzen has made huge strides since its inception when it comes to app support. However, there still exists a major deficiency in this regard when compared to the Android Wear or Apple OS. This can be mainly pointed to the fact that Samsung runs its proprietary OS, and does not share this with anyone else.
On the contrary, Android Wear is rapidly growing, thanks to the increasing number of smartwatches under its range. Re-coding apps specifically for Tinzen is one thing developers have not come to appreciate fully.
Kudos to Samsung for increasing the number of native apps to meet certain functions. For instance, its S Health app features numerous apps, some of which you'll rarely get to use. While this does ease the frustration relating to basic functions, we still expect increased apps in the future. Allowing for easier portability could be the key here.
Click here to find out the latest price.

Samsung Gear S3 Review – Final Thoughts
Should I purchase Samsung Gear S3? You've probably given this question serious consideration if you are a smartwatch enthusiast. The Gear S3 is a great choice and offers good value for money for those who are okay with the minor issues noted above. There are smartwatches that cost under $100, but of course that none can beat the performance of this gadget.
If you already own the Gear S2, purchasing the S3 is only a matter of preference given the S3 is more like a minor revision, not a full-blown upgrade. The Apple Smartwatch Series 3 remains its biggest competitor. As fitness trackers, the two remain just a little above mediocre. Going into the core of their features, differences do exist. Samsung will edge the competition slightly, in part due to its cross-platform usability.
Design, 4G LTE mode, Spotify, and Samsung Pay are all thrilling, appealing features of the Gear S3. Despite its perceivable large size and weight, the Samsung Gear S3 is among the best fitness trackers for your daily exercise routines.
Take your pick between the Samsung Gear S3 Frontier and the Samsung Gear S3 Classic and you won't regret. Whether you're looking for the best smartwatch for men or women, this one serves them all. Let us know what you think in the comments section below.
You can watch the below video by It's All Relative to see how the Samsung Gear S3 running app works: