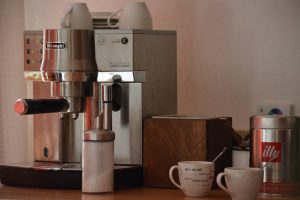 Nothing helps you start your day on a high note like coffee. Among the most consumed types is espresso. Normally, you would pass by an outlet like Starbucks and get your favorite coffee as you go to work. What if you are at home? You need a solution to help you brew your own espresso without having to go out. Identifying the best espresso machine under 200 dollars is not easy.
Even if you usually go to work every morning, owning your own espresso maker would save you a lot of money. We acknowledge the need to find the perfect budget espresso machine. That is why we have had our experts review many espresso machines. Out of those, we have come up with 10 Best Espresso Machine under 200 US Dollars contenders.
Apart from reviewing the specific models, this article is intended to provide extensive information regarding espresso. After reading the reviews, read more about espresso and why most people love it, how to make espresso, and factors to consider before buying an espresso machine. This is especially if you don't know much about espresso and espresso machines.
Best Espresso Machine under $200 – Comparison Table
Before we proceed to the reviews, here is a sneak peek of the Top 10 Best Espresso Machines under $200:
Best Espresso Machine under $200
Water Tank Capacity
Pump Pressure
1. Nespresso Pixie
(Best Espresso Machine Under $200)
24 oz
19 bar
2. DeLonghi EC702
44 oz
15 bar
3. Mr. Coffee BVMC-ECMP1000-RB
55 oz
15 bar
4. Nespresso Inissia
(Best Espresso Machine Under $150)
24 oz
19 bar
5. The Keurig Rivo
60 oz
15 bar
6. DeLonghi EC155
(Best Espresso Machine Under $100)
35 oz
15 bar
7. Cuisinart EM-200
64 oz
15 bar
8. Mr. Coffee ECM160-RB
(Best Espresso Machine Under $50)
20 oz
3 bar
9. Hamilton Beach 40792
22 oz
15 bar
10. Breville ESP8XL
40.6 oz
15 bar
Reviews of the Best Espresso Machines under $200 in 2023
The truth is that when it comes to espresso machines under $200, you are buying an entry-level machine in the industry. The variation of prices in the industry depends on the different levels of user-friendliness, customizability, features, and levels of pressures. Therefore, you will have to buy a high-quality grinder to match your new espresso machine.
It is advisable to buy an espresso machine rather than grounded beans because pre-grounded beans lose their aroma over time. You would then expect an espresso machine that can grind coffee beans to be quite costly. However, there are some affordable ones in the market. These are the best espresso machines under $200 in 2023.
1. Nespresso Pixie Espresso Machine – best espresso machine under $200
De'Longhi's high-end technology and design are unquestionable. Nonetheless, the company has managed to produce excellent espresso makers that are quite affordable. Testament to that is the Nespresso espresso machines series. This coffee machine offers an elegant design and superb functionality. It is also energy efficient with a compact design. Simplified for maximum efficiency, this machine lives up to De'Longhi's reputation.
This machine is perfect especially if you don't have much time to brew, or you lack the professional espresso making skills. It is very easy to use, even for a newbie. You just need to put in a pod and you are good to go. It is super automatic, in that you can brew your desired coffee in less than a minute with its 1-touch button. Fast heat up system takes only 25 seconds to get to the required temperature. In addition, the machine will automatically turn off after 9 minutes of standby – excellent power saving functionality.
The Nespresso Pixie's pump system with 19 bar pressure ensures that as much maximum flavor is extracted from the coffee granules. Refilling the 24 oz water tank is quite easy because it is removable. When the water level goes down, red backlights along the sides will alert you so that you can refill. Lastly, there are 2 cup capacity options for your convenience. These are: Espresso (1.0-1.5 oz) and Lungo (2.5-3.0 oz).

Pros
Cons

Easy to program with 1 button
Quality Swiss build
Empty water tank alert
High-pressure pump
Capsule recycling

A bit noisy
Only uses Nespresso's OriginalLine capsules
Click
here
for the latest information on price.
2. DeLonghi EC702 15-Bar-Pump Espresso Maker
With this machine, you can make authentic espresso and cappuccino at home.  You can also choose to brew ground espresso or use Easy Serving Espresso (ESE) pods with the unique patented dual filter holder. The Sempre Crema Filter, used with two measures of ground coffee, enhances the brewing process to produce a perfect crema.
Enjoy cappuccino or espresso with two separate thermostats that control water and steam pressure, so you can make your beverage at a perfect temperature. If you prefer cappuccino, you will enjoy using the easy-to-use patented cappuccino frother, which includes a special chamber that mixes steam and milk to create a rich creamy froth achieving perfect drinks every time.
This espresso maker is also easy to clean and comes with a litter tank. The water tank with a capacity of 44 oz ensures that you can brew a lot of espresso at a go. The EC702 also comes with a high-pressure 15 bar pump to ensure that you get great taste.

Pros
Cons

Easy to use
No waiting between cups
Easy to clean
Convenient water tank
Automatically self-primes

No in-built frother
Single hole spout steams 1 cup at a time
Click
here
to see the latest price.
3. Mr. Coffee BMVC-ECMP-1000-RB Café Barista Espresso Maker Machine
This is the espresso maker is outstanding because of how easy it is to use. Even if you don't know how to make tasty espresso, the BMVC-ECMP-1000-RB has your back. With just a single touch, this machine brews espresso and froths milk automatically for latte and cappuccino selections. Mr. Coffee also comes with 15 bars of pressure and a 55 oz water tank to guarantee you fabulous results.
This 3-in-1 espresso machine has an adjustable cup tray give you flexibility in terms of cup sizes. The buttons are clearly labeled so that you can brew the coffee of your choice, whether cappuccino, latte or espresso.
If you are picky in terms of looks, you have three options to pick from: black, red and stainless steel. Mr. Coffee has also thrown in a manual that has a bonus of 20 different coffee tastes. If you are adventurous, you can experiment at the comfort of your house, until land on your the preferred taste.

Pros
Cons

Easy to use
One-touch control panel
3-in-1 espresso machine

Only available in 3 colors
Click
here
to find out the latest price.
4. Nespresso Inissia Espresso Machine – best espresso machine under $150
Just like the Pixie, the Inissia espresso machine is in the Nespresso series made by De'Longhi. It is a miniature coffee machine that will make your life easier with its lightweight and compact design. It comes in a full palette of colors to fulfill all tastes. Also, its energy-efficient nature is hard to beat. It automatically switches off after 9 minutes of idle time so that it minimizes power consumption.
The Nespresso Inissia is very simple to use, with its one-touch operation combined with a super-fast heat up system. It only takes 25 seconds to reach the appropriate brewing temperature, and less than a minute is enough to have your beverage ready. The high-pressure 19 bar pump ensures you get the best tasting espresso. Moreover, you can brew up to 9 coffees without having to refill its 24 oz water tank.
The drip tray is designed perfectly to hold even large cups. It is capable of folding so that it can catch drips when you remove the cup or mug. The machine comes with 2 cup capacity options for convenience: Espresso (1.0-1.5 oz) and Lungo (2.5-3.0 oz).

Pros
Cons

Easy to program with 1 button
High-quality build
High-pressure pump
Capsule recycling
Energy saving

Only uses Nespresso's OriginalLine capsules
Click
here
for the latest information on price.
5. The Keurig Rivo Cappuccino and Latte System
This machine derives its name from the Italian word for revolutionary. Its simplicity enables you to brew espresso and froth any type of fresh milk at the touch of a button. Instead of brewing and frothing separately, the Keurig Rivo allows you to do both at the same time. Amazingly, it only takes 1 minute to brew tasty cappuccino or latte. That will surely come in handy when you are in a hurry.
There is a limitation in terms of what coffee to use. This espresso maker uses specific pods and capsules that come in the Lavazza Rivo Coffee Packs. However, the Capsules and pods will offer you a wide range of taste. This awesome espresso machine also features you get up to 60 oz water tank capacity and 15 bars of pressure.

Pros
Cons

Energy saving mode
Brews under one minute
Detachable milk tank
Automatic on and off function

Only uses specific pods
Frother may overflow at times
Click
here
to see the latest price.
6. DeLonghi EC155 15 Bar Pump Espresso and Cappuccino Maker – best espresso machine under $100
If you are looking to enjoy excellent espresso that can even match the expensive espresso makers, look no further. The DeLonghi EC155 produces excellent crema just like the more high-end models. Its magnificent brewing ability, compact design as well as capability to use both coffee grounds and ESE pods have pushed it to among the best-selling espresso machines.
The detachable water tank and Swivel Jet frother help make velvety, rich, creamy froth for latte or cappuccino. The frothing wand with only 3.75 inch clearance from the counter-top means that you get a compatible frothing cup. A frothing cup that is less than or equal to 3.75 inches high is ideal in this instance.
In terms of durability, it may not be compared to the very expensive espresso machines. This is mainly because its housing is made of mainly plastic. However, this does not mean you won't get long-term service. Its stainless steel boiler will guarantee you years of service. In addition, it is very easy to clean so don't expect to spend hours washing it. Also, it comes with a 35 oz capacity water tank.
At its price, the DeLonghi EC155 15 Bar Pump Espresso and Cappuccino Maker ensures that you enjoy excellent tasting cappuccinos and espressos. Given the outstanding features, we certainly had to include the DeLonghi EC155 in our best espresso machine under 200 dollars list.

Pros
Cons

Can use both ESE pods and coffee grounds
Three-in-one filter holder
Easy to use and use
Detachable water tank
High-quality espresso

Some have complained about durability
Does not come with a frothing pitcher
To see the latest price, click
here
.
7. Cuisinart EM-200 Programmable 15-Bar Espresso Maker
Cuisinart has built a reputation for making the best home and kitchen equipment. These range from ovens, grills, griddles, coffee machines and so on. Therefore, you know you can't go wrong with the Cuisinart EM-200. You can brew a single or double espresso using either pods or ground espresso with this programmable espresso maker. Its 15 bars deliver reliably genuine espresso with excellent crema.
The Cuisinart EM-200 also comes with a detachable, 64 oz water tank that is easy to fill with two options. You can either lift the lid at the top and refill or simply detach and refill. It is very easy to put it back on the machine. Also, you can make lattes and cappuccinos quite easily since it comes with a commercial-grade steam wand.

Pros
Cons

Pre-programmed cup sizes
Uses both pods and ground espresso
Has a measuring scoop
Removable drip tray

May be a bit loud
Can only be used for single or double serve
Click
here
to check out the latest price.
8. Mr. Coffee 4-Cup Steam Espresso System with Milk Frother, ECM160-RB – best espresso machine under $50
Mr. Coffee has produced excellent espresso machines over the years. No wonder the Mr. Coffee 4-Cup Steam Espresso System is a best-seller espresso maker. The quality of coffee you can brew with this machine is amazing, given that it costs under $50.
With its powerful frother, this machine makes rich espressos and whips up your lattes and cappuccinos to light, frothy excellence. This is enabled by its steam heat feature. Moreover, you can serve up to 4 shots of espresso at a go with an Easy Pour Glass Carafe. It is also very easy to clean because it comes with a removable, easy to wash drip catcher. A calibrated glass decanter ensures you serve the espresso shots with the desired accuracy.

Pros
Cons

Easy pour glass carafe that serves up to 4 shots
Frothing arm

A bit difficult to remove used espresso beans immediately after use
Click
here
to see its latest price.
9. Hamilton Beach 40792 Espresso and Cappuccino Maker
Take the subsequent step in your hunt for the perfect cup of coffee with this 15 bar Italian pump espresso machine. It is very easy to froth milk with the swiveling steam wand. It is very easy to set up, use and clean. For safety, it has a pressure safety valve, power indicator, thermostat as well as an on/off switch.
With the Hamilton Beach 40792, you can either use pods or finely ground espresso. For ease of setting up the espresso maker, it comes with a patented slide and a lock filter holder. At 22 oz, the water tank capacity is enough for normal home brewing.

Pros
Cons

Easy to clean
Easy to set up

Does not accommodate all sizes of glass cups
Runs only on 110 volt
Click
here
for the latest information on price.
10. Breville ESP8XL Café Roma Stainless Espresso Maker
Breville is a renowned espresso machines maker world over. At this price range, the Breville ESP8XL has sufficient features that ensure your cup of coffee has a rich taste. Its meticulously designed system extracts espresso at the perfect temperature. 15 bars of pressure helps produce the perfect crema with a rich taste and aroma.
This espresso machine also comes with stainless steel espresso cups, a frothing jug, measuring spoon and a dual-wall filter system. The water tank with a capacity of 40.6 oz is adequate. It also has a stainless steel body which guarantees that you enjoy your espresso for a long, long time.

Pros
Cons

Easy to monitor water level with external water window
Has a cleaning tool
15 bar thermo block pump
Cup-warming plate

Its tank is prone to leaking
Click
here
to find out the latest price.
A brief background on espresso
The term espresso is of Italian origin, first coined around 1900. Lightly translated, it means a cup of coffee brewed specifically for you. Today, people often spell or pronounce the term incorrectly as 'expresso'. Espresso can be very confusing and part of the confusion is due to improperly prepared espresso.
Properly brewed espresso comes from using a pump-driven or lever-operated espresso machine. It is, therefore, a science and an art at the same time. So what makes a true espresso? Most people think that the type of coffee bean you use determines whether the brew is espresso or not.
This is not true because any type of coffee bean can make good espresso coffee. You can blame erroneous word of mouth and inaccurate marketing for people thinking that. Even though there are blends designed specifically for espresso, the blend does not make it espresso.
The pursuit of the perfect blend for making espresso coffee has led to this common misconception. Some roasters might even claim that you can only make good espresso with the right blend. You then might wonder if it is the roast that makes espresso. The answer is no. Popular thought might lead you to believe that espresso must be an extremely dark roast.
However, the espresso roast varies from region to region. On the east coast of the US, they usually prefer a light roast while you would find a dark or 'French' roast in California. In Northern Italy, they prefer a medium roast. As such, you can use any roast to make good espresso. It all boils down to taste.
What differentiates espresso from other coffee types?
So what is espresso? Espresso coffee is a small 1 to 2 oz shot of pressure-brewed coffee using between 6.5 and 7.5 grams which is about a tablespoon of finely ground coffee. Brewing takes about a minute (mostly 25 to 30 seconds). A properly brewed espresso will feature a layer of rich dark golden cream, called crema on the surface. Crema is an indicator of a quality espresso.
Drinking an espresso coffee can also be an art. In an Italian café, you might observe patrons breathing in the aroma of the coffee as they hold the cup and saucer, and then drink the entire beverage in three or four quick gulps. They will then complete this ritual by firmly but gently tapping the cup back onto the saucer.
Adding sugar to the espresso is also acceptable in Italy, so there is no shame in adding some to your beverage. Nevertheless, a truly great espresso is a joy to drink without any additives. This way, you will taste and appreciate the essence of the espresso more.
Why do people love espresso?
What is so great about espresso? Why are some people so enthusiastic about it over other coffee beverages? Well, at its simplest level, the espresso coffee brewing method extracts the best of coffee's taste components. It is the only coffee brewing method that can extract the best of the eight hundred aromatic compounds found in roasted coffee without including the naturally occurring Chromogenic Acids (more commonly classified as tannins).
If poorly processed, these tannins can leak into the coffee brew adding a sharp bitter taste that is characteristic of so many other brewing methods.
Additionally, most people like their coffee strong with flavors expressed with all their complexity ranging from initial sourness to more delicate flavors coming later. Some people also like the flavor of coffee to be consistent from one cup to another and not too reliant on how much it took to percolate or the amount of water or coffee used in their beverage. Coffee, sometimes, is the only thing that can get people up in the morning.
Espresso provides you with the energy you need to stay focused throughout the day. The relaxing function of coffee is also another reason why most people love espressos. Due to the demands of work and studies, you can become sluggish but coffee offers you a way out. An espresso would be the best drink to help relax your mind.
However, you should keep in mind that drinking too much coffee and smoking at the same time is bad for your health. Ultimately, coffee is addictive because of the caffeine it contains, and this is the main reason why some people cannot do without an espresso.
Benefits of the espresso brewing method
Only the espresso brewing method:
Grinds to beverage order – this way, it immediately captures the most delicate of the eight hundred aromatic compounds that are so vulnerable to ambient air and moisture that they lose within fifteen minutes of grinding, and this is the reason why coffee often smells better than it actually tastes.
Uses the finest ground particles – these can form the perfect resistance to an optimal high pressure and temperature brewing process and so express the best of the aromatic compounds. Other methods use a courser grind with minimal pressure and varying temperatures. This often leaves the best coffee oils still trapped within these larger coffee particles and not extracted into the cup.
Delivers optimal consistency to every cup by machine automating many of the steps in the brewing process. So, it eliminates the variances and degrading outcomes caused by erroneous human estimations.
Delivers the long-lasting caramelized after-taste with its concentration and high tackiness of emulsified coffee oils that become trapped by taste receptors at the back of your tongue and throat and which slowly release the dissolved aromatic compounds for up to twenty minutes after consumption.
Has the shortest brewing cycle – it takes less than a minute to make an espresso. This ensures that the tannic acid that occurs naturally in coffee beans with concentrations in the outer shell does not get the opportunity to break down and trickle into and add bitterness to the cup, as other coffee brewing methods tend to do.
How to make espresso
The core of the espresso is the coffee bean which is from the heart of the coffee berry. Coffee berries grow on trees that flourish in tropical climates and at altitudes between 2,000 and 6,000 feet above sea level. Good espresso coffee always comes with a roast date.
You will make the perfect espresso if you wait to use the coffee beans between 9 and 11 days after roasting. Dark roasts tend to be more complex, with caramel and chocolate flavors, while lighter roasts are more fruits and floral.
The espresso you end up with depends on water temperature, the dose of dry coffee, the amount you are making, the time it takes for the machine to produce your shot, and grind consistency. You will also need a small set of digital scales and a timer to record the recipe. You should set your machine to between 92C and 96C in order to get the perfect drink.
Making the perfect espresso – steps
Espresso refers to the method of preparation and the grind of the beans, not the roast level. Select any roast level you prefer for your espresso. Roast levels can vary by region, so try several in order to find a level that suits you best. Keep in mind that you might prefer different roasts for different purposes. For instance, if you will be drinking your espresso straight, you might want a single-origin bean that is not very dark roasted. On the other hand, if you will be making the espresso into a latte or cappuccino, you might want a darker roast that will stand up to the milk.
If you are buying your coffee beans from a coffee shop, ask when they were roasted. You do not want to use beans roasted within the last day or two because they will be releasing carbon dioxide. Beans roasted 5 to 12 days earlier are ideal. If you are buying your beans from a store, check the label on the bag to find the roast date.
It is now time to grind the espresso. If you have a high-quality grinder, use it to grind enough beans for one espresso shot. The grinder will do a better job of grinding the beans than a cheap metal blade. Grind the espresso on one of the finest settings, so that the beans are as fine as granulated sugar. Grind enough beans to get about seven grams of espresso. Be careful not to grind the beans too coarsely as the water will run through them too quickly and the flavor will not develop. If you grind them too fine, the shot will pull for too long which could make the espresso bitter.
Next, turn on your espresso machine for about fifteen to thirty minutes and pull a blank shot. While all machines vary, you will just need to practice and learn how to use yours. The hot water will warm up the espresso shot or cup. Dump the water out right before you are ready to pull the actual espresso shot into it.
Remove the portafilter out of your machine and use a clean, dry cloth to wipe the inside dry. If you are new at dosing, set the portafilter on a digital scale and tare it, so it registers zero. If you know how much espresso to use, you can skip weighing out the espresso. However, it is a good idea to occasionally check your dosing for accuracy. Place about 7 grams of ground espresso beans into the dry portafilter if you are making a single shot. Pack the espresso grounds into the portafilter. This will ensure that water passes through the espresso evenly.
Turn the brew head on your machine on for a few seconds. This will rinse away any grounds from the previous brew, so they won't get your espresso wet or dirty. Immediately turn your machine on to start the shot and place your warmed espresso cup or shot glass underneath it. If you are making a single shot, you will probably want to stop the machine after about twenty seconds.
At this point, your espresso is ready. Set it on a plate and serve right away. You will also need to remove the portafilter and dump out the puck of moist espresso grounds. Consider serving the espresso with chocolate covered espresso beans or cookies. You could also use it in a cappuccino, latte, or flavored coffee beverage.
You can check out this video by Stumptown Coffee Roasters on how to brew espresso.
What to look for in the best espresso machine under 200
Although purchasing an espresso machine can be quite easy, there are a few things you need to look out for in order to get your money's worth. You just need to ensure that the machine suits your lifestyle. Everyone's beverage choice, quantity, and kitchen are different but here is a perfect guide to buying an espresso machine.
Durability
You should know how much an espresso machine can handle before purchasing it. A professional-grade espresso machine should be able to work all day without fail. A small espresso machine might overheat or break if used all day. The ability to handle lots of pressure is vital. Find out how much coffee beans the machine can hold and if it has an external grinder.
You should also find out the amount of water the tank can hold and how many cups of espresso it can make within each brewing session. If you brew a lot, get a higher capacity machine.
Grinding capacity
There are two types of grinding when it comes to espresso machines: with a built-in grinder or a separate grinder. Espresso machines without in-built grinders will need a separate grinder. Only the more expensive super automatic machines will come with in-built grinders.
If you brew a lot or have a group of people using the machine, make sure you get a high capacity grinder. Built-in coffee grinders are the most convenient, but find out if you need to put the ground coffee into the basket after grinding. Some machines will drop the grinds right into the basket without your help.
Water storage
Most espresso machines can hold enough water to make up to 8 cups of espresso. Some machines also have water tanks with small filling spouts. For such machines, it is handy to have a funnel. Large high-end espresso machines can connect to a water source like a water dispenser or refrigerator.
Before buying this type of machine, find out if you need your piping rerouted just to accommodate it.
Frothing capacity
Most espresso machines can make espresso-based drinks like macchiato, cappuccinos, and lattes. If you are a fan of such brews, ensure that you buy an espresso machine that comes with a frother to froth pressurized milk. The perfect cappuccino drink, for example, is made of equal portions of espresso, milk and froth.
Most espresso machines come with a frother unless you are going for a really low budget machine. Just keep in mind that some of the cheaper machines do not have it and only make espresso.
Ease of cleaning
Find out how easy the espresso machine you would like can detach and reattach. Cleaning the espresso machine can be quite a task, but it is important to clean it every so often so that it keeps operating at optimum level.
Ease of storage
If you do not take coffee daily, you should find out how easy it would be to store the espresso machine you like. A large espresso maker could be difficult to store safely and it can be quite heavy. For example, if you cannot store it in your kitchen, you might have to keep it in your garage, where it could be in danger of rusting. So, if you do not have a lot of counter space, go for a compact machine.
Attractiveness/Aesthetics
The factors that make an espresso machine aesthetically pleasing should not stop at whether it would look nice on your kitchen countertop, dining, or coffee table. There are several other important factors including color, material, spout management and cord length that you also need to consider. If the spout is in an awkward position, pouring will be difficult.
If the espresso machine you want is made of stainless steel, but all the other appliances in your kitchen are white or black in color, your machine will stand out like a sore thumb and vice versa. Again, if you need to refill your machine regularly, a short cord will make doing so stressful. With these in mind, you are sure to get the best espresso machine.
Conclusion
Espresso is most people's favorite coffee. It stimulates you and allows you to function at the optimal capacity. What could be better than being able to make it yourself? It saves you time as well as money, given that you no longer have to make trips to your (former) preferred coffee house.
For sure, espresso machines and other kitchen appliances such as air fryers are important to have.
While picking an espresso maker, make sure you go for value for your money. Get the best quality machine you can, while sticking to your budget. If you are not a pro, I am sure our guide on how to make espresso will come to your rescue. Based on our review, we have settled on the Nespresso Pixie Espresso Machine as the best espresso machine under 200 dollars. We have also earmarked the best espresso machine under $150, under $100 and under $50.
More importantly, we have taken time to sort out the best espresso machines that cost under 200 for you. Take your time and read through, and give feedback in the comments section below. If, for example, you feel that you need more information, we will readily give you feedback.
If there is an espresso maker that you think needs to be added to the list, we will also consider reviewing it as a bonus, or even in a separate post. Meanwhile, I hope you get to enjoy a shot of espresso made using one of these budget espresso machines.
These are the top 10 best espresso machines under $200 in 2023:
Nespresso Pixie
DeLonghi EC702
Mr. Coffee BMVC-ECMP-1000-RB
Nespresso Inissia
The Keurig Rivo
DeLonghi EC155
Cuisinart EM-200
Mr. Coffee ECM160-RB
Hamilton Beach 40792
Breville ESP8XL