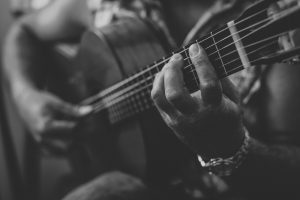 When it comes to music instruments, you have to get the best in order to produce the best music. Most of the time you may be out of cash, and you still need to acquire one. For guitar lovers, finding the best budget acoustic electric guitar can prove a tad difficult. Therefore, we have reviewed some guitars and come up with the Best Acoustic Electric Guitar under 200 US Dollars list.
Acoustic electric guitars, also known as electro acoustic guitars, are simply acoustic guitars that come fitted with a magnetic pickup or a microphone. At times they may have a piezoelectric pickup which is actually the most common pickup for this type of guitars.
Use of a piezoelectric pickup means that you need a preamplifier to ensure that the guitar's body amplifies the signal before it reaches the main amplifier. The preamplifiers may also come with several types of tone controls. However, some guitars simply have equalizers containing up to 6 frequency bands.  These guitars are normally used in different music genres especially during live performances where good sound volume is essential.
Best Acoustic Electric Guitar under $200 – Comparison Table
Before we get into more details, below is the Top 10 Best Acoustic Electric Guitar under 200 summary:
Top 10 Best Acoustic Electric Guitars under 200
1. Glen Burton GA204BCO-BK
(Best Acoustic Electric Guitar Under $200)
2.RW Jameson Guitars Full Size Thinline Acoustic Guitar
(Best Acoustic Electric Guitar Under $100)
3. Kona K2 Acoustic Dreadnought Cutaway Guitar
4. Yamaha APXT2 3/4-Size Acoustic-Electric Guitar
5. ADM Full Size Acoustic Electric Cutaway Guitar
6. Kona K2TBL Acoustic Electric Dreadnought Cutaway Guitar
7. Electric Acoustic Bass Guitar
(Best Budget Acoustic Electric Guitar for Bass)
8. Oscar Schmidt OD312CEB 12-Strings Acoustic-Electric Guitar
9. Vangoa - 41" Full-Size Black VG-41ECBK Acoustic Electric Cutaway Guitar
10. Washburn Classical Series C5CE
Reviews of the Best Acoustic Electric Guitar under $200 2021
If you are looking for a budget guitar, these are the best acoustic electric guitars under $200 in 2021:
This is an instrument crafted by none other than Bridge Craft USA musical instruments. Most importantly, it is suitable for both a beginner as well as an expert. On purchase, you will get the full package which contains a strap, a digital clip-on tuner, strings gig bag, picks, a 10-watt amplifier and a Truss Rod.

Pros
Cons

Steel string with sealed gear tuners
Catalpa Neck and Bridge; Rosewood Fingerboard
Basswood back and sides
Comes with a 10-watt amplifier

Its setup is not the best
Click here for the latest information on price.
This is a full scale acoustic electric guitar. It is thin and therefore quite comfortable to use. All you need to do is plug in and play away. The glossy finish makes it quite the eye candy and the single cutaway body design ensure that you get maximum functionality during use. This guitar also comes with picks and a gig bag.
The full size thinline acoustic guitar is a wonderful piece of instrument from R.W. Jameson Guitars, a family run company committed to providing nothing but the best. They consider art and the artist and ensure that the two aspects merge in the creation of something as wonderful as this instrument.
To make the matters better, RW Jameson Guitars has produced a variety of these acoustic guitars so that you can pick what suits you best. Below are the various options available for you:
Click here to check out its latest price.

Click here to check out its latest price.

Click here to check out its latest price.

Click here to check out its latest price.

Click here to check out its latest price.

Click here to check out its latest price.

Pros
Cons

Full scale 41-inch body length
Steel strings
Gig bag
Picks
Maple neck
High gloss finish
Die cast enclosed tuners

Might not come with a cable plug for the amplifier
You might have to buy a strap button
The Kona K2 Acoustic Dreadnought Cutaway is one of the best pieces in the K2 series. It has got great aesthetics thanks to its highly shiny and translucent finishing. The high gloss finish makes its transparent blue color perfect. The mahogany back makes things even better. Moreover, this beauty is just 3 inches deep so you do not need to worry about how you will hold it. It will also feel comfortable.
This K2 guitar is indeed a piece of work and quality. It is no surprise that its price really picked up from the point when it was introduced into the market. A 4-ply body binding guarantees durability, so that you can enjoy your music for a long time.

Pros
Cons

Natural high gloss finish
Sides and back made of mahogany
Gold die-cast tuners included
4-ply binding body

The pickups are not magnetic
Poor quality control
Click here to see the latest price of this best acoustic electric guitar under 200 contender.
If you are looking for a versatile guitar, then look no further than the APXT2. It has a thin line and would be perfect for those with smaller hands. It is also a stylish, compact, steel string electric acoustic guitar that is also very popular.
The back and the sides of this instrument are made using meranti in place mahogany. Beginners, children, and expert players can all play this instrument. So, depending on your taste, you may opt for whatever finish you would like between the glossy black and old violin sunburst finish.
The guitar comes with an already fitted preamp. The features in the preamp are basic, something that might not go well with professionals. However, beginners should not have any issue with that. Given its small size, this guitar sounds very good.

Pros
Cons

Gig bag included
Spruce up
System 68 pickup

Steel strings are not of good quality.
Click here for the latest info on price.
This is the guitar for all those who want a 4 band EQ kind of guitar. It comes with a round back design which makes it easier to handle during performances. The aesthetics are amazing thanks to the spruce top and some use of Rosewood.

Pros
Cons

ABS Roundback
Glossy finishing
20 frets
4 band EQ
Click here for the latest info on price.
This is the perfect guitar when it comes to striking a balance. You feel both the acoustic and electric feel simultaneously and yet so uniquely. Therefore, if you want a truly electrifying acoustic performance this is the instrument to use. There is no need for adjustment for large bodies. Moreover, its 4 ply body binding guarantees that you enjoy your music for a long time before you buying a replacement.

Pros
Cons

Rosewood fretboard and bridge
Mahogany sides
Die-cast tuners
4 ply body binding
Spruce top

A few complaints of a buzzing sound.
Click here for the latest info on price.
This is not just a good looking instrument, but it is also comfortable to handle. It will deliver a good performance and the sound is quite clear as you strum away. The inlay is also quite attractive. It also features a 22 fretboard made of hardwood. It will serve the purpose for both a beginner and a professional player.

Pros
Cons

Gorgeously constructed
High natural finish
Inbuilt volume control and 4 band equalizer
An adjustable truss rod

Seen by some as a decorative rather than a functional instrument
Click here for the latest info on price.
The Oscar Schmidt 12 string Acoustic electric guitar is a piece of art. It is a product hailing from the hands of masters who have helped the world make beautiful music since 1886 and they have only become better with time. This guitar promises nothing short of great action and that is why you will also find it easy to play 12 strings from it.
Pros
Cons

High gloss finish
Handcrafted
Spruce top
Mahogany sides and neck
Well decorated

Does not come with pickups
Click here for the latest info on price.
The Vangoa 41, is a guitar for by more than one kind of player. This means that whatever kind of player you are, you will find a good guitar in this one. It comes with fantastic features which also make it a great option for any kind of guitar player. The guitar's body is made from basswood while it has a rosewood fingerboard. Hence, it offers you both high quality sound and stylish look.

Pros
Cons

Easy to play. Tune and maintain
Can be used by all players
Has built-in EQ

None that are known of yet
Click here for the latest info on price.
Another best acoustic electric guitar under 200 option is the C5CE electro acoustic guitar. It is a classical shaped guitar that entails a top part made of spruce and the sides made of mahogany. It does not matter your ability because this guitar is an instrument for both amateurs and professionals. Also, it has a large string spacing, therefore you will experience precise finger playing.
Also, the guitar has a mahogany neck and a fingerboard made of rosewood. It is the ideal instrument for both flamenco and classical musicians. The EVT preamp system enables you to project the sound to larger audiences and in larger spaces.

Pros
Cons

Mahogany neck and sides
Spruce top
Highly glossed finish

Its pickups are a bit overrated
Click here to see the latest price.
What is the difference between an acoustic electric guitar and an acoustic guitar?
If you are looking for a new new acoustic electric guitars under 200, this is something you really need to know. Acoustic electric guitars have pickups installed on them so that they can be plugged into power and played at loud volumes. Regular acoustic guitars can do none of that because they do come with pickups.
As much as there are differences between regular acoustic guitars and the electric ones, there are also similarities. Both come with six strings that are strung on the neck, which is divided into several sections known as frets. Frets are actually pieces of metal. Both regular and electric acoustic guitars are tuned via tuning pegs.
So what do you need to look at if you want to see the difference between the two guitars? Check the down low area of the guitar's body. Unlike acoustic electric guitars, regular acoustic guitars have large and hollow bodies plus a sound hole positioned under the strings. They also have a soundboard at the front. This part is made of thin wood which is mostly either red cedar or spruce. It is important to note that the first ever guitars to be made were acoustic.
So how does it all work?
It is all about vibration. Strum the strings of an acoustic guitar and the vibrations produced will be transmitted through parts of the wood known as the bridge and saddle, and straight to the soundboard. Then, the work of the soundboard is to transfer the sound energy in the vibrating strings to the air inside the guitar's body. The result is an amplified sound that is loud enough for you to hear.
Among the innovations of the 20th century was the birth of electric guitars. These guitars revolutionized music. They guitars are not as big in body size and do not have any holes. They are actually thinner and have compact bodies. Also, the strings of an electric guitar do not amplify the sound when strummed.
This is why when an electric guitar is plugged off and strummed, there is no sound. This is where the pickups, also known as transducers, come in. Their work is to convert the vibrations produced during strumming into electric signals which are then transferred to the speakers. The speakers then amplify these signals into audible sound.
What is inside a pickup? The pickups inside an electric acoustic guitar are made up of magnet bars which are wrapped in lots of fine wires. To be exact, the magnets have over 7,000 turns of fine wire on them. This is where the vibration comes to the magnetic field and the coils convert the currents of vibration into electric signals that are transferred to the amplifier and finally the speaker.
Acoustic electric guitars are mostly desired for their rich sound that can go up to incredible volumes.
Factors to Consider when Buying an Acoustic Electric Guitar
Type of wood
The creation of all types of acoustic guitars is a matter of art and discipline and this is why they are cut from specific types of hardwood. Each type of wood brings a different feel, appearance, and even sound to the table. The most common types of wood used are mahogany, maple, and cedar. Wood is everything and that is why these three types of wood are referred to as tonewoods.
The most important consideration is the type of wood that is used on the top part of the guitar. This is because it is the one that carries the main influence as to how the overall sound will be. The second most influential wood is the one on the neck, back, and sides. However, sound quality is not only a matter of the wood type, but also the design as well as the work of craft done on the guitar.
If you want a richer and robust sound, you are better off with a guitar made from heavy wood. This is mainly because lighter woods are best for gentle tones. One true fact is that mot beginners are not able to notice these minor differences in guitars. However, as you progressively play, you will be able to recognize the differences easily. This is the main reason why experienced guitar players who are more concerned with the type of tonewood used.
Body style
While shopping for acoustic electric guitars, it is important to note that their body shape and size are the tags of their classification. You have several body styles to choose from and each body style has its own merits and demerits. Therefore, you need to choose according to what will serve your needs. Go for what will complement your style of music.
The guitar's body style is also essential when it comes to fitting. There are those players who like experimenting with different tonewoods. So, you need to try different body styles until you land on your best fit.
Variety is good because then, you get to sample different sounds and decide on what suits you. That is why you will see advanced guitar players with different types of guitars in their collection. They know and appreciate the different sound each of them brings.
Types of guitar body shapes to choose from
3/4 Size and Mini Guitars: These are mini guitars and are just the miniature version of the larger guitars. They are quite easy to hold and hence well suited for children.
Parlor: These guitars started gaining recognition in the 1800's when they were used for personal home concerts. They do not give out a lot of sound hence they are best for use in smaller spaces.
Classical: Classical guitars are quite similar to parlor styled guitars in terms of proportion, but just a bit larger in size. These are guitars that are played during flamenco and classical music performances. They are also highly recommended when it comes to the academic study of music. They also have nylon strings.
Dreadnought: This is the most common body shape in the world of acoustic guitars. They have larger bodies, meaning that they produce louder sounds. This explains their rich and full sound. These are versatile guitars and therefore you should be comfortable while strumming away.
Jumbo: As the name goes, these are huge guitars with rounded bottoms; rounder than those found in dreadnought guitars. These guitars are used to sustain beats, give volume and even provide bass tones.
Travel Guitars: Lastly, we have travel guitars. These are ideal for the traveling musician or one who is often going on tours. These guitars are thin and streamlined plus they are small enough to fit in a luggage space.
Weight
You must also ensure that you go for a guitar that you can handle. The heavier the guitar, the more strenuous it becomes on your back or shoulder depending on where you carry it.
The setup
This is something that is rarely mentioned but it is of great importance. What is the distance between the strings and the fretboard? Many beginners are not aware of this fact but the number 1 contribution to their inability to play properly is poor set up. Always ensure that the guitar is tech certified.
Your budget
Before you buy a guitar, you will definitely need to know why you need it. Knowing your purpose for the guitar will help you decide on the guitar that you want to purchase. It will also help you come up with a realistic budget and get what you can afford.
Your skill levels are also another thing that should be considered. Do not go for sophistication at the expense of learning. Go for a guitar that will help you improve your playing skills.
Do not buy a cheap guitar simply because of the price tag. Go for something cheap as a last resort. Most importantly, do not have the attitude of a quitter, who buys a cheap guitar just in case they fail to learn and do not want to have spent much on something they did not pursue. Truth is that the cheaper the guitar, the cheaper the sound.
Buy something that you can be proud of. Something that you cannot just afford to quit on and hang on the wall. All you need to do is come up with a budget and save till you get something worth buying. The best acoustic electric guitar should give you a good return on investment.
Buying a used acoustic electric guitar?
You should, first of all, ensure that the acoustic electric guitar that you are purchasing has no cracks. This simply means that you will have to do a thorough examination before purchasing the instrument. You may have to ask the seller to supply you with photos before actually seeing the physical guitar.
Cracks are the death of an acoustic guitar. Yes, they are made from rich wood, but this does not make them indestructible. Cracks will alter the sound and hence the guitar becomes unusable. This is why it is better to simply go for a new guitar, something that has not gone through another player's hands. They might not have handled the instrument with the care it deserves.
Care and maintenance of an acoustic electric guitar
These guitars are well built and meant to stand the test of time. Nonetheless, the user also has a role to play in ensuring that guitar is well maintained and handled. Good maintenance translates into good sound.
You should ensure that you change your guitar strings regularly. This is because oil and dirt will always find their way to the strings, usually mostly from the player's fingers. Regular cleaning will do, but when there's too much accumulation of oil and dirt, you need to replace the strings. Otherwise, there will be rusting which will then downgrade the quality of sound produced.
It should be noted that there is no specific number of times recommended for changing guitar strings. It all depends on the player. For example, if you're forceful, play a lot or even smoke, you need to replace the strings more often. Your guitar can also show signs that call for a replacement. For instance, the guitar becomes harder to tune, your sounds are becoming flatter and there is rust. Also note that you need to change your strings after a number of months – 2 if you play regularly, 3 if you play often.
Needless to say, ensure that you clean your instrument as often as possible. Use a soft cloth on the wooden surface. There should never be an abrasive cloth used on the strings. After cleaning you may need to retune the strings. When it comes to storage there are no two ways about it. You should, first of all, ensure that the guitar is always in its case when it's not in use. You can also hang it somewhere reachable and safe.
Best Acoustic Electric Guitar under 200 – Final Thoughts
When you are buying something, there is always a reason behind it. These guitars are the best in their category. Whether you are a beginner or a pro, these magnificent pieces will certainly not disappoint you.
To reiterate, before you take your pick, ensure that you look at the amount of money you have, the need and the functionality. They are all under $200 so you are safe enough to choose what matches your taste in music.
Here is a summary our picks for the best acoustic guitar under 200:
Glen Burton GA204BCO-BK
RW Jameson Guitars Full Size Thinline Acoustic Guitar
Kona K2 Acoustic Dreadnought Cutaway Guitar
Yamaha APXT2 3/4-Size Acoustic-Electric Guitar
ADM Full Size Acoustic Electric Cutaway Guitar
Kona K2TBL Acoustic Electric Dreadnought Cutaway Guitar
Electric Acoustic Bass Guitar
Oscar Schmidt OD312CEB 12-Strings Acoustic-Electric Guitar
Vangoa – 41″ Full-Size Black VG-41ECBK Acoustic Electric Cutaway Guitar
Washburn Classical Series C5CE
Lastly, please enjoy this compilation of The World's Best Acoustic Guitar Cover Songs by Justinge3RocksGH.