The ever-expanding smartwatch industry continues to marvel with updates and latest functionalities increasing its usability range. Bold, premium looks, phone synchronization, and health and fitness trackers come together to make these watches rather expensive. For many who are not yet convinced they need a smartwatch, its pricing serves as an extra barrier to purchase. Initially going for outrageous prices, you can now own one of the best cheap smartwatches under $100.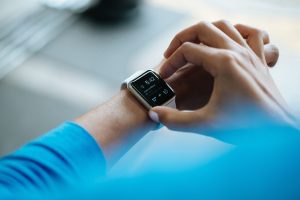 Best Cheap Smartwatches Under $100
Daily improvements being rolled out in this industry has seen the reduction in sizes of smartwatches, and improved functionalities. These improvements have made the industry more and more appealing. Interestingly, as progress is being attained on that front, progress has also been made regarding its pricing. The following list compiles some of the best smartwatches that can be gotten at this price, with good enough capabilities.
Before we proceed, let me give you an overview of the budget smartwatches that you can buy in 2017:
Smartwatch Name
Manufacturer
1. Pebble Smartwatch
(Editor's Choice)
Pebble
2. Alloet New Kingwear KW18
(Editor's Choice)
Alloet
3. Garmin Vivosmart HR Activity Tracker
(Editor's Choice)
Garmin
4. Samsung Gear Live R382 Google
(Editor's Choice)
Samsung
5. Oukitel A29 Anti-lost
Oukitel
6. Scinex SW20 16GB Bluetooth Smart Watch
Scinex
7. Alcatel One Touch Watch
Alcatel
8. U8 Bluetooth Smart Watch
U Watch
9. LEMFO Bluetooth Leather Smart Watch
LEMFO
10. HP95(TM) U Watch Smart Watch
U Watch
This is among the best smartwatches under $100. At $80, the Pebble watch does come cheap relative to its features. Compatible with both iOS and Android smartphones, it is a budget timepiece to rival the very best. With its customizable watch faces, personalized notifications, and downloadable apps, the watch is designed to suite your needs. Other notable features include a 5 – 7-day battery life, a timeline, and crisp, clear display.
Other impressive functionalities include its synchronization with Sportify, Pandora, and iTunes. The Pebble is definitely one of the most functional smartwatches going at a rather cheap rate. Later editions of the Pebble watch such as the Pebble Time and Pebble2 have added more impressive features to this rather impressive list. With these additions on sale for just a little over $100, purchasing any would not shake your purses as much, and would be an improvement on the original Pebble watch.
Click here to get the latest price.
With an appearance that looks very similar to the Samsung Gear S2, the KingWear KW18 features a premium, bold look. With dimensions of 52 x 44 x 16mm, it is slightly bulkier than the Gear S2. Its 1.3 inch AMOLED screen with a resolution of 240 x 240 remains clear enough despite the amount of daylight. Additionally, the fitted anti-scratch sapphire crystal glass offers extra protection to the watch.
The SIM card slot by the side essentially turns this smartwatch into a smartwatch phone. Thus, it is capable of making and receiving calls, as well as receiving direct messaging. Running on Bluetooth 4.0, pairing to other devices is easy, and music streaming smooth. Its 350 mAh battery could last for up to 7 days standby or 2 days in regular use.
Packed with health and fitness features, the KingWear KW18 is a great fit for sports and fitness enthusiasts. These features include a heart rate monitor, pedometer, sleep analysis, and sedentary reminder. Other notable pre-fitted apps include a stopwatch, alarm clock, recorder, calendar, and messaging.
Click here to see the latest price.
A product from the premium Swiss watch makers Garmin, the Vivosmart is quite a shocker with its just a little bit above $100 price. It is just about out of the smartwatches under $100 bracket, but you just need to add a few bucks. The drawback, of course, is in the design. Garmin Vivosmart adopts the look of a fitness tracker, rather than a conventional watch. However, it does not come short on smartwatch features. Accurate time display and phone notification alerts add to its usefulness as a fitness tracker.
While the looks may seem to be a drawback, weighing 0.7 ounces, it seems a bargain. This is an unthinkable weight size in today's bulky smartwatch industry. The OLED curved display adds to its look of glitz and glamor. The sleek smallish band is comfortable for a full day's use, while its always-on display keeps it clear whatever the amount of daylight. Its 7-day battery life is equally impressive.
Garmin Vivosmart, as with Garmin smartwatches, is first and foremost a fitness tracker. Pedometer, heart rate measure, burnt calories measure, and activity intensity are some of its fitness features. On the smartwatch side of things, it is no less useful. You'll find it easy to sync with your social media accounts. This is in addition to regular functions as message management, call management, email and calendar alerts. A smartwatch this small always has something to give, and the Vivosmart is no exception. In this case, it loses the GPS connectivity. However, if you need something easy on the hand, sleek, stylish, and very functional, this is always a bargain.
Click here to check out the latest price.
Currently on sale for just under $100, the Samsung Gear Live has come a long way since its first release back in 2014. With a dimension of 5.1 x 4.2 x 3.3 inches, and a weight of 10.6 ounces, the Gear Live ranks among the bulkier Samsung products. Interestingly, it remains one of the only Samsung smartwatches running on the Android Wear rather than Samsung's proprietary Tinzen OS. However, it has just enough features considering its release date and going price.
For fitness enthusiasts, the Gear Live comes with a heart rate sensor and pedometer for tracking your health and fitness level. It is easily compatible with any phone running Android 4.3 or higher. Being Android Wear, it works just fine regardless of whether your phone is a Samsung device or not. It also comes in handy popping up notifications received on your Android smartphone. The screen, as with all of Samsung's products, is one of its stronger suits. Fitted with a 320 x 320 resolution, the AMOLED display is one to rival any, regardless of pricing.
To find out the latest pricing, click here.
The Chinese inquest into the smartwatch industry has been the primary reason for the drive down of prices. The A29, on sale for just $70 is essentially a smartwatch phone. Its brilliant exterior is premium in look and feel, with its adopted classic watch look just perfect. The SIM card slot is hard to notice with the watch on. Its leather straps are sturdy, but not inflexible. The screen is 1.22 inch HD display, which is as clear as can be.
Working with GSM networks, this smartwatch phone can be used anywhere in the world and receives and makes calls independently.  You can also send and receive messages conveniently, using the Oukitel A29. Regarding hardware, the A29 runs on Bluetooth 4.0 and syncs easily with your phone as a music player. The pre-installed 320mAh battery gives the smartwatch a battery life of 150hours in standby mode, and 4 hours talk time.
Despite its low pricing, the A29 includes a heart rate sensor, sleep monitor, and pedometer, for fitness tracking. It is compatible with both Android and iOS smartphones, which is still a rarity in the smartwatch industry.
Click here to find out the latest price.
Convenient, affordable and quality – that's how Scinex describes the SW20, and it's hard to disagree. With support for sending and receiving messages, call management, notification alerts, it is really convenient. As one of the currently trending smartwatch phones, it comes with support for both iOS and Android devices. The display is smooth, with the 1.5-inch touch screen being easily responsive.
A SIM card port allows you to initiate remote smartphone functionalities on the phone. However, unlike most others of the kind, it does come with support for Bluetooth connectivity with your phone as the proprietary device. This connectivity can be used to sync your contact list and allows you initiate certain functions right from your smartwatch. This flexibility is impressive, letting you dictate how you prefer to run the SW20.
Improving its status as a "smartwatch phone", the Scinex SW20 comes with camera for capturing of videos and pictures, a 16GB memory size (which can be increased to 32GB by a memory card), and a music player.  Other features include Anti-lost, Push Notifications, and Remote capture.
Click here to check out the latest price.
A smartwatch which adopts the perfect 'classic' wrist watch look is a rarity in this budding industry. But that's what you get from the Alcatel One-touch Watch. On sale for just $90, Alcatel defies what we've come to know as the norm for smartwatches. Fitness tracking plus NFC functionality only improves its standing.
Its fitness tracker, like more modern smartwatches, takes a measure of heart rate, burnt calories, sleep rate, and step count. It also adds in features such as phone notification alerts, and phone camera control. Being water and dust proof nature enhances its durability.
Click here to find out the latest price.
The U8 smartwatch phone is another simplicity craving smartwatch. Its tons of features make your phone usage much easier, and could easily serve to turn your attention away from the constancy of drawing out a phone. A plus for the U8 is definitely its compatibility with both iOS and Android smartphones. And, its 2.5D screen display is clear enough for your needs.
The U8 comes equipped with Bluetooth version 2.0, which is quite dated. However, it does make up for that with a ton of other features. Once you locate the watch menu, you'll find such features as Bluetooth, barometer, thermometer, calendar, alarm and watch. Other features include phonebook, message, mp3, stopwatch, altimeter, headset, pedometer, FM, and an answer/dial button.
Unfortunately, it does come with quite a lot of bezels. A home/power button, volume control, hang up/ back button, are in addition to the USB port and speaker on its exterior. However, a charge time of 1 hour in addition to a battery life of about 160 hours standby and 6 hours play time is entirely fair. Its expected range of language includes English and Chinese.
The U8 is also quite durable, with a combination of steel and silicon put into its production. It is, however, important to note that while the U8 is very functional with your Android device, it is somewhat limited when paired with iOS devices.
Click here to get the latest pricing information.
Compatible with both iOS and Android, LEMFO LFO6 comes with a full IPS view. Added support for push notifications, call management, calendar and email notification gives it the basic smartwatch functionality. Impressively, it lights up this catalog with functions such as remote photography, music control, pedometer fitness, and device tracker.
The multiple language support is a surprise. This sees the LFO6 display in either of English, Russian, Spanish, Polish, Portuguese, Turkish, French, German, Dutch, or Italian. Its 130W camera lets you take clear photographs using the smartwatch. Sync the device to your phone using Bluetooth and stream live audio with it.
However, for all of this to function properly, you'll need to install the app for sync function on your smartphone. Unfortunately, its Bluetooth range of 10m is a little on the low side of things. In all, it is a thoroughly impressive smartwatch.
Click here to see the latest price.
With a starting price of $50, the Uwatch was priced outrageously low for its features. Yet, that price continues to drop. Powered by Android Wear, it easily becomes one of the cheapest Android Wear smartwatches on sale. Bluboo makes the Uwatch as attractive as possible, with bezels significantly kept to a minimum. Its fitness features include a sleep monitor, which is a surprise for its price.
However, trying to meet the highest of standards with the lowest of budgets is always a challenge for these smartwatches under $100.  This can be seen from the give-and-go functionality of the Uwatch. Still, the Uwatch is more than a bargain for those just looking to introduce themselves into the smartwatch industry.
For the latest price information, click here.
Verdict on the best cheap smartwatches under $100
Smartwatches have come a long way since invention. Initially expensive and meant for those with heavy pockets, we've seen a dramatic reduction in prices over the last few years. This is even more impressive considering the increase in availability of compatible apps and addition of even more features. Today, we can comfortably obtain a smartwatch for as little as $50 and below. However, not all smartwatches in this price range are nice enough to be given a try. Still, there are available smartwatches under $100 worth your bucks and consideration.
You may also want to watch this video of 7 of the best cheap smartwatches by Things.
Related items:
Other items we have reviewed:
Home